Onomatopoeia is a linguistic device used to describe words that imitate or suggest the sound of what they represent. From buzz and hiss to moo and meow, onomatopoeic words are an essential part of our everyday language. They add texture, depth, and emotion to our communication, whether we realize it or not.
Here are List of Top 20 Onomatopoeia Words:
Boom
Sizzle
Buzz
Hiss
Bang
Crackle
Pop
Whirr
Beep
Thud
Plop
Zap
Gush
Slurp
Creak
Swish
Chirp
Tick-tock
Clang
Whizz
Onomatopoeia Words
Huh?
Kapok!
Bag!
Crush!
Pop
Zink
Ha-ha
Creak
Whap
Giggle
Plink
Blast
Crunch
Flick
Boom
Ouch
Oh!
Buzz
Flop
Weep
Aargh!
Ping
Bark
Clap
Plunk
Chatter
Warble
Ping-Pong
Dribble
Knock
Thwack
Caching
Gong
Zap!
Gargle
Swoosh
Fizz
Zoom
Zip
Bang
Splash!
Meow
Bang
Murmur
Whom
Fizzle
Blurt
Laugh
Clang
Slap
Puff
Bop
Screech
Belch
Foam
Crackle
Whimper
Bawl
Raspy
Kabob!
Chomp
Clack
Munch
Zing
Squish
Sprinkle
Bam!
Dong
Toot
Throb
Lilt
Scrape
Whack
Shah
Paw
Flush
Blood
Yap
Whoop
Rabbit
Moo
Whoa
Pong
Jangle
Click
Poof!
Gallop
Glop
Groan
Plop
Ooze
Cuckoo
Blah
Jingle
Baa
Drum
Twang
Hmm…
Clatter
Gulp
Crack!
Chirrup
Bam
Patter
Smack
Drip
Booing
Clink
Zzz
Quack
Vroom
Honk
Rattle
Peep
Dorr!!
Ka-Paw!
Low
Wow
Tock
Thud
Thump
Choom
Shush
Glug
Blow
Neigh
Whoosh
Biff
Purr
Tick
Burp
Hey
Crash
Cackle
WTF
Moan
Bam
Squirt
Boo
Grunt
Bow-Wow
Roar
Gulp!
Gobble
Splat!
Splatter
Phew
Wham!
Swish
Hum
Garr
Burble
Shriek
Ting
Mumble
Blare
Slurp
Snap!
Flap
Ahem
Echo
Drizzle
Ooh
Chirp
Clop
Blab
Rap
Smash!
Wham
Whip
Burr
Gurgle
Gasp
Wallop
Nibble
Whine
Arch
Oops
Cluck
Coo
Snip
Eek
Whisper
Hush
Bong
Yawn
Rumble
OMG!
Beep
Babble
Whiney
Ding
Spray
Growl
Hee-Haw
Task
Slosh
Sizzle
Rustle
Slam
Oink
Croak
Crunch
Slush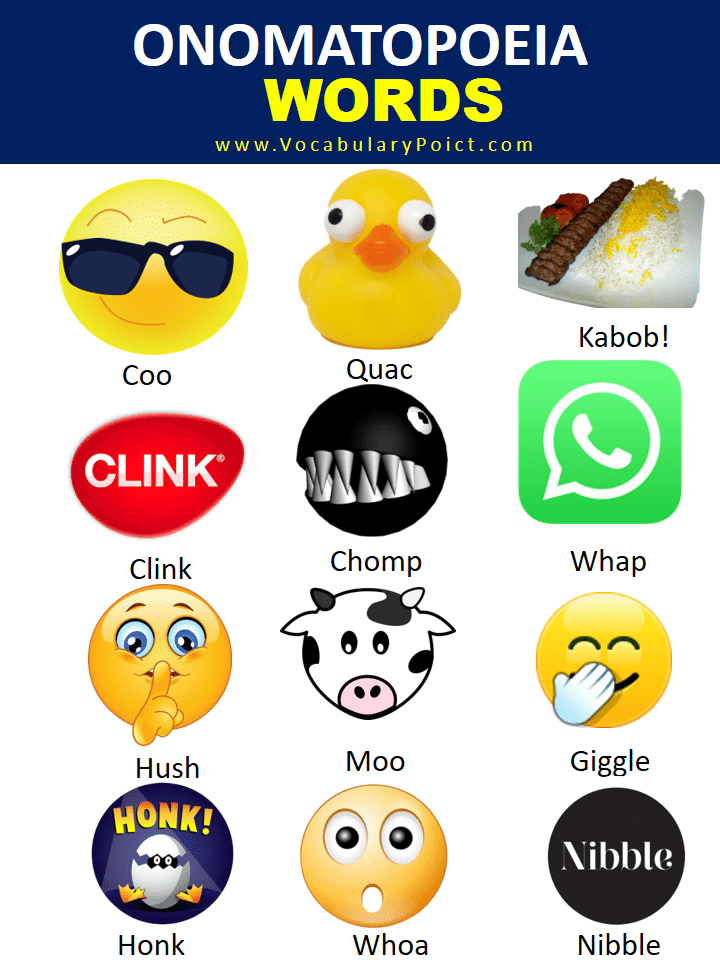 List of Onomatopoeia Examples
Bang
Clink
Hiss
Whirr
Splash
Sizzle
Thump
Beep
Ping
Zoom
Buzz
Chirp
Gurgle
Pop
Crash
Onomatopoeia Words List
Sizzle
Hiss
Whir
Thump
Toot
Ping
Chirp
Jingle
Gulp
Crackle
Clink
Rustle
Screech
Plop
Squelch
Rumble
Zoom
Slurp
Pop
Hoot
Woof
Moo
Oink
Baa
Ribbit
Quack
Neigh
Buzz
Pitter-patter
Whirr
Splash
Crack
Creak
Gush
Roar
Snore
Hiccup
Yawn
Sigh
Clap
Cough
Giggle
Groan
Gasp
Whistle
Bang
Crash
Smash
Thud
Whack
Slam
Boom
Clang
Crunch
Vroom
Beep
Honk
Chug
Swoosh
Rev
What are Onomatopoeia words?
Onomatopoeia words are words that imitate or represent sounds. They are often used to describe noises, actions, or events by creating a direct connection between the word and the sound it represents. Here are some examples of common onomatopoeic words:
Animal Sounds:
Meow (sound made by a cat)
Woof (sound made by a dog)
Moo (sound made by a cow)
Oink (sound made by a pig)
Baa (sound made by a sheep)
Nature Sounds:
Buzz (sound of a bee or insect)
Hiss (sound of steam or a snake)
Caw (sound made by a crow)
Sizzle (sound of food cooking)
Rustle (sound of leaves or paper)
Human Sounds:
Snore (sound made during sleep)
Hiccup (sound made when someone has hiccups)
Yawn (sound made when tired or sleepy)
Sigh (sound made to express relief or frustration)
Clap (sound made by hands coming together)
Impact or Collision Sounds:
Bang (sound of a loud impact)
Crash (sound of a collision)
Smash (sound of something breaking)
Thud (sound of a heavy object hitting the ground)
Whack (sound of a hard hit)
Vehicle Sounds:
Vroom (sound made by a car engine)
Beep (sound of a car horn)
Honk (sound of a horn)
Zoom (sound of something moving quickly)
Chug (sound of a train or engine)
These examples demonstrate how onomatopoeic words can depict a wide range of sounds, allowing readers or listeners to better visualize and experience the described actions or events.
Must Learn: Animals and birds sound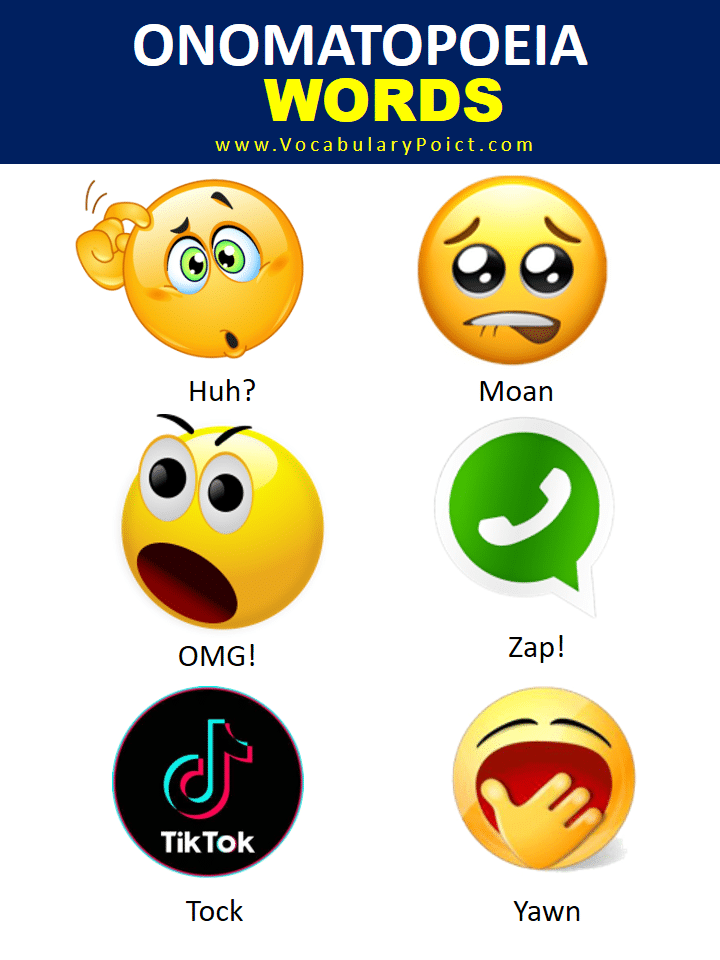 Onomatopoeia words with Meaning
Crash – a loud, sudden noise of impact or collision
Hiss – a sound produced by escaping gas or steam
Chirp – a short, high-pitched sound made by birds or certain insects
Gurgling – a bubbling or splashing sound produced by water or other liquids
Thud – a dull, heavy sound made by something falling or hitting a surface
Rumble – a low, deep, continuous sound, often associated with thunder or distant machinery
Swish – a soft, rustling or brushing sound, often made by something moving through the air or water
Clatter – a noisy, rattling sound produced by objects falling or colliding with each other
Creak – a high-pitched, squeaking sound made by a door, floorboard, or other wooden object when it is being moved or used
Sizzle: The sound of something frying or searing.
Boom: A loud, deep sound, often associated with an explosion.
Buzz: The sound made by a bee or a vibrating object.
Creak: A high-pitched, grating sound made by a rusty hinge or a wooden floor.
Whack: The sound of a heavy object hitting something with force.
Pop: A short, sharp sound, like the bursting of a balloon.
Hiss: A sharp, prolonged sound made by escaping steam or a snake.
Clang: A loud, metallic sound, like the collision of two metal objects.
Thump: A dull, heavy sound, like the sound of a fist hitting a table.
Chirp: The high-pitched sound made by a bird or a cricket.
Swish: The sound of something moving swiftly through the air, like a whip or a sword.
Gurgling: A bubbling, liquid sound, like water flowing or a baby cooing.
Beep: A short, high-pitched sound, like the sound of a car horn or a microwave.
Plop: The sound of something falling into water with a soft, splashing noise.
Slurp: The sound made when someone drinks something loudly or messily.
Ribbit: The sound made by a frog.
Scrunch: The sound of something being crushed or crumpled, like paper or leaves.
Ping: A high-pitched, metallic sound, like the sound of a sonar or a small bell.
Rumble: A low, deep sound, like distant thunder or a hungry stomach.
Onomatopoeia Examples Sentences
The dog barked loudly, "Woof!"
The car screeched to a halt, "Eeeek!"
The thunder roared in the distance, "Boom!"
The baby giggled, "Hee-hee!"
The snake hissed menacingly, "Sssss!"
The clock ticked away the seconds, "Tick-tock!"
The door creaked open, "Eeeeaak!"
The bee buzzed around the flowers, "Bzzz!"
The fire crackled and popped, "Crackle!"
The water splashed as the kids jumped in, "Splash!"
The phone rang sharply, "Ring-ring!"
The gun went off with a loud bang, "Bang!"
The kettle whistled as the water boiled, "Whoo-oo!"
The owl hooted softly in the night, "Hoo-hoo!"
The engine rumbled as the motorcycle passed by, "Vroom!"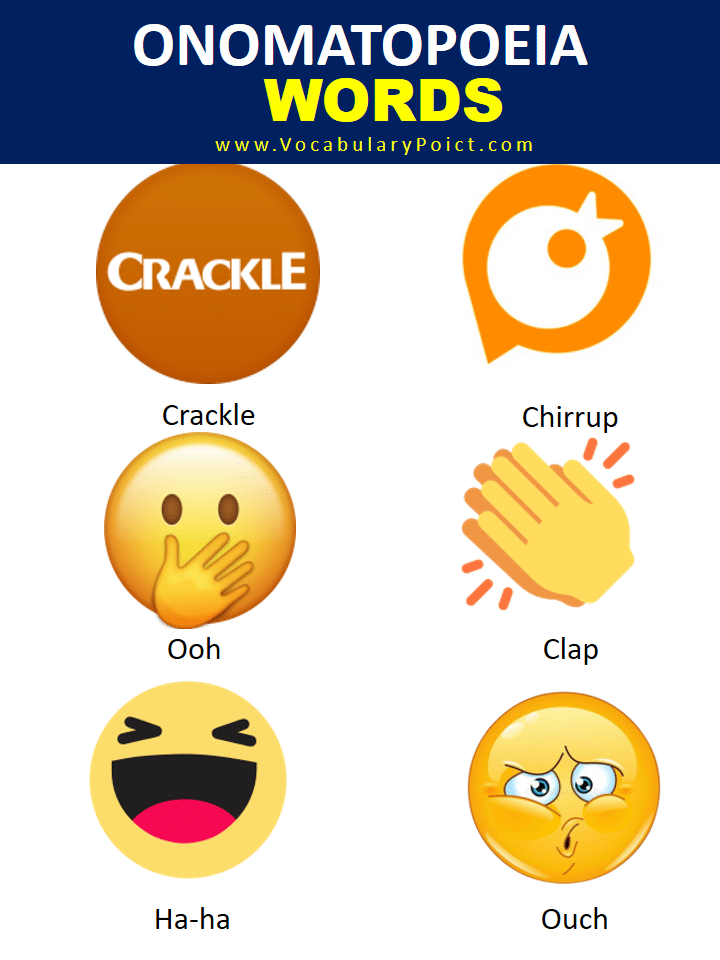 10 Examples Of Onomatopoeia
The thunder rumbled loudly in the distance.
The bee buzzed around the flowers.
The door creaked as it swung open.
The baby giggled with delight.
The fire crackled and popped in the fireplace.
The car screeched to a halt at the intersection.
The cat hissed angrily at the approaching dog.
The clock ticked steadily on the wall.
The water gushed out of the faucet.
The wind howled through the trees on the stormy night.
Must Learn: Best Troll Names