List of Flower Names in English. Flower names can be tricky. There are so many different types of flowers, and each one has a unique name. But don't worry, we're here to help. In this article, we'll give you a rundown of some of the most popular flower names. From roses to lilies, we've got you covered.
Flowers have been given many different names over the years. Some of the most popular flower names include rose, daisy, lily, and tulip. Each of these flowers has a unique meaning and history behind their name.
The rose is one of the most popular flowers in the world. It is also one of the oldest flower names, dating back to ancient Rome. The name "rose" comes from the Latin word for "dew", which is thought to be because of the dew that often collects on the petals of this flower. Roses are symbols of love and appreciation, making them a popular choice for gifts.
Daisy is another well-known flower name. This cheerful flower gets its name from the Old English word for "day's eye".
Looking for a way to add some pizzazz to your garden? Then look no further than our list of 10 amazing flower names! From the classic rose to the exotic hibiscus, we've got you covered. Not only will these flowers add beauty and elegance to your space, but they'll also attract bees and other pollinators, helping to keep your garden healthy and vibrant. So what are you waiting for? Give your garden a boost with our 10 fabulous flower names!
Aster
Wood Anemone
Dragon-Plant
Bee Balm
Nolana
Tulip Flower
Indian Cane
Kalmia
Persian Candytuft
Lamium
Dahlia
Lilac Flower
Water Lily, Peltated
Goat's Rue
Daisy
Read more :Country Names
Narcissus
Reed
Touch-Me-Not
Urn Flower
Nicotiana
Mandrake
Four O'clock Flower
Pink Musk
Bellflower
Valerian, Red
Marigold
Abutilon
Ipomea
Bellflower
Bindweed
Water Lily, Yellow
Fieldrush
Nosegay
Oleander
Rondeletis
Buck-Bean
Laurel
Gladiolus
Grape Hyacinth
Star Of Bethlehem
Snowdrop
Hosta
Moon Flower
Cape Leadwort
Honesty
Lily
Anthericum
Tuberose
Parsley
Winterberry
Virgin's Bower
Foxglove
Clove Pink
Geranium, Clouded
Jasmine
Enchanter's Nightshade
Pansy
Borage
Lady's-Eardrop, Fuchsia
Xylobium
Ornamental Cherry
Kangaroo Paw
Hyacinth
Columbine
Bleeding Heart
Motherwort
Peony
Jacob's Ladder
Flaming Katy
Violet, White
Silene
Gerbera Flower
Quince
Xerophyllum
Shrub Roses
Cyclamen
King's Spear
Astilbe
Butterfly Bush
Privet
Snap Dragon
Uva Ursi
Jupiter's Beard
Balloon Flower
Crocus
Woad
Daffodil
Flower Names in English with Pictures
Snowball
Bramble
Holly
Periwinkle
Aconite
Rue
Loosestrife
Orange Blossom
Lavender
Hyacinth, Garden
Bugloss
Virginia Cowslip
Hollow-Root
Sedum
Sweet Pea
Wormwood
Round-Leaved Sundew
Barberry
Pasque Flower
Queen's Cup
Sage
Everlasting
Water Lily
Nemophilia
Mezereon
Shasta Daisy
Scilla
Lichen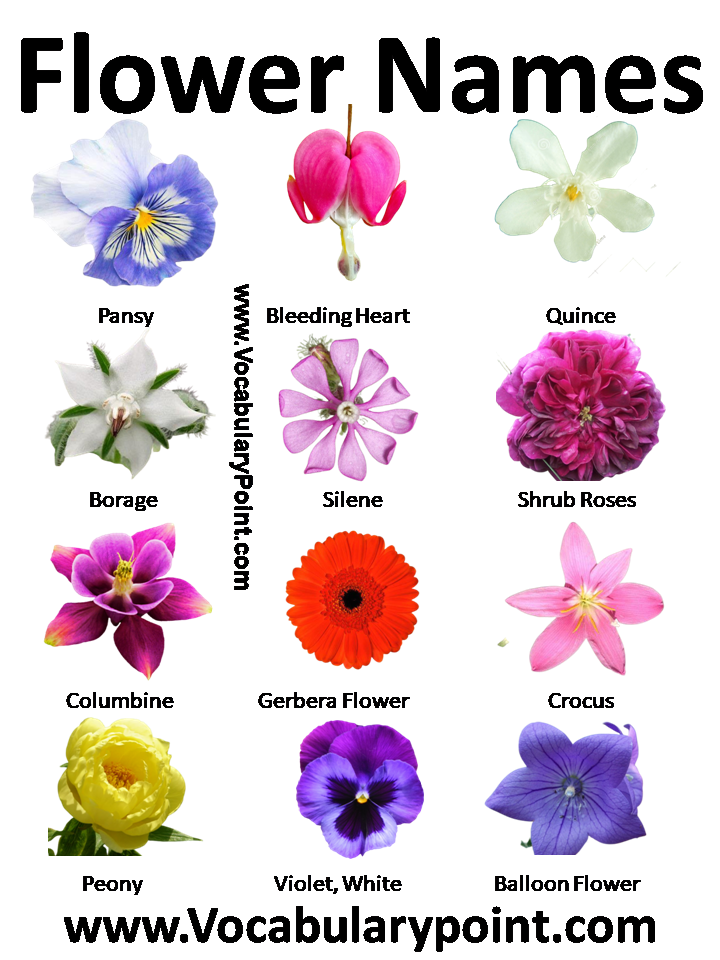 Vinca
Lobelia
Virginia Spiderwort
Silver Lace Vine
Marigold, Cape
Crowfoot, Meadow
Gladiolas
Baby's Breath
Ixora
Speedwell
Yellow Archangel
Sweet Sultan, Yellow
Daisy, Double
Coreopsis
Rose, Hundred-Leaved
Matthiola
Aster, China
Yellow Waxbells
Star Of Bethlehem
Zenobia Flower
Queen Anne's Lace
Salvia
Sweet William
Mistletoe
Dandelion
Daphne
Cosmos
Snowball Bush
Sunflower
Clematis
Vervain
Arum
Marvel Of Peru
Saint John's Wort
Turnsoluva Ursi
Peace Lily
Lavatera
Bryony
Nightshade
Xylosma
Bluebottle
Hydrangea
Dittany Of Crete
Lucerne
Day Lily
Ophrys, Fly Orchid
Southernwood
Bindweed, Purple
Urn Plant
Blanketflower
Osmundapansy
Broom, Prickly
Jessamine
Hyacinth, Wild
Rose
Restharrow
Crowfoot, Marsh
Hardy Geranium
Lily Of The Valley
Violet, Sweet
Yucca
Flowers Name List in English
Lady's Bedstraw
Heath
Marigold
Daffodils
Hybrid Crinum
Brassica
Myrtle
Peppermint
Japan Rose
Dock
Morning Glory
Gilliflower, Stock
Willowherb, Purple
Allium
Succory
Milfoil
Ash-Leaved Trumpet-Flower
Bougainvillea
Water Lily, White
Catch-Fly, Night-Flowering
Calendula
Prickly Pear
Ivy
Teasel
Violet Ivy
Elastic Momordica
Madder
Lilac, White
Chrysanthemum
Sensitive Plant
Passion Flower
Yarrow
Milkwort
Saffron
Yellowroot
Broom, Spanish
Ice Plant
Osteospermum
Gas Plant
Nasturtium
Gilliflower, Mahon's
Erica
Alyssum
Moraea
Mugwort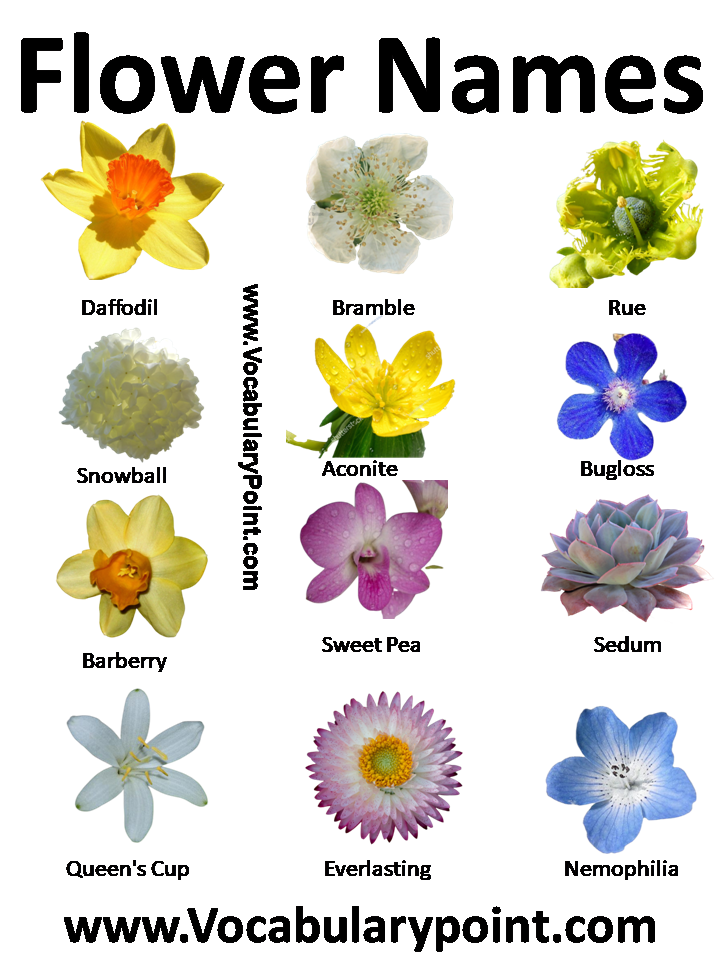 Bladder, Senna
Feverfew
Date, Plum
Scabiosascilla
Catmint
Viola
Hedysarum
Impatiens
Virginia Creeper
Delphinium
Manchineel
Geranium, Rose
Silverweed
Basil
Lily-Of-The-Valley
Pomegranate
Aloe, Socotrine
Hornbeam
Yellow Bell
Cerastium Tomentosum
Dittany, White
Wood Sorrel
New Guinea Impatien
Dianthus Barbatus
Fennel
Ursinia
Marshmallow
Rhododendron
Daisy, Single
Zinnias
Ophrys, Spider Orchid
Artemisia
Wisteria
Camelia
Petunias
Blackthorn
Rose Of Sharon
Laburnum
Jessamine, Rose
Burdock
Nettle
Pinks
Lily, Lent
Daylily, Yellow
Pimpernel, Red
Pheasant's Eye
Honeysuckle
Hortensia
Johnny Jump Up Flower
Kaffir Lily
Goosefoot
Ulex-Gallii
Sea Lavender
Hazel
Fig Marigold
Acanthus
Toadflax
Impatieniris
Bachelor Button
Wreath Of Rosesxerophyllum
Cactus
Meadowsweet
Wallflower
Wake-Robin
Hyacinth, Expanded
Jessamine, Spanish
Tulip
Starwort
Clianthus
Celsia, Great-Flowered
Butterfly Weed
Erigeron
Hybrid Tea Roses
Tea Rose
Larch
Coral Bells
Jamaica Plum
Meadow Saffron
Christmas Aconite
Hibiscus
Trumpet Vine
Eremurus
Hepatica
Evening Primrose
Coriander
Flowers with Name and Pictures
Rosebay Willowherb
Yew
Coneflower
Arum, Fly-Catching
Hollyhock
Quesnelia
Verbena
Prickly Poppy, White
Globeflower
Lupine
Primrose
Yellow-Eyed Grass
Helenium, Smooth
Cinquefoil
Penstemon Flower
Laurestine
Aspen
Begonia
Mock Orange
Kerria
Venus's Looking Glass
Xeranthemum
Thyme
Amaranth
Lantana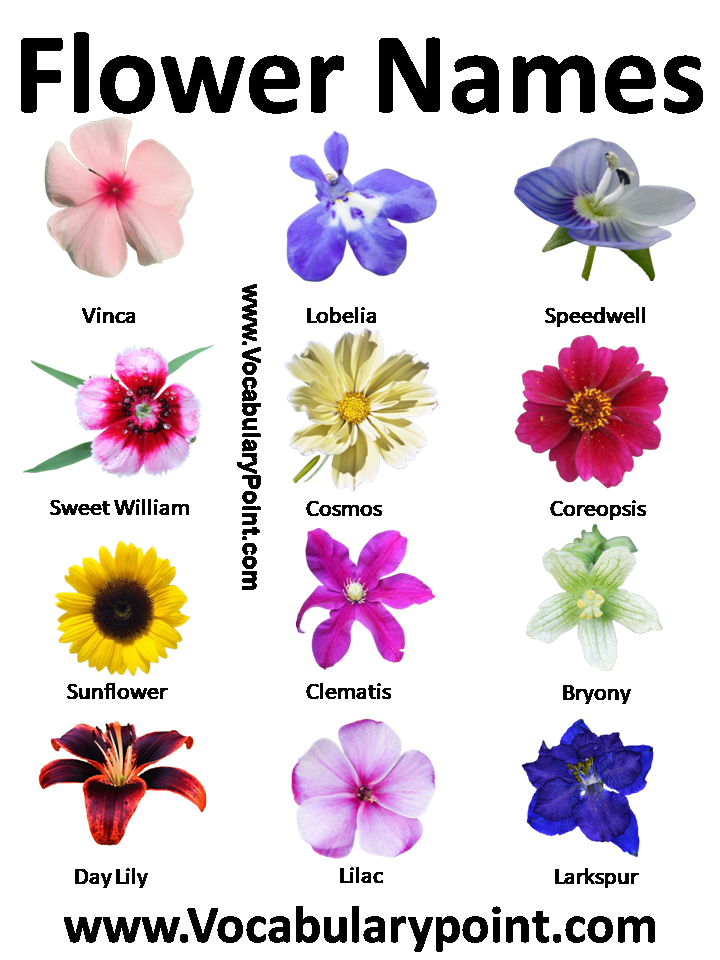 Umbrella Plant
Narcissus
Madder, Yellow
Iris
Acacia
Woolly Violet
French Marigold
Hogbean
Anemone
Lilac
Geranium, Scarlet
Oyster Plant
Larkspur
American Ash
Coltsfoot
Rosemary
Polemonium
African Daisy