Navigating the complexities of language reveals the vast array of words that carry a negative connotation. Each word encapsulates not just a meaning but also an emotion, a situation, or a character trait that can express negativity in various contexts. Here we will explore negative words that start with the letter 'F' and their meanings, followed by negative adjectives that share the same initial.
List of Negative Words That Start With F
Words have immense power. They can inspire, uplift, and create positive change in our lives. But what about those words that bring us down, that leave a bitter taste in our mouths?
Today, we delve into the realm of negativity as we explore a comprehensive list of words that start with the letter F – a collection of terms that provoke discomfort, frustration, and despair.
Here are Negative Words that start with F with Meaning:
Fabricate: Invent
Faction: Split
Falter: Hesitate
Famine: Starvation
Fanatic: Zealot
Farcical: Ridiculous
Fatal: Deadly
Fatigue: Exhaustion
Fault: Defect
Fear: Dread
Feeble: Weak
Feign: Pretend
Ferocious: Fierce
Fester: Decay
Fetid: Stinking
Fickle: Changeable
Fictitious: False
Fidget: Restless
Fiend: Demon
Fight: Combat
Filch: Steal
Filthy: Dirty
Flaw: Defect
Flee: Escape
Fleeting: Brief
Flinch: Recoil
Flop: Failure
Flounder: Struggle
Flout: Defy
Fluster: Confuse
Foible: Weakness
Fool: Idiot
Foolhardy: Reckless
Forbid: Prohibit
Foreboding: Ominous
Forgetful: Absentminded
Forlorn: Desolate
Forsake: Abandon
Foul: Disgusting
Fractious: Unruly
Fragile: Delicate
Frantic: Panicked
Fraud: Deception
Fraught: Filled
Frenetic: Frantic
Fret: Worry
Fright: Fear
Frigid: Cold
Frivolous: Trivial
Frown: Scowl
Frugal: Thrifty
Frustrate: Thwart
Fugitive: Runaway
Fumble: Blunder
Fume: Rage
Fungal: Moldy
Funk: Depression
Furious: Angry
Furtive: Sneaky
Fuss: Commotion
Fusty: Musty
Futile: Useless
Fumble: Mismanage
Fury: Rage
Feebleness: Weakness
Feckless: Irresponsible
Fecal: Excremental
Feigned: Insincere
Felony: Crime
Ferment: Agitate
Fester: Rot
Fetish: Obsession
Feud: Conflict
Fiasco: Disaster
Filibuster: Obstruct
Filicide: Child-killing
Finagle: Trick
Firestorm: Uproar
Fishy: Suspicious
Flagrant: Egregious
Flail: Thrash
Flak: Criticism
Flamboyant: Ostentatious
Flap: Agitate
Flare: Erupt
Flashy: Showy
Flatulent: Gassy
Flaunt: Show off
Flay: Scold
Fleer: Mock
Fleece: Swindle
Fleeting: Transient
Flex: Bend
Flighty: Fickle
Flimflam: Deceit
Flinch: Shrink
Flippant: Disrespectful
Flit: Dart
Flog: Beat
Flood: Inundate
Floppy: Limp
Florid: Red
Flounder: Flail
Flourish: Thrive
Flout: Mock
Fluctuate: Vary
Fluke: Accident
Flustered: Agitated
Flux: Change
Foamy: Frothy
Foggy: Unclear
Foist: Impose
Fold: Collapse
Folly: Foolishness
Forbidding: Unfriendly
Forceful: Coercive
Foreclose: Seize
Forewarn: Alert
Forfeit: Surrender
Forge: Fake
Forgettable: Unmemorable
Forgo: Waive
Forked: Divided
Formidable: Daunting
Forswear: Renounce
Foul-mouthed: Profane
Foundering: Sinking
Fracture: Break
Fragmented: Broken
Fray: Unravel
Explore More:
(A, B, C, D, E, F, G, H, I, J, K, L, M, N, O, P, Q, R, S, T, U, V, W, Y, Z)
Negative Adjectives That Start With F
Facetious: Flippant
Factious: Divisive
Fallacious: False
Fallow: Unproductive
False: Untrue
Famished: Starving
Fanatical: Obsessive
Fanciful: Unrealistic
Fatalistic: Pessimistic
Fatigued: Tired
Faulty: Defective
Fearful: Afraid
Feckless: Ineffective
Feeble-minded: Stupid
Feigned: Fake
Felonious: Criminal
Feral: Wild
Feverish: Ill
Fickle: Inconstant
Fiery: Intense
Fightable: Contentious
Filmy: Hazy
Finicky: Fussy
Flabby: Unfirm
Flagging: Weakening
Flaky: Unreliable
Flamboyant: Showy
Flashy: Gaudy
Flat: Uninspired
Flawed: Imperfect
Fleeting: Short-lived
Flighty: Unstable
Flimsy: Weak
Flippant: Disrespectful
Floppy: Limp
Florid: Ruddy
Floundering: Struggling
Fluent: Smooth
Flustered: Ruffled
Fogged: Clouded
Foolhardy: Rash
Foolish: Unwise
Forbidding: Hostile
Forceful: Pushy
Foreboding: Menacing
Forgetful: Neglectful
Forgotten: Overlooked
Formidable: Intimidating
Forsaken: Abandoned
Fractious: Irritable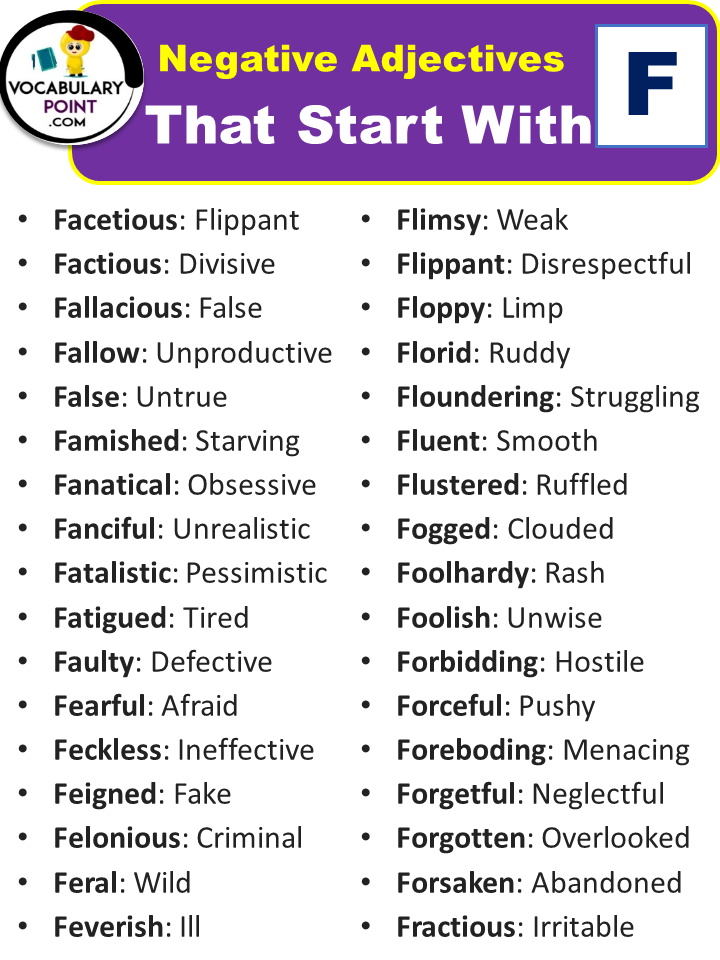 Negative Words That Start With F With Meaning And Examples
Fabricate: Invent

He did fabricate his alibi.

Falter: Hesitate

Her confidence began to falter.

Fanatic: Obsessive

His views are rather fanatic.

Farcical: Ridiculous

The play was absolutely farcical.

Fatal: Deadly

The accident was nearly fatal.

Fatigue: Exhaustion

Fatigue clouded his every thought.

Fault: Defect
Fear: Dread

Fear gripped the silent room.

Feckless: Irresponsible

His feckless attitude caused problems.

Feeble: Weak

Her excuse was rather feeble.

Fester: Rot

Wounds left untended will fester.

Feud: Conflict

Their feud disrupted the community.

Fiasco: Disaster
Fickle: Inconstant

Her moods are quite fickle.

Fiend: Villain

He's nothing but a fiend.

Filch: Steal

He tried to filch sweets.

Filthy: Dirty

The alley was filthy, disgusting.

Flaw: Imperfection
Flee: Escape

The criminals will likely flee.

Fleeting: Temporary

Happiness seemed a fleeting feeling.

Flinch: Recoil

She didn't even flinch once.

Flounder: Struggle

He began to flounder financially.

Flout: Disregard

They chose to flout rules.

Fluster: Confuse

Her question did fluster him.

Foil: Thwart

Heroes often foil villainous plans.

Fool: Dupe
Foolhardy: Reckless

His actions were foolhardy, dangerous.

Forbid: Prohibit

His parents forbid late outings.

Foreboding: Ominous

A sense of foreboding lingered.

Forgetful: Oblivious

He was naturally forgetful, unfortunately.

Forlorn: Desolate

Her expression was utterly forlorn.

Forsake: Abandon

He would never forsake his principles.

Foul: Disgusting

The fridge's smell was foul.

Fractious: Irritable

The toddler was particularly fractious.

Fragile: Breakable

The truce was extremely fragile.

Frantic: Panicked

She searched in a frantic manner.

Fraud: Deception

He committed fraud against friends.

Frenetic: Frenzied

His writing was frenetic, unreadable.

Fret: Worry

Don't fret over small details.

Fright: Terror

A sudden fright seized her.

Frivolous: Trivial

His concerns were somewhat frivolous.

Frown: Scowl

She could only frown disapprovingly.

Frugal: Thrifty

Sometimes he's too frugal, honestly.

Frustrate: Thwart

Traffic can frustrate everyone daily.

Fugitive: Runaway

The fugitive hid in shadows.

Fumble: Mishandle

He tends to fumble introductions.

Fume: Rage

She could only fume silently.

Fungal: Moldy

A fungal odor pervaded everything.

Fury: Rage

His eyes reflected pure fury.

Futile: Pointless

Their efforts were completely futile.