Are you tired of the same old positive words being used over and over again? Well, get ready to explore the dark side of the alphabet with our list of negative words that start with H.
From haunting to harrowing, these words will send shivers down your spine and give a whole new dimension to your vocabulary. So forget about happiness and embrace the horrors that await as we delve into this chilling collection.
List of Negative Words That Start With H
Here are the Most Common Negative words that start with H:
Haggle: Bargain
Hailstorm: Storm
Halfhearted: Unenthusiastic
Hallucination: Delusion
Hamper: Hinder
Harangue: Rant
Harass: Pester
Hardship: Suffering
Harm: Damage
Harsh: Severe
Hassle: Inconvenience
Haste: Rush
Hasty: Rash
Havoc: Destruction
Hazard: Danger
Hazardous: Unsafe
Heckle: Taunt
Hedge: Evade
Heedless: Careless
Heinous: Atrocious
Hemorrhage: Bleed
Heresy: Nonconformity
Hesitant: Reluctant
Hideous: Ugly
Hinder: Obstruct
Hoax: Deception
Hollow: Empty
Hoodwink: Deceive
Hopeless: Despairing
Horde: Swarm
Horrendous: Horrible
Horrific: Terrifying
Hostage: Captive
Hostile: Unfriendly
Hubris: Arrogance
Hue and cry: Outcry
Humdrum: Monotonous
Humiliate: Embarrass
Hunger: Starvation
Hunt: Pursue
Hurricane: Storm
Hurt: Injury
Hurtful: Damaging
Hustle: Force
Hydra: Complexity
Hype: Exaggeration
Hypocrisy: Insincerity
Hysteria: Panic
Hysteric: Overwrought
Hapless: Unlucky
Hagridden: Tormented
Hapless: Unfortunate
Harried: Harassed
Harrowing: Distressing
Haughty: Snobbish
Heedless: Negligent
Helter-skelter: Disorderly
Hemorrhagic: Bleeding
Hermetic: Sealed
Hidebound: Rigid
Highbrow: Elitist
Hijack: Seize
Hirsute: Hairy
Histrionic: Theatrical
Hoard: Stockpile
Hoarse: Gruff
Hodgepodge: Mixture
Hollow: Meaningless
Homely: Unattractive
Homesick: Nostalgic
Homicidal: Murderous
Homophobia: Intolerance
Hubbub: Uproar
Humbug: Nonsense
Hungover: Queasy
Hunger: Famine
Hyperbole: Exaggeration
Hypochondria: Obsession
Hypocritical: Deceitful
Hypothermia: Cold
Haggard: Worn
Handicap: Impairment
Hangover: Aftereffect
Harassment: Molestation
Hardheaded: Stubborn
Hardliner: Extremist
Harmful: Injurious
Harpy: Shrew
Harridan: Nag
Harshness: Brutality
Hassle: Trouble
Hatred: Loathing
Haunting: Spooky
Hazardous: Risky
Headlong: Impetuous
Heartbreak: Anguish
Heartless: Cruel
Heathen: Pagan
Heavy-handed: Oppressive
Hebetude: Dullness
Heckling: Mocking
Hedonistic: Self-indulgent
Heedlessness: Inattention
Hegemonic: Dominating
Heinousness: Wickedness
Hellish: Infernal
Helpless: Powerless
Hem and haw: Vacillate
Hemorrhoids: Swellings
Hepatitis: Inflammation
Heretical: Unorthodox
Heresy: Apostasy
Hesitance: Vacillation
Hidebound: Conservative
Hijinks: Antics
Hinderance: Barrier
Hindsight: Afterthought
Hinky: Suspicious
Hiss: Sibilate
Hoarder: Collector
Hoarse: Husky
Hobbling: Limping
Hodgepodge: Jumble
Hothead: Impulsive
Hubristic: Proud
Huddle: Cluster
Huffy: Annoyed
Hulking: Bulky
Humdrum: Boring
Humid: Muggy
Explore More:
(A, B, C, D, E, F, G, H, I, J, K, L, M, N, O, P, Q, R, S, T, U, V, W, Y, Z)
Negative Adjectives That Start With H
Haggard: Gaunt
Halting: Hesitant
Ham-fisted: Clumsy
Harried: Rushed
Harsh: Stern
Hasty: Precipitate
Haughty: Proud
Hazardous: Dangerous
Heartless: Compassionless
Heedless: Reckless
Hesitant: Uncertain
Hideous: Repulsive
Hindermost: Last
Hoarse: Raspy
Hollow: Insincere
Homophobic: Bigoted
Hostile: Aggressive
Humdrum: Dull
Humid: Sticky
Hungry: Famished
Hurtful: Painful
Hypercritical: Captious
Hypocritical: Untruthful
Hysterical: Overexcited
Habitual: Chronic
Hapless: Luckless
Hard: Difficult
Hardy: Tough
Harmful: Detrimental
Harrowing: Agonizing
Haunting: Eerie
Hazardous: Perilous
Headstrong: Willful
Heartrending: Sad
Heathenish: Barbaric
Heavy: Burdensome
Heinous: Evil
Hellacious: Awful
Helpless: Defenseless
Hesitant: Tentative
Hidebound: Unyielding
Hindering: Obstructive
Hotheaded: Impetuous
Hulking: Massive
Humorless: Solemn
Hungering: Craving
Hurt: Injured
Hydrophobic: Water-fearing
Hyperbolic: Overstated
Hypochondriac: Worried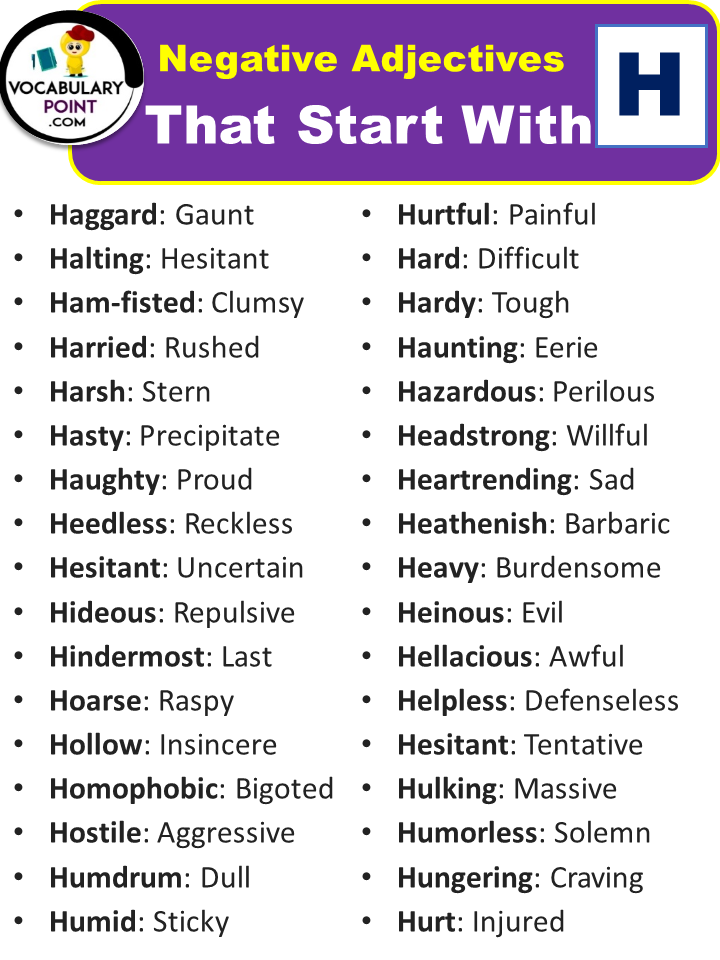 Negative Words That Start With H With Meaning And Examples
Harsh: Severe

Her critique was unexpectedly harsh.

Hazardous: Dangerous

Hazardous roads after the storm.

Haphazard: Random

Files organized in haphazard manner.

Heresy: Unorthodoxy

His views bordered on heresy.

Hostile: Unfriendly

His response was openly hostile.

Hinder: Obstruct

Rules designed to hinder progress.

Humiliate: Embarrass

His mistake would humiliate him.

Hypocritical: Insincere

Found their excuses hypocritical overall.

Haggard: Exhausted

She looked particularly haggard today.

Haughty: Arrogant

His haughty demeanor pushed friends away.

Hapless: Unfortunate

The hapless team lost again.

Harrowing: Distressing

Recalled the event as harrowing.

Heinous: Atrocious

The crime was absolutely heinous.

Hysterical: Overwrought

The crowd became nearly hysterical.

Hollow: Empty

His apology felt quite hollow.

Hamper: Impede

Fog will hamper morning commute.

Hardship: Difficulty

Faced hardship during the depression.

Heedless: Careless

He was heedless of danger.

Hesitant: Reluctant

She was hesitant to answer.

Hideous: Ugly

The decor was simply hideous.

Hoax: Deception
Horrendous: Terrible

They suffered horrendous working conditions.

Hostility: Aggression

Their argument escalated to hostility.

Hypothermia: Chilling

She's suffering from severe hypothermia.

Hunger: Starvation

The region faced terrible hunger.

Harmful: Injurious

Such comments are emotionally harmful.

Hatred: Loathing

She felt intense hatred inside.

Heartless: Cruel

Their decision was completely heartless.

Hesitate: Pause

Never hesitate during an emergency.

Horrific: Shocking

The accident was truly horrific.

Humdrum: Monotonous

His speech was rather humdrum.

Hypocrisy: Dishonesty

Couldn't stand his blatant hypocrisy.

Handicap: Disadvantage

His injury was a handicap.

Harass: Annoy

The paparazzi continually harass celebrities.

Heavy-handed: Coercive

The policy was heavy-handed.

Hellish: Torturous

The marathon felt absolutely hellish.

Homeless: Shelterless

The crisis left many homeless.

Hopeless: Despairing

Their situation seemed utterly hopeless.

Horrify: Shock

The news will horrify everyone.

Hostage: Captive

He was held hostage overnight.

Humid: Muggy

The weather was oppressively humid.

Hypochondriac: Anxious

She's a bit of a hypochondriac.

Hysterics: Panic

Avoided hysterics during the crisis.

Hectic: Frantic

The office was absolutely hectic.

Heedlessness: Negligence

His heedlessness caused an accident.

Hemorrhage: Bleeding

The patient began to hemorrhage.

Hinderance: Obstacle

Bureaucracy is a major hinderance.

Histrionic: Overdramatic

His plea seemed rather histrionic.

Hollow: Void

The promise was a hollow.

Hubris: Arrogance

His downfall was his hubris.