Embarking on a linguistic journey through the darker alleys of the English language, we delve into the negative realm where words start with a particular consonant, the letter "D". Each word holds a negative connotation, embodying criticism, pessimism, or simply the undesirable aspects of life and human nature. Here, we meticulously curate lists to showcase the breadth of "D" in its most daunting form.
Negative Words That Start With D
Do you ever find yourself at a loss for words when it comes to expressing negativity? Well, fear not! We have curated a comprehensive list of negative words that start with the letter D.
From dreary and dismal to disastrous and daunting, this compilation will equip you with an arsenal of vocabulary to perfectly articulate any negative sentiment.
Here is a List of Negative Words that start with D:
Dismal – Gloomy
Deplorable – Disgraceful
Dreadful – Awful
Duplicitous – Deceitful
Disingenuous – Insincere
Diabolical – Devilish
Derogatory – Disrespectful
Decrepit – Worn-out
Dilapidated – Run-down
Disdainful – Contemptuous
Dysfunctional – Not working
Disreputable – Dishonorable
Deceitful – Lying
Disheartening – Discouraging
Disastrous – Catastrophic
Detrimental – Harmful
Destructive – Damaging
Divisive – Splitting
Depressing – Saddening
Despondent – Hopeless
Disrespectful – Rude
Demeaning – Belittling
Denigrating – Insulting
Dismissive – Rejecting
Discontented – Unhappy
Devious – Sneaky
Dismaying – Alarming
Displeasing – Unpleasant
Disadvantageous – Unfavourable
Discombobulated – Confused
Disconsolate – Inconsolable
Disenchanted – Disillusioned
Disgruntled – Unhappy
Disjointed – Disconnected
Dislocated – Misplaced
Disloyal – Unfaithful
Dismembered – Cut up
Dismissive – Contemptuous
Disobedient – Defiant
Disorderly – Unruly
Disparaging – Disapproving
Dispassionate – Unemotional
Dispensable – Replaceable
Dispiriting – Discouraging
Disputatious – Argumentative
Disquieting – Disturbing
Disregardful – Neglectful
Disreputable – Not respectable
Disruptive – Disturbing
Dissatisfied – Unhappy
Dissident – Disagreeing
Dissolute – Immoral
Dissipated – Wasteful
Dissuasive – Deterring
Distasteful – Unpleasant
Distorted – Twisted
Distracted – Unfocused
Distraught – Very upset
Distressed – Troubled
Distrustful – Suspicious
Disturbed – Upset
Dithering – Hesitant
Divided – Separated
Dogmatic – Opinionated
Doleful – Mournful
Dolorous – Sorrowful
Domineering – Controlling
Doomed – Cursed
Draconian – Harsh
Drowsy – Sleepy
Drab – Dull
Dreary – Bleak
Drudging – Tedious
Dubious – Doubtful
Dull – Boring
Dumbfounded – Astonished
Duplicitous – Deceptive
Dusty – Covered with dust
Dwindling – Decreasing
Dyspeptic – Grumpy
Damaging – Harmful
Damned – Condemned
Dangerous – Unsafe
Dark – Not bright
Daunting – Intimidating
Deadly – Lethal
Deadbeat – Lazy
Deafening – Very loud
Deathly – Fatal
Debased – Degraded
Debilitating – Weakening
Decadent – Decaying
Deceitful – Fraudulent
Deceptive – Misleading
Decidedly – Definitely
Declining – Worsening
Defamatory – Slanderous
Defeated – Beaten
Defective – Faulty
Deficient – Lacking
Deflated – Emptied
Deformed – Misshapen
Defunct – Obsolete
Degenerate – Corrupt
Dejected – Downcast
Delayed – Late
Deleterious – Injurious
Delinquent – Neglectful
Delusional – Unrealistic
Demolished – Destroyed
Demoralizing – Disheartening
Denounced – Condemned
Dependent – Reliant
Depleted – Emptied
Deprecatory – Belittling
Depressed – Down
Deprived – Lacking
Derelict – Abandoned
Desolate – Empty
Despairing – Hopeless
Desperate – Hopeless
Despicable – Contemptible
Despotic – Tyrannical
Destitute – Poor
Deteriorating – Worsening
Detestable – Hateful
Detractive – Belittling
Devastated – Ruined
Devoid – Lacking
Diabolic – Satanic
Explore More:
(A, B, C, D, E, F, G, H, I, J, K, L, M, N, O, P, Q, R, S, T, U, V, W, Y, Z)
Negative Adjectives That Start With D
Dastardly: cowardly and treacherous.

He committed a dastardly act.

Deleterious: causing harm or damage.

Smoking is undoubtedly deleterious healthwise.

Deplorable: deserving strong condemnation; shockingly bad.

The room was in deplorable condition.

Despicable: deserving hatred and contempt.

His actions were simply despicable.

Dilapidated: in a state of disrepair or ruin.

The house looked old and dilapidated.

Dim: lacking in light; not bright or harsh.

The room's lighting was dim.

Dingy: gloomy and drab.

Her apartment was dark and dingy.

Dire: extremely serious or urgent.

The circumstances were indeed dire.

Disastrous: causing great damage.

The party was an absolute disastrous.

Discordant: disagreeing or incongruous.

The notes sounded rather discordant.

Disdainful: showing contempt or lack of respect.

His glance was coldly disdainful.

Dismal: depressing; dreary.

The weather remained gray and dismal.

Disorderly: disruptive and not amenable to control.

The students were being extremely disorderly.

Disparaging: expressing the opinion that something is of little worth.

Her remarks were rather disparaging.

Displeasing: causing annoyance or dissatisfaction.

The meal was somewhat displeasing.

Disreputable: not considered to be respectable in character or appearance.

The business was quite disreputable.

Distasteful: causing dislike or disgust; offensive; unpleasant.

The joke was particularly distasteful.

Distressed: suffering from anxiety, sorrow, or pain.

She looked visibly distressed.

Disturbed: worried and unhappy.

His behavior left us disturbed.

Divisive: tending to cause disagreement or hostility between people.

The issue proved highly divisive.

Dogmatic: inclined to lay down principles as undeniably true.

He was being unnecessarily dogmatic.

Doleful: expressing sorrow; mournful.

The music was slow and doleful.

Dolorous: feeling or expressing great sorrow or distress.

Her eyes were sad and dolorous.

Doubtful: feeling uncertain about something.

The outcome remains highly doubtful.

Dour: relentlessly severe, stern, or gloomy in manner or appearance.

His expression was stern and dour.

Drab: lacking brightness or interest; drearily dull.

The conference was uninspiring and drab.

Dreary: dull, bleak, and lifeless; depressing.

The sky was overcast and dreary.

Droopy: depressingly limp; sagging or hanging down.

The flowers in the vase were droopy.

Dubious: hesitating or doubting.

His excuses were somewhat dubious.

Dull: lacking interest or excitement.

The lecture was incredibly dull.

Dysfunctional: not operating normally or properly.

The committee is largely dysfunctional.

Decrepit: worn out or ruined because of age or neglect.

The building was old and decrepit.

Decadent: characterized by or reflecting a state of moral or cultural decline.

The society was seen as decadent.

Deceitful: guilty of or involving deceit; deceiving or misleading others.

His manner was smooth yet deceitful.

Dejected: sad and depressed; dispirited.

She looked utterly dejected today.

Demoralized: having lost confidence or hope; disheartened.

The team was thoroughly demoralized.

Denigrating: criticizing unfairly; disparaging.

His comments were clearly denigrating.

Dependent: requiring someone or something for financial, emotional, or other support.

He was too emotionally dependent.

Derisive: expressing contempt or ridicule.

The laughter was cruelly derisive.

Derogatory: showing a critical or disrespectful attitude.

His remarks were blatantly derogatory.

Desolate: (of a place) deserted of people and in a state of bleak and dismal emptiness.

The landscape was starkly desolate.

Despairing: showing the loss of all hope.

Her voice was quiet and despairing.

Desultory: lacking a plan, purpose, or enthusiasm.

His efforts were sporadic and desultory.

Detached: aloof and objective.

His response was coldly detached.

Detrimental: tending to cause harm.

The policy is clearly detrimental overall.

Deviant: departing from usual or accepted standards.

His behavior was considered deviant.

Devious: showing a skillful use of underhanded tactics to achieve goals.

Her methods were cunning and devious.

Diabolical: disgracefully bad or unpleasant.

The plan was utterly diabolical.

Dictatorial: of or typical of a dictator.

His leadership style was too dictatorial.

Diffident: modest or shy because of a lack of self-confidence.

She was always quiet and diffident.

Dilatory: slow to act.

Their response was needlessly dilatory.

Dimwitted: stupid or silly.

The idea was completely dimwitted.

Dirty: not clean; covered with or containing unpleasant substances.

His clothes were dirty and stained.

Disagreeable: not pleasant or enjoyable.

The meeting was particularly disagreeable.

Discombobulated: disconcerted or confused.

I felt utterly discombobulated.

Disconsolate: without consolation or comfort; unhappy.

She sat there, looking disconsolate.

Discontented: dissatisfied, especially with one's circumstances.

He was restless and discontented.

Discordant: (of sounds) harsh and jarring because of a lack of harmony.

The orchestra was badly discordant.

Discourteous: showing rudeness and a lack of consideration for other people.

His behavior was rude and discourteous.

Discredited: having lost reputation or respect.

The theory is now thoroughly discredited.

Disenchanted: disappointed by someone or something previously respected or admired; disillusioned.

I became quickly disenchanted with them.

Disengaged: emotionally detached.

She seemed distant and disengaged.

Disfigured: having the appearance spoiled.

The statue was badly disfigured.

Disgruntled: angry or dissatisfied.

The passengers were visibly disgruntled.

Disgusting: arousing revulsion or strong indignation.

The alley was dirty and disgusting.

Dishonorable: bringing shame or disgrace on someone or something.

It was a dishonorable retreat.

Disinclined: unwilling or negative about something.

He was disinclined to talk.

Disingenuous: not candid or sincere.

Her apology was somewhat disingenuous.

Disjointed: lacking a coherent sequence or connection.

His argument was disjointed and weak.

Disliked: feeling aversion or lack of enthusiasm for.

He was widely disliked by colleagues.

Disloyal: failing to be loyal to a person, country, or body to which one has obligations.

She felt that he was disloyal.

Dismantled: having had a structure taken to pieces.

The machine was completely dismantled.

Dismissive: feeling or showing that something is unworthy of consideration.

His tone was patently dismissive.

Disobedient: refusing to obey rules or someone in authority.

The dog was stubborn and disobedient.

Disorderly: involving or contributing to a breakdown of peaceful and lawful behavior.

Their conduct was loud and disorderly.

Disorganized: not properly planned and controlled.

The event was chaotic and disorganized.

Disparaging: expressing the opinion that something is of little worth; derogatory.

She made a disparaging remark.

Dispassionate: not influenced by strong emotion, and so able to be rational and impartial.

His critique was cold and dispassionate.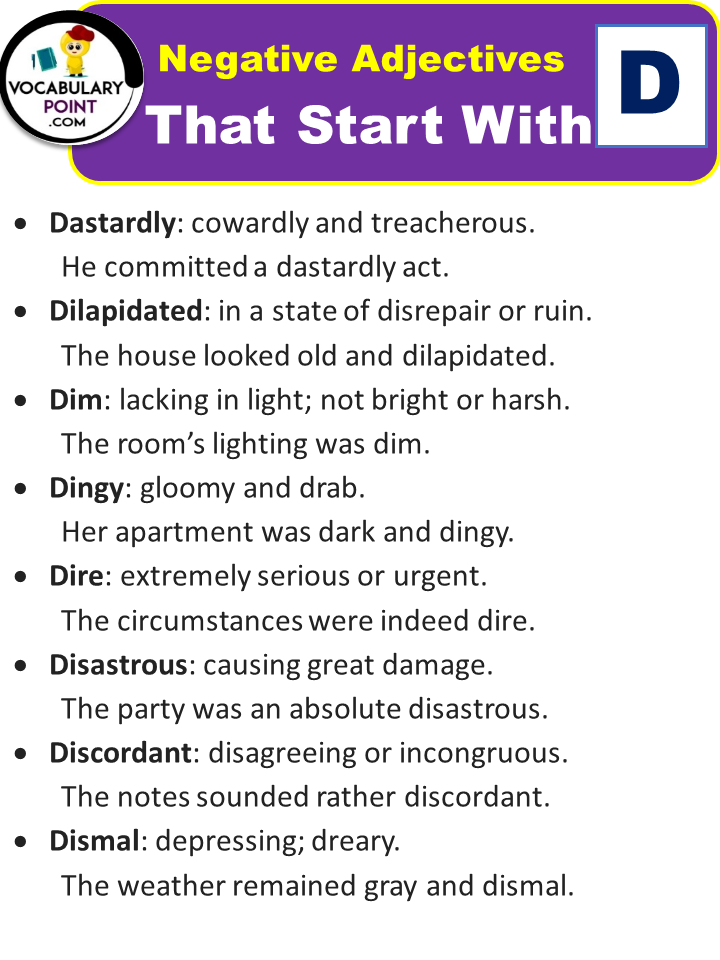 Negative Words That Start With D With Meaning And Examples
Dismal: Gloomy

The sky looked dismal today.

Deplorable: Disgraceful

Conditions were deplorable at best.

Detrimental: Harmful

Smoking is detrimental to health.

Disdainful: Contemptuous

She was disdainful of advice.

Dysfunctional: Malfunctioning

Their relationship is clearly dysfunctional.

Deceptive: Misleading

His smile was deeply deceptive.

Derogatory: Disrespectful

Made a derogatory remark publicly.

Divisive: Disuniting

His speech was surprisingly divisive.

Decrepit: Worn-out

The building appeared utterly decrepit.

Depressing: Saddening

News reports were particularly depressing.

Disastrous: Catastrophic

The party was absolutely disastrous.

Dishonest: Untruthful

He was notoriously dishonest always.

Disheveled: Untidy

His appearance was rather disheveled.

Disparaging: Belittling

Made disparaging comments about colleagues.

Distasteful: Unpleasant

Found his behavior extremely distasteful.

Dreadful: Awful

The accident scene was dreadful.

Dejected: Downcast

She looked utterly dejected today.

Desolate: Barren

The landscape was bleakly desolate.

Disgruntled: Dissatisfied

Employees were notably disgruntled today.

Disoriented: Confused

Felt disoriented after the movie.

Dismayed: Appalled

She was dismayed by news.

Draconian: Harsh

The rules seemed unnecessarily draconian.

Dreary: Dull

It was a dreary afternoon.

Dubious: Doubtful

His claims were rather dubious.

Deficient: Lacking

His explanation was severely deficient.

Dilapidated: Ruined

The house stood dilapidated, deserted.

Disconsolate: Inconsolable

She was disconsolate without him.

Disjointed: Uncoordinated

His narrative was hopelessly disjointed.

Dissonant: Inharmonious

Their voices were sharply dissonant.

Distant: Aloof

His response was coldly distant.

Distorted: Twisted

The mirror reflected a distorted image.

Distraught: Agitated

She was visibly distraught yesterday.

Distrustful: Suspicious

He was distrustful of strangers.

Dogmatic: Opinionated

His approach was too dogmatic.

Domineering: Controlling

The boss is overly domineering.

Dour: Stern

Her expression was unexpectedly dour.

Downcast: Despondent

He felt hopelessly downcast inside.

Downtrodden: Oppressed

The downtrodden masses sought change.

Drab: Colorless

The room was decidedly drab.

Dreary: Boring

The lecture was just dreary.

Dry: Uninteresting

His humor was peculiarly dry.

Duplicitous: Deceitful

He was discovered to be duplicitous.

Dwindling: Diminishing

Resources are alarmingly dwindling now.

Deadly: Lethal

The poison was highly deadly.

Deafening: Loud

The noise was simply deafening.

Deathly: Mortal

The silence felt deathly still.

Debilitating: Weakening

The disease was severely debilitating.

Decadent: Decayed

The city became decadently overgrown.

Deceitful: Fraudulent

His nature was fundamentally deceitful.

Defamatory: Slanderous

The article was outright defamatory.