List of Domestic Animals in English. Bundles of Domestic animals with Pictures are Listed Below. It is a big lesson for the student to learn About Domestic Life and Animals with Pictures in English. A domestic animal is one that has been bred or trained to be tame around people. The majority of these creatures are vertebrates like mammals.
Definition of Domestic Animals?
A domesticated animal (such as a horse or sheep) that lives and breeds in a tame environment.
What are the Domestic Animals?
Domesticated animals are those that have been selectively developed and genetically adapted to live alongside humans over generations. They differ genetically from their wild forefathers or cousins.
Examples of Domestic Animals?
Rabbit
Hen
Elephant
Cow
Cat
Fish
Horse
Dog
Also, learn Animals And Their Homes
List of Domestic Animals in English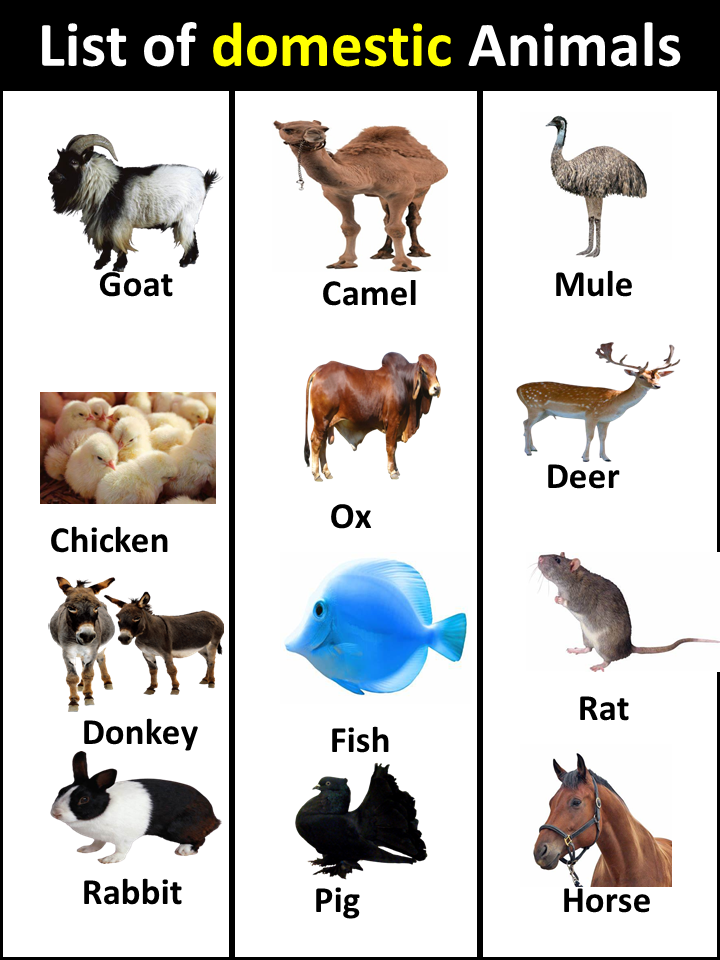 List of Domestic Animals
Sheep
Reindeer
Guinea fowl
Chicken
Cat
Dog
Cow
Bull
Rabbit
Sheep
Goose
Hamster
Yak
Partridge
Turkey
Llama
Hen
Duck
Mule
Guinea pig
Goat
Ostrich
Squirrel
Alpaca
Pig
Camel
Horse
Ox
Buffalo
Dove
Quail
Emu
Rooster
Parrot
Deer
Fish
Donkey
Rat
Chicken