List of Food Descriptive Words. Food is one of the most important aspects of life. It can be a source of comfort, pleasure, or satisfaction. People have been eating and drinking for centuries, and their diets have changed along with the seasons and trends.
In this article, we will discuss some descriptive words that are often used when describing food.
The following words may come to mind when thinking about food: appetizing, aromatic, delicious, delectable, mouth-watering. These are all words that describe the taste, smell and appearance of food.
There are a variety of words that can be used to describe the texture of food. Some examples are smooth, creamy, delicate and crunchy.
Food can also be described in terms of its color.
There are all types of food in the world, and people use different words to describe them. Some words may be used to describe a certain type of food, while others may be used to describe the way the food looks, smells, or tastes.
List of Food Descriptive Words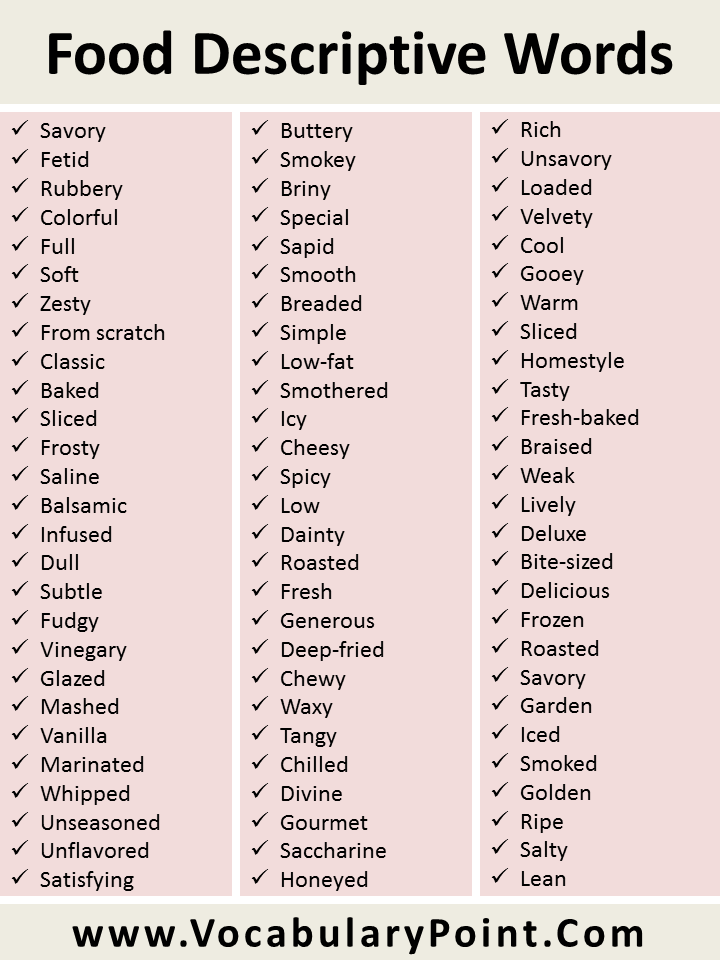 English Vocabulary Words for Food
Savory
Fetid
Rubbery
Colorful
Full
Soft
Zesty
From scratch
Classic
Baked
Sliced
Frosty
Saline
Balsamic
Infused
Dull
Subtle
Fudgy
Vinegary
Glazed
Mashed
Vanilla
Marinated
Whipped
Unseasoned
Unflavored
Satisfying
Buttery
Smokey
Briny
Special
Sapid
Smooth
Breaded
Simple
Low-fat
Smothered
Icy
Cheesy
Spicy
Low
Dainty
Roasted
Fresh
Generous
Deep-fried
Chewy
Waxy
Tangy
Chilled
Divine
Gourmet
Saccharine
Honeyed
Rich
Unsavory
Loaded
Velvety
Cool
Gooey
Warm
Sliced
Homestyle
Tasty
Fresh-baked
Braised
Weak
Lively
Deluxe
Bite-sized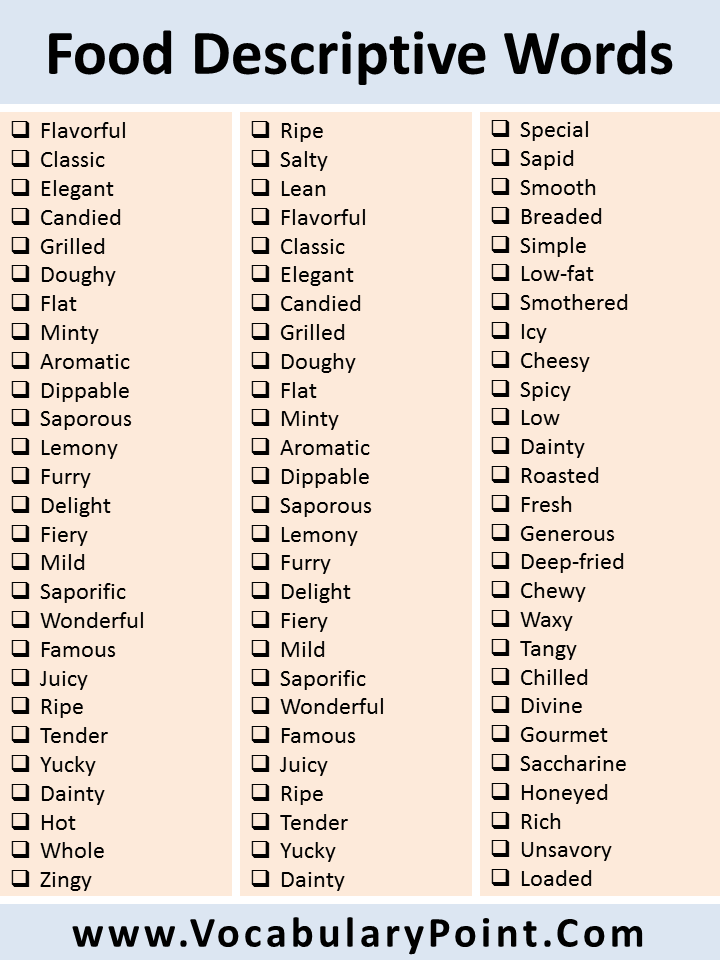 English Food Words List
Delicious
Frozen
Roasted
Savory
Garden
Iced
Smoked
Golden
Ripe
Salty
Lean
Flavorful
Classic
Elegant
Candied
Grilled
Doughy
Flat
Minty
Aromatic
Dippable
Saporous
Lemony
Furry
Delight
Fiery
Mild
Saporific
Wonderful
Famous
Juicy
Ripe
Tender
Yucky
Dainty
Hot
Whole
Zingy
Luscious
Sweet
Yummy
Vanilla flavored
Robust
Mellow
Crisp
Mixed
Flaming
Dressed
You Can Download List of Food Descriptive Words