List of Adjectives That Start With A. Welcome to the world of adjectives that start with the letter A! We have put together a comprehensive list of adjectives to help you find the perfect word to describe any situation. Each adjective has been defined and includes example sentences to show how it can be used in a sentence.
Must Learn: List of Adjectives that start with B
Adjectives That Start With A
Adorable – The adorable puppy wagged its tail as it played with its new toy.
Ample – The ample room provided enough space for all the guests at the party.
Appropriate – Her appropriate attire was perfect for the formal occasion.
Aromatic – The aromatic smell of freshly baked bread filled the air.
Astounding – The astounding performance by the acrobats left the audience in awe.
Authentic – The authentic antique shop had a unique selection of vintage items.
Avid – The avid reader always had a book in hand, eager to devour the next chapter.
Awakened – The awakened senses of the blindfolded individual heightened their other senses.
Awesome – The awesome power of the thunderstorm was both beautiful and terrifying.
Agile – The agile dancer moved gracefully across the stage.
Abundant – The abundant harvest ensured there was enough food for the entire village.
Adaptable – The adaptable employee was able to handle any task given to them.
Admired – The admired actor was known for their incredible performances on stage.
Affectionate – The affectionate cat purred as it curled up in its owner's lap.
Artistic – The artistic painting was a beautiful masterpiece of colors and textures.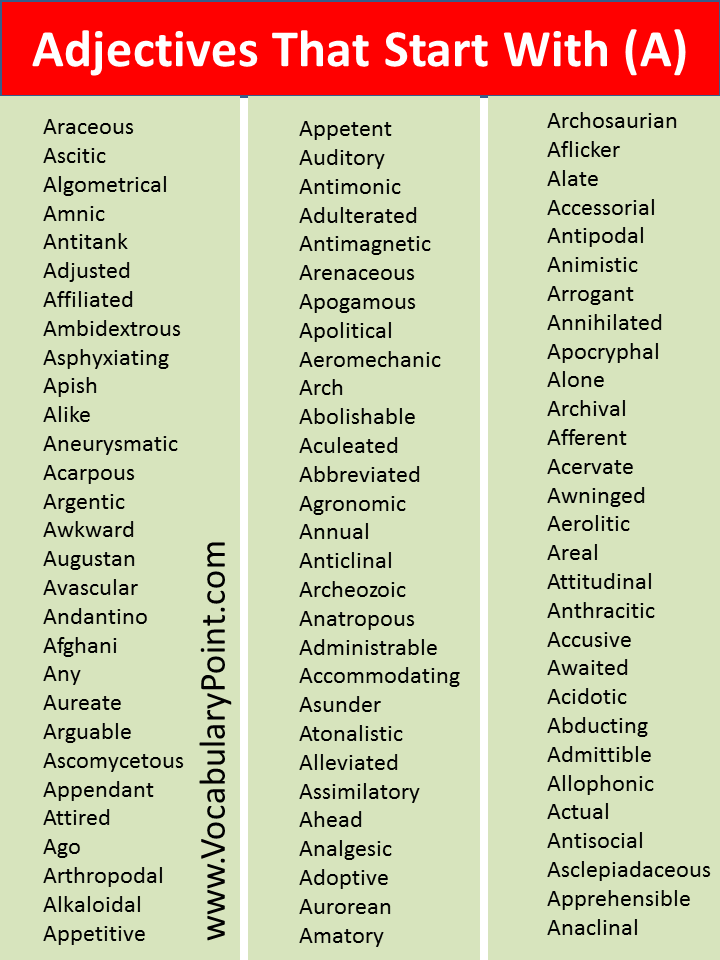 Azygos
Azure
Autonomous
Amenable
Agrobiological
Authorial
Affined
Ataxic
Aleatory
Affirmatory
Anaerobiotic
Ambient
Anorthic
Acroscopic
Awnless
Abashed
Assonant
Autoerotic
Apomictical
Agrypnotic
Applaudable
Ampullar
Aeonian
Anthropometric
Agglutinate
Ameboid
Approving
Autogenic
Accrued
Ailing
Aerosolised
Ascertainable
Autologous
Aslant
Aristotelean
Anhydrous
Affirmatory
Abominable
Ambulatory
Archetypical
Arteriolar
Addlepated
Alight
Asthmatic
Alluring
Assamese
Agranulocytic
Alkalic
Actinomycetal
Antiphlogistic
Asteriated
Archdiocesan
Autogamous
Analog
Asexual
Angelical
Antiheretical
Anaglyptical
Anapestic
Austenitic
Appropriative
Antepenultimate
Allied
Altaic
Annular
Amphitropous
Andalusian
Aeolian
Antitumour
Apprenticed
Aeronautical
Anticlimactical
Artful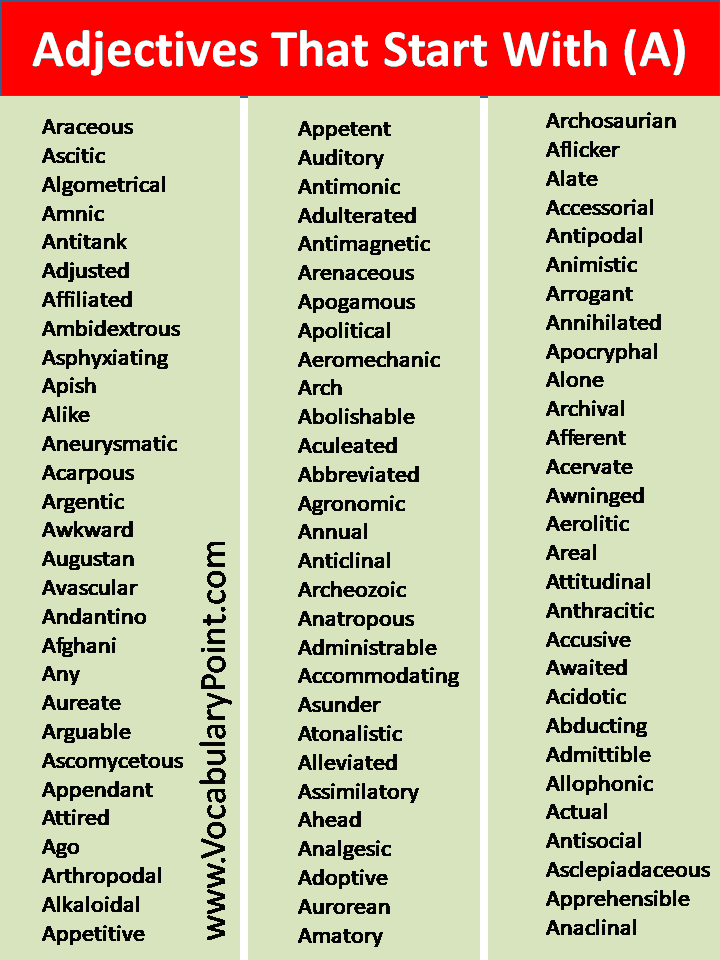 List of Adjectives Starting With A
Alkylic
Appellant
Anthropic
Alchemic
Aphotic
Antic
Amphitheatrical
Amnesiac
Adoring
Adjustable
Archiepiscopal
Alphanumerical
Archidiaconal
Astronomic
Adynamic
Arranged
Avitaminotic
Antiferromagnetic
Angiocarpic
Appalachian
Approximate
Autochthonous
Adonic
Aristocrat
Acetonic
Asphaltic
Aired
Attacking
Assassinated
Austronesian
Awny
Analogue
Accommodational
Apogamic
Abdominovesical
Arboresque
Alphabetical
Apian
Anisogamic
Achromatinic
Albinal
Aweary
Abroach
Analogical
Astatic
Acapnotic
Animalistic
Adaxial
Alligatored
Allogeneic
Antennal
Australasian
Acetylic
Abstracted
Abstemious
Abysmal
Apomictic
Alloyed
Aphoristic
Acicular
Awol
Ancillary
Annihilative
Audiometric
Ambivalent
Archaistic
Alvine
Anencephalic
Anaplastic
Anoxic
Autoimmune
Appealing
Azido
Authentic
Analeptic
Assailant
Austral
Amphoteric
Amphitheatric
Accepting
Atrophic
Aerosolized
Austere
Antipersonnel
Anginal
Atilt
Arduous
Arbitrative
Affixed
Attractable
Anagrammatic
Andean
Amber
Asymptotic
Allergenic
Actuating
Anisogametic
Apostate
Agrestic
Atrabilious
Auriform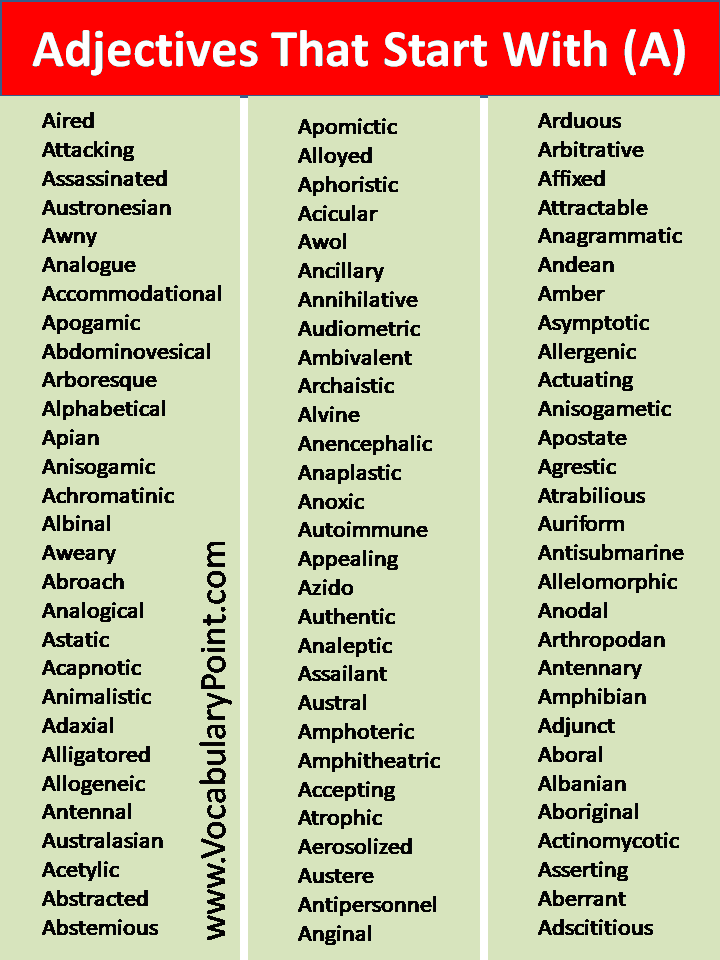 You can Download Adjectives that start with A pdf