Positive Adjectives That Start with O. Adjectives are a useful part of speech that can help to paint a vivid picture in the minds of your readers. They can also be used to create interesting and memorable phrases that you might not have thought of otherwise. If you're looking for adjectives that start with 'O', this article can provide plenty of inspiration. Here, we'll take a look at some of the most common and interesting adjectives beginning with the letter 'O'.
Must Learn: Adjective that start with the letter N
Adjectives That Begin With O
Optimistic: The person was optimistic and always looked on the bright side of things.
Organic: The food was organic and free of chemicals and additives.
Observant: The detective was observant and noticed small details.
Open-minded: The person was open-minded and willing to consider different perspectives.
Outstanding: The performance was outstanding and received a standing ovation.
Original: The artwork was original and unlike anything else.
Orderly: The desk was orderly and everything was neatly arranged.
Obedient: The dog was obedient and followed commands without hesitation.
Ornate: The building was ornate and had intricate details.
Obvious: The answer was obvious and didn't require much thought.
Overwhelming: The task was overwhelming and seemed impossible to complete.
Obliging: The person was obliging and willing to help others.
Open-hearted: The person was open-hearted and kind to everyone they met.
Organic: The garden was organic and used natural methods to grow plants.
Offbeat: The movie was offbeat and had a unique and quirky style.
Outgoing: The person was outgoing and loved meeting new people.
Observational: The scientist was observational and keenly observed the behavior of animals.
Outrageous: The behavior was outrageous and completely unacceptable.
Opportunistic: The person was opportunistic and always took advantage of any situation to benefit themselves.
Oblique: The angle was oblique and not at a right angle.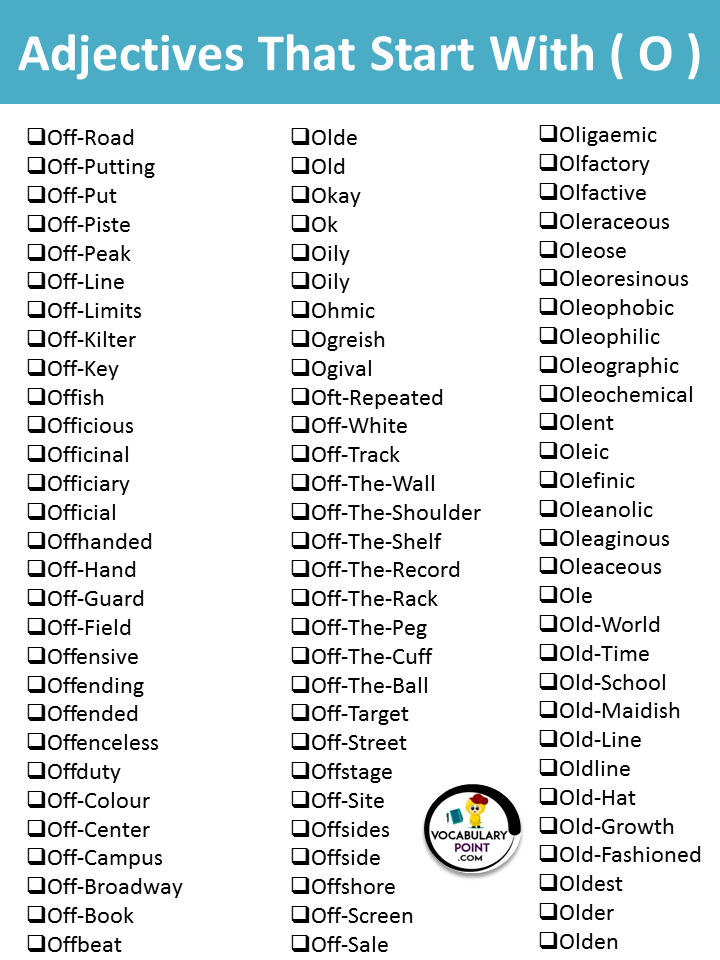 Overclothed
Overcurious
Overdosed
Overbooked
Ovenproof
Overalled
Overcautious
Ovarian
Overlooked
Overneat
Overenthusiastic
Overvaliant
Overracked
Overkeen
Overturnable
Overdramatic
Overage
Overexposed
Over-Educated
Overfreighted
Overstrung
Overflowing
Overhand
Oysterless
Over-The-Counter
Overemphatic
Over-Sensitive
Overstimulated
Overcomplicated
Overachieving
Overfragrant
Overcharged
Overbearing
Overachiever
Ovular
Overwhelming
Overriding
Overaged
Outward
Oversuspicious
Overfatigued
Positive Adjectives That Start With O
Overintense
Over-Elaborate
Overhead
Oversophisticated
Overconscious
Overjust
Overfree
Ox-Eyed
Overdamped
Overcommitted
Overwhelmed
Overambitious
Overcluttered
Overseas
Overconscientious
Overeager
Overforceful
Overbanked
Overfruitful
Outspoken
Outside
Overawed
Overfamiliar
Oversnowed
Oyster
Oxonian
Overburdened
Over
Overdominant
Overplayful
Oviparous
Overgenerous
Overloaded
Outshore
Oversocialized
Ouvrierist
Oversolicitous
Outstanding
Overreaching
Overrash
Overlayered
Overclear
Overcoated
Overforward
Overcoatless
Overcivilized
Oviform
Overmotivated
Overcounted
Oval
Oversolar
Oven-Proof
Outrageous
Overdoped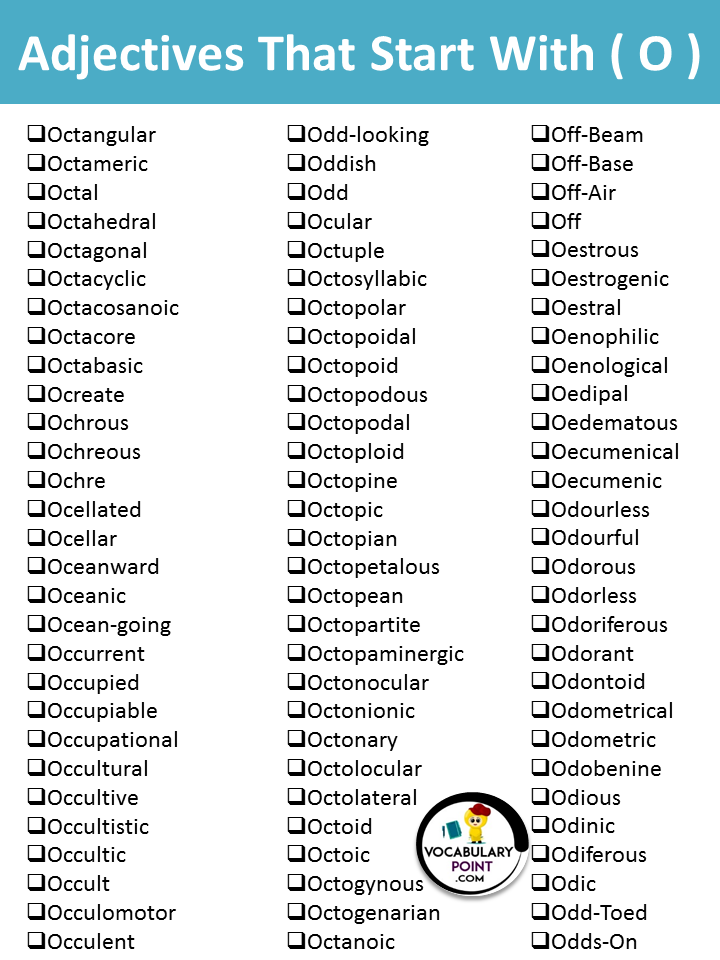 Adjectives That Start With O to Describe a Person Positively
Overinvolved
Oversparred
Overcast
Overstuffed
Overspeeding
Overheated
Overconsiderate
Overoptimistic
Overconcerned
Overgreedy
Over-Rated
Oxlike
Overexerting
Oversmoothed
Over-Fond
Overjubilant
Oversized
Overexcitable
Overclaimed
Overnew
Outsize
Overfed
Overcritical
Over-Ripe
Overindulgent
Overwater
Overuniform
Overdue
Ovulational
Overionized
Overdependent
Overspecific
Overready
Overtrusting
Own
Oversmoothed
Overfulfilled
Overrank
Overfocused
Oystery
Overinformed
Overfraught
Ovid
Overjust
Oxidized
Overprotective
Overabundant
Oversubscribed
Owlish
Overfriezed
Overexerted
Over-The-Top
Outright
Overmighty
Oversize
Overrefined
Overtired
Overpriced
Overarm
Oysterlike
Overall
Overdressed
Overnight
Overreactive
Overwrought
Overbold
Overhasty
Oversewn
Overturned
Overladen
Overindebted
Overtroubled
Overweight
Overland
Oversteered
Over-Ripe
Overworked
Overful
Overraced
Overjittery
Overbreathed
Overfond
Outward
Oversexed
Overanxious
Oxalic
Overaggressive
Overconfident
Over-Zealous
Outsized
Overslow
Adjectives That Start With the Letter O
Overserious
Oxblood
Overblown
Overland
Overjoyed
Overfrequent
Overfull
Overexcited
Oysterish
Overcooked
Overproud
Overshot
Overapt
Overlarge
Ower
Overdelicate
Oversoft
Overcoached
Oversized
Overnice
Overweening
Overread
Oversensitive
Overemotional
Overlying
Owing
Overfocused
Overpessimistic
Overbusy
Ovation
Overdetermined
Over Sized
Overattentive
Overdocumented
Overgrown
Overforested
Ownerless
Overextended
Overclose
Overish
Oxyacetic
Overmodest
Overproof
Overcharged
Overclad
Oversimplistic
Overlookable
Overfucked
Overstated
Overcast
Overfussy
Overmastering
Ovate
Oversea
Overtouristed
Overjealous
Overt
Overpowering
Ovigerous
Overmuscled
Owned
Overfriendly
Overnighter
Overhyped
Overly
Overdeveloped
Overcareful
Overinclusive
Over-Polite
Overdone
Overtight
Overqualified
Overalert
Words That Start With O to Describe Someone
Overcrowded
Oxytocic
Outspread
Oxygenic
Ovaloid
Outraged
Ozone-Friendly
Overfurnished
Oxyntic
Overag
Over-Assertive
Overmuch
Overcoming
Overactive
Overhanded
Overjoyous
Out-Of-Work
Out-Of-Town
Out-Of-State
Out-Of-Service
Out-Of-Print
Out-Of-Pocket
Out-Of-Order
Out-Of-Date
Out-Of-Court
Out-Of-Context
Out-Of-Character
Out-Of-Body
Outmost
Outmoded
Outlying
Outlined
Outlawed
Outlaw
Outlandish
Outland
Outjutting
Outgunned
Outgoing
Outflung
Outflowing
Outfitted
Outermost
Outer
Outdoorsy
Outdoor
Outdated
Outdate
Outdacious
Outcut
Outcoming
Outclassed
Outcast
Outbred
Outbound
Outboard
Outback
Out-And-Out
Out Of Work
Out
Our
Otterlike
Otterless
Otter
Ototoxic
Otoscopic
Otic
Other-Worldly
Otherwise
Other
Ostrich-Like
Ostial
Osteoporotic
Osteopathic
Osteoid
Osteogenic
Osteogenetic
Osteoarthritic
Ostentatious
Ostensive
Ostensible
Osteal
Os-Specific
Ossom
Ossified
Ossiferous
Ossiculate
Ossicular
Osseous
Osmotic
Osmometric
Osmolar
Osmobiotic
Osculatory
Osculating
Oscitant
Oscine
Oscillatory
Oscillating
Os
Orwellian
Orthotopic
Orthorhombic
Orthopedic
Orthopedic
Orthopedic
Orthometric
Orthologous
Orthograde
Orthogonal
Orthognathic
Orthogenic
Orthogenetic
Orthoepic
Orthodox
Orthodontic
Orphic
Orphaned
Orotund
Orosirian
Orosensory
Oroqen
Oronasal
Oromucosal
Orological
Orolingual
Orolabial
Orographical
Orographic
Orogenital
Orogenic
Orogastric
Ornithophilous
Ornithological
Ornithogenic
Ornery
Ornate
Ornamental
Orkish
Orinocan
Orinasal
Originless
Originative
Originative
Originary
Original
Originable
Origenistic
Origenist
Origenian
Orienting
Oriented
Orientational
Orientating
Orientated
Oriental
Orient
Orgulous
Orgiastic
Orgasmic
Organized
Organizational
Organismic
Organismal
Organic
Oregonian
Orectic
Ordurous
Ordinate
Ordinary
Ordinal
Orderly
Ordered
Orderable
Ordeal
Ordained
Orcish
Orchestrated
Orchestral
Orblike
Orbless
Orbitual
Orbitary
Orbital
Orbiculate
Orbicular
Oratorical
Oratorian
Oratorial
Orangy
Orangish
Orangey
Orange
Orange
Oral
Oracular
Opuntiaceous
Opulent
Opulent
Optronic
Optotypic
Optothermal
Optospintronic
Optomotor
Optokinetic
Optoelectronic
Optional
Optional
Optimum
Optimistic
Optimific
Optimal
Optical
Optic
Opthalmic
Optative
Opsonic
Opprobrious
Oppressive
Oppressional
Oppressed
Oppositive
Oppositional
Opposite
Opposing
Opposed
Opposable
Opportunistic
Opportunist
Opportunist
Opportune
Opponent
Oppilative
Opinionated
Opiate
Ophiolitic
Ophidian
Operose
Operculated
Operculate
Opercular
Operative
Operationalist
Operational
Operating
Operatic
Operant
Operable
Opephoroid
Opensource
Opensightly
Open-Plan
Open-Mouthed
Open-Minded
Opening
Open-Hearth
Open-Hearted
Open-Handed
Openhanded
Open-Faced
Open-Eyed
Open-Ended
Opened
Opened
Opencut
Opencast
Open-Book
Open-Armed
Open-And-Shut
Open-Air
Openable
Open
Opaque
Opaline
Opalescent
Opacular
Opacous
Opacifiable
Opacating
Oozy
Oolitic
Oofy
Oob
Oo
Onyx
Onymous
Onygenaceous
Onward
Ontological
Ontologic
Ontogenetic
Ontic
On-The-Spot
On-The-Job
On-Stage
On-Site
Onside
Onshore
Onshore
On-Scene
Onrushing
On-Road
Onomatopoeic
Onomastic
On-Off
Only
Onlooking
On-Line
Onlest
Onkus
Onirocritic
Oniric
Oniony
Onionlike
Onionless
Onioned
On-Hand
On-Going
One-Way
One-Track
One-Touch
One-To-One
One-Time
Onetime
Onetime
One-Third
One-Tenth
One-Stop
One-Sixth
One-Sided
Onesided
One-Shot
One-Seventh
Onerous
One-Quarter
One-Pot
One-Piece
One-On-One
One-Off
One-Note
One-Ninth
One-Legged
Oneiric
One-Hour
One-Handed
One-Half
One-Gallused
One-Fourth
One-Fifth
One-Eyed
One-Eighth
One-Day
One-Armed
One
Oncoming
Oncological
Oncogenomic
Oncogenic
Oncogenetic
Once-Removed
On-Campus
On-Camera
Onanistic
On-Air
On
Omphalinoid
Omphalic
Omphacitic
Omphacine
Omotic
Omosternal
Omophagous
Omophagic
Omohyoidean
Omnivorous
Omniscient
Omnipresent
Omnipotent
Omnidirectional
Omnibus
Ommatidial
Omissive
Omissible
Ominous
Omasal
Omani
Omakase
Olympic
Olympian
Olivelike
Olive
Olivary
Oliguric
Oligotrophic
Oligotrichous
Oligosynaptic
Oligosemic
Oligosaline
List of Words starting with O
Octolateral
Octoid
Octoic
Octogynous
Octogenarian
Octanoic
Octangular
Octameric
Octal
Octahedral
Octagonal
Octacyclic
Octacosanoic
Octacore
Octabasic
Ocreate
Ochrous
Ochreous
Ochre
Ocellated
Ocellar
Oceanward
Oceanic
Ocean-Going
Occurrent
Occupied
Occupiable
Occupational
Occultural
Occultive
Occultistic
Occultic
Occult
Occulomotor
Occulent
Occlusive
Occlusional
Occluse
Occlusal
Occluded
Occipital
Occidental
Occasional
Obvious
Obviating
Obverse
Obtuse-Angled
Obtuse
Obtrusive
Obstruent
Obstructive
Obstructive
Obstructed
Obstreperous
Obstinate
Obstinant
Obstetrick
Obstetricious
Obstetrical
Obstetric
Obstacular
Obstacle-Ridden
Obsoleter
Obsolete
Obsolescent
Obsignatory
Obsessive
Obsessional
Obsessional
Obsessed
Observing
Observed
Observational
Observant
Observable
Observable
Obsequious
Obscure
Obscurant
Obscene
Obnoxious
Oblong
Oblivious
Oblivious
Obliterative
Obliterated
Obliterable
Oblite
Obliquid
Oblique
Oblimin
Oblike
Obliging
Obliged
Obligatory
Obligational
Obligated
Obligated
Obligate
Oblationary
Oblate
Objectual
Object-Oriented
Objectless
Objective
Objectional
Objectionable
Object-Based
Obituary
Obfuscatory
Obese
Obeisaunt
Obeisant
Obedt
Obediential
Obedient
Obedient
Obedible
Obdurant
Oaken
Oak
Oafish
You can Download Pdf  Adjectives words starting with O