List Of Adjectives Starting With B. Adjectives that start with the letter B can be a powerful tool in improving your writing. Whether you're crafting a poem, a short story, or an essay, these words can help you add flavor and express yourself more clearly. There are many different types of adjectives that start with B, from descriptive to comparative and even some that refer to personality traits.
Must Learn: Adjectives that start with C
Adjectives Starting With B
Beautiful – The beautiful flower garden was a sight to behold.
Brave – The brave firefighter rushed into the burning building to save lives.
Brilliant – The brilliant scientist made groundbreaking discoveries in her field.
Bitter – The bitter taste of the medicine made it difficult to swallow.
Blissful – The blissful couple enjoyed their honeymoon on a tropical island.
Bold – The bold fashion designer created daring and unique designs.
Bouncy – The bouncy ball kept the children entertained for hours.
Bright – The bright sunshine illuminated the park on a summer day.
Busy – The busy streets of the city were filled with people rushing to and fro.
Bizarre – The bizarre artwork on display at the museum was both fascinating and perplexing.
Broken – The broken vase shattered into a thousand pieces on the floor.
Broad – The broad smile on her face showed just how happy she was.
Brutal – The brutal storm caused widespread damage and destruction.
Burly – The burly man lifted the heavy boxes with ease.
Busybody – The busybody neighbor always pried into other people's business.
Blissful – The blissful moment of silence after a long day was much appreciated.
Breathless – The breathless runner finished the marathon in record time.
Bright-eyed – The bright-eyed child was full of energy and curiosity.
Blissful – The blissful sensation of warm sand between your toes on a beach.
Blissful – The blissful sound of rain on the roof on a cozy night in.
Boughless
Balding
Blastogenetic
Biferous
Bizonal
Buffoon
Blank
Brief
Bloated
Beadlike
Berried
Breeding
Barnacled
Branchless
Bullish
Babbling
Bennet
Bidirectional
Braised
Bereft
Beneficiary
Beaten
Batrachophagous
Buccal
Boarish
Blameful
Bothnian
Blastophoral
Blithe
Ballast
Brachydactylous
Bristly
Brute
Butyraceous
Blastoporic
Bepuffed
Blithesome
Bifocal
Bulging
Beechy
Bridgey
Blabbermouthed
Beastlike
Bipyramidal
Banging
Brightsome
Bootlicking
Busy
Bifarious
Burrlike
Bipunctate
Bicameral
Banded
Bombylious
Bengalese
Benedictive
Bearish
Bawling
Bondable
Bedazzled
Bryophytic
Bursting
Buxom
Bricky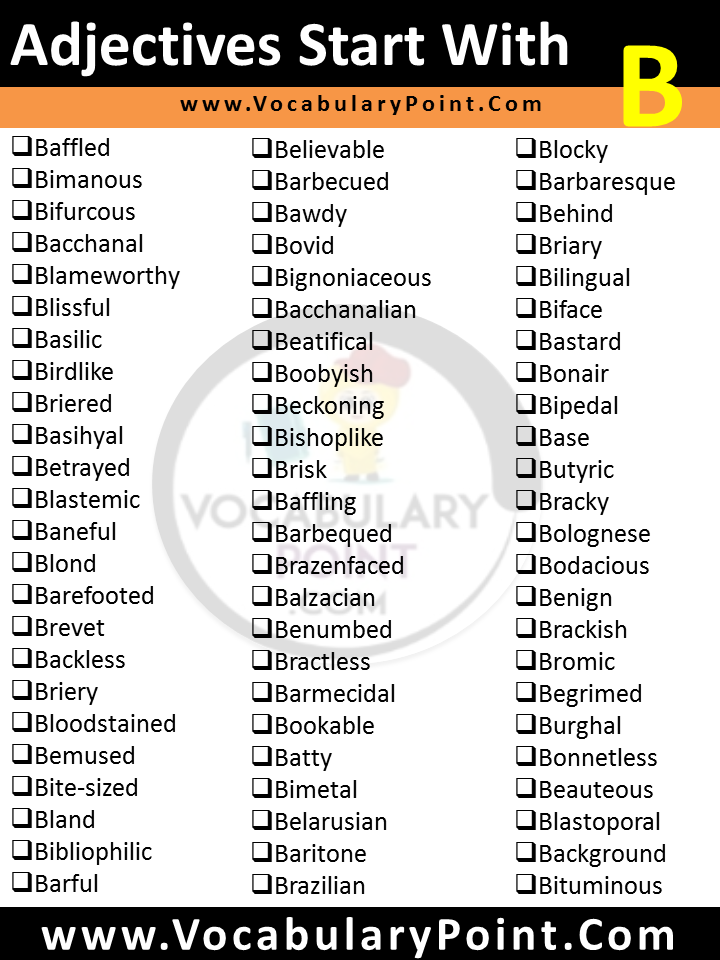 Bantering
Bezoartical
Buggy
Benthamic
Brahminic
Brachial
Boracic
Bedlam
Brachycephalic
Burletta
Blastomeric
Babylonic
Biographical
Belgravian
Barocco
Biliteral
Bright-red
Brambled
Badgeless
Blackened
Barbarian
Bavarian
Bristlelike
Bearing
Belemnitic
Brawling
Blase
Britannic
Biomedical
Bondage
Bermudan
Bregmatic
Beguiling
Bobbish
Bullocky
Blowzy
Bollen
Bestraught
Botryoidal
Basipetal
Breathtaking
Bathetic
Biserial
Bedimmed
Birefringent
Blushful
Bibacious
Breadless
Bureaucratic
Branchiopodous
Bioplasmic
Braying
Bighearted
Busiest
Bohemian
Burglarious
Buccinal
Bequeathable
Bushwhacking
Bicarbureted
Bicylindrical
Bimembral
Bully
Basifixed
Bromoiodized
Bridgeable
Burdenless
Boronic
Bogartian
Blustering
Boon
Budget
Blanket
Bombycinous
Bountiful
Bicorn
Brinish
Bimestrial
Beige
Beamless
Baffled
Bimanous
Bifurcous
Bacchanal
Blameworthy
Blissful
Basilic
Birdlike
Briered
Basihyal
Betrayed
Blastemic
Baneful
Blond
Barefooted
Brevet
Backless
Briery
Bloodstained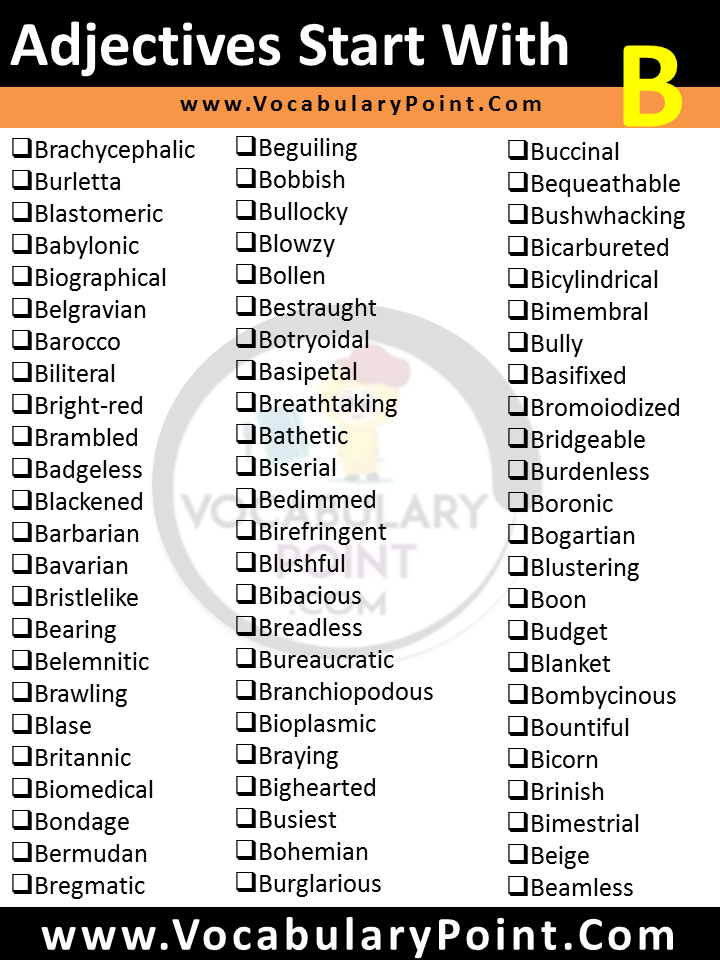 Bemused
Bite-sized
Bland
Bibliophilic
Barful
Believable
Barbecued
Bawdy
Bovid
Bignoniaceous
Bacchanalian
Beatifical
Boobyish
Beckoning
Bishoplike
Brisk
Baffling
Barbequed
Brazenfaced
Balzacian
Benumbed
Bractless
Barmecidal
Bookable
Batty
Bimetal
Belarusian
Baritone
Brazilian
Biparietal
Busked
Berserk
Blocky
Barbaresque
Behind
Briary
Bilingual
Biface
Bastard
Bonair
Bipedal
Base
Butyric
Bracky
Bolognese
Bodacious
Benign
Brackish
Bromic
Begrimed
Burghal
Bonnetless
Beauteous
Blastoporal
Background
Bituminous
Bolstered
Bivial
Batwing
Babylonian
Bankable
Bugbear
Breathable
Birchen
Beggable
Brave
Biaural
Beninese
Beplumed
Bombast
Brattish
Bombproof
Breezy
Bogglish
Braw
Belligerent
Breakable
Bernese
Bracteal
Basylous
Bigot
Bibliographical
Braggy
Booted
Bootylicious
Bicapsular
Blastophoric
Biantheriferous
Blastocoelic
Barfing
Better-off
Bibulous
Battered
Bibliological
Brainsick
Bubbly
Bimodal
Barytic
Burnable
Bleary-eyed
Bereaved
Beautified
Blotless
Backhanded
Backward
Barmy
Blotto
Bettermost
Bonapartean
British
Bibless
Bullheaded
Beatified
Bloody
Bold
Belgian
Bearded
Blowzed
Bipinnatifid
Blistering
Breviped
Brachypterous
Boustrophedonic
Bushless
Bullnecked
Brumal
Bronzed
Birch
Bragless
Brillante
Buoyant
Banned
Boisterous
Balmy
Bulbous
Bared
Broken-hearted
Bribable
Bastardly
Breakaway
Berrylike
Biforked
Babish
Bulgarian
Brimless
Bibliomaniacal
Breaded
Bickering
Bodleian
Biscayan
Blissom
Botanical
Bankrupt
Bowelless
Billable
Basal
Basilary
Blue
Barred
Bungling
Blastemal
Buried
Blendous
Brimful
Brahmanic
Birthless
Balneatory
Bogus
Blackish
Barbarous
Blessings
Binal
Bioactive
Boneheaded
Broad
Bustling
Benzylic
Bullying
Bacciferous
Baccivorous
Bald
Bigeminal
Barbigerous
Bewhiskered
Brassbound
Blessed
Branchy
Beaded
Blasting
Banal
Becoming
Balanced
Bosnian
Balsamous
Beforehand
Bismuthiferous
Biparous
Bullfaced
Barometric
Bastardised
Bladed
Blamed
Bismuthous
Biconcave
Brutish
Bipetalous
Blastodermatic
Beamful
Boxy
Bourgeois
Briefless
Blueish
Barbed
Burlesque
Baleful
Buskined
Blown
Bell-like
Bigeneric
Babbling
Beholden
Bodeful
Benighted
Bibliothecal
Biennial
Batavian
Bimetallic
Biangulous
Bloodless
Basinal
Bipartible
Broomy
Brawny
Blue-ribbon
Belching
Biological
Behindhand
Blissless
Boring
Brachycephalous
Becalmed
Bowable
Beatific
Bothered
Bumptious
Baby
Belletristical
Boorish
Blae
Ballsy
Bugginess
Brotherlike
Breathed
Baptistical
Bespectacled
Beethovenian
Bright-eyed
Baltic
Boyish
Bladdery
Banausic
Breadthless
Boracous
Better
Bossy
Bicorporal
Brainless
Branchiostegal
Bicornous
Blundering
Beavered
Boatable
Bimanual
Breeched
Brachycranic
Brigandish
Beaconless
Blameless
Broche
Brickle
Biggest
Biramous
Bribeless
Bedraggled
Behooveful
Bony
Blatant
Befogged
Bardish
Blocklike
Bodacious
Biogenous
Barbadian
Binominous
Basque
Barbaric
Biliferous
Bidental
Black
Budding
Brecciated
Bathyal
Brotherly
Bimillenial
Bladelike
Berkeleian
Blowy
Beaklike
Beneficient
Blaring
Balustered
Bigmouthed
Bauxitic
Buddhist
Biodegradable
Biddable
Batrachian
Biforous
Bewailable
Brachytypous
Bijugous
Beneficial
Ballooned
Bent
Bladderlike
Breezeless
Bronchoscopic
Bichromated
Bandy
Brasslike
Bridal
Buglike
Bad
Bacchical
Bloodthirsty
Bouncing
Bearable
Burmese
Baled
Bunglesome
Baseless
Baggy
Balking
Bilabial
Bedewed
Baptizable
Baldheaded
Barren
Bryozoan
Bellyless
Biggish
Bolivian
Bright
Basilical
Blenniid
Bizarre
Bindable
Benumb
Burundian
Bisexual
Breasted
Blockish
Breachy
Brachydiagonal
Botched
Bias
Basined
Balanceable
Bratty
Baddish
Buddhistic
Blind
Boxen
Bengali
Blasphemous
Benignant
Behavioristic
Betulaceous
Biased
Bayesian
Bardic
Blame
Brighter
Bifold
Baroque
Bushy
Biliary
Biting
Bad-tempered
Bibasic
Babelike
Burbly
Buffy
Bestial
Best
Basidial
Blushing
Biblical
Braky
Bewildered
Balky
Buzzing
Bissextile
Bilobed
Bullantic
Brown-eyed
Bivious
Baronial
Brainwashed
Blandiloquious
Braided
Bituminiferous
Bestubbled
Briarean
Bridgeless
Bigger
Beeping
Brilliant
Binaural
Blastematic
Bittern
Basaltic
Binous
Bounderish
Booming
Bone-crushing
Beakless
Beardown
Blazing
Bicipitous
Blanch
Blastodermic
Blushless
Blitheful
Bureaucratical
Beneficential
Buckish
Bosporian
Bulimic
Balkish
Bitter
Bahamian
Beseeming
Breastless
Brachyurous
Befuddled
Bootless
Battleful
Boreal
Burdensome
Botulinal
Beaming
Biconvex
Backmost
Balletic
Boundless
Blood-red
Bashful
Blooded
Beneficent
Branchial
Bejeweled
Boraginaceous
Bellicose
Blastospheric
Biflorous
Bedridden
Biochemical
Bumpy
Bournless
Bilinear
Blubbery
Backboned
Besprent
Bismuthal
Beggary
Biogeographical
Burly
Bootleg
Boswellian
Borable
Blastocarpous
Breton
Blood-curdlin
Bewrought
Brightest
Booby
Bimensal
Bruised
Belletristic
Bigoted
Beneaped
Bilgy
Bosomy
Bittersweet
Bilateral
Bibliopegic
Birken
Babylonical
Buff
Bimedial
Blooming
Bursal
Betrothed
Blastomycotic
Befitting
Boorish
Bedaubed
Bendable
Barbre
Brittle
Blighting
Boastless
Beautiful
Boylike
Bisectional
Brazen
Blindfold
Breakneck
Bisulcous
Benthal
Beachy
Bare
Baume
Blowsy
Birectangular
Blamable
Bipunctual
Brusque
Breathless
Brahminical
Bated
Brill
Benzoic
Brachyural
Biacid
Beamed
Bloodsucking
Braless
Beatable
Bumpkinly
Basioccipital
Branny
Baboonish
Bailable
Biomagnetic
Beastly
Bicentennial
Brevirostral
Boardable
Bedless
Brashy
Billowy
Brunonian
Blue-eyed
Bulgy
Brassy
Bedouin
Blennogenous
Beloved
Brunette
Bronchial
Barky
Baseborn
Backup
Benzoinated
Biopsychical
Bedrid
Briny
Bulky
Bonafide
Bibliolatrous
Borraginaceous
Baric
Bicallous
Busky
Barking
Baconian
Brachiopodous
Bored
Blonde
Bounty
Bulletproof
Bibliothecarial
Bicephalous
Benevolent
Brassicaceous
Biradial
Beardless
Batrachoid
Bandaged
Bryological
Bumbling
Bluntish
Balneal
Boistous
Biventral
Bubonic
Blottesque
Balaniferous
Baptized
Brachydactylic
Bounteous
Blasted
Beechen
Butyrous
Bousy
Barnlike
Burundi
Boolean
Beheaded
Bordeaux
Blotchy
Brainish
Brag
Basilar
Bedfast
Basiscopic
Bacchantic
Bibliopegistic
Brent
Buxeous
Blythe
Blady
Broadminded
Burgeoning
Beamy
Branchiostegous
Beaked
Bruneian
Bubaline
Belittling
Balearic
Bromeliaceous
Boragineous
Bewitched
Bijou
Blasty
Behavioral
Basial
Big
Bicaudal
Brainy
Brachyceral
Brumous
Brown
Blabby
Bigoted
Bicrural
Boastful
Businesslike
Bulbaceous
Bothnic
Bactrian
Bristled
Balsamy
Bathymetrical
Bicipital
Bewitching
Bolshy
Brachycranial
Bicched
Bedded
Beltlike
Baccalaureate
Boletic
Beady
Blunt
Bookish
Bloomless
Barycentric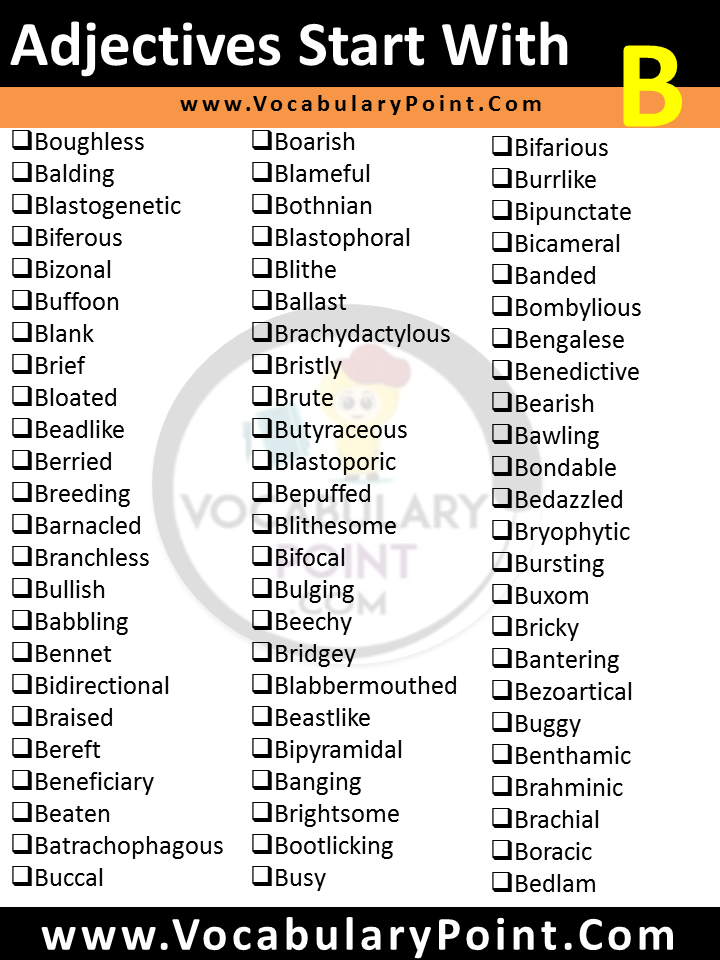 You can Download List Of Adjectives Beginning With B Pdf