Adjectives That Start With C. Welcome to our guide on adjectives that start with the letter "C"! This article is intended to help you expand your vocabulary and knowledge of adjectives. Here, you will find a comprehensive list of adjectives that start with "C", along with examples of how they can be used in sentences. Not only that, but we will also provide some helpful tips and tricks on how you can use these words more effectively.
Must Read: Adjectives that start with D
List Of Adjectives Beginning With C
Cheerful – The cheerful flowers brightened up the room.
Cozy – The cozy cabin was the perfect place to spend a snowy weekend.
Creative – The creative writer crafted a compelling story that kept readers hooked.
Cunning – The cunning fox outsmarted the farmer's traps and stole the chickens.
Curious – The curious child asked a million questions about everything around them.
Calm – The calm waters of the lake reflected the mountains in the distance.
Careful – The careful driver followed all the traffic rules and avoided accidents.
Captivating – The captivating performance by the ballet troupe left the audience spellbound.
Charming – The charming old town had a quaint and cozy feel to it.
Comical – The comical actor had the audience in stitches with his hilarious performance.
Confident – The confident speaker delivered a powerful speech that inspired the crowd.
Confused – The confused student struggled to understand the complex math problem.
Courageous – The courageous soldier bravely fought on the front lines to protect his country.
Creative – The creative artist painted a beautiful and imaginative portrait.
Crisp – The crisp autumn air carried the scent of falling leaves and wood smoke.
Crooked – The crooked fence needed to be fixed before it fell over completely.
Cruel – The cruel bully picked on the weaker kids at school and made them miserable.
Cuddly – The cuddly kitten purred as it snuggled in its owner's lap.
Curly – The curly-haired girl had bouncy, ringlets that framed her face.
Cute – The cute puppy wagged its tail and licked its owner's face with affection.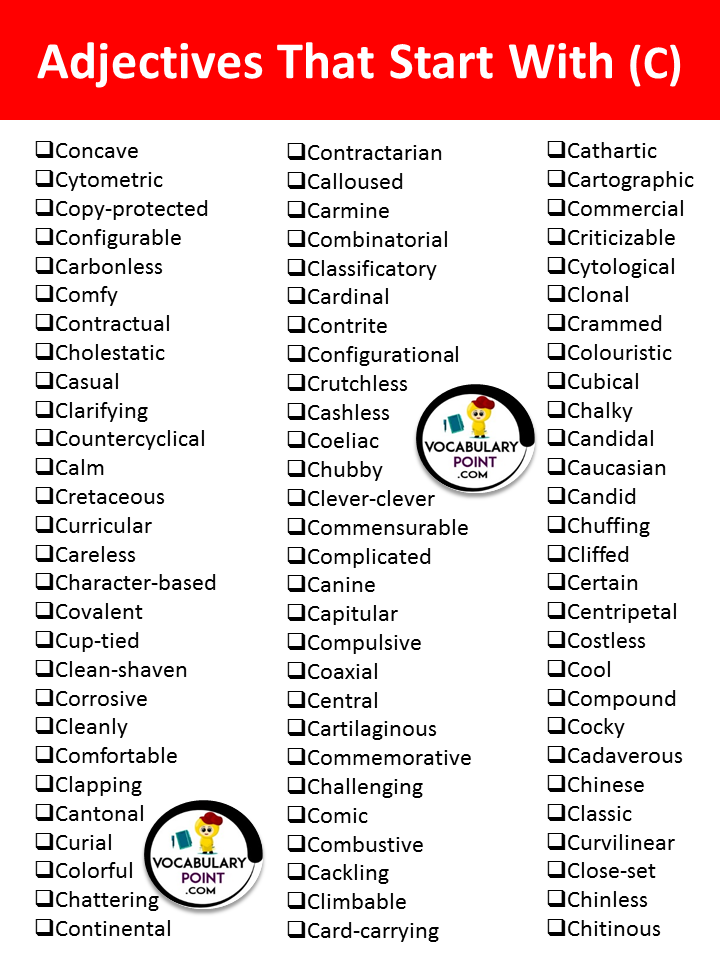 List Of Adjectives 1:
Czech
Cytotoxic
Citric
Cloggy
Critical
Chirpy
Cerebral
Credal
Current
Corrective
Crappy
Calligraphic
Collegial
Cementitious
Cybernetic
Complaisant
Claggy
Collaborative
Canopic
Crablike
Carribean
Companionable
Crotchety
Context-sensitive
Close-range
Cannibal
Compliant
Cashable
Cat-and-mouse
Confusable
Constitutive
Compresent
Cardiac
Cheering
Cozy
Cultivable
Catch-as-catch-can
Commendable
Cut-price
Cheapest
Cross-cultural
Cosmetic
Circulatory
Clinging
Collective
Compatible
Crazed
Compartmented
Comely
Connexional
Chloric
Collectable
Cacophonous
Characterless
Chordal
Curmudgeonly
Chewing
Caval
Cack-handed
Cut
Cultural
Coy
Corner
Cabbalistic
Commanding
Cristal
Cavernous
Covetous
Colonial
Candied
Colourless
Calmed
Cleanish
Coliform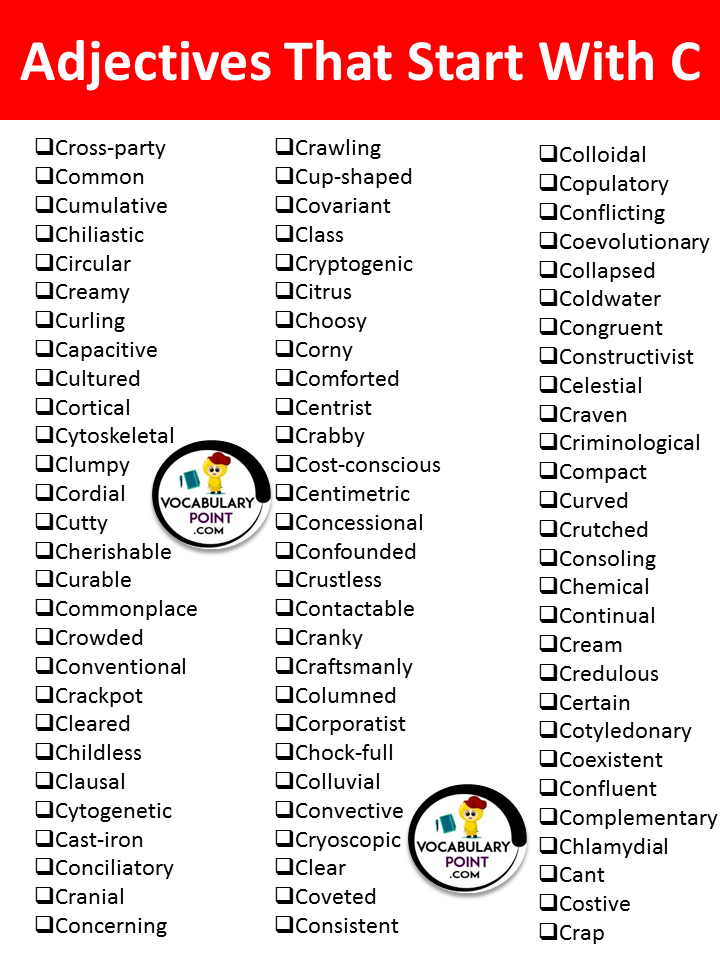 Complexioned
Cirrhotic
Copyable
Clastic
Cute
Clairvoyant
Consumable
Colourfast
Complementary
Corrupting
Connecting
Conjectural
Cottagey
Crinolined
Coolest
Caecal
Correctional
Cruddy
Creeping
Civilian
Collapsing
Creditable
Carious
Carotid
Childproof
Clown
Coordinated
Content
Cross-sectional
Client-server
Cohesive
Camp
Categorial
Cracked
Chthonic
Clunky
Chancy
Cherubic
Carbonaceous
Ceremonious
Crossed
Comfortless
Cold
Condemned
Consummate
Componential
Conservative
Clayey
Connotative
Conspicuous
Criterial
Conjunctural
Colourful
Choral
Circadian
Cautious
Cloudy
Clearwater
Calculated
Chromium-plated
Churlish
Containable
Corniced
Coxless
Consensual
Costal
Controversial
Caudal
Contemporary
Cluttered
Chilly
Congregational
Combustible
Collected
Cordial
Chocoholic
Concave
Cytometric
Copy-protected
Configurable
Carbonless
Comfy
Contractual
Cholestatic
Casual
Clarifying
Countercyclical
Calm
Cretaceous
Curricular
Careless
Character-based
Covalent
Cup-tied
Clean-shaven
Corrosive
Cleanly
Comfortable
Clapping
Cantonal
Curial
Colorful
Chattering
Continental
Contractarian
Calloused
Carmine
Combinatorial
Classificatory
Cardinal
Contrite
Configurational
Crutchless
Cashless
Coeliac
Chubby
Clever-clever
Commensurable
Complicated
Canine
Capitular
Compulsive
Coaxial
Central
Cartilaginous
Commemorative
Challenging
Comic
Combustive
Cackling
Climbable
Card-carrying
Cathartic
Cartographic
Commercial
Criticizable
Cytological
Clonal
Crammed
Colouristic
Cubical
Chalky
Candidal
Caucasian
Candid
Chuffing
Cliffed
Certain
Centripetal
Costless
Cool
Compound
Cocky
Cadaverous
Chinese
Classic
Curvilinear
Close-set
Chinless
Chitinous
Cancerous
Cryonic
Contributive
Causewayed
Coincidental
Cliffhanging
Confessional
Chirurgical
Chocolate-box
Consumptive
Coeval
Canadian
Combed
Colonialist
Conflictual
Crestfallen
Chivalric
Competent
Chelonian
Cochlear
Calculational
Challenged
Contrary
Cold-hearted
Chilling
Confirmed
Cimmerian
Comradely
Chauvinistic
Confusing
Choreographic
Collocational
Comorbid
Chargeable
Commodious
Citable
Contemptible
Confederal
Colloid
Constructional
Counterfeit
Crystal-clear
Colorimetric
Cholic
Carbon-based
Cooing
Cinematographic
Cognate
Convincing
Cloudless
Constituent
Coarse
Coin-op
Conformal
Cunning
Circumambient
Chary
Chuckling
Crude
Cellulosic
Class-based
Chemotherapeutic
Cryptic
Commensurate
Craniofacial
Constructive
Cometary
Cosmopolitan
Cocksure
Cricketing
Colicky
Cyclic
Clear-cut
Civilisational
Corruptible
Countless
Compensatory
Counterfactual
Considerable
Compellable
Characteristic
Communicant
Catchy
Cleverest
Charnel
Cross-party
Common
Cumulative
Chiliastic
Circular
Creamy
Curling
Capacitive
Cultured
Cortical
Cytoskeletal
Clumpy
Cordial
Cutty
Cherishable
Curable
Commonplace
Crowded
Conventional
Crackpot
Cleared
Childless
Clausal
Cytogenetic
Cast-iron
Conciliatory
Cranial
Concerning
Crawling
Cup-shaped
Covariant
Class
Cryptogenic
Citrus
Choosy
Corny
Comforted
Centrist
Crabby
Cost-conscious
Centimetric
Concessional
Confounded
Crustless
Contactable
Cranky
Craftsmanly
Columned
Corporatist
Chock-full
Colluvial
Convective
Cryoscopic
Clear
Coveted
Consistent
Colloidal
Copulatory
Conflicting
Coevolutionary
Collapsed
Coldwater
Congruent
Constructivist
Celestial
Craven
Criminological
Compact
Curved
Crutched
Centennial
Competitive
Clinicopathologic
Consoling
Chemical
Continual
Cream
Credulous
Certain
Cotyledonary
Coexistent
Confluent
Complementary
Chlamydial
Catty
Choking
Cathodic
Cratonic
Coequal
Cystic
Convertible
Cadential
Close-packed
Conventual
Crunching
Common-or-garden
Calendrical
Complaining
Curt
Cloacal
Conscientious
Coronal
Clear-eyed
Cold-blooded
Conclusive
Chaotic
Cyberdelic
Contradicting
Cut-rate
Carnivalesque
Cant
Conative
Convinced
Copper
Changeable
Coin-operated
Cyclical
Compartmental
Contentious
Ceilinged
Congregationalist
Climatological
Clannish
Costive
Celebratory
Cancelled
Cash-strapped
Coronoid
Consequential
Curtainless
Cognizant
Coughing
Connectable
Concurrent
Compendious
Convulsive
Crystallized
Crap
Cannibalistic
Crapper
Crushed
Conformable
Chimeric
Criminogenic
Cubic
Choleretic
Crummy
Computer-based
Cardiovascular
Contraband
Characterful
Clandestine
Coherent
Cyanotic
Convalescent
Conceited
Certified
Church-going
Chaffy
Cardiological
Complicit
Clashing
Carbolic
Curvy
Caustic
Chart-topping
Cholangiographic
Completing
Calming
Calamitous
Captive
Cartesian
Creditworthy
Cuticular
Cytoplasmic
Creepy
Coalfired
Classy
Circumnuclear
Collisional
Confirmatory
Contagious
Conformant
Chinky
Carbamylated
Controlling
Customizable
Commonsense
Climactic
Cowardly
Charming
Contestable
Conflict-ridden
Concealable
Confidential
Crusty
Coed
Chested
Cyclonic
Coveted
Colour-blind
Constabulary
Clearheaded
Compositional
Cerebellar
Coppery
Coelomic
Contralateral
Costly
Cowering
Cerebrovascular
Categorized
Capitalistic
Celebrating
Continuous
Cretinous
Cliquish
Canalicular
Clean-cut
Creaky
Chatty
Cacophonic
Congestive
Chromosomal
Champion
Curious
Chrome-plated
Champertous
Cross-platform
Clean-living
Cultic
Clubbable
Cuteness
Communicational
Custodial
Communicative
Clinical
Cushy
Captious
Consistently
Corn-fed
Capillary
Catenary
Cnemial
Choked
Congratulatory
Conditional
Comedic
Civic-minded
Cooperative
Continuing
Confused
Compressive
Commutative
Comprehensible
Cuspate
Consonantal
Cyanogenic
Celebrated
Congested
Communist
Chappy
Class-action
Congruous
Countrywide
Cuboid
Capsulate
Caseous
Conceptive
Courageous
Concerned
Cardiogenic
Circumpolar
Contrasty
Combinatory
Cindery
Cotectic
Categoric
Cryptogamic
Copper-bottomed
Convergent
Child-free
Coxed
Cheery
Comparable
Collusive
Capital
Cerise
Closeable
Cordless
Centralist
Cross-eyed
Careworn
Cloistral
Calculative
Cockney
Cryptographic
Counterrevolutionary
Cervical
Congressional
Cheeky
Celled
Culinary
Canadian
Concerted
Contemplative
Compleat
Cavalier
Cragged
Coercive
Cis-acting
Concise
Columnar
Coextensive
Close-minded
Cherished
Countable
Carbonic
Colitic
Cinerary
Congenial
Close-run
Corporate
Commonsensical
Coincident
Coxal
Conversant
Converse
Constrictive
Chunky
Creative
Chock-a-block
Chondritic
Copular
Clangorous
Concrete
Carboxylic
Choc-a-bloc
Carpal
Cyclopean
Cosmopolitan
Correct
Consubstantial
Courtly
Clean
Candlelit
Chivalrous
Crimson
Catatonic
Chromogenic
Connected
Computer
Colloquial
Cardiothoracic
Confirmable
Crumbling
Careful
Consociational
Civic
Compressional
Collarless
Custom-built
Correlative
Cautionary
Capital-intensive
Cost-saving
Capricious
Countrified
Cobwebby
Catechetical
Computerized
Caffeinated
Canny
Chromatographic
Charismatic
Calciferous
Cut-throat
Caparisoned
Capacious
Canonic
Cladistic
Clerical
Concealed
Contestatory
Contumacious
Conspecific
Clogged
Conceptual
Chalybeate
Carmined
Culpable
Crucial
Conjugal
Compassionless
Celibate
Cosy
Contented
Chimaeric
Cheerless
Cataleptic
Compulsory
Clarty
Colic
Crisis-ridden
Charged
Cowled
Committed
Confiscatory
Clueless
Condemnatory
Chearful
Close-up
Counter-intuitive
Charmless
Croaky
Chromatic
Comical
Chronostratigraphical
Cubiform
Cross-grained
Cast-off
Charging
Capacitative
Completed
Caring
Cutting-edge
Certifiable
Classified
Conical
Calculating
Contractile
Calorimetric
Cataclysmic
Characterisable
Collaborationist
Clear-sighted
Cushiony
Cosmic
Contoured
Crazy
Combined
Carved
Cloistered
Communitarian
Crawly
Circling
Callused
Circumferential
Christian
Chewable
Capable
Cutting
Contingent
Candy-striped
Cytoprotective
Crunchable
Crying
Communicable
Connective
Clamorous
Conscious
Carefree
Cockeyed
Coffered
Closed-circuit
Craftsmanlike
Clammy
Conspiratorial
Company-specific
Cat-like
Cognisant
Chronological
Concentric
Calorific
Combative
Consonant
Charitable
Cuboidal
Constant
Committed
Cursive
Cush
Campy
Coaly
Catastrophic
Crenellated
Contextless
Consenting
Cerebrospinal
Catarrhal
Computable
Cursed
Convivial
Cataphoric
Crosswise
Curly
Carless
Corporeal
Coming-of-age
Ciliated
Chic
Carboniferous
Coquettish
Conflicted
Comparative
Covert
Chinned
Configured
Checkable
Curative
Centesimal
Cumbersome
Concomitant
Colorless
Crafty
Centrosymmetric
Constitutional
Changeless
Collapsible
Cetacean
Crotchless
Cholinergic
Climacteric
Crinkly
Close-hauled
Cheerful
Coastal
Curvaceous
Chill
Citified
Co-operative
Crackers
Crinkle-crankle
Childish
Credible
Creaking
Convex
Clingy
Chintzy
Cadaveric
Comital
Contractionary
Cuddly
Context-free
Cloak-and-dagger
Causeless
Categorical
Calcic
Cephalic
Crepuscular
Catlike
Counted
Contemporaneous
Crumbly
Carcinoembryonic
Clownish
Clicky
Clitoral
Conscienceless
Complacent
Comatose
Cornered
Compelling
Cornucopian
Communal
Condescending
Crystallizable
Choice
Classless
Complimentary
Carnivorous
Crinoid
Coarse-grained
Circuitous
Civilized
Cardiopulmonary
Computational
Cordial
Cubist
Chipper
Cruelty-free
Clever
Contrapuntal
Causative
Congeneric
Ceaseless
Counterintuitive
Cancellable
Cepheid
Crushable
Chief
Colonic
Crass
Crack
Creaturely
Close-knit
Criss-cross
Churchy
Clanging
Corresponding
Consanguineous
Classical
Constructible
Catabolic
Client-side
Combatant
Centric
Choleric
Choppy
Concealing
Confident
Courteous
Cumbrous
Chimerical
Cantankerous
Coterminous
Crime-ridden
Chambered
Corroborative
Calcareous
Collectible
Composite
Contraceptive
Computer-literate
Convenient
Cutaneous
Confocal
Classifiable
Corrupt
Covetable
Clean-limbed
Cheerful
Country-and-western
Chronic
Colonoscopic
Cyclothymic
Close-quarter
Cogent
Crispy
Chatting
Cuneiform
Crippling
Compassionate
Castellated
Complete
Customisable
Civil
Crocked
Crystallographic
Concessive
Cosmological
Censorious
Child
Calico
Centrifugal
Close
Corneal
Contradictory
Callable
Coronary
Cultish
Clubby
Comforting
Cultivated
Coital
Chance
Carcinomatous
Communistic
Chicken
Cross-border
Criminal
Corrupted
Contentful
Confident
Carroty
Colossal
Contrarian
Crippled
Clamoring
Corpulent
Closing
Customary
Conductive
Chaste
Chesty
Cellular
Cardiorespiratory
Chiral
Consolatory
Causal
Cerulean
Chewy
Centromeric
Caloric
Cambodian
Cackly
Constrained
Concordant
Citywide
Conversational
Cock-a-hoop
Cognitive
Copious
Corporal
Companionate
Crystalline
Correctable
Considerate
Correlational
Cytophotometric
Concentrative
Cradle-to-grave
Cased
Cleanable
Custom-made
Close-fitting
Carnal
Contributory
Clandestine
Crackling
Cursory
Camper
Canary
Chorioallantoic
Confusional
Clientelistic
Clinicopathological
Circumspect
Childlike
Crescentic
Controllable
Captivated
Concessionary
Cagey
Crashing
Confrontational
Curatorial
Carbonated
Charmed
Colonnaded
Cruciform
Commutable
Cross-shaped
Caged
Circumstantial
Class-conscious
Contemptuous
Cockamamie
Croupy
Centered
Crunchy
Collinear
Compressible
Conjunctive
Conjunct
Covenantal
Cliched
Cutesy
Chorionic
Chymical
Cramped
Consecutive
Connubial
Canonical
Consequent
Cinematic
Claimable
Counterproductive
Cross
Cytolytic
Cutthroat
Cyclostyled
Cross-country
Cross-channel
Callous
Cross-legged
Conic
Carpeted
Callow
Coelomate
Coniferous
Cardboard
Cynical
Circumlocutory
Colorectal
Camouflaged
Chemotactic
Conformational
Cheap
Cool-headed
Capitalist
Cost-effective
Cusped
Coltish
Challengeable
Cruel
Coeducational
Colombian
Contextual
Cobwebbed
Catchable
Claustral
Colligative
Convoluted
Ciliary
Counterfeit
Choked
Chuffed
Cagy
Crustal
Canned
Corky
Counterregulatory
Cloven-hoofed
Catalytic
Chemiosmotic
Carcinogenic
Coast-to-coast
Caller
Congenital
Complex
Calculable
Ceremonial
Commonable
Cylindrical
Cytosolic
Conceivable
Consular
Colinear
Caped
Close-cropped
Cryogenic
Component
Contiguous
Case-by-case
Claustrophobic
Chanting
Clutchless
Counter
Clockwise
Cooked
Collegiate
Case-sensitive
Cuban
Childbearing
Corpuscular
Consultative
Credential
Cranky
Contrastive
Chummy
Closed
Cottony
Ceramic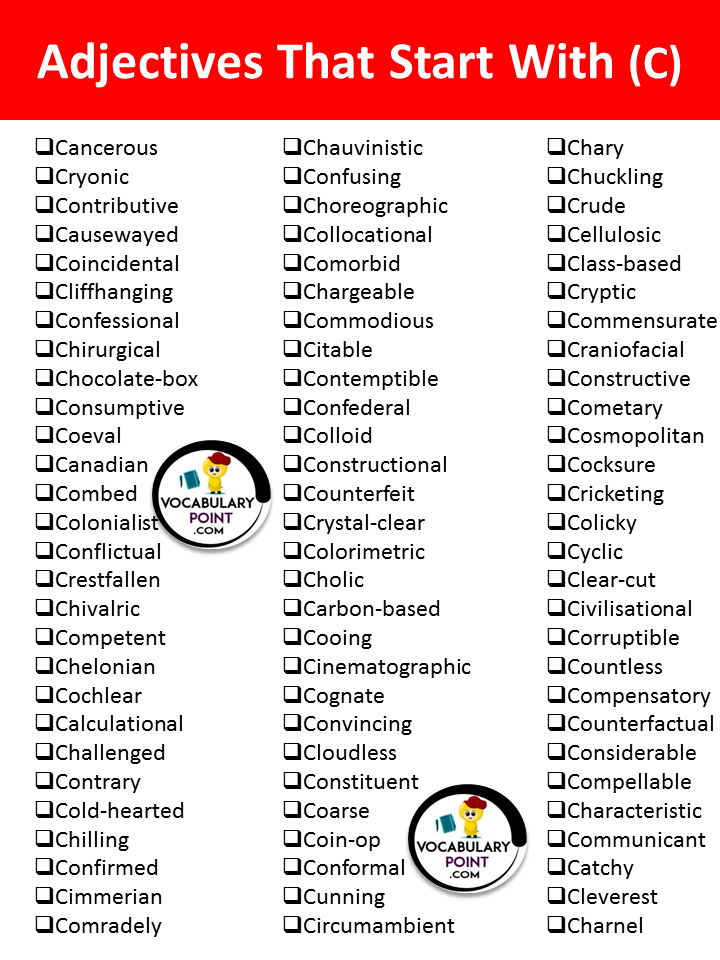 You can Download List Of Adjectives Beginning With C pdf