List of Food Vocabulary! Food and Drink vocabulary are Below here. All types of meal ,food ,drinks, Herbs & Spices List are listed here. It is very useful lesson for the learners about vocabulary of any kind of food. These food are used in daily routine if you read this post then you can easily know about fast foods names etc.
List of Food Vocabulary
Types of Foods
Food is any substance consumed to provide nutritional support for an organism. A drink or beverage is a liquid intended for human consumption.
Food is divided into 4 main groups:
Meat, Poultry & Seafood (chickens, sheep, pigs, cattle, eggs, fish…)
Fast Food (fish and chips, sandwich, pita, hamburger, fried chicken, french fried, onion ring, pizza, hot dog…)
Fruits (apples, bananas, grapes, lemons, oranges, and strawberries…)
Vegetables (bean, cabbage, potatoes, corn, carrots…)
Fast food list
Pizza
Sandwich
Pita
Salad
Fried chicken
Hot dog
Chicken nugget
Onion ring
Ice cream
Taco
Fish and chips
French fries
Hamburger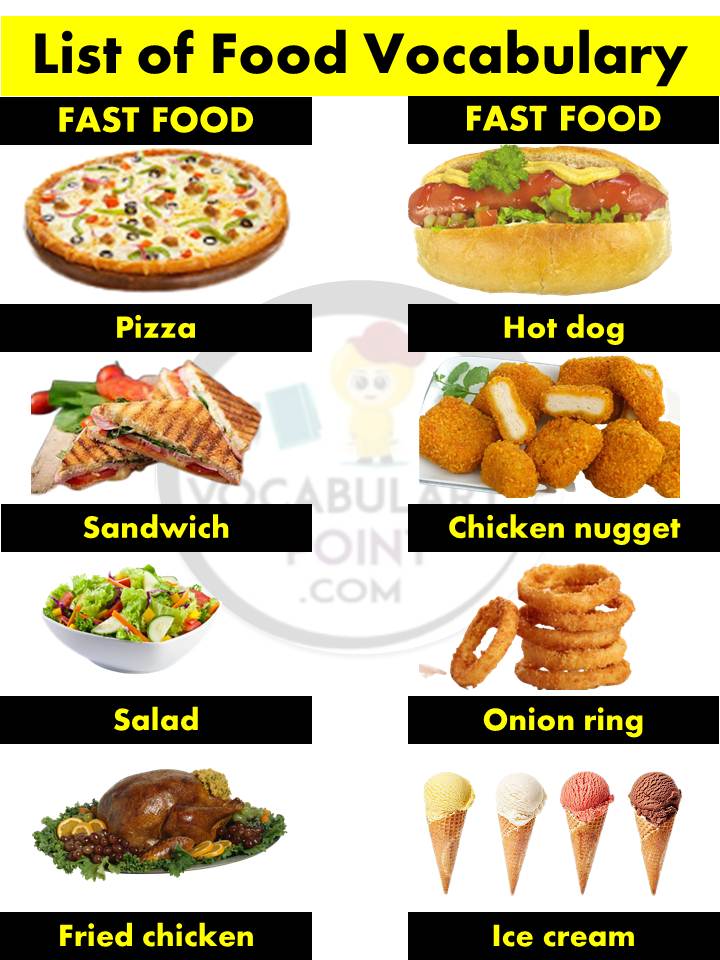 Bread vocabulary words list
Bagel
Hot dog bun
French bread/ baguette
Hamburger bun
Rye bread
Whole grain bread
White bread
Roll
Breadstick
Pretzel
Wheat bread
Donut
Croissant
Swiss roll (U.K) – jelly roll (U.S)
List of food vocabulary in English
Herbs & Spices List
Onion
Artichoke
Cilantro/coriander
Olive
Spring onions/green onions
Turmeric
Lemongrass
Basil
Rosemary
Bay leaves
Ginger
Clove
Green chili
Chives
Shallot
Mint leaves
Garlic
Food vocabulary
Types of Meals
There are three main meals:
Breakfast Vocabulary
Coffee
Milk
Breakfast sandwich
Breakfast burrito
Muffin
Croissant
Donut
Breakfast cereal
Cheese
Tomato
Porridge
Orange juice
Waffle
Sausage
Toast
Bacon
Egg
Marmalade
Hot chocolate
Bread
Pancake
Yogurt
Ham
Types of Food for Dinner in English
Pasta
Pizza
Dressing
Kebab
Omelet
Steak
Fried chicken
Soup
Tossed salad
Rice
Fish
Broth
Drinks List
Tea bag
Smoothie
Soda
Lemonade
Fruit juice
Juice
Water
Coconut milk
Green tea
Milkshake
Water
Drinks | Image
Coffee
Orange juice
Iced tea
Hot chocolate
Tomato juice
Chocolate milk
Tea
Milk
Lemonade
Wine
Beer
Cocoa
Hot chocolate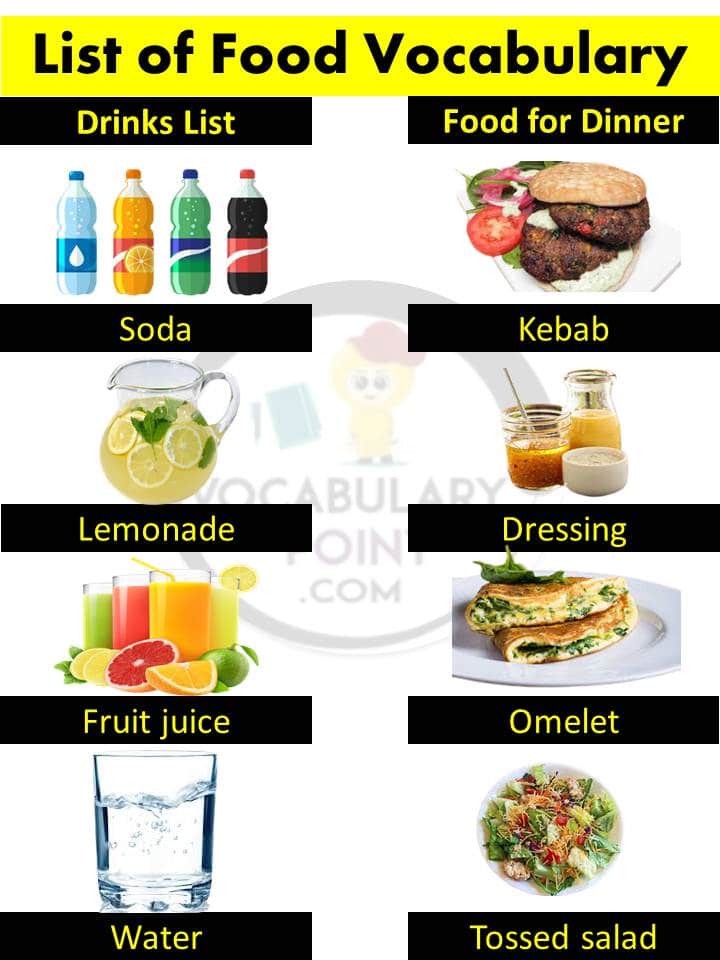 You can Learn about list of food vocabulary