List of Wild Animals. Here is a collection of Wild animal Names with pictures. It is a big lesson for the students to learn about wild animals. if you want to improve your vocabulary must read this post.
What are Wild animals?
Wild animals are those that dwell in natural settings such as woods. These are wild creatures that are unable to be domesticated.
Examples of Wild Animals?
Elephants, tigers, lions, deer, crocodiles, monkeys, bears, and giraffes are examples of wild creatures. Wild animals are free creatures who follow the jungle's rules.
List of Wild Animal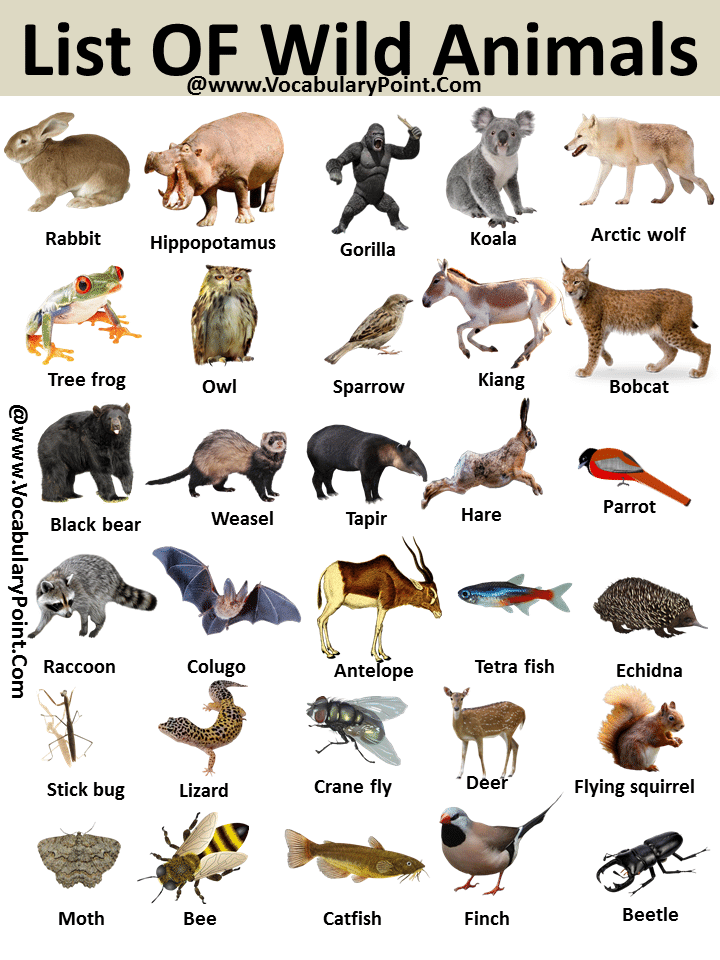 Unique Wild Animal Names
Markhor
Zebra
Guinea Pig
Jaguar
Mandrill
Thrush
Tapir
Antelope
Worm
Hare
Colugo
Jackal
Alpaca
Crab
Catfish
Duiker
Spider Monkey
Spectacled Bear
Takin
Whydah
Tayra
Bison
Elephant
Hedgehog
African Buffalo
Cotton Rat
Dipper
Cassowary
Bird
Electric Eel
Wild Animals List
Wren
Chinchilla
Leopard
Walleye
Scorpion
Falcon
Orangutan
Accentor
African Wild Dog
Parakeet
Hawk
Arctic wolf
Hyena
Cheetah
Capybara
Owl
Bobcat
Iguana
Moth
Blue Sheep
Kangaroo
Sparrow
Tit
Whistler
Chameleon
Asian Black Bear
Chamois
Fox
Vole
Buzzard
Macaw
Viper
Cute Wild Animal Names
Drongo
Okapi
Caribou
Hyrax
Brown Bear
Walrus
Jellyfish
Starling
Dhole
Chough
List of Wild Animal
Impala
Andean Mountain Cat
Snake
Caracal
Coati
Clouded Leopard
Warbler
Finch
Bat
Toad
Dolphin
Ibex
Starfish
Rabbit
Woodpecker
Red panda
Yak
Hippopotamus
Kiang
Alpine Salamander
Gorilla
Koala
Weasel
Bass
Cardinal
Lammergeier
Giraffe
Vicuna
Flowerpecker
Monkey
Tree frog
Marmoset
Rat
Bear
Flying Squirrel
Bee
Warthog
Wombat
Panda
Lemur
Hornbill
Beaver
Wild Animals With Names
Geoffroy's Cat
White-eye
Cotinga
Degu
Chipmunk
Crow
Piranha
Tiger
Poison Dart Frog
Skunk
Brown Skink
Kodkod
Ptarmigan
Kingfisher
Panther
Eagle
Brocket Deer
Shark
Grouse
Alpine Chough
Civet
Caiman
Boa
Badger
Tetra Fish
Crane Fly
Coconut Crab
Giant Panda
Frog
Collection of Wild Animals 
Squirrel
Otter
Flamingo
Turtle
Possum
Elk
Chimpanzee
Raven
Lion
Ox
Alligator
Chiru
Bandicoot
Toucan
Coyote
Tamarin
Beetle
Hummingbird
Black Leopard
Trogon
Jay
Blackbuck
Wolf
Bald eagle
Meerkat
You Can Also Learn a List of Electrical Appliances with Pictures
White-Tailed Deer
Baboon
Parrot
Moose
Snow Leopard
Salamander
Lizard
Vulture
Raccoon
Klipspringer
Newt
Deer
Tarantula
Wallaby
Crocodile
Camel
Echidna
Stick Bug
Potoroo
Blue Whale
Bull Shark
Rhinoceros
Mole
Bulbul
Reindeer
Cougar
Butterfly
Catfish
Wild Animal Names with Pictures