Omnivorous Animals Names List. Omnivores are animals that eat both plants and animal proteins. They are often the most successful species in the wild, due to their ability to adapt to different environments and diets.
Must Learn: Carnivorous Animals
Omnivore
An omnivore is an animal that has a diet which includes both plant and animal matter. These animals are able to digest and derive nutrients from both sources of food, giving them the ability to adapt to a variety of environments. Examples of omnivores include humans, bears, raccoons, pigs, and many species of birds and primates. Omnivores play an important role in their ecosystems by consuming both plants and animals, and helping to maintain a balance in the food chain.
Omnivores Animals Meaning
Omnivores are creatures that have a diet that includes both plant and animal matter. These animals have the ability to digest and obtain nutrients from both sources of food, allowing them to survive in a wide range of environments. Some common examples of omnivorous animals include humans, bears, raccoons, and pigs.
Humans Are Omnivores?
Yes, humans are considered omnivores. Our diet includes both plant and animal sources of food. We have teeth that are adapted for both tearing and grinding, as well as a digestive system that is capable of breaking down and absorbing nutrients from both types of food. Historically, humans have relied on a varied diet that includes meat, fish, fruits, vegetables, grains, and nuts. While some people choose to follow a vegetarian or vegan diet, the majority of humans consume both plant and animal-based foods as part of their regular diet
Here are 10 Examples of Omnivorous Animals :
Bears
Raccoons
Pigs
Foxes
Skunks
Chimpanzees
Squirrels
Opossums
Crows
Seagulls
Omnivorous Animals Names List
Humans
Bears
Raccoons
Pigs
Hedgehogs
Chickens
Crows
Chimpanzees
Baboons
Opossums
Squirrels
Foxes
Skunks
Civet
Parrots
Tegus
Coatis
Iguanas
Tortoises
Crayfish
Hermit crabs
Sea otters
Crabs
Shrimp
Anteaters
Praying mantises
Monitor lizards
Mice
Rats
Poultry
Frogs
Lizards
Ants
Cockroaches
Worms
Insects
Seagulls
Turtles
Toads
Octopuses
Beetles
Bats
Prawns
Tardigrades
Shrews
Salamanders
Crayonfish
Salmon
Quokkas
Capuchin monkeys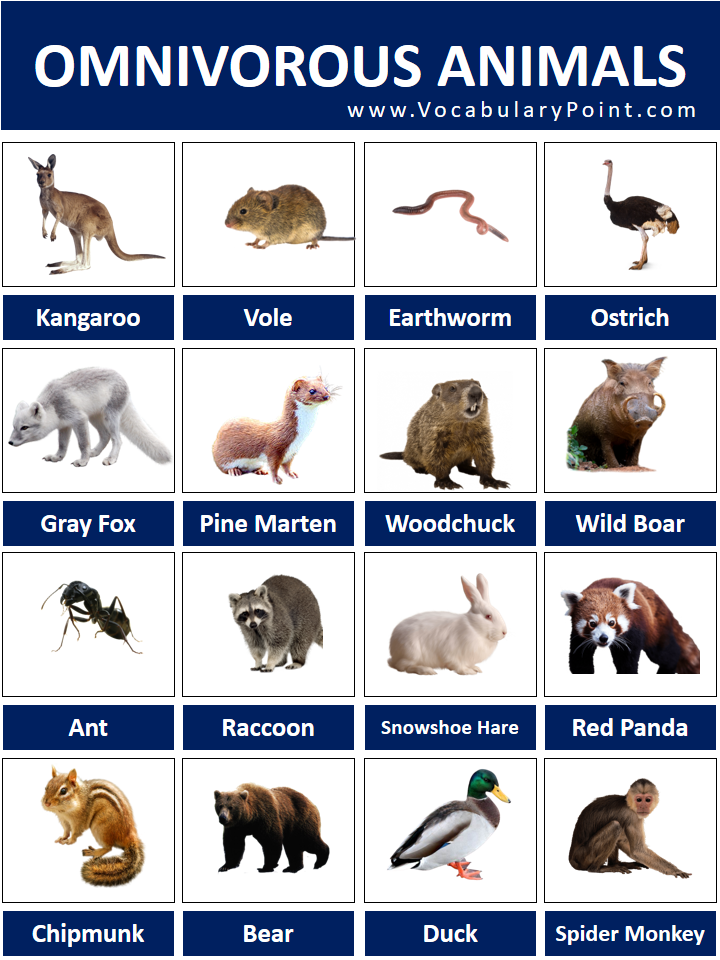 Omnivores Animals List With Their Properties
Human __ Humans are omnivores and can eat both plants and animals as a source of food.
Bear __ Bears are omnivores and feed on a variety of foods including berries, fruits, nuts, and small mammals.
Raccoon __ Raccoons are omnivores and will eat a wide range of foods, including fruits, nuts, insects, and small mammals.
Squirrel __ Squirrels are omnivores and feed on a variety of foods including nuts, fruits, and insects.
Opossum __ Opossums are omnivores and feed on a variety of foods including fruits, insects, and small mammals.
Rat __ Rats are omnivores and will eat a variety of foods, including grains, fruits, and small mammals.
Chipmunk __ Chipmunks are omnivores and feed on a variety of foods including seeds, nuts, and insects.
Porcupine __ Porcupines are omnivores and feed on a variety of foods including trees, fruits, and bark.
Skunk __ Skunks are omnivores and will eat a wide range of foods, including fruits, insects, and small mammals.
Badger __ Badgers are omnivores and feed on a variety of foods including roots, fruits, and small mammals.
Civet __ Civets are omnivores and feed on a variety of foods including fruits, insects, and small mammals.
Coyote __ Coyotes are omnivores and will eat a wide range of foods, including fruits, nuts, and small mammals.
Fox __ Foxes are omnivores and feed on a variety of foods including fruits, nuts, and small mammals.
Hedgehog __ Hedgehogs are omnivores and feed on a variety of foods including insects, fruits, and vegetables.
Jackal __ Jackals are omnivores and feed on a variety of foods including fruits, insects, and small mammals.
Kangaroo __ Kangaroos are omnivores and feed on a variety of foods including leaves, grasses, and small mammals.
Marten __ Martens are omnivores and feed on a variety of foods including fruits, insects, and small mammals.
Mongoose __ Mongooses are omnivores and feed on a variety of foods including fruits, insects, and small mammals.
Peccary __ Peccaries are omnivores and feed on a variety of foods including fruits, nuts, and small mammals.
Squirrel Monkey __ Squirrel monkeys are omnivores and feed on a variety of foods including fruits, nuts, and insects.
Vole __ Voles are omnivores and feed on a variety of foods including roots, grasses, and small insects.
Warthog __ Warthogs are omnivores and feed on a variety of foods including roots, fruits, and small insects.
Wild Boar __ Wild boars are omnivores and feed on a variety of foods including roots, fruits, and small mammals.
Woodchuck __ Woodchucks are omnivores and feed on a variety of foods including roots, fruits, and small insects.
Agouti __ Agoutis are omnivores and feed on a variety of foods including roots, fruits, and small insects.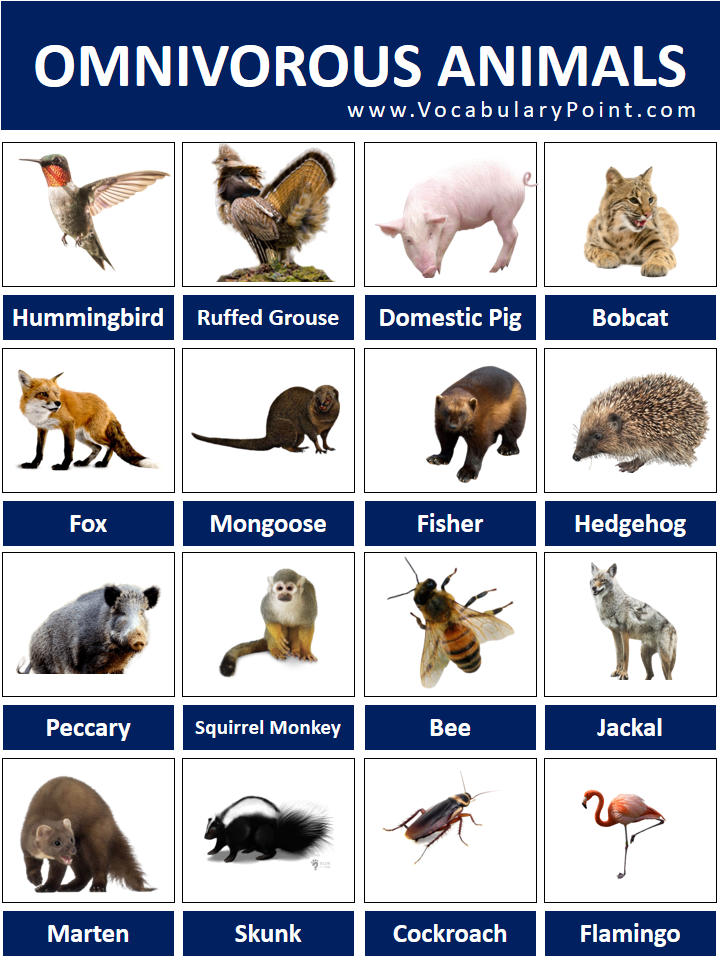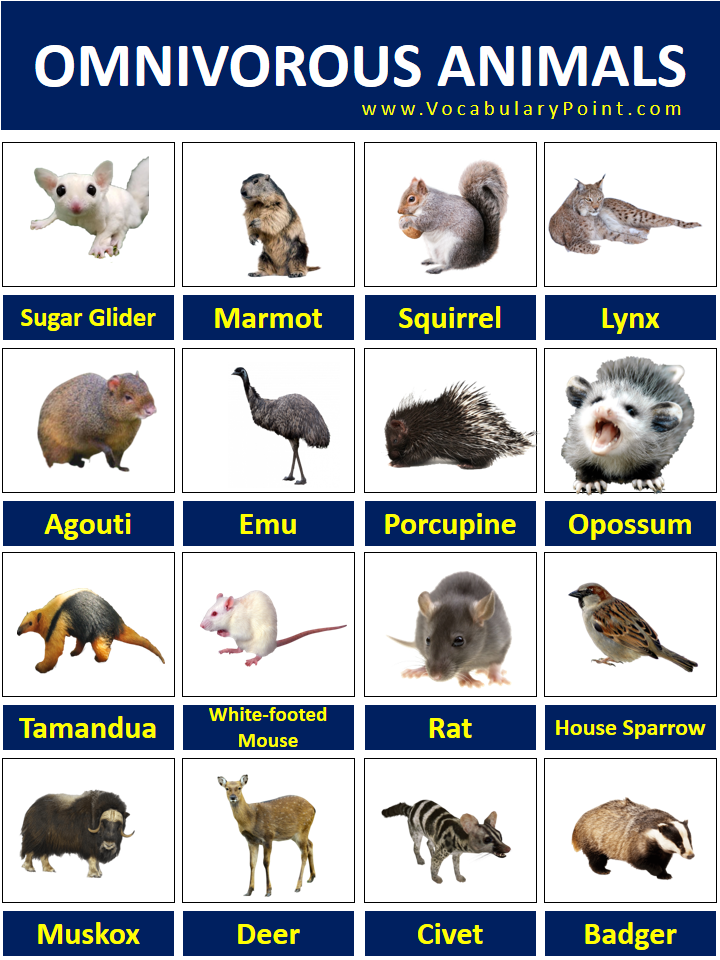 Spider Monkey
Spider monkeys are a unique species of monkey that can be found in tropical areas throughout Central and South America. They are an arboreal species, meaning they spend most of their time in the trees, using their long arms and tails to swing from branch to branch with ease. These intelligent primates have been known to use tools and even recognize themselves in a mirror.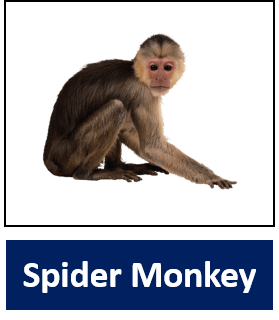 Red Panda
Red pandas are one of the most unique and beloved animals in the world. With their bright reddish-brown fur, bushy tails, and cute black mask-like markings around their eyes, they are a sight to behold. Though they are technically classified as carnivores, these playful creatures have evolved to become mainly herbivorous, consuming bamboo shoots and other vegetation for their meals.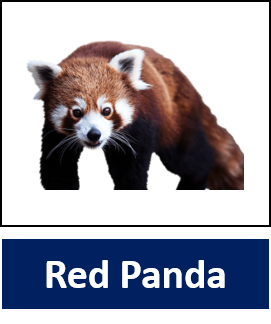 Sugar Glider
Sugar Gliders are an adorable and unique species of marsupial native to Australia, Indonesia, and New Guinea. With their furry bodies, large eyes, patagium that allows them to glide from tree to tree like a flying squirrel, and big personalities they make great pets. Sugar gliders have been kept as long-time companions in the United States since the 1990s.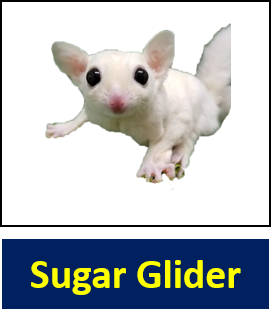 Agouti
Agouti is a species of rodent found in tropical forests across Central and South America. Its name comes from the Spanish word "aguato," which means "confused." The agouti has brown fur that is ticked with black stripes, giving them unique camouflage to hide from predators in their native rainforest habitats.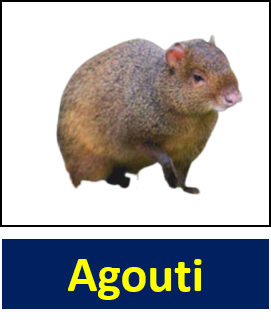 Tamandua
The tamandua, also known as the collared anteater, is an intriguing and unique animal. Native to Central and South America, this arboreal creature lives in tropical forests where it spends much of its time foraging for ants and termites. This mammal has a sharp sense of smell that helps it find food quickly, but its most noticeable physical characteristic is its long prehensile tail which helps it climb trees with ease.
Muskox
Muskox are a species of large, Arctic hoofed animals that have roamed the Arctic tundra for thousands of years. They are well-adapted to survive in the extreme cold, with their thick fur and insulating layers of fat helping them to remain warm even as temperatures drop below -34°C (-30°F). The muskox is an important part of the ecosystem in many northern regions, providing food for predators such as wolves, bears, and foxes.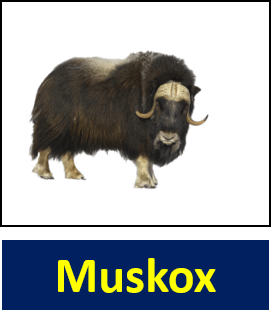 Duck
Ducks are one of the most beloved waterfowl inhabiting the planet. They come in myriad colors, shapes, and sizes, and they can be found throughout much of the world. From domesticated ducks kept as pets to species in the wild, these birds are fascinating creatures that have adapted to a range of different environments.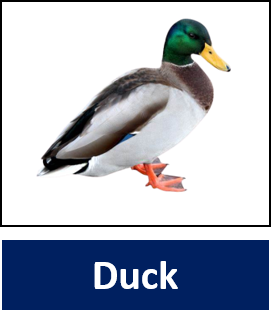 Snowshoe Hare
Snowshoe hares are a species of small mammal commonly found in northern and mountainous regions across North America. These curious mammals have an average body length of 17-25 inches and weigh anywhere between 1.5-3 pounds.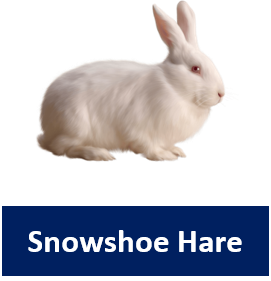 Marmot
Marmots are a type of ground squirrel native to North America and Eurasia. They are best known for living in large colonies, hibernating during the winter months, and their distinct call. Marmots can be found in many different habitats including meadows, montane forests, tundra, and rocky areas.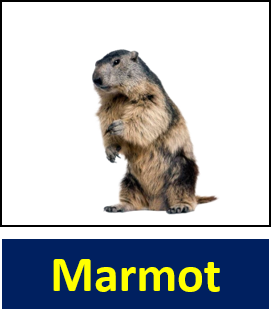 Emu
The emu is a large, flightless bird native to Australia. It is the second-largest living bird by height and the largest by weight. The name 'emu' comes from the word 'emul' in the language of one of the Australian Aboriginal tribes, meaning "large black bird".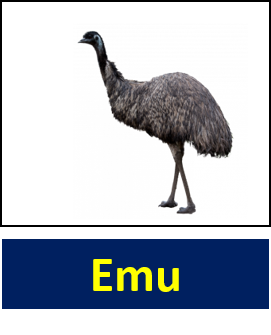 White-footed Mouse
The white-footed mouse is an incredibly important species for both the human and animal world. Native to North America, this tiny rodent has a big impact on its environment and plays a vital role in controlling pests. This small mammal can be found in forests, meadows, grasslands, deserts and even suburban areas across the continent.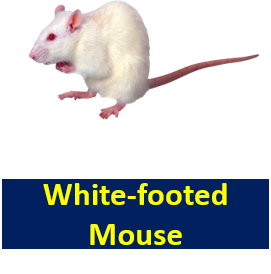 Deer
Deer are an iconic species in North America, with a range that extends from the Arctic Ocean to Central America. These graceful creatures have long been admired by both hunters and non-hunters alike for their beauty and grace.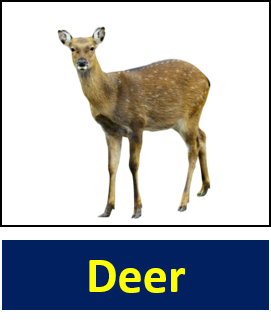 Bear
The majestic bear is one of the most recognizable, powerful and beloved creatures in the animal kingdom. Belonging to the Ursidae family, bears are distributed across much of the Northern Hemisphere, with some species living as far south as South America. Bears often evoke feelings of both awe and fear due to their impressive size and strength but they can also be incredibly gentle and friendly.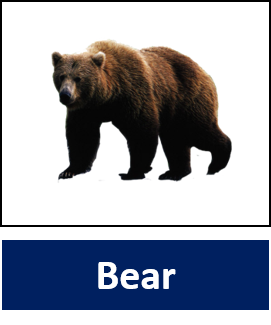 Raccoon
Raccoons are one of nature's most recognizable animals. With their iconic black masks and striped tails, they can be found living in areas all across North America. Not only are raccoons highly intelligent creatures, but they also possess a wide range of adaptations that allow them to thrive in almost any environment.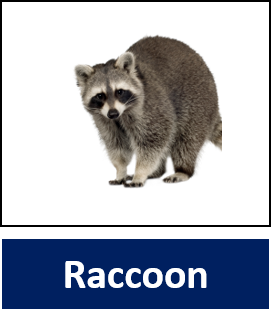 Squirrel
Squirrels are one of the most recognizable mammals in the world. Their small size and lively acrobatics make them a delight to watch, but there is much more to these little critters than meets the eye! Not only do they have an important role in nature, but their presence also presents a unique opportunity for people to observe and learn about wildlife.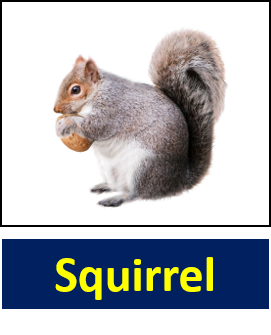 Porcupine
Porcupines are some of nature's most fascinating animals. Known for their quills, these large rodents inhabit a variety of habitats throughout the world. Porcupines have long been revered for their intelligence and adaptability, as well as their unique physical characteristics.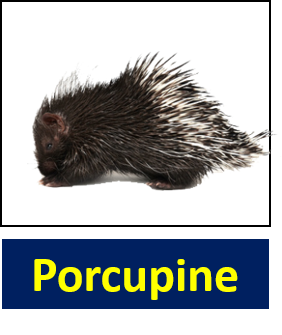 Rat
Rat is one of the most common animals that can be found in nearly every corner of the world. They are very adaptable creatures, and have been known to thrive in even the harshest of environments. Though they are often thought to be pests, rats play an important role in our ecosystem, acting as food for larger predators, scavenging for waste and helping with soil aeration.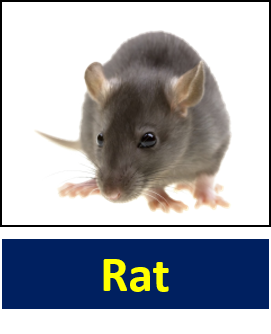 Civet
Civets are an interesting species of mammal found in the tropical forests of Africa and Asia. These small, nocturnal animals are part of the Viverridae family and can be easily identified by their distinctive black-and-white banded tails. Civets typically measure between two and four feet in length, making them a medium to large sized mammal. They have stout bodies with short legs, rounded ears, and a long tail that can reach up to two feet in length.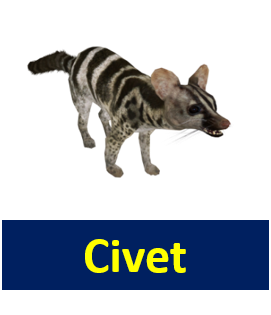 Chipmunk
Chipmunks are small, furry rodents found in North America and East Asia. These adorable creatures, who measure only 4-7 inches in length, have become increasingly popular due to the character of Alvin from the cartoon "Alvin and the Chipmunks". Chipmunks live in burrows underground with 2-6 other chipmunks; they typically eat seeds, nuts, fruits, insects and even bird eggs.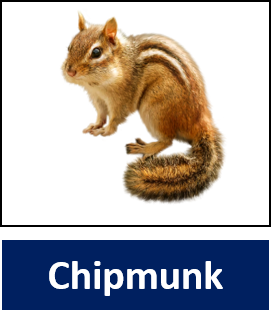 Ant
Ants are one of the most commonly known and diverse insects around the world. They can be found in a wide range of habitats, from deserts to tropical forests, and they come in many sizes and colors. This remarkable species has been on Earth for hundreds of millions of years, making it one of the oldest insect species still alive today. Ants have evolved a complex yet efficient social organization that enables them to thrive in almost any environment.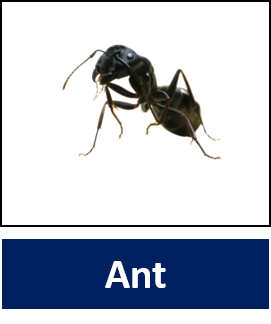 Lynx
The lynx is a wildcat species that can be found across the northern hemisphere. The four different species of lynx are the Eurasian, Iberian, Canada, and Bobcat Lynx. They can typically be found in boreal forests and montane areas which have cold climates. These cats have unique physical features such as their tufted ears and long legs; these help to keep them warm in colder temperatures.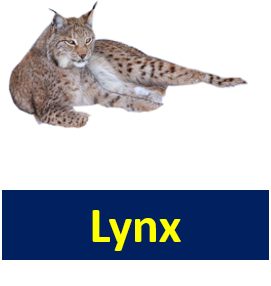 Opossum
The opossum is a unique mammal native to North America. It is the only marsupial found in this region and has many fascinating characteristics. Not only does the opossum have an impressive physical presence, but it also has a variety of behaviors that set it apart from other animals.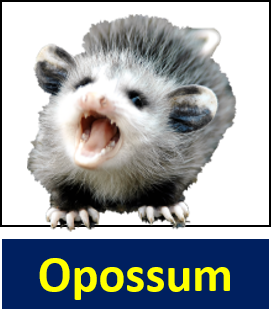 House Sparrow
The house sparrow (Passer domesticus) is a small passerine bird native to most of Europe, Asia, and parts of North Africa. It has been introduced to other regions and is now found in many places around the world. A common bird in urban areas, the house sparrow can often be seen on windowsills or perched atop telephone poles. With its distinctive black bib and rusty brown plumage, this species is easily recognizable.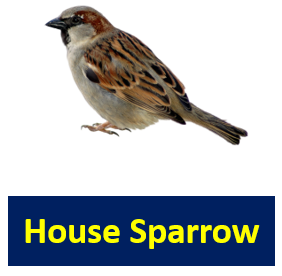 Badger
Badgers are a species of carnivorous mammal that has adapted to live in many different habitats across the globe. Native to Europe, North America, and Asia, badgers come in a variety of sizes and colors. They are characterized by their stocky bodies, short legs, long snouts, and black-and-white striped fur. Badgers typically feed on small rodents and insects but will occasionally eat plants as well.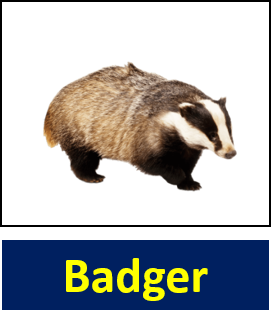 Hummingbird
Hummingbirds are some of the most fascinating creatures on earth. They are the only bird species that can hover in mid-air and fly backwards, a remarkable feat! They have an incredible metabolism which allows them to flap their wings up to 80 times per second and consume energy equivalent to their body weight every day. Among their many other unique characteristics, they have excellent vision, which helps them detect predators and find nectar from flowers.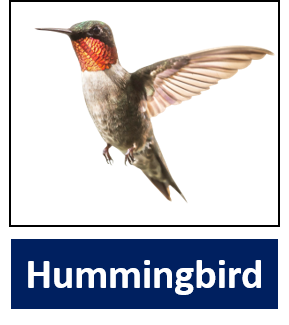 Fox
Fox is an innovative product that delivers the ultimate combination of convenience, quality, and style. It has a sleek design that fits perfectly in any home or office space, giving it a modern touch. With Fox, you can access all your entertainment needs with one simple device. Stream movies and TV shows from popular streaming services like Netflix and Hulu, as well as music from Apple Music with ease.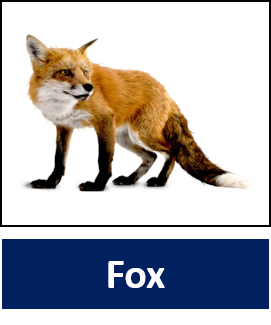 Hedgehog
Hedgehogs are one of the cutest animals around, and they have been gaining in popularity as pets. These small mammals are native to Europe, parts of Asia, and Africa. They have a spiny coat that helps protect them from predators and can range in size from 4-14 inches long.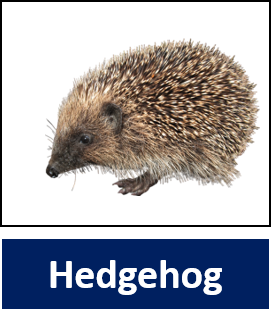 Jackal
Jackals are a species of medium-sized carnivores that can be found throughout the African continent. They are known for their opportunistic behavior, often eating carrion and scavenging from other animals to survive in the wild.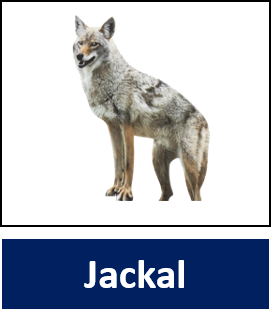 Kangaroo
Kangaroos are undoubtedly one of the most iconic animals in the animal kingdom. Found only in Australia, this marsupial is recognizable for its large size and tail, strong legs, and hopping gait. Kangaroos are members of a family of species that includes wallabies, wallaroos, bettongs and quokkas. They can be found in nearly every type of habitat across the continent from deserts to grasslands and forests.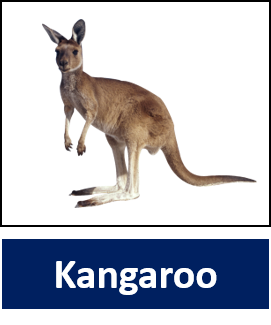 Gray Fox
The gray fox (Urocyon cinereoargenteus) is a fascinating species of animal found all over North and Central America. This small mammal has an impressive ability to adapt to its environment, making it a successful survivor in the wild.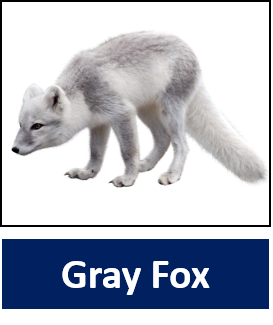 Ruffed Grouse
Ruffed grouse are small, tough birds native to North America. The population is estimated to be between 11 and 12 million birds across 38 states and five Canadian provinces. These adaptable birds inhabit a variety of habitats from coniferous forests to hardwood stands.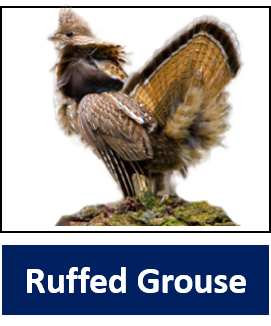 Mongoose
Mongoose is a small carnivorous mammal native to parts of Africa, Asia and Europe. These animals are most commonly known for their boldness, agility and long slender bodies that allow them to move quickly and easily through dense vegetation. As an iconic symbol of the African savanna, mongoose have become popular mascots in many sports teams, movies and cartoons.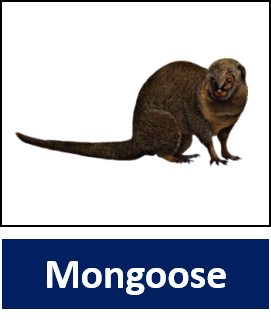 Peccary
Peccaries are small mammals found in the southwestern parts of North America, Central America, and South America. These animals, which look like pigs, are classified as even-toed ungulates and belong to the family Tayassuidae. Peccaries can weigh anywhere from twenty to sixty pounds and measure up to forty inches in length.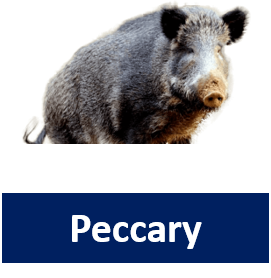 Bee
Bees are one of the most important insects in the world. They play an integral role in pollination, helping to spread pollen from flower to flower and allowing plants to flourish and reproduce. Bees also produce honey, which has been used as a natural sweetener for centuries.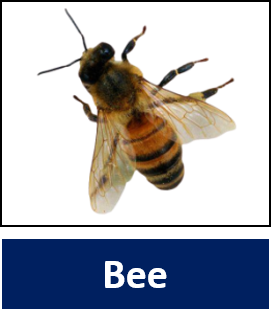 Vole
Voles, also known as meadow mice, are small rodents found all over the world. They have stocky bodies and short legs, with fur ranging from gray to brown in color. Voles weigh between 1-2 ounces and are typically 2-3 inches long.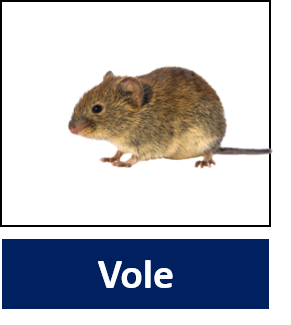 Pine Marten
Pine martens are one of the most interesting members of the Mustelidae family. This small, semi-arboreal mammal is native to northern parts of North America and Eurasia, including parts of Russia and Scandinavia. The pine marten has a long body with short legs, a wedge-shaped head, and silky fur that can range from pale yellowish brown to dark brown in color. Its thick fur helps protect it from colder climates.
Domestic Pig
Domestic pigs are a species of animal that have been domesticated by humans for centuries. Domestic pigs, or Sus scrofa domesticus, are members of the Suidae family, which includes wild and feral pigs. Domestic pigs can vary greatly in size and shape depending on their breed and purpose. They typically weigh between 200-400 pounds as adults and measure between 2-3 feet tall at the shoulder.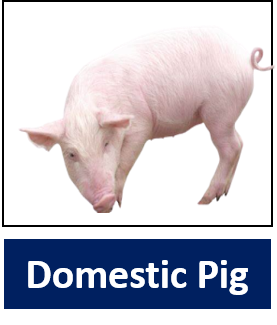 Fisher
Fisher is a small rural town located in the north of England, and is home to around 8,000 people. This charming village has been around for many centuries, with its buildings and streets reflecting a unique English style.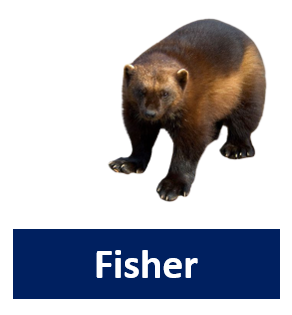 Squirrel Monkey
Squirrel monkeys are some of the most interesting primates in the world. Natively located throughout Central and South America, these small primates can reach up to 14 inches long, with a tail that can extend to twice their body length. They have long slender limbs and large eyes, giving them an almost cartoon-like appearance.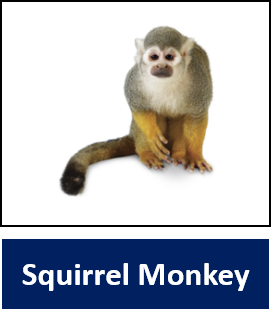 Flamingo
Flamingos may appear to be some of the most outrageous birds on the planet, with their long legs, bright pink feathers and regal stance. But there's more to these birds than just their eye-catching good looks.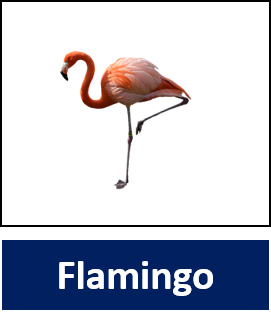 Earthworm
Earthworms play an important role in the environment. They help to improve the structure of soil by breaking down organic matter and turning it into nutrient-rich humus. This process not only helps to enrich the soil, but also increases its fertility and water-holding capacity. In addition, earthworms provide food for many other species such as birds, mammals, reptiles and amphibians.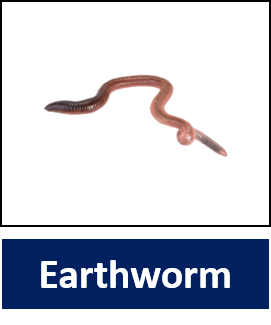 Woodchuck
The woodchuck, otherwise known as the groundhog, is an interesting creature found widely across North America. Although relatively small in size, these members of the squirrel family have quite a bit of personality and are a familiar sight in many backyards. They are also highly adaptable, making it easy for them to live harmoniously with humans and other animals.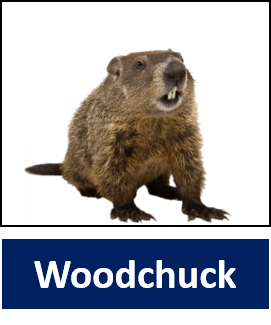 Bobcat
Bobcats are some of North America's most fascinating wild cats. Noted for their spotted coat, bobcats have been a resident of the American continent since the end of the last Ice Age, and their population has remained stable even in heavily developed areas. While they may look like house cats at first glance, bobcats are powerful predators that hunt a wide range of prey.
Marten
Marten are shy, secretive animals but they are a popular choice for those looking to keep an exotic pet. Native to Europe and Asia, marten are a type of weasel that have adapted to living in forested areas and mountainsides. With their sleek fur coat and bushy tails, these playful critters make great companions.
Skunk
Skunks are mammals that belong to the Mephitidae family. These furry animals have a long, bushy tail and two stripes running down their back, usually in white or black coloring. Known for their pungent odor, skunks are not only an iconic animal of North America but they also have unique abilities that help them survive.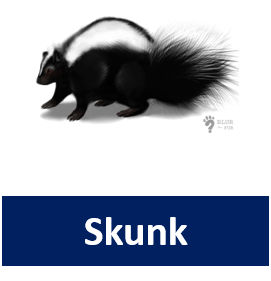 Cockroach
Cockroaches are one of the hardiest pests on our planet. With more than 4,500 species worldwide, they have been around since the dinosaurs roamed Earth and are still going strong today. Cockroaches can be found in almost any environment — from tropical rain forests to urban areas — and feed on just about anything. They pose a great nuisance for homeowners as well as a potential health risk due to their role in transmitting disease-causing bacteria and parasites.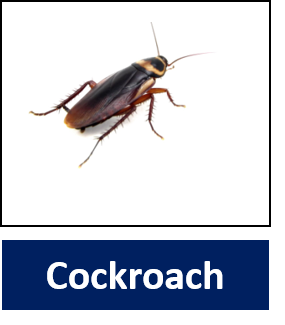 Ostrich
Ostriches are a large species of flightless bird native to Africa. They are the largest living bird in the world, standing up to nine feet tall and weighing up to 330 pounds. Their long necks and powerful legs enable them to run at speeds of up to 45 mph, allowing them to escape from predators.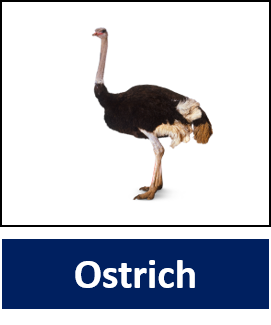 Wild Boar
Wild boar are an integral part of the natural ecosystems in many parts of the world. These animals possess unique physical characteristics, such as a shaggy black coat and long snouts, which have evolved to aid their survival in different environments. Wild boars are agile and strong creatures that can weigh up to 600 pounds, providing them with plenty of power when hunting or evading predators.