Other Words For Help and Support! Bundle of words that are used for Help. It is a very useful lesson to better improve your English vocabulary. other words for help and support are listed below. Synonyms for help in English PDF and some Examples with sentences. Must read and learn synonyms for help.
Other Words For Help and Support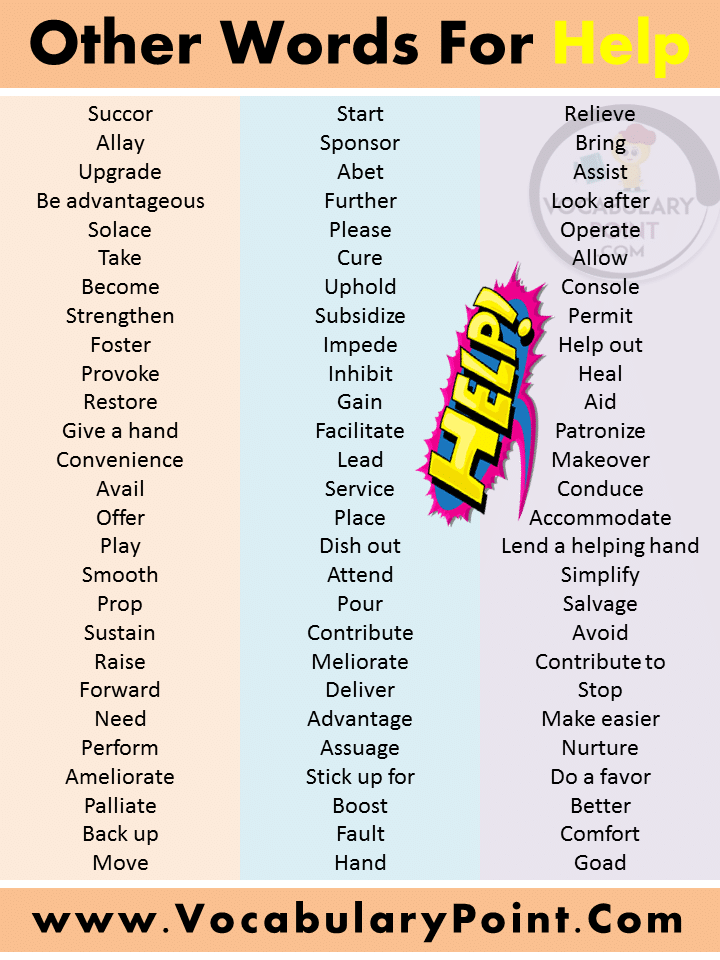 Succor
Allay
Upgrade
Be advantageous
Solace
Take
Become
Strengthen
Foster
Provoke
Restore
Give a hand
Convenience
Avail
Offer
Play
Smooth
Prop
Sustain
Raise
Forward
Need
Perform
Ameliorate
Palliate
Back up
Move
Start
Sponsor
Abet
Further
Please
Cure
Uphold
Subsidize
Impede
Inhibit
Gain
Facilitate
Lead
Service
Place
Dish out
Attend
Pour
Contribute
Meliorate
Deliver
Advantage
what are other words for help?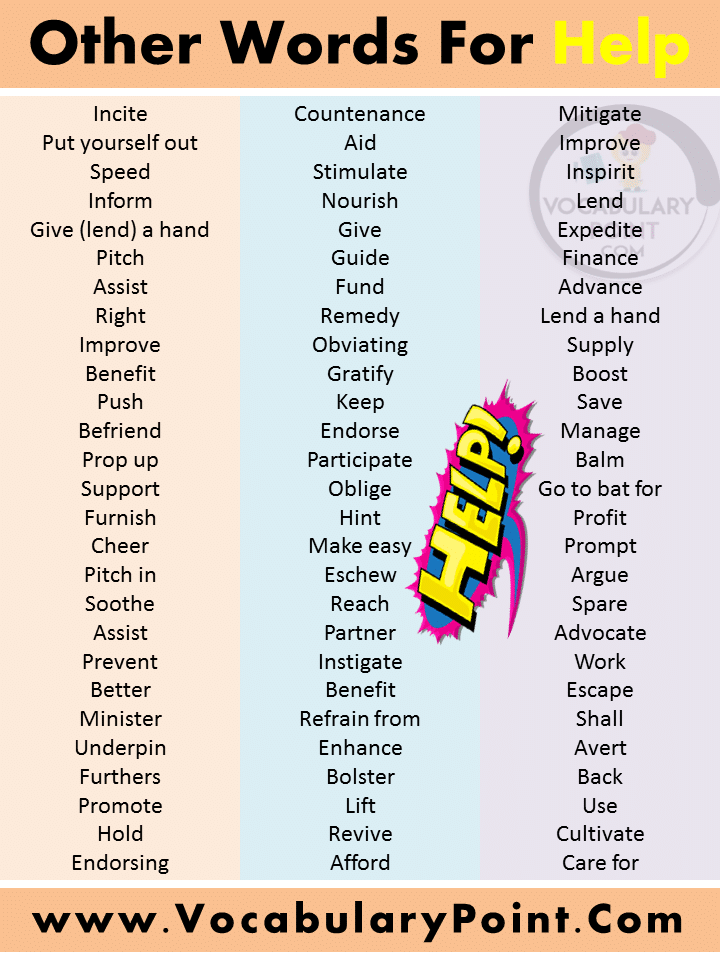 Synonyms For Help and Support
Assuage
Stick up for
Boost
Fault
Hand
Relieve
Bring
Assist
Look after
Operate
Allow
Console
Permit
Help out
Heal
Aid
Patronize
Makeover
Conduce
Accommodate
Lend a helping hand
Simplify
Salvage
Avoid
Contribute to
Stop
Make easier
Nurture
Do a favor
Better
Comfort
Goad
Incite
Put yourself out
Speed
Inform
Give (lend) a hand
Pitch
Assist
Right
Improve
Benefit
Push
Befriend
Prop up
Support
Other words for Help desk
Furnish
Cheer
Pitch in
Soothe
Assist
Prevent
Better
Minister
Underpin
Furthers
Promote
Hold
Endorsing
Countenance
Aid
Stimulate
Nourish
Give
Guide
Fund
Remedy
Obviating
Gratify
Keep
Endorse
Participate
Oblige
Hint
Make easy
Eschew
Reach
Partner
Instigate
Benefit
Refrain from
Enhance
Bolster
Lift
Revive
Afford
Mitigate
Improve
Inspirit
Lend
Expedite
Finance
Advance
Lend a hand
Supply
Boost
Save
Manage
Balm
Go to bat for
Profit
Other Words for Help
Prompt
Argue
Spare
Advocate
Work
Escape
Shall
Avert
Back
Use
Cultivate
Care for
Fortify
Alleviate
Rescue
Urge
Prod
Rescuing
Grant
Carry
Do a service
Control
Care
Shake
Ease
Be of assistance
Lighten
Comfort
Make
Address
Cooperate
Amend
Set up
Preclude
Treat
Be supportive
Maintain
Serve
Stand by
Tend
Have
Wait
Provide
EXAMPLES WITH SENTENCES
She felt compelled to assist him.
Improve
He wishes to better his command of the English language.
Benefit
This project is quite beneficial to me.
Give (lend) a helping hand
Please lend me a hand since I require it.
Guide
He is often advising her sister on how to blog.
Aid
Pakistan refuses to accept any aid from the United States.
Put yourself out there
Ethan is constantly willing to put himself out there for others.
Comfort
The conveniences of this world will tyre you one day.
Boost
This application has just raised my confidence by a factor of a hundred.
Better
I think I've come up with a superior idea.
Abet
She helped the thief flee the scene.
Accommodate
I am unable to accommodate you due to a lack of funds.
Address
He's speaking to me as if he's my older brother.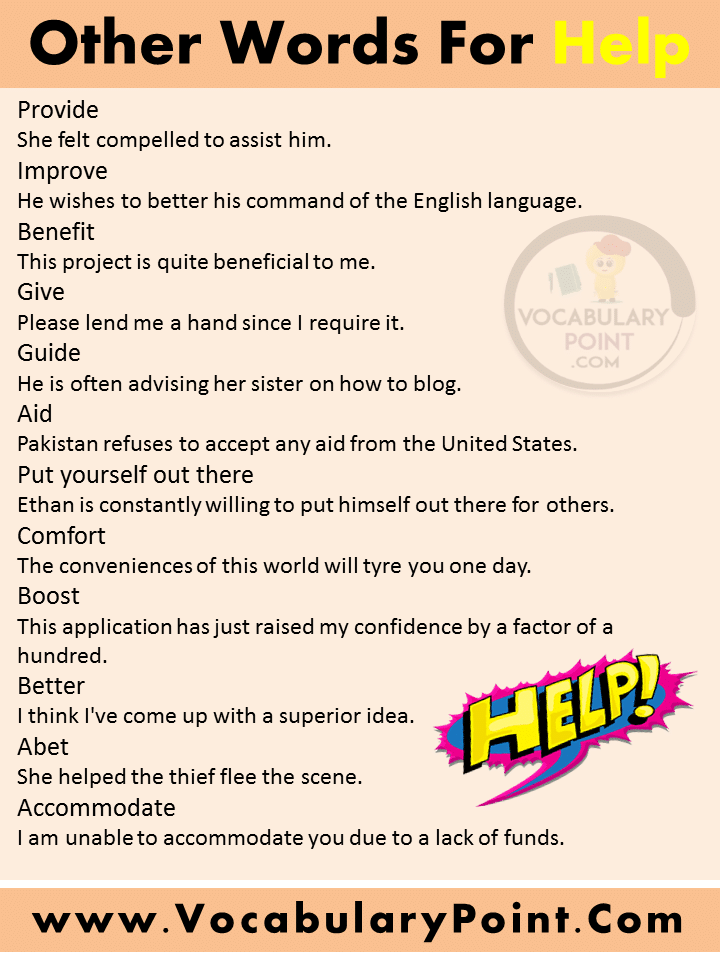 You can Download other words for Help and support PDF