Other Words for Interesting in English PDF! Bundles of words that are used in English for telling someone interesting. it is a very good lesson for beginners to improve their English speaking.
Here is a collection of other words for interesting and also some important examples with complete sentences which give information for speaking interesting words at different places like schools colleges, business level, etc.
Other Words for Interesting
Enlivening
Trance-inducing
Attracting
Diverting
Dazzling
Charming
Striking
Alluring
Spectacular
Piquant
Hot
Absorbing
Realistic
Inviting
Fantastic
Consuming
Monumental
Cute
Riveting
Winsome
Magnificent
Droll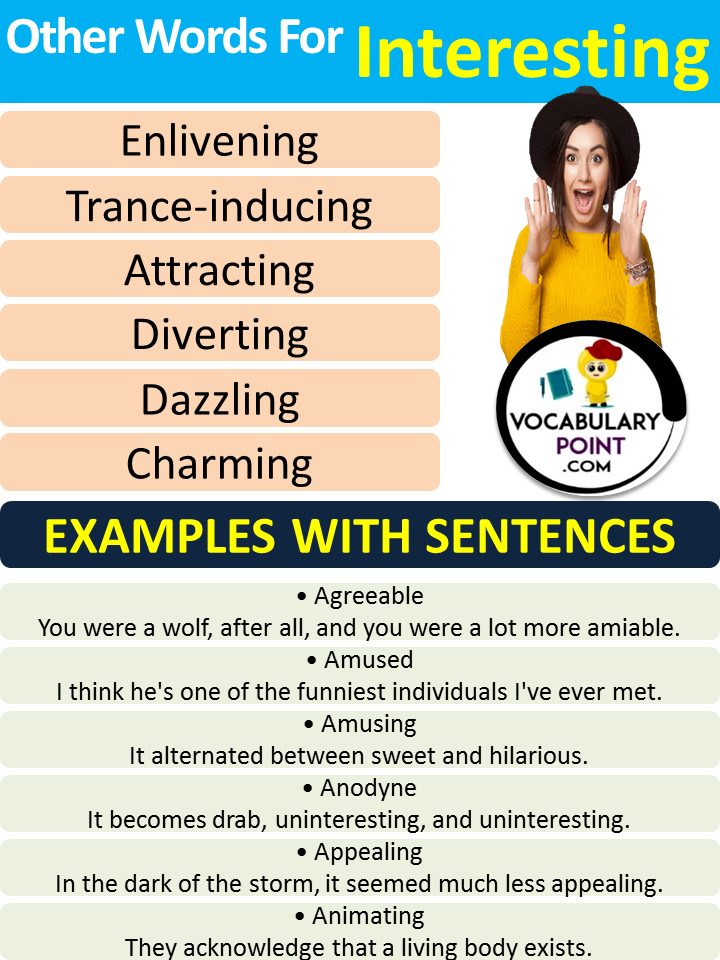 Examples with sentences
Next
Cool
Fascinating
Curious
Luscious
Arousing
Lovely
Teasing
Poignant
Breathtaking
Catchy
Entrancing
Overwhelming
Affecting
Recommendable
Whimsical
Signal
Narcotic
Ravishing
Adorable
Delightful
Affecting
Hypnotic
Pleasing
Dreadful
Flashy
Compelling
Spellbinding
Stirring
Welcome
Statuesque
Sparkling
Enthralling
Catching
Marvelous
Engrossing
Captivating
Absorbing
Interesting
Possessing
Sweet
Facetious
Prepossessing
Groovy
Pretty
Agreeable
Eye-popping
Divine
Engrossing
Animating
Siren
Spine-tingling
Newsworthy
Energizing
Irresistible
Pleasurable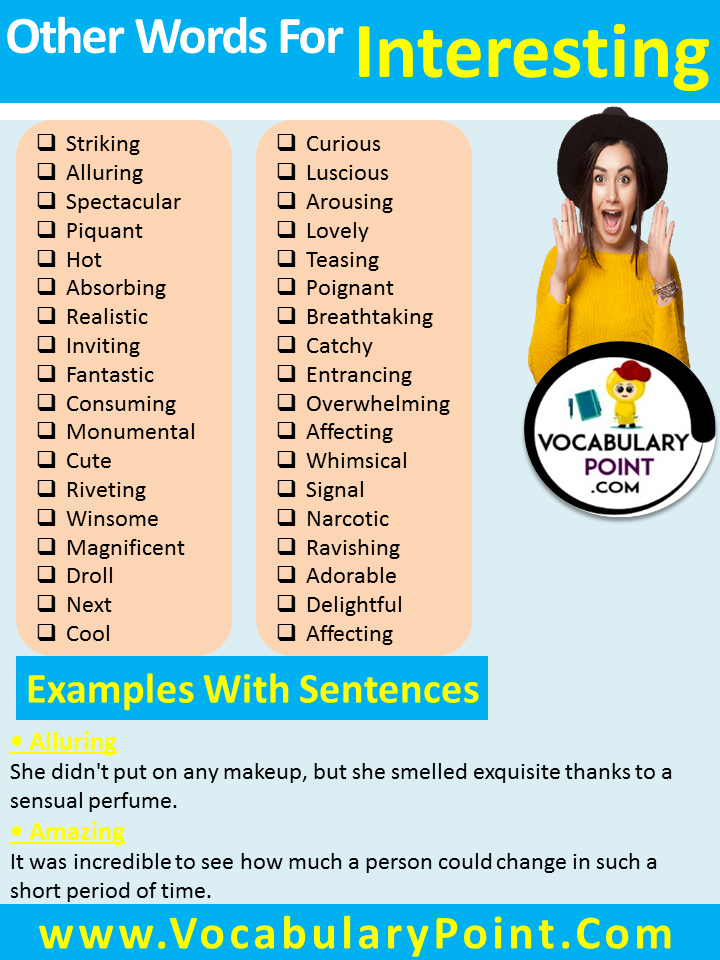 Unique
Sublime
Electrifying
Invigorating
Tasty
Mind-blowing
Seductive
Good
Suspenseful
Significant
Captivating
Gorgeous
Eventful
Useful
Beautiful
Picturesque
Rip-roaring
Lurid
Compulsive
Serious
Witty
Bright
Glamorous
Fabulous
Concerning
Eye-catching
Hypnotizing
Thrilling
Wonderful
Luxuriant
Deeply engaging
Humorous
Involving
Amused
Notable
Exquisite
Extraordinary
Colorful
Meaty
Gripping
Magnetic
Fun
Eye-opening
Elegant
Adjective
Vivid
Unusual
Exceptional
Mesmerizing
Tempting
Tantalizing
Spellbinding
Glorious
Side-splitting
Splashy
Pleasant
Understandable
Satisfying
Fine
Intriguing
Deep
Comely
Brilliant
Fetching
Galvanizing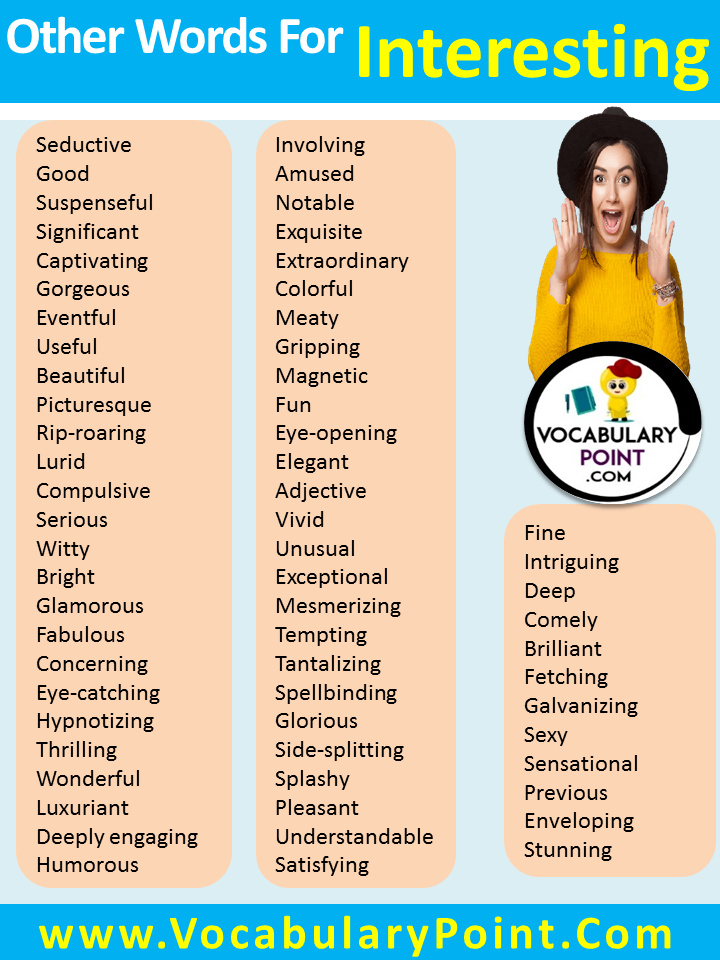 Sexy
Sensational
Previous
Enveloping
Stunning
Comical
Mesmeric
Compelling
Original
Thought-provoking
Beguiling
Stimulating
Awesome
Soothing
Arresting
Inquisitive
Bewitching
Gracious
Enjoyable
Worthy of note
Riveting
Engaging
Intoxicating
Dramatic
Refreshing
Worthwhile
Radiant
Showy
Winning
Impressive
Anodyne
Enthralling
Engaging
Enticing
Entrancing
Provocative
Fascinating
Moving
Readable
Crucial
Entertaining
Appealing
Active
Imaginative
Charismatic
Rousing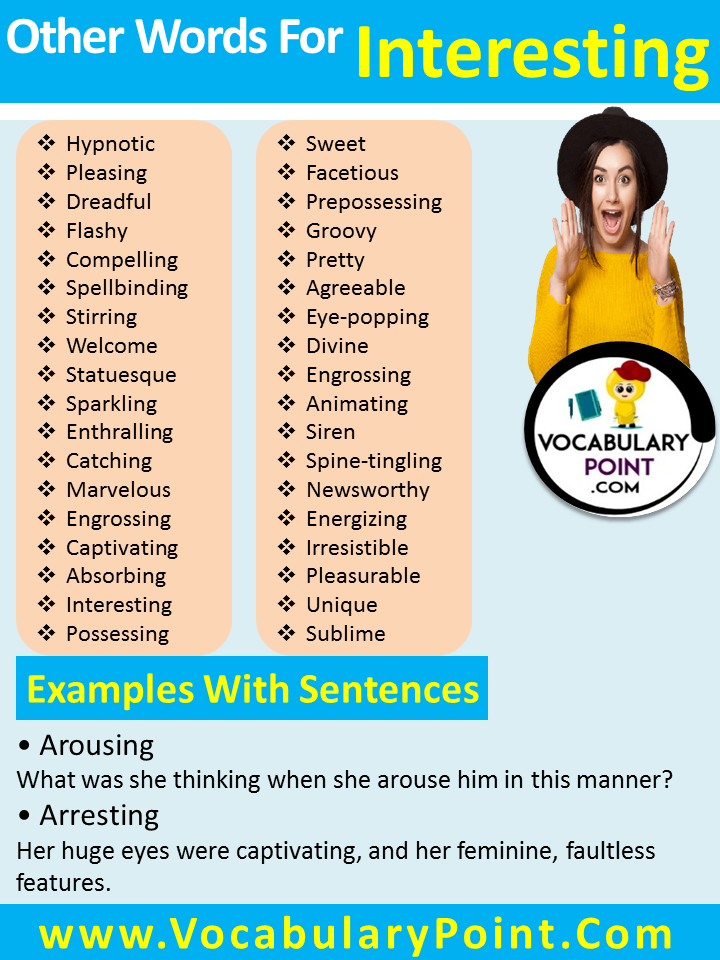 Exotic
Touching
Inspiring
Exhilarating
Interested
Amusing
Gripping
Lively
Astonishing
Weird
Gratifying
Grand
Occupying
Graceful
Standout
Exciting
Noteworthy
Remarkable
Enchanting
Examples with sentences, other words for interesting
They acknowledge that a living body exists.
It becomes drab, uninteresting, and uninteresting.
In the dark of the storm, it seemed much less appealing.
What was she thinking when she arouse him in this manner?
Her huge eyes were captivating, and her feminine, faultless features.
He exhibited a remarkable lack of worry.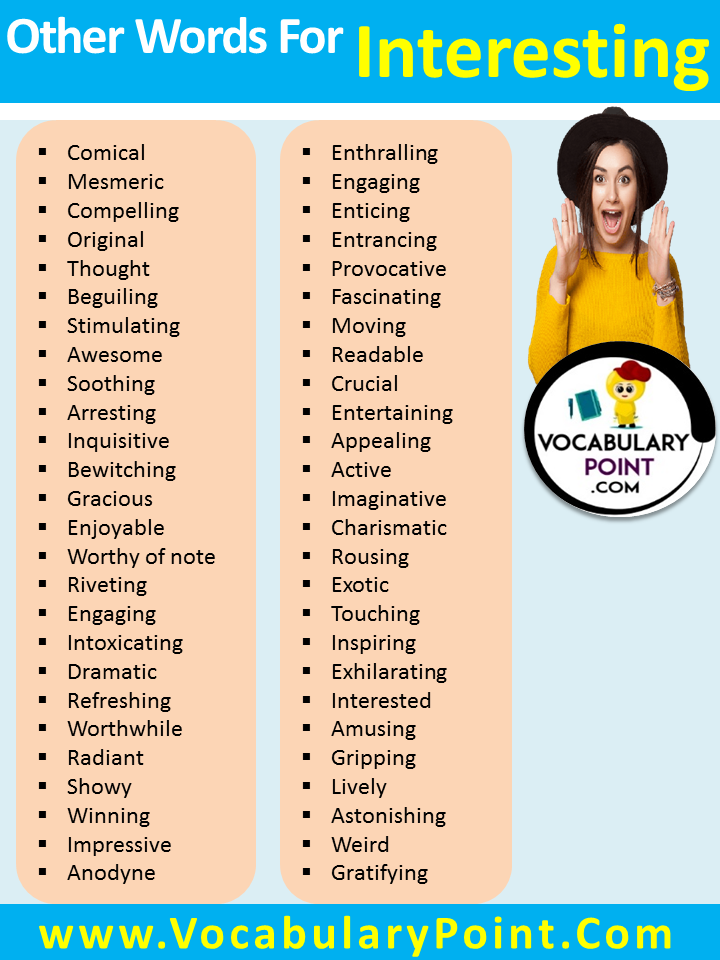 You were a wolf, after all, and you were a lot more amiable.
She didn't put on any makeup, but she smelled exquisite thanks to a sensual perfume.
It was incredible to see how much a person could change in such a short period of time.
I think he's one of the funniest individuals I've ever met.
It alternated between sweet and hilarious.
You Can Download other words for Interesting in English Pdf