Have you ever wondered about the beautiful and diverse world of Spanish vocabulary? In this article, we will explore a fascinating subset of Spanish words that all share one thing in common – they start with the letter M.
From magical creatures to mouth-watering foods, these words will transport you to the enchanting realm of Spanish linguistics.
Whether you're an avid language learner or simply curious about expanding your vocabulary, join us on this journey as we uncover the hidden gems hiding behind the letter M in the Spanish language.
Here are Top 10 Spanish words that start with M:
Mar – Sea
Mesa – Table
Mundo – World
Mujer – Woman
Música – Music
Montaña – Mountain
Mañana – Tomorrow
Mano – Hand
Médico – Doctor
Mamá – Mom
Spanish Words That Start With M
Here is a List of the Best Spanish Words that start with M:
Madre – Mother
Mano – Hand
Mesa – Table
Mundo – World
Mar – Sea
Monte – Mount
Miel – Honey
Moneda – Coin
Mucho – Much
Música – Music
Mañana – Tomorrow/Morning
Medio – Middle
Momento – Moment
Memoria – Memory
Mercado – Market
Máquina – Machine
Muro – Wall
Mascota – Pet
Mirar – To look
Morder – To bite
Mujer – Woman
Montaña – Mountain
Mañana – Tomorrow
Médico – Doctor
Mamá – Mom
Mira – Look
Madera – Wood
Mejor – Better
Minuto – Minute
Mira – See
Mediodía – Noon
Mamá – Mommy
Mensaje – Message
Muerte – Death
Mirada – Glance
Mismo – Same
Molesto – Annoyed
Motor – Engine
Más – More
Mentira – Lie
Martes – Tuesday
Menos – Less
Mujer bonita – Beautiful woman
Martillo – Hammer
Manzana – Apple
Mesa de trabajo – Desk
Movimiento – Movement
Muestra – Sample
Misterio – Mystery
Mal – Bad
Mantener – To maintain
Melodía – Melody
Morir – To die
Motivo – Reason
Músico – Musician
Ministerio – Ministry
Magia – Magic
Maquillaje – Makeup
Mente – Mind
Militar – Military
Mandar – To send
Manejar – To drive
Misterioso – Mysterious
Músculo – Muscle
Montaña rusa – Roller coaster
Mirar fijamente – Stare
Martirio – Martyrdom
Mezcla – Mixture
Morado – Purple
Misterio sin resolver – Unsolved mystery
Mentalidad – Mentality
Molino de viento – Windmill
Molde – Mold
Mueble – Furniture
Molestia – Discomfort
Melancolía – Melancholy
Molusco – Mollusk
Mezquino – Mean
Murmullo – Murmur
Mamá gansa – Mother Goose
Mosaico – Mosaic
Mendigo – Beggar
Manteca – Lard
Moldear – To shape
Manicomio – Insane asylum
Mejilla – Cheek
Máscara – Mask
Migración – Migration
Macabro – Macabre
Malabarismo – Juggling
Muslo – Thigh
Mortero – Mortar
Morsa – Walrus
Mísero – Miserable
Malentendido – Misunderstanding
Mural – Mural
Mancha – Stain
Magnetismo – Magnetism
Ministerio público – Public prosecution
Murciélago – Bat
Mentiroso – Liar
Mantenerse en forma – To stay in shape
Melodrama – Melodrama
Mochila – Backpack
Mendicidad – Begging
Melón – Melon
Magulladura – Bruise
Mezquindad – Pettiness
Marea – Tide
Must Learn: Spanish Words That Start With L
150+ Spanish Words That Start With K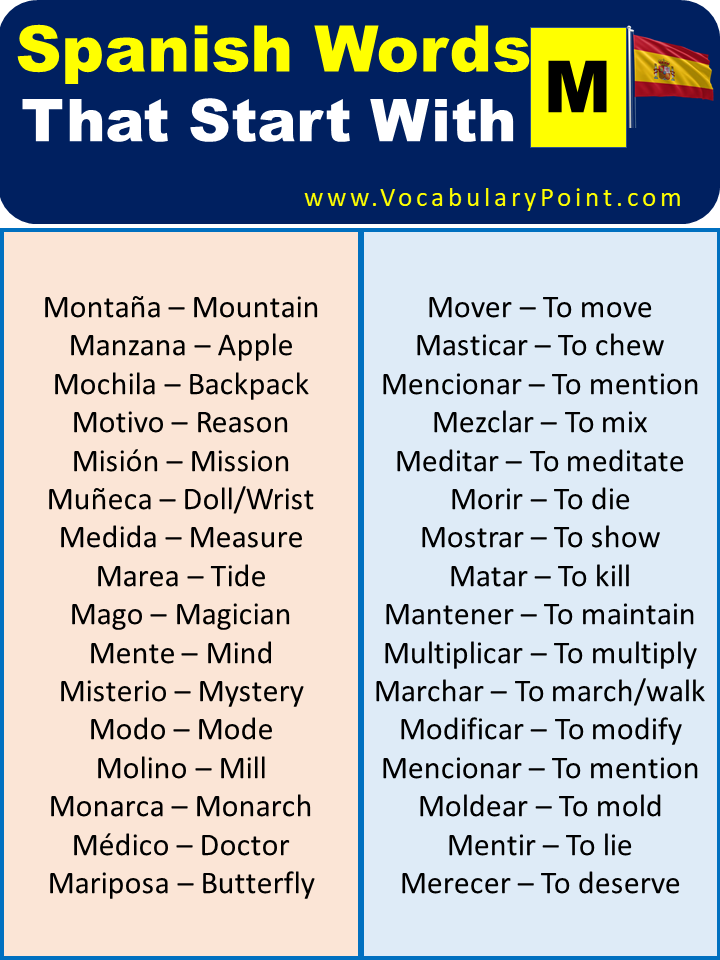 Spanish Nouns That Start With M
Montaña – Mountain
Manzana – Apple
Mochila – Backpack
Motivo – Reason
Misión – Mission
Muñeca – Doll/Wrist
Medida – Measure
Marea – Tide
Mago – Magician
Mente – Mind
Misterio – Mystery
Modo – Mode
Molino – Mill
Monarca – Monarch
Médico – Doctor
Mariposa – Butterfly
Movimiento – Movement
Mensaje – Message
Mueble – Furniture
Martillo – Hammer
Spanish Verbs That Start With M
Mover – To move
Masticar – To chew
Mencionar – To mention
Mezclar – To mix
Meditar – To meditate
Morir – To die
Mirar – To watch/look
Mostrar – To show
Matar – To kill
Mantener – To maintain
Multiplicar – To multiply
Murmurar – To murmur
Marchar – To march/walk
Modificar – To modify
Manejar – To drive/handle
Mencionar – To mention
Moldear – To mold
Mentir – To lie
Merecer – To deserve
Magnetizar – To magnetize
Spanish Adjectives That Start With M
Malo – Bad
Mayor – Older/larger
Menor – Younger/smaller
Mágico – Magical
Mojado – Wet
Moreno – Brown-haired/tanned
Magnífico – Magnificent
Miserable – Miserable
Moderno – Modern
Máximo – Maximum
Spanish Objects That Start With M
Manta – Blanket
Mapa – Map
Marcador – Marker
Máscara – Mask
Mochila – Backpack
Moneda – Coin
Muñeca – Doll
Martillo – Hammer
Mesa – Table
Microondas – Microwave
5 Letter Spanish Words That Start With M
Menta – Mint
Macho – Male
Mesa – Table
Miedo – Fear
Miel – Honey
6 Letter Spanish Words That Start With M
Mancha – Stain
Morder – To bite
Mister – Mister
Muelle – Dock
Música – Music
7 Letter Spanish Words That Start With M
Mercado – Market
Montaña – Mountain
Manzana – Apple
Mochila – Backpack
Motivo – Reason
8 Letter Spanish Words That Start With M
Máquina – Machine
Municipio – Municipality
Monarquía – Monarchy
Misterioso – Mysterious
Mantenerse – To keep oneself