Spoken English Sentences Everyday! A bundle of spoken English sentences is listed below. These sentences are very important and useful for the learners to speak and learn English fluently and how can I speak simple English in daily life. Spoken English Sentences Everyday For improving your English must read these daily routine spoken English sentences every day.
Must Learn For Spoken English Sentences every day
Let's get started.
Have a pleasant journey.
The train arrived on schedule.
I'm not sure how much longer I can wait.
Sara is not the owner of a cat.
I walked in on the spur of the moment.
It makes no difference to me.
Have you got a boyfriend?
I despise you!
Right now, I need to brush my teeth.
I'm sorry, but I'm unable to assist you.
Don't be so silly.
Hello and good afternoon.
How is the weather today?
Don't be concerned.
Sorry for the inconvenience.
In this regard, I am very strict.
It's scorching outside. It's far too hot outside.
They are currently residing in Paris.
Is it freezing outside?
English speaking Sentences in daily life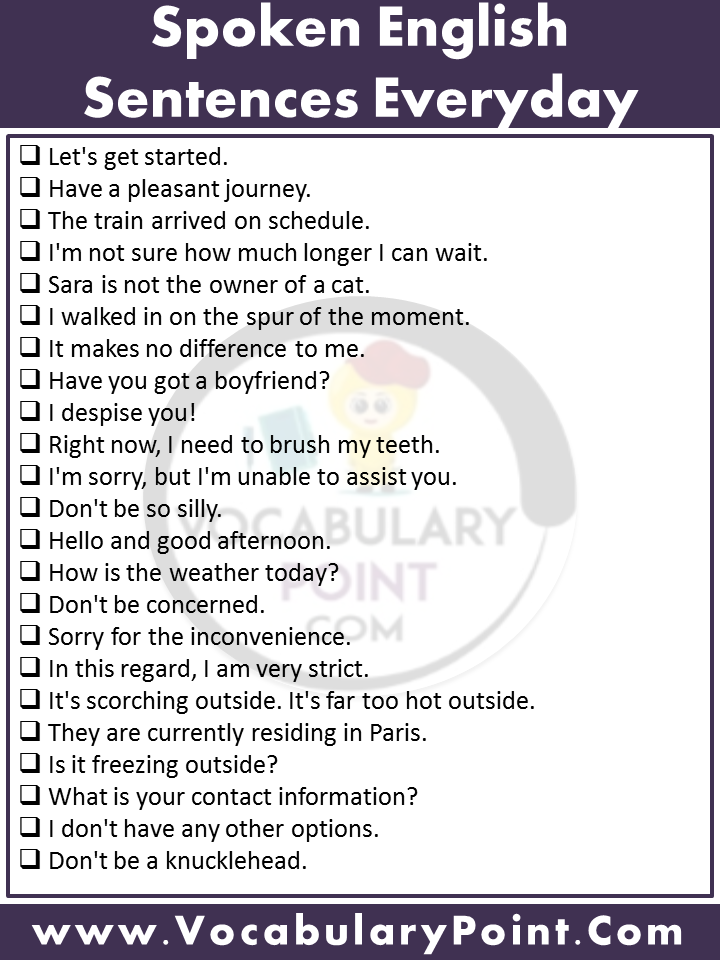 Daily Routine Spoken English Sentences Everyday
What is your contact information?
I don't have any other options.
Don't be a knucklehead.
With a better hand, write.
I'm short on cash.
Cooking is something she despises.
I'd like to speak with him.
He is embarrassed by his actions.
Here is my phone number.
He decided to cancel his trip to Paris.
In society, he is a good boy.
Every day, they take the bus to school.
Sara does not have access to a vehicle.
It's now or never.
I wish you the best of luck.
What does your father do for a living?
Will you now put him to death by thrashing him?
Please do me a favour.
Everyone who comes to see me gets a bark from my dog.
I disagree with your viewpoints.
Every day, you read books.
How far is Mumbai from you?
If you have the opportunity, go.
When does the next train depart?
Isn't it true that you play football every week?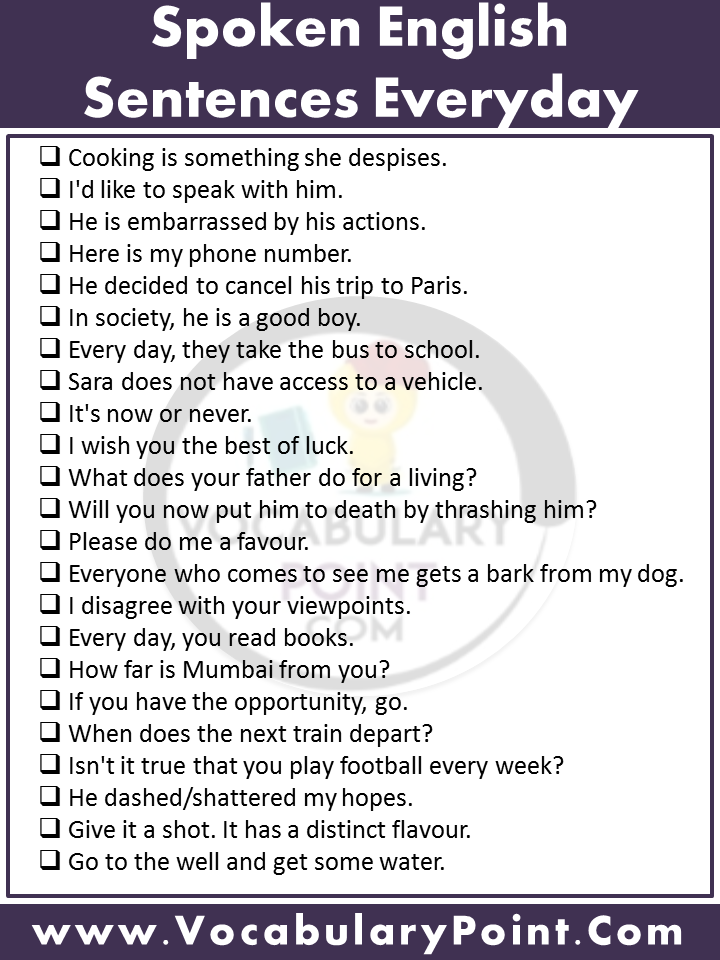 How can i speak simple English in daily life?
He dashed/shattered my hopes.
Give it a shot. It has a distinct flavour.
Go to the well and get some water.
It has nothing to do with you.
She is a dedicated worker.
I'm sorry, but I don't have the time.
Take care!
You take a step back.
Please credit my account with this amount.
How long have you been in this location?
Dinner is usually served at six o'clock.
It's all right.
You are not a friend of mine.
Do you have a vehicle identification number?
My B.A. is complete. Patna University is a university in Patna, India.
I can't believe what I'm hearing.
What are your plans?
When do you celebrate your birthday?
More than a few kilometres.
LIST OF ENGLISH SENTENCES:
She works at the hospital as a doctor.
Is that sufficient?
Please take note of this address.
Next year, I'll be in America.
I have a place to call home.
Don't make me look bad. /Please don't put me down.
Have you been anticipating this moment for a long time?
Bring it to his or her attention.
It's on the other side of the room.
He eked out a narrow victory.
My head is being examined.
It's fort the most part the best.
Every night, he returns home late.
He could be in Delhi right now.
I'll give you a call.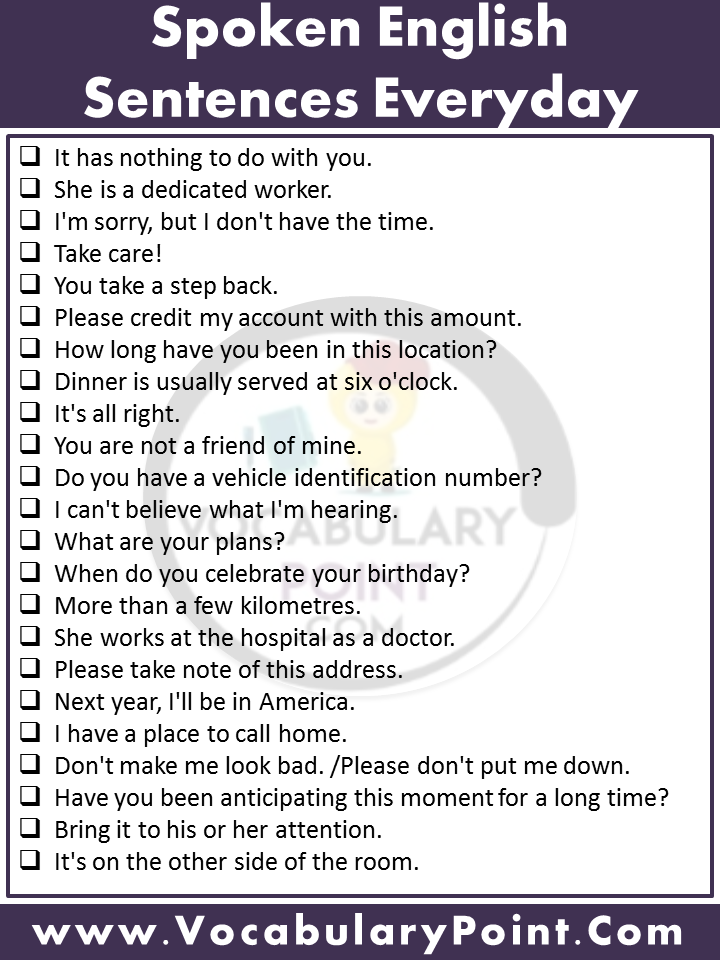 Let's get this party started!
My profession is that of a teacher.
You have my admiration.
Please keep your voice down.
The house was all decked out.
Please provide me with two glasses of water.
I'm employed by a bank.
He is not in the city of London.
Who was the one who cured the patient?
What time are you leaving?
It must be completed.
Where have you gone?
We'll splinter but not bend.
These two are similar in some ways.
Any day will suffice.
When will they arrive?
How long do you intend to stay?
Today I have to leave early.
May God continue to bless you?
Please give me a call.
She/he had had enough of running around.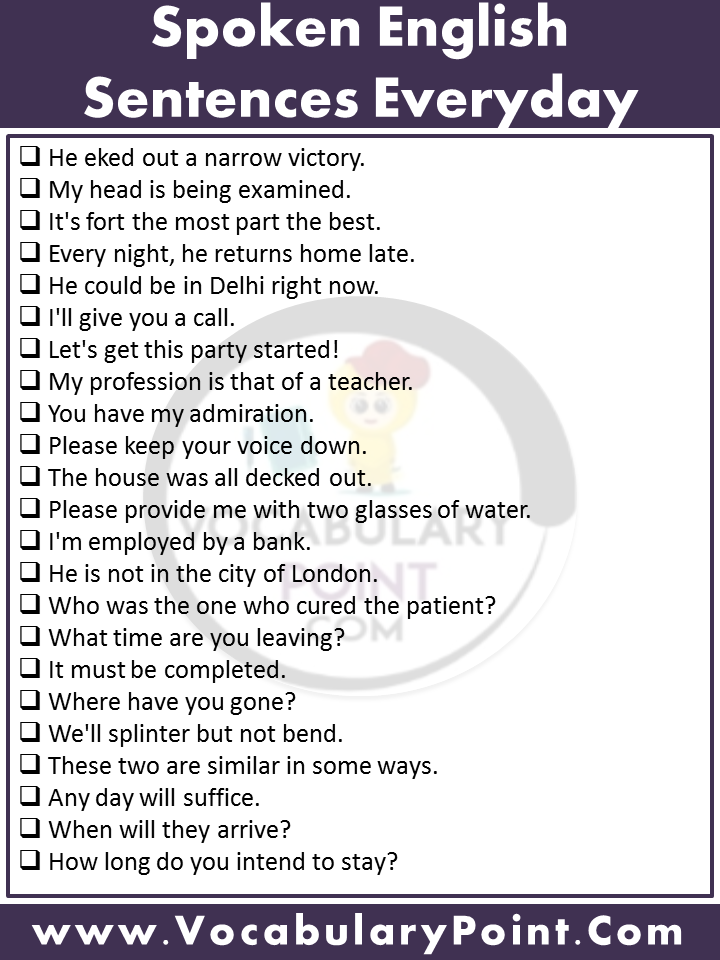 You can Download daily use 1000 English sentences daily use PDF