Summer Words Starting With A To Z. The summer is a great time to expand your vocabulary. There are so many new words to learn! Here are some of our favorite summer words that start with the letter A-Z.
A to Z, these words will make your summer perfect!
A: Adventure. Make this summer one for the books and try something new! B: Barbecue. Summer is the perfect time to fire up the grill and enjoy some delicious food with family and friends. C: Camping.
Read more : Winter Words Starting With A To Z
Unplug from technology and reconnect with nature by spending a weekend camping under the stars. D: Drive-in movie. Take a step back in time and enjoy a classic drive-in movie experience. E: Exercise. Get outside and get moving! Go for a run, ride your bike, or play a game of Frisbee in the park. F: Farmers' market. Support local farmers and stock up on fresh fruits, vegetables, herbs, and more at your local farmers' market. G: Garden.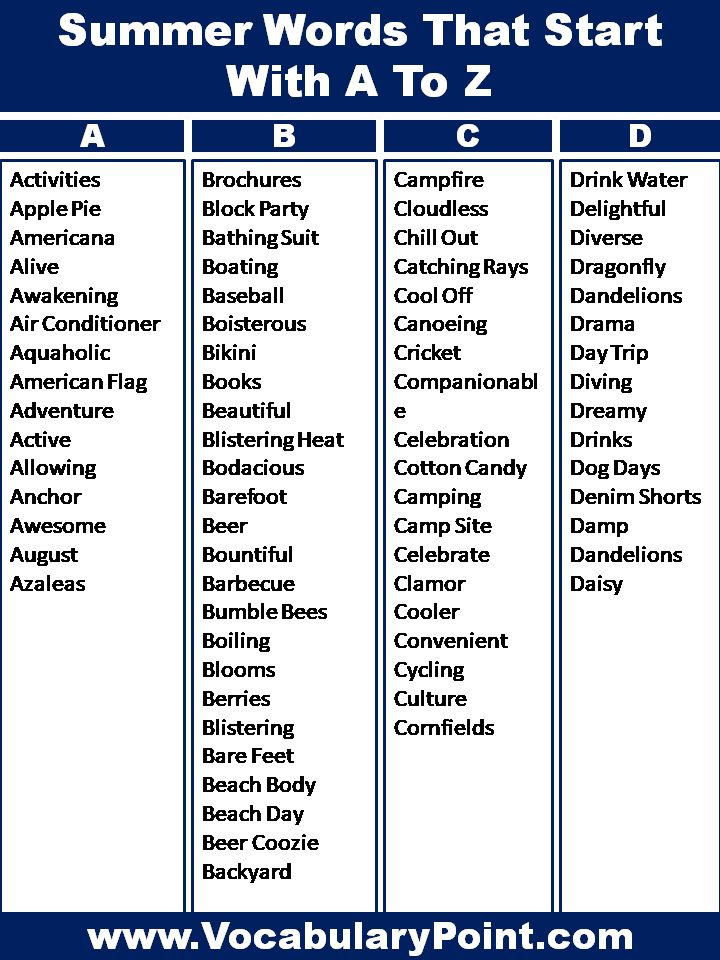 | | | |
| --- | --- | --- |
| Alive | Awakening | Air Conditioner |
| Aquaholic | American Flag | Adventure |
| Active | Allowing | Anchor |
| Awesome | August | Azaleas |
| Brochures | Block Party | Bathing Suit |
| Boating | Baseball | Boisterous |
| Bikini | Books | Beautiful |
| Blistering Heat | Bodacious | Barefoot |
| Beer | Bountiful | Barbecue |
| Bumble Bees | Boiling | Blooms |
| Berries | Blistering | Bare Feet |
| Beach Body | Beach Day | Beer Coozie |
| Backyard | Campfire | Cloudless |
| Chill Out | Catching Rays | Cool Off |
| Canoeing | Cricket | Companionable |
| Celebration | Cotton Candy | Camping |
| Camp Site | Celebrate | Clamor |
| Cooler | Convenient | Cycling |
| Culture | Cornfields | Drink Water |
| Delightful | Diverse | Dragonfly |
| Dandelions | Drama | Day Trip |
| Diving | Dreamy | Drinks |
| Dog Days | Denim Shorts | Damp |
| Dandelions | Daisy | Easy Living |
| Exercise | Esthetic | Enjoy |
| Exposure | Eating | Exhibitions |
| Enthralling | Eat Outside | Easy |
| Enjoy The Sun | Evening On The Patio | Explore |
| Fruitful | Flowers | Fairs (County) |
| Foolishness | Fresh Fruit | Firecrackers |
| Frisbee | Fan | Fireworks |
| Freedom | Fanciful | Frolic |
| Fruits Juice | Fresh | Fly A Kite |
| Fascination | Fireflies | Fall In Love |
| Family Trip | Farm | Grow |
| Grass | Goals | Garden Party |
| Gardening | Guide | Games |
| Get Wet | Go Camping | Golf |
| Goggles | Garden Hose | Gardener |
| Get Outdoors | Garden | Grills |
| Get Outside | Grill | Gleeful |
| Grilled | Go Boating | Harmonic |
| Holiday | Hiking Trail | Humidity |
| Heritage | Have Fun | Hamper (Picnic) |
| Happy | Hospitality | Hobby |
| Hiking | Humid | Hiker |
| Heat | Hazy | Ice Tea |
| Illusions | Ice Cream | Inspiration |
| Ice Cubes | Ice Water | Inconvenience |
| Ice Cream Cone | Insects | Invigorating |
| July | Joyful | June |
| Jellyfish | July Fourth | Juicy |
| Joy Ride | Jump Rope | Journey |
| Jazz | Kitsch | Kayak |
| Kite | Kool-Aid | Kick Board |
| Lakeside | Lay Out | Leisure |
| Labor Day | Lip Balm | Lightening |
| Lake | Lovely | Life Jacket |
| Leisurely | Lazy Days | Lazy Daze |
| Lounge | Limitations | Lifeguard |
| Lounging | Lawn | Life Vest |
| Lawnmower | Libation | Lawn Chair |
| Lemonade | Multifaceted | Music |
| Muggy | Musical | Mist |
| Moonlit Night | Mower | Meadow |
| Make Memories | Mosquito | Margarita |
| Memorial Day | Memories | Moist |
| Mocktail | Natural | Noon Nap |
| Nostalgic | Nostalgia | Night Sky |
| Neat | Nap | Native |
| Outdoors | Outside | Open Windows |
| Oar | Overjoying | Ocean |
| Opportunity | Outdoor | Outings |
| Outing | Permissive | Perfect |
| Pick Berries | Peaches | Pool |
| Patriotism | Pitch A Tent | Pail |
| Paddle | Parasol | Picnic |
| Popsicle | Paddle Board | Primal |
| Picnic Days | Park | Postcard |
| Poolside | Peace | Pool Party |
| Playground | Plums | Partypicnic |
| Quiet | Quench | Questions |
| Relaxing | Relaxation | Roller Blades |
| Roasting | Reading | Repellent |
| Ripen | Rose | Referral |
| Raft | Rays | Refresh |
| Ripe | Rash Guard | Run |
| Rain Showers | Red Hot | Relished |
| Rainbow | Roast | Relax |
| Raspberries | Rest | Sprinkler |
| Sensational | September | Sunhat |
| Sunny | Seasonal | Sun Shower |
| Sun Tan | Sweat | Summer Wedding |
| Sunflower | Sting | Sunblock |
| Season | Stargazing | Star |
| Sandpiper | Sun Rays | Sandcastle |
| Shade | Stimulatory | Surf |
| Shovel | Swimsuit | Sweet Tea |
| Sandals | Sailin | Showers |
| Suntan | Serenity | Squirt Gun |
| Sunburn | Starfish | Scorching |
| Slip'n'slide | Seagull | Sand |
| Swim Camp | Slurpee | Sand Castle |
| Stargaze | Summertime | Shorts |
| Swimming | Sleep In' | Sea |
| Surfboard | Strawberries | Sunglasses |
| Sailing | Sauna | Swim Trunks |
| Sun Tea | Sunshine | Shower |
| Sweltering | Sailboat | Spade |
| Sleeping Bag | Sundress | Thunderstorm |
| Thunder | Trip | Travel |
| Tennis | T-Shirt | Tomatoes |
| Tourists | Tropical | Theater |
| Taffy | Tank Top | Therapeutic |
| Tourism | Tan | Trunks |
| Take A Dip | Tent | Time Off |
| Tall Grass | Towel | Thongs |
| Tan Lines | Touring | Upscale |
| Umbrella | Underwater | Uplifting |
| Unforgettable | Uncover | Vacation |
| Vendors | Vegetable Garden | Voyage |
| Visit | Vivacious | Visor |
| Verdant | Vital | Wildflowers |
| Welfare | Waterfront | Wading |
| Water | Wasp | Wheelbarrow |
| Watermelon | Wasps | Warmth |
| Water Slide | Weed | Waterpark |
| Water Bottle | Weather | Weeds |
| Waves | Wardrobe | Explore |
| Yacht | Yard Work | Yard Sale |
| Youth | Zucchini | Zoo |
| Zoris | Zealous | Zap |
| Zinc Oxide | | |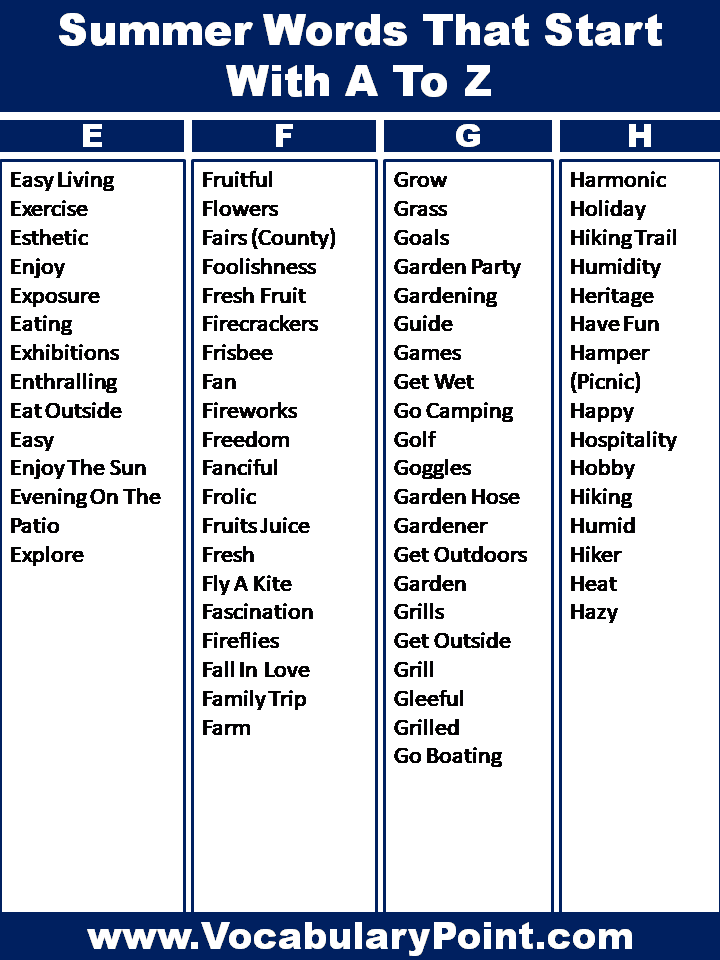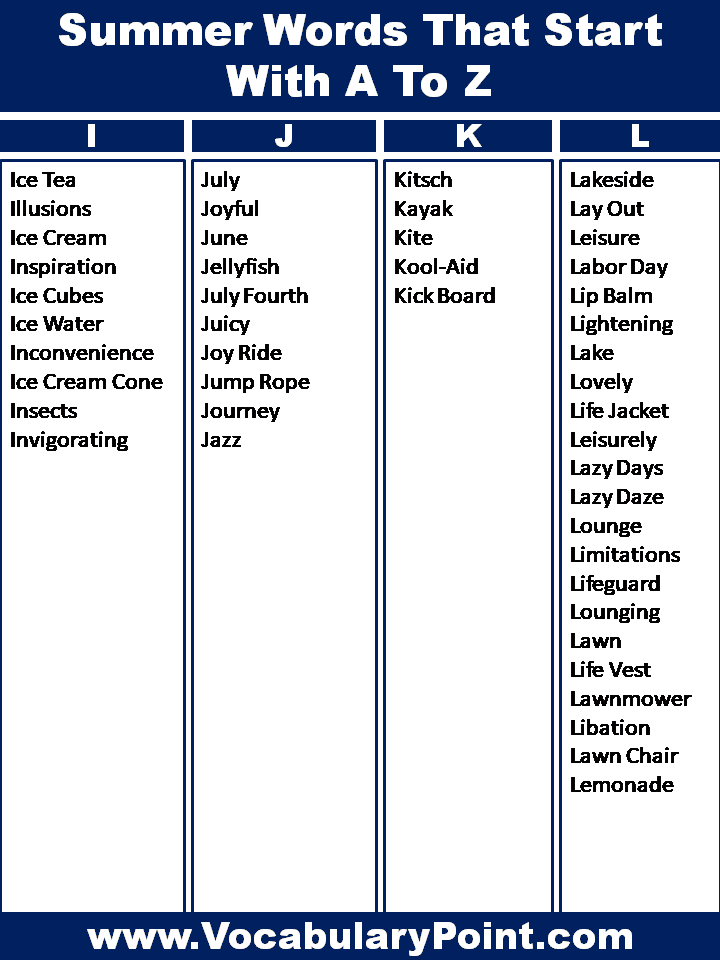 Summer Words Beginning With A To Z