Words To Describe Tone. Effective communication is about more than just the words you choose. The tone with which those words are delivered can completely change the message that's being conveyed. Tone words are an essential part of any writer's toolkit because they allow you to describe exactly the kind of mood and emotion that you want your writing to convey.
Must Learn: Latin Words List
What is the meaning of tone? 
Tone refers to the emotional or moral perspective of the author that is reflected in the writing style and language. It is the way in which the writer expresses their attitude or opinion towards the subject matter or audience. Tone can convey a variety of emotions, including joy, anger, sadness, fear, or humor, and can also convey the author's moral or ethical values.
Tone is an important element of literature and writing, as it can influence how the reader perceives the text and its message. The tone can be formal or informal, serious or humorous, optimistic or pessimistic, and can vary throughout a text depending on the author's purpose or intent.
Words To Describe Tone
Sarcastic: "Oh sure, because that's a brilliant idea."
Cynical: "I'm sure nothing good will come of this."
Pensive: "She sat quietly, lost in thought."
Dismissive: "That's not worth my time."
Indignant: "I can't believe they would treat us like that."
Nostalgic: "Looking at these old pictures makes me miss those days."
Euphoric: "I've never felt so happy in my life!"
Melancholic: "The rain outside only adds to my sadness."
Jovial: "It's great to see you! How have you been?"
Wistful: "I wish I could go back to that moment."
Bitter: "I don't want to talk to them after what they did."
Hopeful: "Things are tough right now, but I believe they'll get better."
Foreboding: "I have a bad feeling about this."
Content: "I'm happy with how things are going."
Amused: "That was a funny joke you told."
List of Tone Words
| | |
| --- | --- |
| Elated | Hard |
| Lighthearted | Desperate |
| Mocking | Arrogant |
| Sentimental | Apologetic |
| Embarrassed | Regretful |
| Gullible | Critical |
| Affectionate | Effusive |
| Comforting | Satiric |
| Compassionate | Frantic |
| Conversational | Lyrical |
| Sympathetic | Optimistic |
| Stable | Churlish |
| Enraged | Acerbic |
| Comic | Fervent |
| Suspicious | Antagonistic |
| Hapless | Outspoken |
| Resigned | Mysterious |
| Familiar | Recalcitrant |
| Giddy | Disrespectful |
| Narcissistic | Casual |
| Impassioned | Farcical |
| Condemnatory | Ambivalent |
| Disdainful | Enthusiastic |
| Curt | Ebullient |
| Depressed | Timorous |
| Nostalgic | Contentious |
| Diffident | Loving |
| Negative | Apprehensive |
| Formal | Obsequious |
| Zealous | Reflective |
| Vibrant | Witty |
| Complimentary | Pretentious |
| Annoyed | Cheery |
| Pessimistic | Ridiculous |
| Blithe | Tense |
| Objective | Mean-Spirited |
| Admonishing | Questioning |
| Amused | Vitriolic |
| Gloomy | Wistful |
| Obdurate | Appreciative |
| Sprightly | Hostile |
| Insecure | Biting |
| Fanciful | Instructive |
| Jocund | Tolerant |
| Pragmatic | Straightforward |
| Confute To | Irritated |
| Conciliatory | Petty |
| Persuasive | Ceremonial |
| Sharp | Meditative |
| Subdued | Grim |
| Contented | Reticent |
| Provocative | Wry |
| Disbelieving | Impatient |
| Fatalistic | Patronizing |
| Burlesque | Facetious |
| Sinister | Threatening |
| Reminiscent | Blunt |
| Laudatory | Unconcerned |
| Reassuring | Shocking |
| Bantering | Mourning |
| Learned | Lively |
| Respectful | Enchant |
| Benevolent | Joyful |
| Suspenseful | Melodramatic |
| Indifferent | Brusque |
| Nasty | Frustrated |
| Absurd | Uneasy |
| Factual | Ghoulish |
| Emotive | Impertinent |
| Taunting | Irreverent |
| Romantic | Paranoid |
| Stern | Endearing |
| Melancholic | Imploring |
| Skeptical | Dreary |
| Light-Hearted | Acrimonious |
| Tender | Informal |
| Empathetic | Vindictive |
| Jaded | Grave |
| Poignant | Conceited |
| Impartial | Scornful |
| Hopeful | Impudent |
| Forceful | Demanding |
| Malicious | Dubious |
| Dogmatic | Diabolic |
| Incisive | Commanding |
| Egotistical | Stolid |
| Direct | Abstruse |
| Doubtful | Celebratory |
| Harsh | Censorious |
| Vexed | Wrathful |
| Nervous | Audacious |
| Accusatory | Self-Assured |
| Powerful | Strident |
| Mischievous | Caustic |
| Lofty | Complicated |
| Boorish | Calm |
| Gleeful | Histrionic |
| Naïve | Resentful |
| Indignant | Indirect |
| Disgusted | Impassive |
| Forthright | Insipid |
| Frivolous | Horrified |
| Bitter | Eloquent |
| Inane | Irascible |
| Mock-Heroic | Evasive |
| Mournful | Scathing |
| Insolent | Modest |
| Penitent | Detached |
| Serious | Colloquial |
| Serene | Bold |
| Ambiguous | Elevated |
| Dramatic | Approving |
| Flippant | Ironic |
| Whimsical | Hypercritical |
| Frightened | Psychotic |
| Ominous | Macabre |
| Expectant | Introspective |
| Disturbed | Bemused |
| Anxious | Humorous |
| Sophomoric | Didactic |
| Animated | Supercilious |
| Severe | Fearful |
| Lugubrious | Baffled |
| Ecstatic | Pathetic |
| Uncertain | Ardent |
| Playful | Pedantic |
| Euphoric | Concerned |
| Derisive | Joyous |
| Incredulous | Furious |
| Clinical | Authoritarian |
| Wonder | Bewildered |
| Complex | Pompous |
| Apathetic | Solemn |
| Sardonic | Abhorring |
| Righteous | Abashed |
| Insistent | Overbearing |
| Pensive | Tranquil |
| Inflammatory | Sly |
| Hopeless | Eulogistic |
| Exuberant | Hilarious |
| Matter–Of-Fact | Erudite |
| Nonplussed | Worried |
| Humble | Unassuming |
| Disappointed | Seductive |
| Philosophical | Shocked |
| Earnest | Hollow |
| Virtuous | Impressionable |
| Haughty | Adoring |
| Cheerful | Inspirational |
| Risible | Curious |
| Self-Depreciating | Cynical |
| Ludicrous | Relaxed |
| Elegiac | Mock |
| Intense | Gentle |
| Restrained | Judgmental |
| Incensed | Exhortatory |
| Somber | Nonchalant |
| Sanguine | Assertive |
| Sincere | Confounded |
| Derogatory | Choleric |
| Grand | Affectation |
| Tragic | Exhilarated |
| Reverent | Condescending |
| Stately | Worshipful |
| Terse | Placid |
| Candid | Excited |
| Brisk | Intimate |
| Despairing | Belligerent |
| Mirthful | Outraged |
| Frank | Scholarly |
| Thoughtful | Domineering |
| Capricious | Moralistic |
| Informative | Sarcastic |
| Speculative | Jovial |
| Selfish | Oratorical |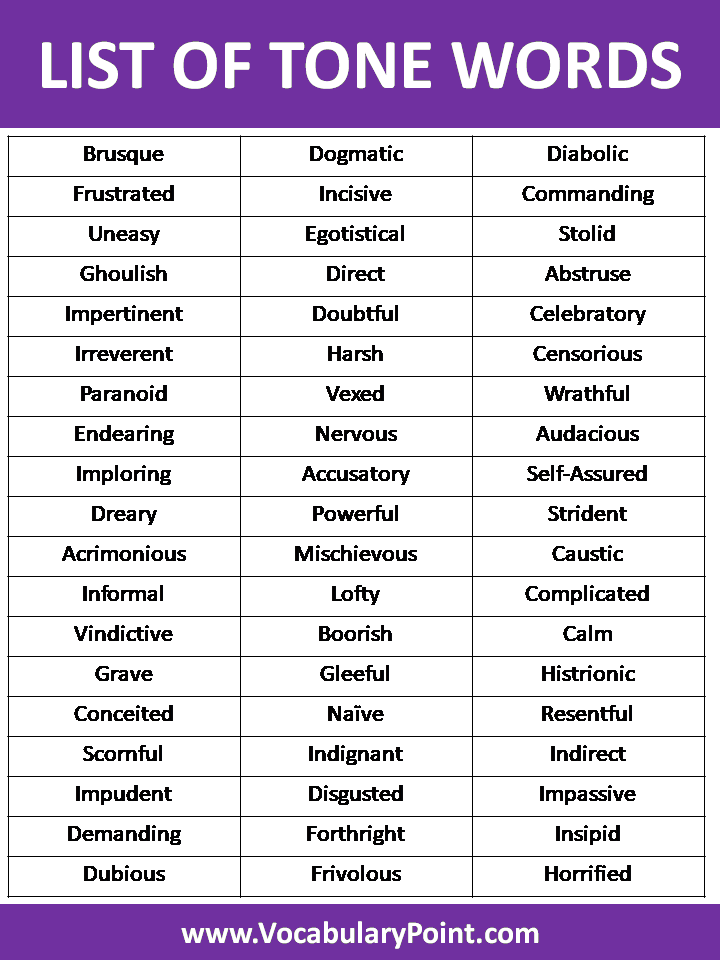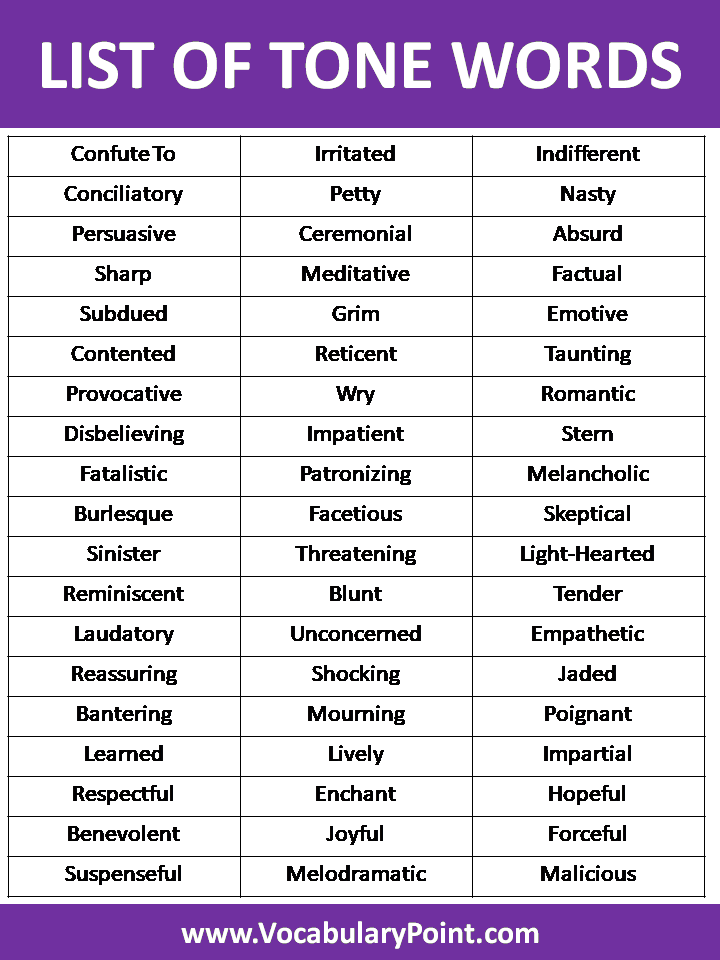 Tone Words List