5 Letter Words Starting With I. The English language is rich in complexity, and one of its most interesting aspects are the five-letter words that can be formed. Five-letter words are relatively short yet often have a big impact; they can express complex thoughts, feelings and concepts in just five letters.
Here are 10 Advanced 5 Letter Words Beginning With I:
Inure – Accustom (someone) to something, especially something unpleasant.
Inept – Having or showing no skill; clumsy.
Infix – A morpheme or word element that is inserted within the body of another word.
Ichor – A fluid that flows like blood in the veins of the gods in Greek mythology.
Impel – Drive, force, or urge (someone) to do something.
Inlay – Decorate (an object) with a substance embedded in the surface.
Impugn – Dispute the truth, validity, or honesty of (a statement or motive).
Inapt – Not suitable or appropriate in the circumstances.
Inert – Lacking the ability or strength to move.
Irate – Feeling or characterized by great anger.
5 Letter Words Starting With I
| | | | |
| --- | --- | --- | --- |
| Ilial | Ibrik | Indas | Inmew |
| Impel | Idola | Ikans | Imshy |
| Imaum | Impot | Ihram | Immie |
| Imply | Ilium | Ickle | Ingle |
| Iraqi | Idled | Idols | Iched |
| Inlaw | Iriri | Ideal | Input |
| Inrun | Immit | Infra | Iceni |
| Iiwis | Inial | Irade | Immew |
| Impis | Idles | Ilics | Inoas |
| Indre | Ichor | Inmix | Irked |
| Incog | Inure | Ilion | Irakw |
| Iland | Incur | Inros | Imels |
| Inula | Ilers | Indiv | Ibiza |
| Idgaf | Impar | Incut | Inion |
| Inkas | Idiot | Iffen | Ingot |
| Inept | India | Inorb | Ictal |
| Inari | Ilies | Intro | Inbox |
| Inuit | Imped | Imban | Ibada |
| Irone | Ident | Ictus | Ileac |
| Inked | Imans | Inbye | Imbue |
| Intel | Inust | Ileus | Indri |
| Invar | Irian | Icons | Idear |
| Incas | Irene | Irani | Imbar |
| Incle | Imids | Imari | Idele |
| Imago | Irupu | Indra | Imhos |
| Iddhi | Intil | Illth | Imido |
| Iblis | Ingan | Iircs | Ignis |
| Inity | Irlam | Imide | Indin |
| Ihdes | Idean | Icker | Intra |
| Irbys | Inerm | Irous | Ijaws |
| Inert | Imino | Image | Infer |
| Ileum | Immix | Iller | Indel |
| Indue | Impen | Iambi | Inane |
| Incan | Imbow | Igoes | Idaho |
| Incus | Iraan | Impro | Innew |
| Indic | Innie | Indow | Imine |
| Inned | Ideas | Inkom | Icily |
| Inner | Ikizu | Indol | Igbos |
| Ibans | Innit | Impex | Icier |
| Imlis | Ikons | Ikats | Inset |
| Indon | Icers | Idyll | Idiom |
| Indew | Ijmas | Intis | Idler |
| Idjit | Inver | Inlet | Igloo |
| Idren | Ihles | Inspo | Inapt |
| Irbid | Inker | Inkan | Ineye |
| Inman | Inarm | Igapo | Imbed |
Must Read: 5 Letter Words Starting With J
5 Letter Words Beginning With I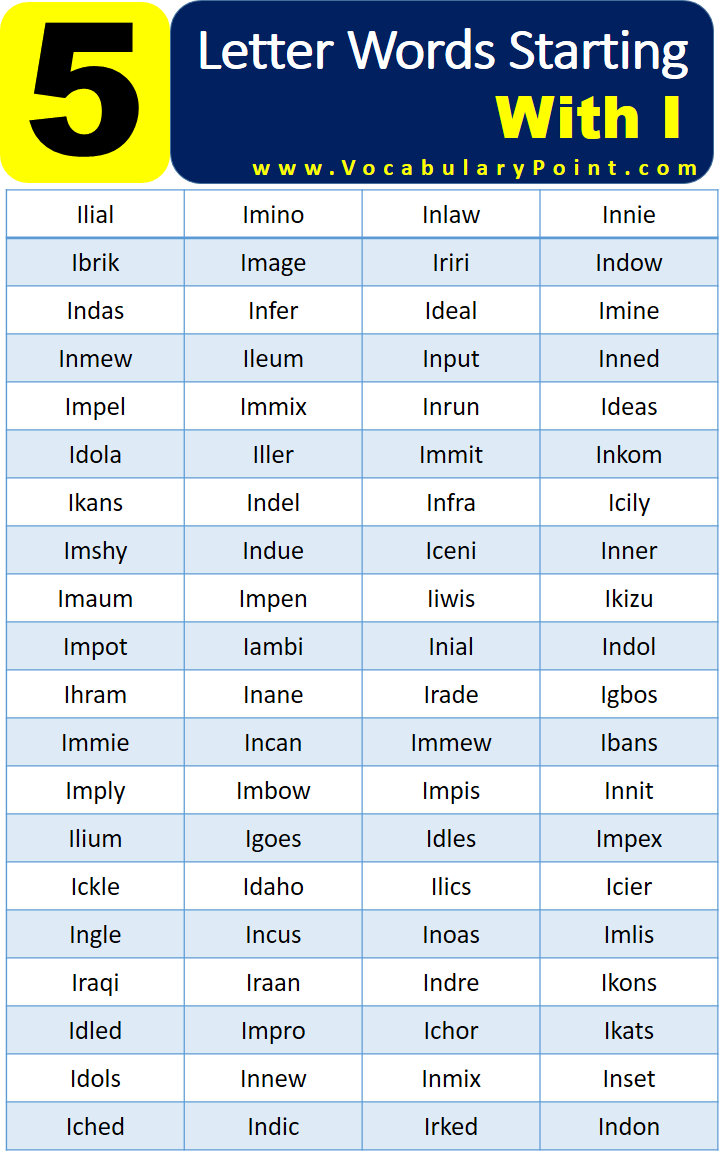 5 Letter Words Start With I
| | | | |
| --- | --- | --- | --- |
| Ilian | Incel | Irids | Idlis |
| Ileal | Imshi | Irish | Indus |
| Insue | Irbil | Ijoid | Inlay |
| Irons | Ippon | Ictic | Igous |
| Irkut | Iliad | Iftar | Ihood |
| Inter | Injun | Iriga | Iglus |
| Imams | Irony | Index | Infos |
| Iroko | Ireys | Ifrit | Indie |
| Iches | Ideot | Inkle | Intnl |
| Iraqw | Irgun | Imbay | Iruma |
| Infix | Inwit | Idyls | Igged |
| Icing | Idees | Idism | Idist |
| Iliac | Idant | Imbox | Iring |
| Inurn | Inode | Irate | Ibadi |