5 Letter Words Starting With K. The English language is filled with a vast array of words, giving us the ability to express ourselves in countless ways. One interesting way to explore our language is by examining five-letter words beginning with the letter K.
Here are 10 Interesting 5 Letter Words Start With K:
Kudos – Praise and honor received for an achievement.
Knack – A skill or talent for doing something easily and quickly.
Kabob – Pieces of meat and vegetables grilled or roasted on a skewer.
Kinky – Unconventional, unusual, or sexually adventurous.
Knead – Work (moistened flour or clay) into dough or paste with the hands.
Kissy – Expressing or suggesting kisses or affection.
Kibbe – A Middle Eastern dish made of bulgur wheat and minced meat.
Kiosk – A small structure with one or more open sides used to vend merchandise or provide information.
Krona – The basic monetary unit of Sweden, Iceland, and Denmark.
5 Letter Words Starting With K
| | |
| --- | --- |
| Korat | Kamik |
| Kalam | Kirks |
| Kojis | Kawau |
| Kithe | Katas |
| Kalan | Kazan |
| Kibes | Kinin |
| Kotos | Kasme |
| Kebab | Kinds |
| Ketch | Krill |
| Knead | Kobos |
| Kapas | Knoll |
| Kikes | Kerfs |
| Kendo | Kapia |
| Knout | Kaims |
| Kurta | Kooks |
| Kagan | Kabob |
| Kiths | Koels |
| Kolos | Kanes |
| Kasai | Kinos |
| Kaies | Kanzu |
| Kiefs | Kinky |
| Kilty | Kente |
| Kafir | Knack |
| Kafal | Koala |
| Kilns | Kawed |
| Kissy | Knows |
| Kalao | Karsy |
| Kazis | Kacha |
| Kenya | Kalif |
| Kanji | Kopek |
| Kalas | Kerbs |
| Khaph | Kufis |
| Kanas | Knars |
| Kreep | Kamal |
| Karma | Kafka |
| Kaiju | Kales |
| Keels | Kukri |
| Kades | Kempt |
| Kerry | Keens |
| Knaps | Kempe |
| Known | Kakis |
| Knife | Kneed |
5 Letter Words Beginning With K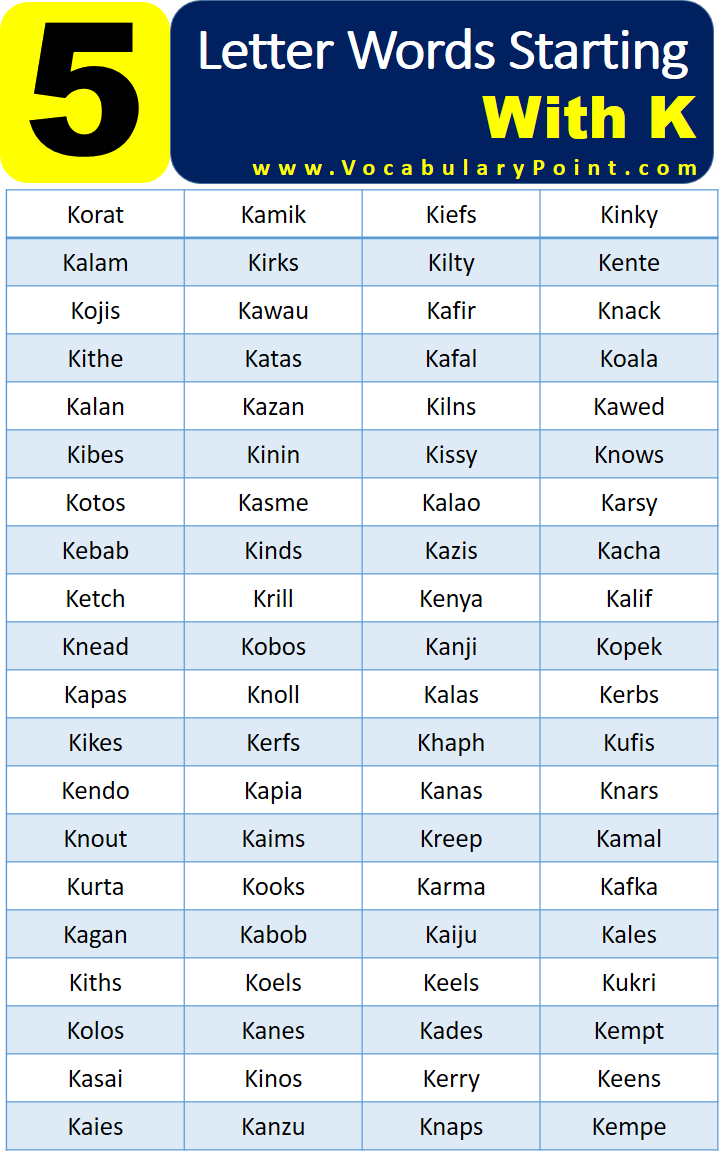 List of 5 Letter Words  With K
Must Read: 5 letter words starting with L
| | |
| --- | --- |
| Kulak | Kiosk |
| Kines | Karat |
| Kites | Karur |
| Kilim | Katti |
| Kedge | Kalki |
| Kamel | Kaugh |
| Keeve | Knell |
| Kemps | Kepis |
| Kaama | Kecky |
| Kadai | Kheth |
| Kanab | Knots |
| Kauru | Knops |
| Kalpa | Kibla |
| Karri | Knawe |
| Karns | Kaika |
| Kirns | Kaili |
| Karks | Kraut |
| Karaj | Kohls |
| Kopje | Kanae |
| Karst | Kenaf |
| Kagus | Koans |
| Knaur | Khaki |
| Kaury | Kazoo |
| Karzy | Kants |
| Kiwis | Kiang |
| Korma | Kurus |
| Krone | Kavas |
| Kroon | Kelep |
| Kefir | Knurs |
| Kabwe | Krait |
| Khets | Kacks |
| Kappa | Kayos |
| Kaifs | Kecks |
| Kenos | Knees |
| Kilos | Kaids |
| Kanak | Kerns |
| Kists | Khats |
| Kamsa | Kivas |
| Kanyu | Keesh |
| Kiter | Kanga |
| Kebar | Kills |
| Kevel | Keyed |
| Kelly | Ketol |
| Knelt | Kamas |
| Kakas | Kexes |
| Kicky | Knock |
| Keirs | Kheda |
| Knish | Kakke |
| Kapow | Kains |
| Katis | Kebob |
| Kajin | Kagos |
| Kotow | Kaneh |
| Kitty | Kepel |
| Krewe | Kamet |
Must Learn: 9 letter words starting with K
5 Letter Words Start With K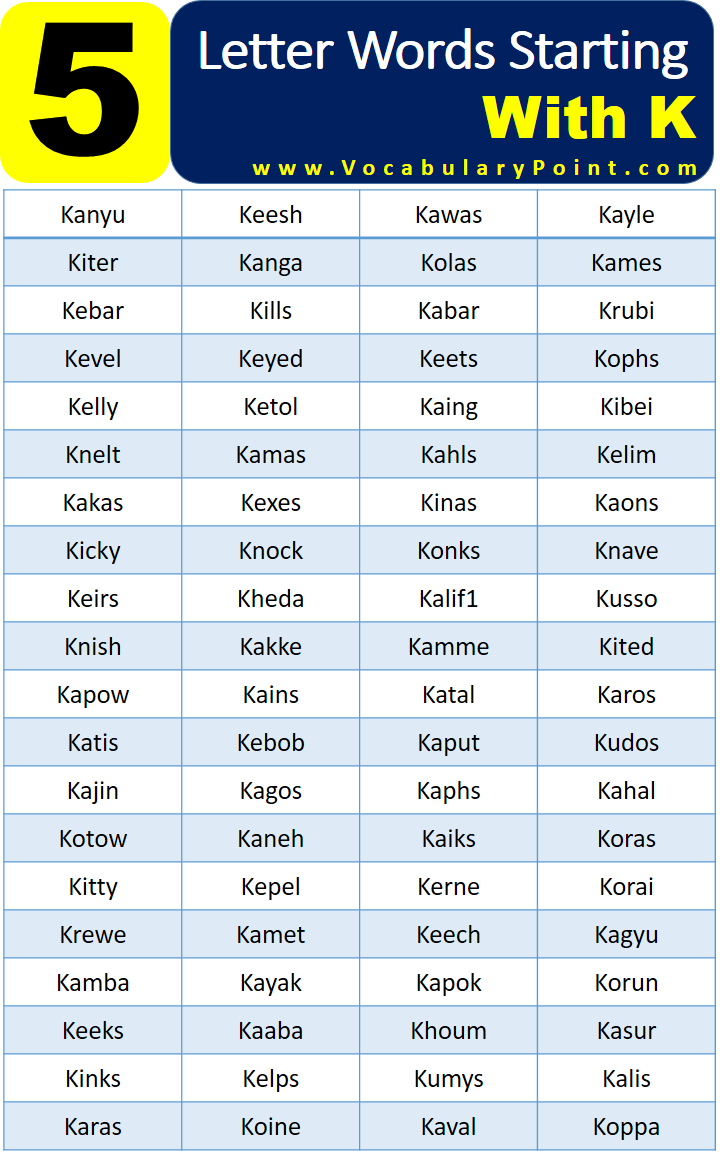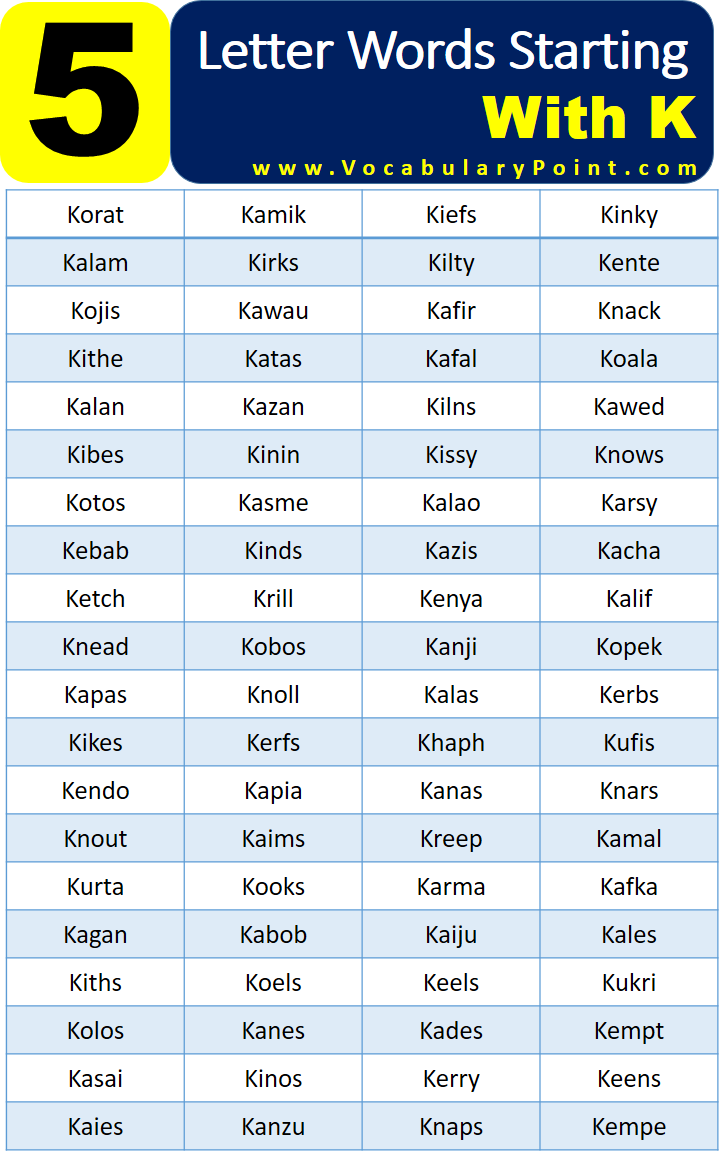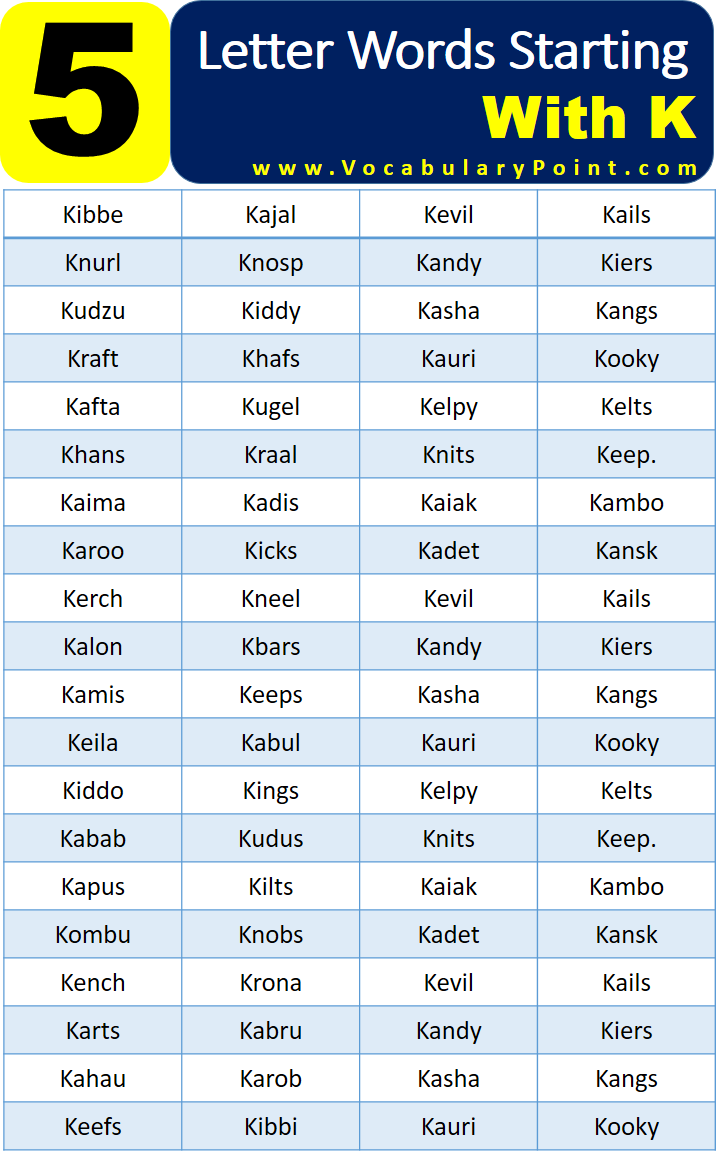 5 Letter Words That Start With K
| | |
| --- | --- |
| Kamba | Kayak |
| Keeks | Kaaba |
| Kinks | Kelps |
| Karas | Koine |
| Kawas | Kayle |
| Kolas | Kames |
| Kabar | Krubi |
| Keets | Kophs |
| Kaing | Kibei |
| Kahls | Kelim |
| Kinas | Kaons |
| Konks | Knave |
| Kalif1 | Kusso |
| Kamme | Kited |
| Katal | Karos |
| Kaput | Kudos |
| Kaphs | Kahal |
| Kaiks | Koras |
| Kerne | Korai |
| Keech | Kagyu |
| Kapok | Korun |
| Khoum | Kasur |
| Kumys | Kalis |
| Kaval | Koppa |
| Kibbe | Kajal |
| Knurl | Knosp |
| Kudzu | Kiddy |
| Kraft | Khafs |
| Kafta | Kugel |
| Khans | Kraal |
| Kaima | Kadis |
| Karoo | Kicks |
| Kerch | Kneel |
| Kalon | Kbars |
| Kamis | Keeps |
| Keila | Kabul |
| Kiddo | Kings |
| Kabab | Kudus |
| Kapus | Kilts |
| Kombu | Knobs |
| Kench | Krona |
| Karts | Kabru |
| Kahau | Karob |
| Keefs | Kibbi |
| Kevil | Kails |
| Kandy | Kiers |
| Kasha | Kangs |
| Kauri | Kooky |
| Kelpy | Kelts |
| Knits | Keep. |
| Kaiak | Kambo |
| Kadet | Kansk |