DIFFERENT TYPES OF HATS. Hats come in many different shapes, sizes, and styles to suit various purposes and personal preferences. Some of the most common types of hats include baseball caps, beanies, fedoras, sun hats, bucket hats, and Panama hats. Baseball caps are popular for casual wear, while beanies are great for keeping the head and ears warm in cold weather.
Must Learn: EXAMPLES OF ACTIVE AND PASSIVE VOICE
Fedoras are a timeless classic that have become popular again in recent years and are often worn for a more sophisticated look. Sun hats, as the name suggests, are designed to protect the head and face from the sun's rays and come in a variety of styles and materials. Bucket hats are a casual option that provide good coverage and are ideal for outdoor activities.
Finally, Panama hats are lightweight and breathable, making them a popular choice for warm weather and summer activities.
Regardless of the type of hat, they can be an important accessory that not only serves a practical purpose, but also makes a fashion statement.
DIFFERENT TYPES OF HATS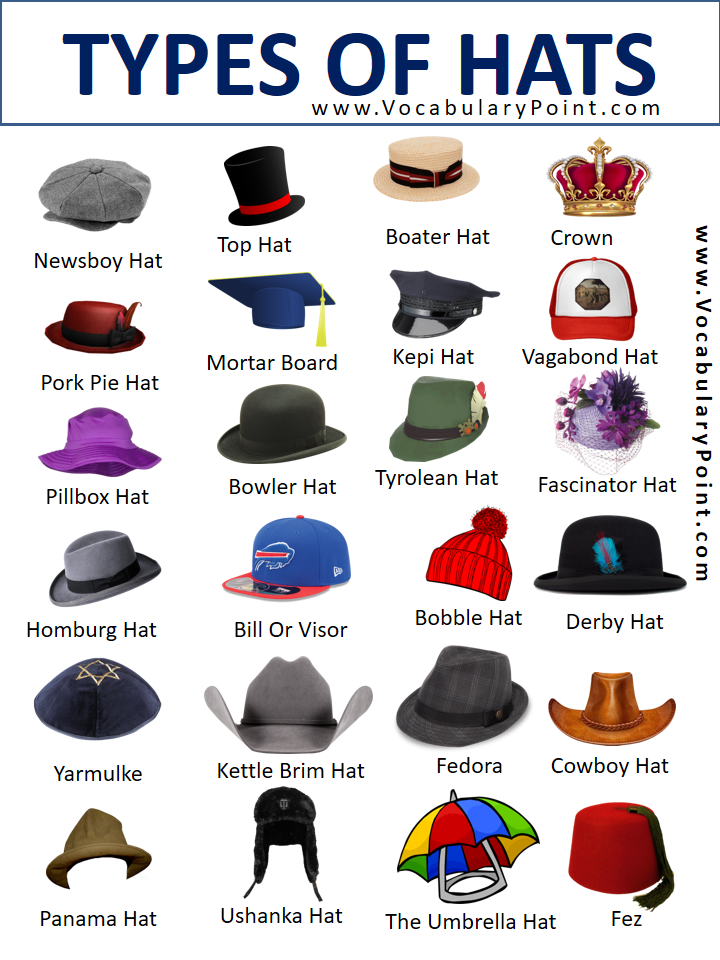 DIFFERENT TYPES OF CAPS WITH DETAIL
Fedora
The Fedora cap is an iconic fashion accessory that has been around for over a century. First made popular in the late 19th century, when it was worn by famous actors and politicians such as Frank Sinatra and Winston Churchill, the Fedora hat has come to represent classic style and sophistication.
Floppy hat
Floppy hats are a statement piece with a classic look and timeless feel. This type of hat has been on the fashion scene since the early 19th century and continues to be popular today.
Sun hat
The sun hat is a popular accessory for keeping cool and protecting yourself from the sun's harmful rays. Not only are they stylish, but they can also provide you with a much needed layer of protection when out in the summer heat.
Beret
The beret is a timeless classic, with a long history and staying power that has lasted through many different eras. A traditional French hat, it's the epitome of effortless elegance and style. It can be worn to add a touch of sophistication to any look or as part of an iconic Parisian style.
Cloche hat
The cloche hat is a timeless fashion statement that has been popular in the 20th century, and remains stylish today. It is an iconic piece of headwear that has been seen in magazines, on runways, and even worn by some of the most famous celebrities.
Bucket hat
The bucket hat is making a comeback after blowing up in the 90s. Popularized by the likes of LL Cool J and Run DMC, the bucket hat has become an iconic style symbol that is still very much coveted today.
Pork pie hat
The pork pie hat has been a fashion staple for decades. It was popularized by the likes of musicians such as Cab Calloway in the 1930s and is still sported today by stylish young people and seasoned sartorialists alike.
Wide brim hat
Wide brim hats are among the most popular fashion accessories on the market. With a wide-brimmed brim, they provide sun protection and extra style.
Boater hat
A boater hat is a classic style of headwear that has been around for centuries. This timeless accessory has seen resurgence in popularity due to its traditional yet fashionable look.
Turban
The turban is a timeless and meaningful piece of traditional clothing worn by many people around the world. It is commonly associated with Sikhism, one of the major religions in India, as well as other religions in South Asia, but it has also become popular among those who practice other faiths or no faith at all.
Trilby
Trilby is a classic style of hat that has been around since the late 19th century. It is known for its unique shape, which is similar to a fedora, but with a shorter brim and higher crown.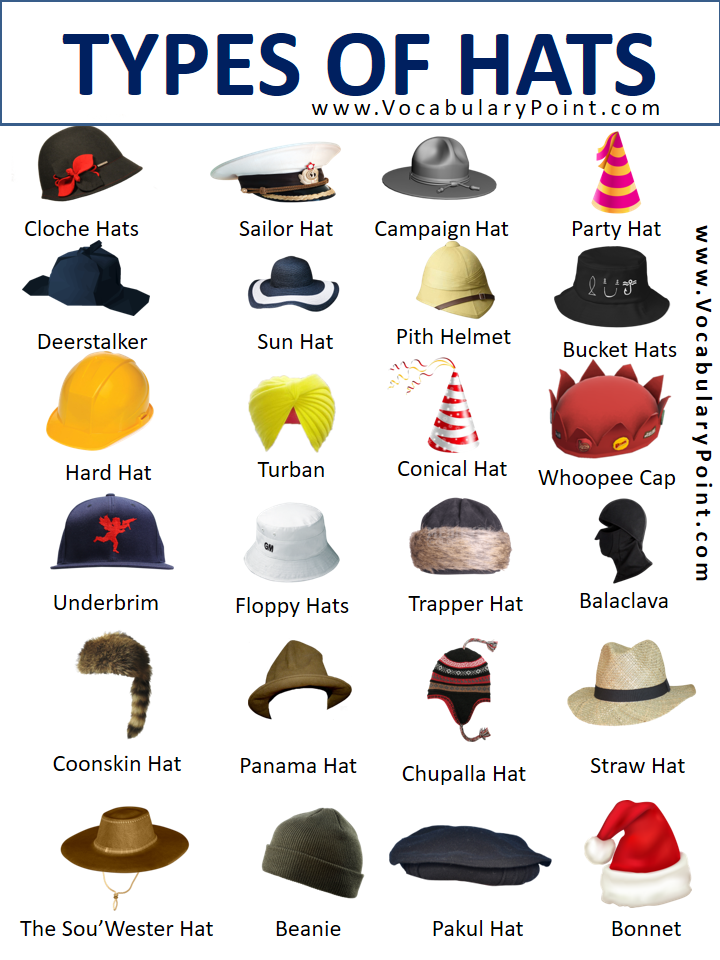 DIFFERENT TYPES OF HATS FOR MEN
Ivy cap
Newsboy cap
Flat cap
Baseball cap
Boonie hat
Newsboy hat
Pillbox hat
Homburg hat
Yarmulke
Top hat
Mortar board
Bowler hat
Bill or visor
Kettle brim hat
The umbrella hat
Kepi hat
Tyrolean hat
Bobble hat
Crown
Vagabond hat
Derby hat
Ushanka hat
Cowboy hat
Fez
Coonskin hat
Campaign hat
The sou'wester hat
Cloche hats
Deerstalker
Hard hat
Under brim
Sailor hat
Floppy hats
Panama hat
Chupalla hat
Peach basket hat
Pith helmet
Conical hat
Fascinator hat
Trapper hat
Beanie
Cocktail hat
Toque hat
Cartwheel hat
Sweatband
Visor
Papakha hat
Trilby hat
Tam cap
Custodian hat
Half hat
Peaked hat
Bonnet
Straw hat
Balaclava
Whoopee cap
Bucket hats
Party hat
Pakul hat
DIFFERENT TYPES OF HATS WITH PICTURES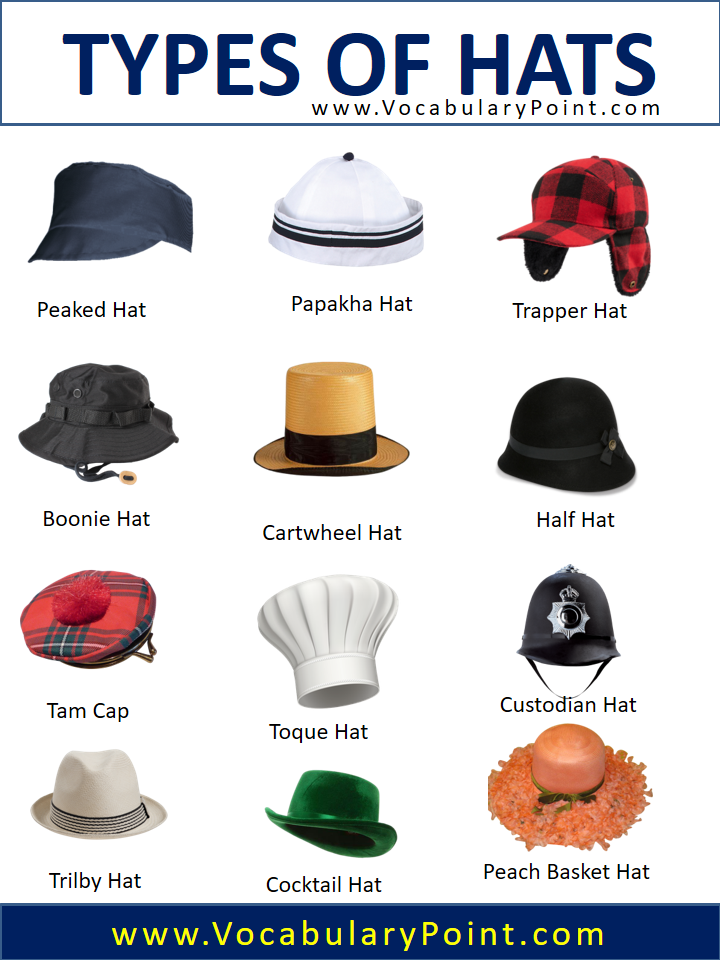 You Can Download DIFFERENT KINDS OF HATS