Examples of Formal and Informal Language! Here is a collection of formal and informal words which is very useful in daily life conversations.
what is formal vs informal language?
Informal language is those which is used as a daily normal conversation. But formal langue people mostly used in university at the college level and during business conversation etc. list of formal and informal words are listed here which is best for improving your vocabulary so must read and learn.
Examples of Formal and Informal Language
| | |
| --- | --- |
| Go before | Precede |
| End | Terminate/ finish |
| In charge of | Responsible |
| Hurry | Haste, hasten |
| Want/ hope | Desire |
| Idea | Notion |
| Go up | Increase |
| Speed up | Accelerate |
| Expect | Anticipate |
| End | Terminate |
| Wait for | Await |
| Try out | Test |
| Go out of | Exit |
| Enjoyment | Gratification |
| Start/ begin | Commence |
| Try | Endeavor |
| Stop | Cease |
| Job | Occupation |
| Iron out | Solve/overcome |
| Imagine | Envisage |
| Go on | Continue |
| Point out | Indicate |
| Use | Utilize |
| Go down | Decrease |
| Want | Desire |
| So | Therefore |
| Enough | Sufficient |
| Tough | Difficult |
Formal and Informal English language Examples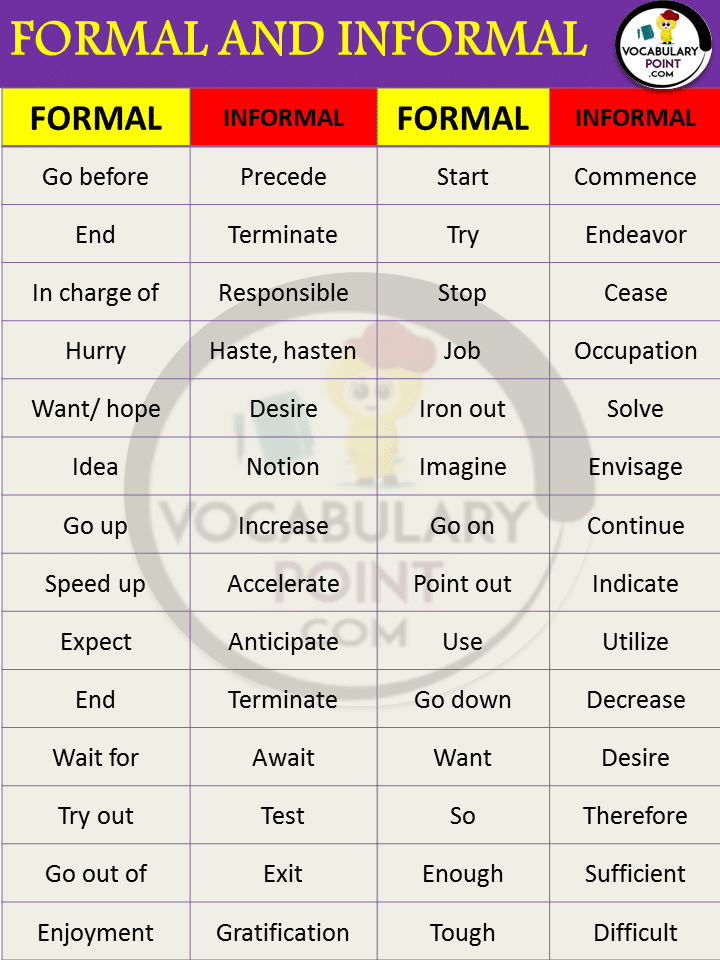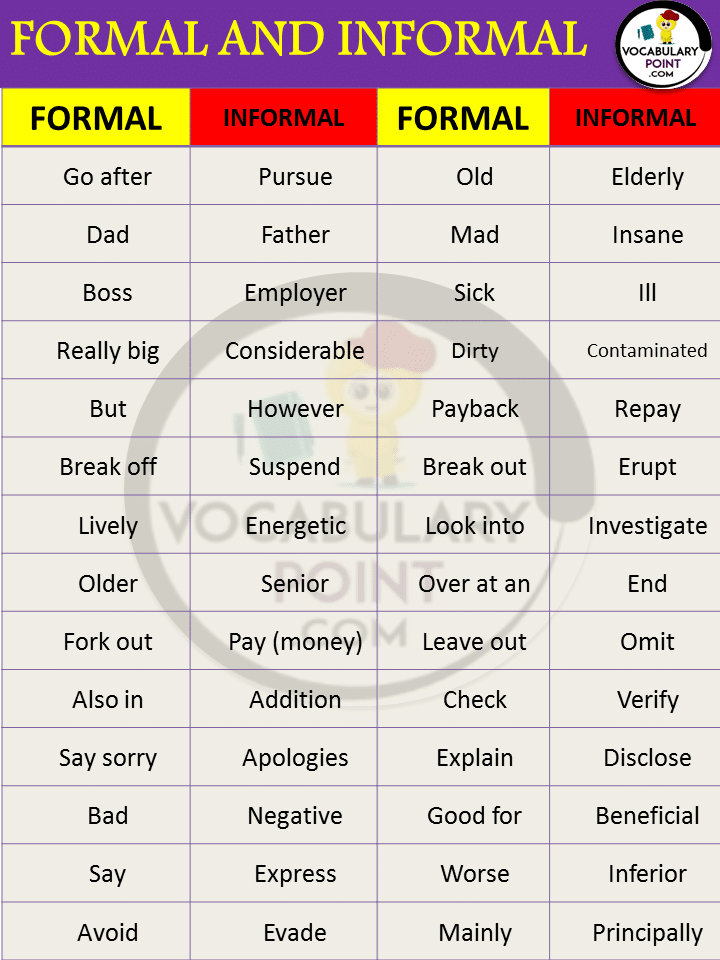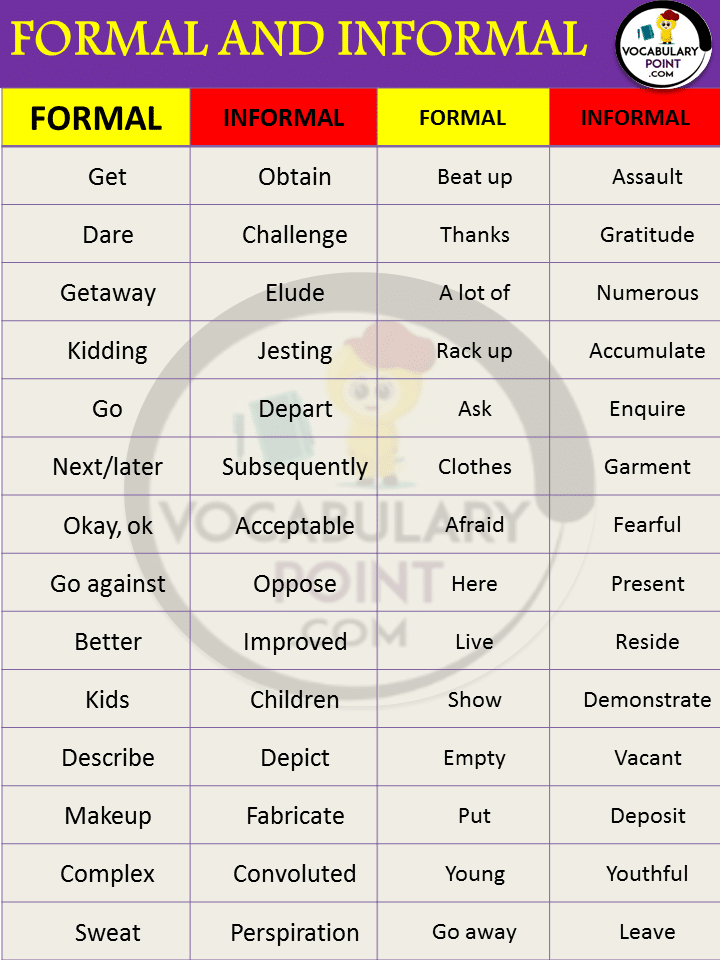 Formal and informal English language examples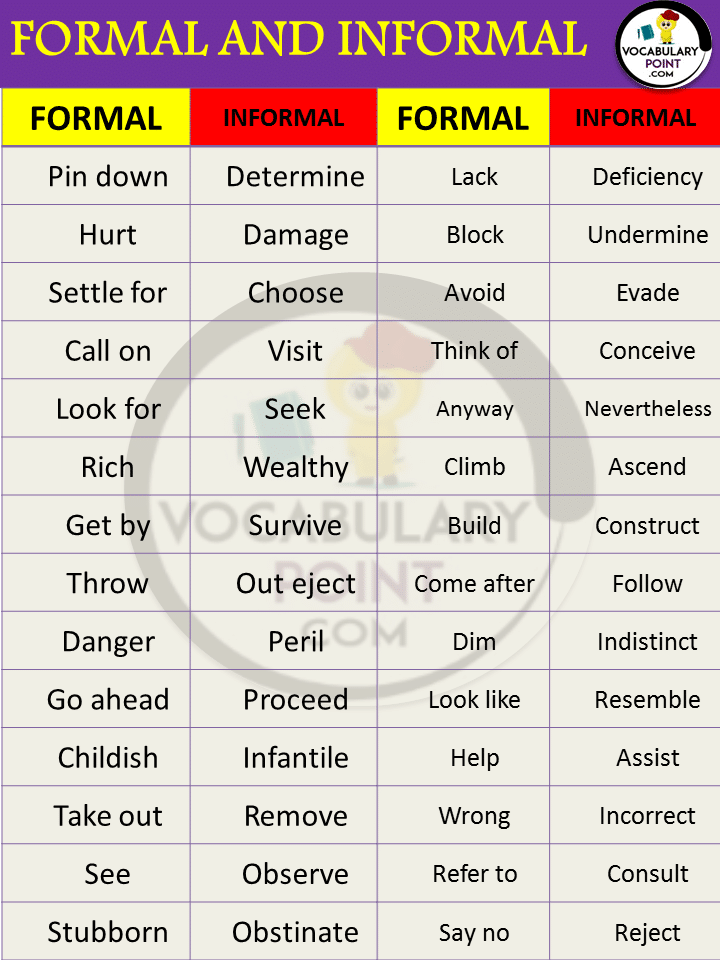 Formal and informal english language examples
| | |
| --- | --- |
| Pin down | Determine |
| Hurt | Damage |
| Settle for | Choose |
| Call on | Visit |
| Look for | Seek |
| Rich | Wealthy |
| Get by | Survive |
| Throw | Out eject |
| Danger | Peril |
| Go ahead | Proceed |
| Childish | Infantile |
| Take out | Remove |
| See | Observe |
| Stubborn | Obstinate |
| Lack | Deficiency |
| Block | Undermine |
| Avoid | Evade |
| Think of | Conceive |
| Anyway | Nevertheless |
| Climb | Ascend |
| Build | Construct |
| Come after | Follow |
| Dim | Indistinct |
| Look like | Resemble |
| Help | Assist |
| Wrong | Incorrect |
| Refer to | Consult |
| Say no | Reject |
| Get | Obtain |
| Dare | Challenge |
| Getaway | Elude |
| Kidding | Jesting |
| Go | Depart |
| Next/later | Subsequently |
| Okay, ok | Acceptable |
| Go against | Oppose |
| Better | Improved |
| Kids | Children |
| Describe | Depict |
| Makeup | Fabricate |
| Complex | Convoluted |
| Sweat | Perspiration |
| Beat up | Assault |
| Thanks | Gratitude |
| A lot of | Numerous |
| Rack up | Accumulate |
| Ask | Enquire |
| Clothes | Garment |
| Afraid | Fearful |
| Here | Present |
| Live | Reside |
| Show | Demonstrate |
| Empty | Vacant |
| Put/ set down | Deposit |
| Young | Youthful |
| Go away | Leave/ depart |
| Go after | Pursue |
| Dad | Father |
| Boss | Employer |
| Really big | Considerable |
| But | However |
| Break off | Suspend/adjourn |
| Lively | Energetic |
| Older | Senior |
| Fork out | Pay (money) |
| Also in | Addition |
| Say sorry | Apologies |
| Bad | Negative |
| Say | Express |
| Avoid | Evade |
| Old | Elderly |
| Mad | Insane |
| Sick | Ill |
| Dirty/ polluted | Contaminated |
| Payback | Repay |
| Break out | Erupt |
| Look into | Investigate |
| Over at an | End |
| Leave out | Omit |
| Check | Verify |
| Explain | Disclose |
| Good for | Beneficial |
| Worse | Inferior |
| Mainly | Principally |
| Let | Permit |
| Bright/smart | Intelligent |
| Clear | Transparent |
| Fight | Combat |
| A bit | A little |
| Talk about | Discuss/consider |
| Blow up | Explode |
| Lucky | Fortunate |
| Give up | Quit |
| Away | Absent |
| Come up | To reach/attain |
| Happy | Pleased |
| Keep | Preserve |
| Deal with | Handle |
| Hit out at | Criticize |
| Shorten | Decrease |
| Ask out | Invite |
| Chance | Opportunity |
| Talk into | Persuade |
| Give out | Distribute |
| Bring in | Introduce |
| Right | Correct |
| Again & again | Repeatedly |
| Seem | Appear |
| Look at | Regard |
| Brave | Courageous |
| At once | Immediately |
| Hungry | Famished |
| Eager | Avid |
| Test | Experiment |
| Death | Demise |
| Round | Circular |
| Hopeless | Futile |
| Maybe | Perhaps |
| Wood | Timber |
| Buy | Purchase |
| Free | Liberate |
| Marvelous | Exceptional |
| Tell | Inform |
| At first | Initially |
| Naked | Nude |
| Deal | With manage |
| Put in | Insert |
| Put off | Postpone |
| Lead to | Cause |
| Get out | Escape |
| Remove | Eliminate |
| Set up | Establish |
| Ease | Facilitate |
| Cheap | Inexpensive |
| Can is | Capable of |
| Call off | Cancel |
| Whole | Entire/complete |
| Ask for | Request |
| Throw away | Discard |
| Set out | Display |
| Big/large | Enormous |
| Fall out | Quarrel |
| Mend | Repair |
| Come in | Enter |
| Break down | Fail/collapse |
| Look up to | Respect |
| Tired | Exhausted/ fatigued |
| Give | Donate |
| Sight | Vision |
| Drop out | Of withdraw (from) |
| Choose | Select |
| Pick up | Collect |
| Laidback | Relaxed |
| Need | Require |
| Think about | Consider |
| Good | Positive |
| Put up with | Tolerate |
| Good looking | Attractive |
How to Use Formal and Informal English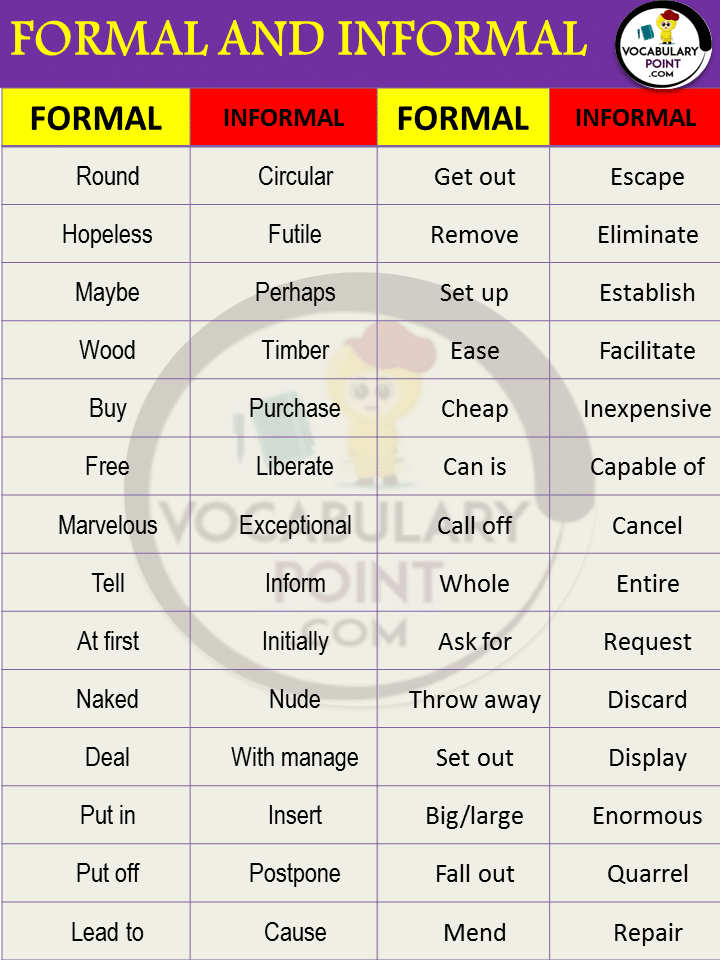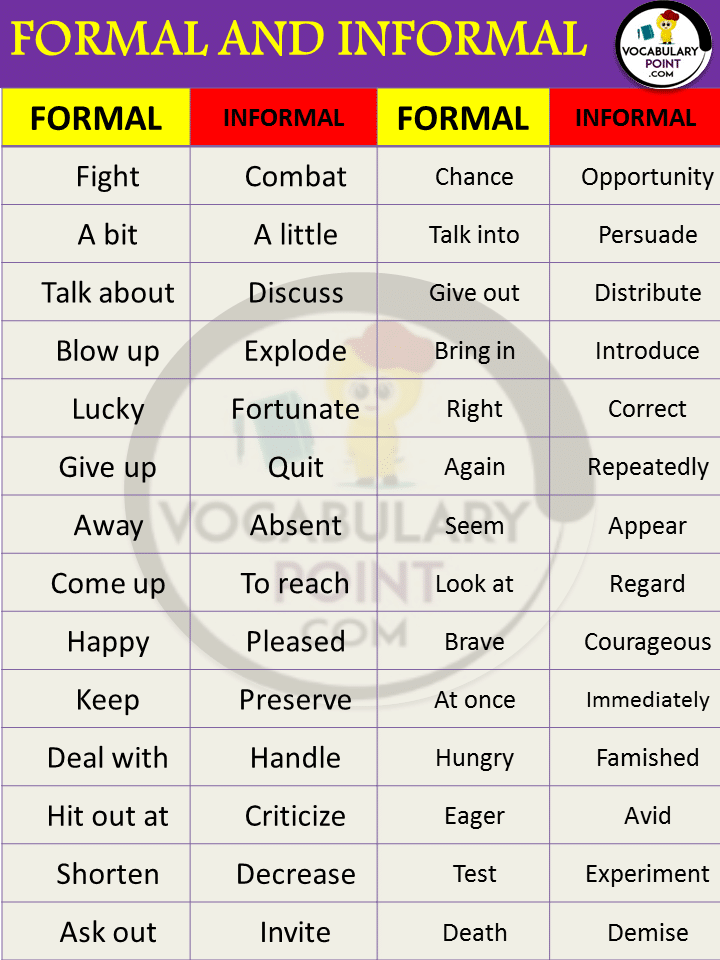 You can download Examples of Formal and Informal Language