List Of All Adjectives In English. Adjectives are words that describe nouns. This list is a compilation of adjectives that describe various types of people and things.
Some adjectives might be self-explanatory, while others might not be. Regardless, this list will provide you with a wide range of adjectives to use when describing people and things.
What are the Adjectives in English?
Adjectives are words that modify or describe a noun or pronoun. They provide more information about the thing being described. Adjectives can be descriptive, like big, small, red, or they can be qualitative, like soft, hard, or sour.
Adjectives come before the noun they modify in a sentence. In the sentence "The red car is fast," "red" is the adjective that modifies "car." In "That is a soft blanket," "soft" is the adjective that describes the blanket.
10 All Adjectives in English with sentences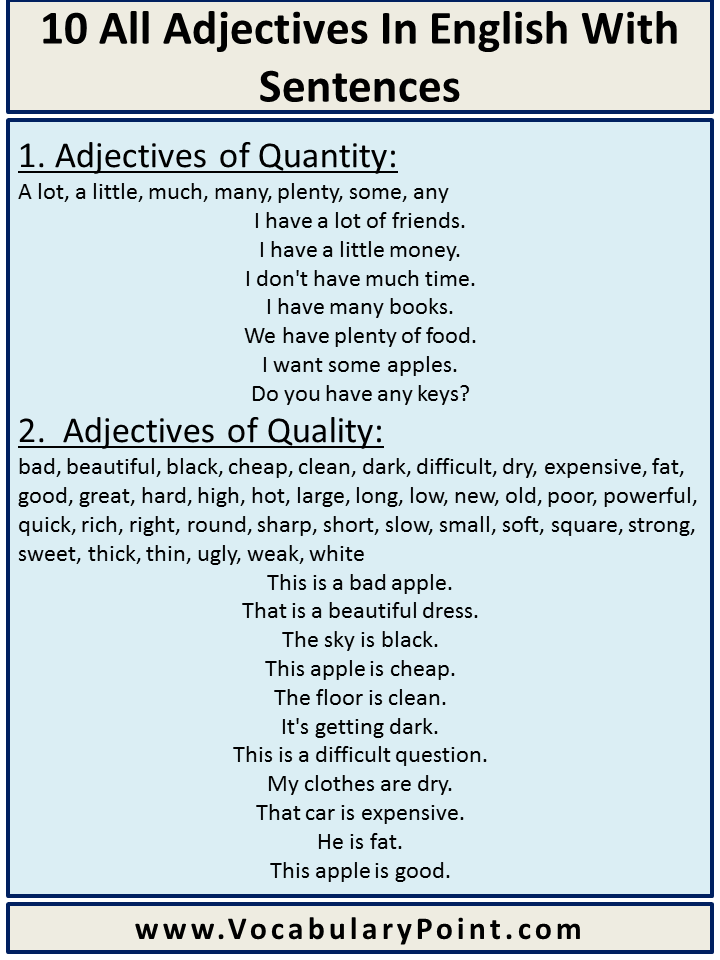 1   Adjectives of quantity:
A lot, a little, much, many, plenty, some, any
I have a lot of friends.
I have a little money.
I don't have much time.
I have many books.
We have plenty of food.
I want some apples.
Do you have any keys?
2   Adjectives of quality:
Bad, beautiful, black, cheap, clean, dark, difficult, dry, expensive, fat, good, great, hard, high, hot, large, long, low, new, old, poor, powerful, quick, rich, right, round, sharp, short, slow, small, soft, square, strong, sweet, thick, thin, ugly, weak, white
This is a bad apple.
That is a beautiful dress.
The sky is black.
This apple is cheap.
The floor is clean.
It's getting dark.
This is a difficult question.
My clothes are dry.
That car is expensive.
He is fat.
This apple is good.
That was great!
The rock is hard.
The mountain is high.
An adjective can also come after a linking verb to describe the subject of a sentence. For example, in "The soup tastes delicious," "delicious" describes how the soup tastes.
Most adjectives can be used either before or after a noun or pronoun, but there are some adjectives that must come before the noun they modify.
List of Adjective words
Jolly
Authoritative
Dilapidated
Distinct
Athletic
Coarse
Furious
Thrilled
Benign
Handsome
Bickering
Contemplative
Deceitful
Available
Frothy
Served in
Balky
Patronizing
Weak
Solemn
Breakable
Auspicious
Immense
Shaky
Flavorful
Irritated
Loud
Tasteless
Aberrational
Luscious
Boisterous
Apprehensive
Acoustic
Austere
Superb
Lite
Hopeful
Able
Ripe
Marinated
Wide eyed
Acrobatic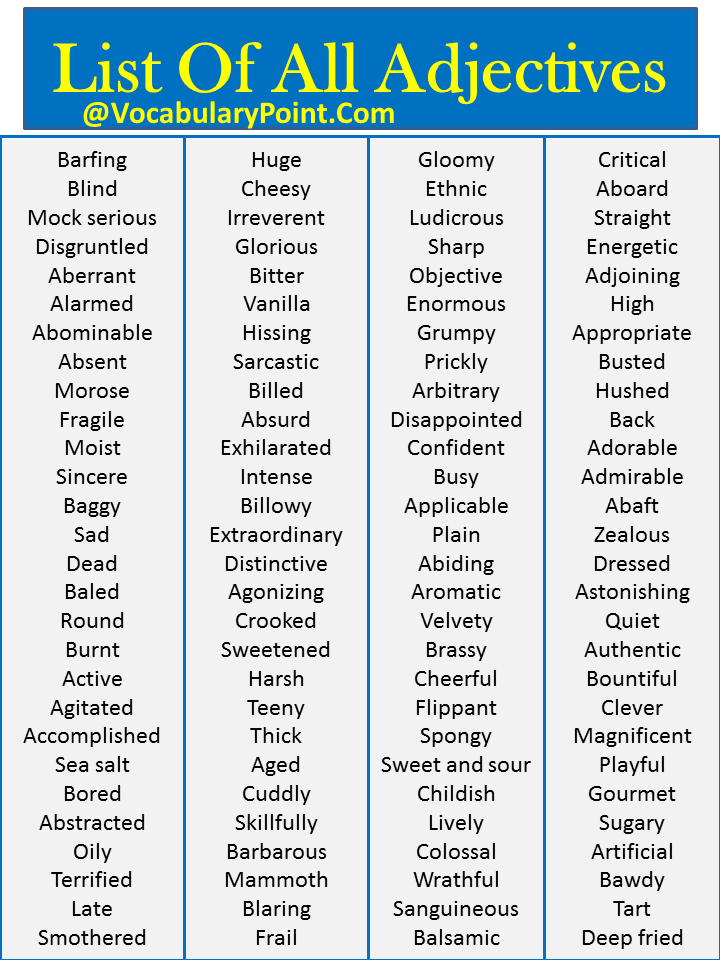 Accused
Audible
Elastic
Burdensome
Popular
Blackish
Penetrating
Miniature
Bald
Adamant
Authorized
Afraid
Bulgarian
Icy
Long
Abrupt
Southern style
Strawberry flavored
Waxy
Baffling
Naughty
Comical
Airborne
Amiable
Insolent
Astrological
Purring
Ahead
Depraved
Sharp tasting
Adherent
Natural
Bipedal
Organic
Minty
Acrid
Consoling
Boiled
Facetious
Beloved
Actually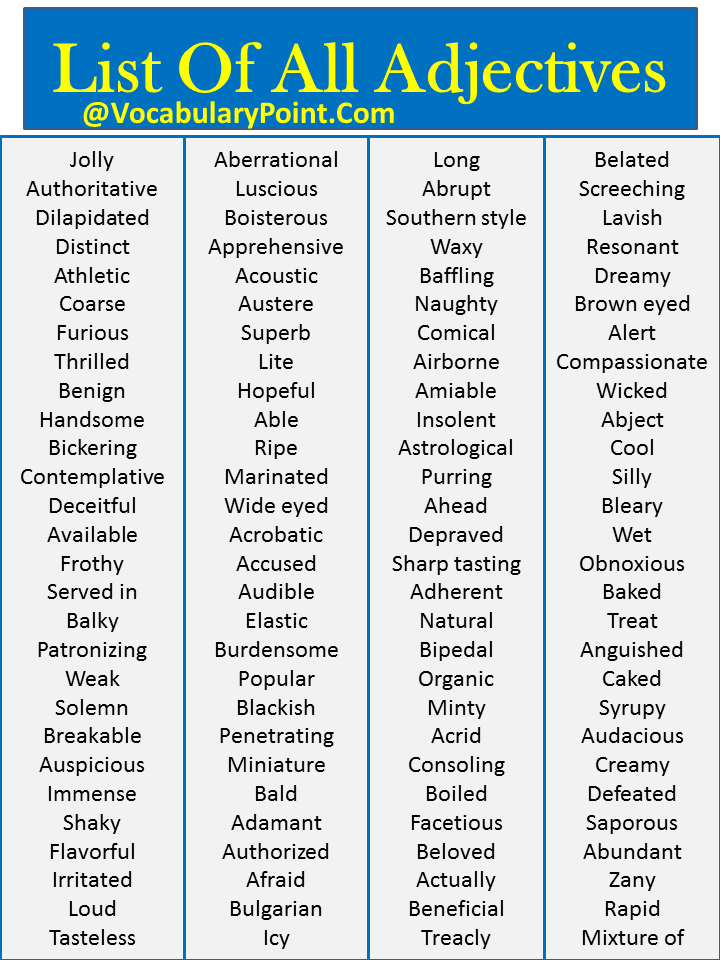 Beneficial
Treacly
Belated
Screeching
Lavish
Resonant
Dreamy
Brown eyed
Alert
Compassionate
Wicked
Abject
Cool
Silly
Bleary
Wet
Obnoxious
Baked
Treat
Anguished
Caked
Syrupy
Audacious
Creamy
Defeated
Saporous
Abundant
Zany
Rapid
Mixture of
Barfing
Blind
Mock serious
Disgruntled
Aberrant
Alarmed
Abominable
Absent
Morose
Fragile
Moist
Sincere
Baggy
Sad
Dead
Baled
Round
Burnt
Active
Agitated
Accomplished
List Of Adjective words
Sea salt
Bored
Abstracted
Oily
Terrified
Late
Smothered
Huge
Cheesy
Irreverent
Glorious
Bitter
Vanilla
Hissing
Sarcastic
Billed
Absurd
Exhilarated
Intense
Billowy
Extraordinary
Distinctive
Agonizing
Crooked
Sweetened
Harsh
Teeny
Thick
Aged
Cuddly
Skillfully
Barbarous
Mammoth
Blaring
Frail
Gloomy
Ethnic
Ludicrous
Sharp
Objective
Enormous
Grumpy
Prickly
Arbitrary
Disappointed
Confident
Busy
Applicable
Plain
Abiding
Aromatic
Velvety
Brassy
Cheerful
Flippant
Spongy
Sweet and sour
Childish
Lively
Colossal
Wrathful
Sanguineous
Balsamic
Critical
Aboard
Straight
Energetic
Adjoining
High
Appropriate
Busted
Hushed
Back
Adorable
Admirable
Abaft
Zealous
Dressed
Astonishing
Quiet
Authentic
Bountiful
Clever
Magnificent
Playful
Gourmet
Sugary
Artificial
Bawdy
Tart
Deep fried
Complimentary
Annoying
Rubbery
Blighted
Above
Hot
Macho
Abstract
Piquant
Brief
Astringent
Artistic
Ashamed
Sparkling
Articulate
Sardonic
Vinegary
Ample
Ribald
Scrawny
Damaged
Aloof
Pureed
Perfection
Bulbous
List Of All Adjectives In English
Helpful
Floppy
Perfect
Satiny
Humorous
Square
Great
Rotten
Absorbed
Amorous
Flat
Boorish
Big
Giddy
Bumpy
Annoyed
Pickled
Little
Starving
Packed
Outrageous
Avaricious
Snooty
Condescending
Caramelized
Appetizing
Bite size
Bendy
Forthright
Blunt
Abrasive
Raspy
Babyish
Salty
Sweet
Vanilla flavored
Frantic
Beastly
Roasted
Adept
Awe
Antagonistic
Mock heroic
Careful
Nutmeg
Amusing
Bogus
Bleak
Petite
Bleeding
Brisk
Antique
Abusive
Skinny
Plump
Surprised
Romantic
Broad
Deep
Relaxed
High pitched
Witty
Filet
Auburn
Non fat
Intimate
Burning
Chunked
Cutting
Bashful
Abed
Brunette
Addictive
Ecstatic
Awkward
Uninterested
Adventurous
Smooth
Tantalizing
Fizzy
Barren
Approachable
Cooing
Abortive
Gritty
Acclaimed
Adaptable
Exasperated
Conventional
Advanced
Alive
Ardent
Gifted
Nutty
Rough
Cold
Lighthearted
Superior
Cute
Tasteful
Filthy
Wry
Dazzling
Wonderful
Successful
Joyful
Damp
Insulting
Aspiring
Saline
Refresh
Kosher
Amused
Slippery
Alcoholic
Malicious
Substantial
Smoky
Cured
Succulent
Ambitious
Choleric
Pleasant
Adored
Gleaming
Smelly
Actual
Satin
Low fat
Fleshy
Seasoned
Worried
Academic
Astronomical
Unsavory
Bold
Affordable
Edible
Brown
Adverse
Furry
Quaint
Blythe
Manipulative
Fantastic
Tender
Boastful
Fruity
Clear
Bruised
Savory
Creepy
Dark
Brackish
Ridiculing
Doughy
Dirty
Satiric
Outraged
Ballistic
Strong
Biodegradable
Melted
Boned
Fiery
Classy
Gorgeous
Gummy
Wooden
Dusty
Beefy
Knotty
Blissful
Alarming
Tough
Adhesive
Briny
Curved
Big hearted
Old fashioned
Admired
Grieving
Disinterested
Another
Cynical
Traditional
Hurt
Boundless
Pounded
Graceful
Antsy
Steamed
Condescension
Attached
Aggravating
Confused
Barefoot
Encouraging
Abstemious
Narrow
Cloudy
Thundering
Bifurcated
Shameful
Swift
Optimistic
Abandoned
Smoggy
Amicable
Horrific
Crafted
Cholesterol free
Stuffed
Automatic
Droll
Famy
Bolivian
Assuming
Flavored
Better
Black and white
Infused
Thankful
Spiced
Bizarre
Garlic
Colorful
Nutritious
Superficial
Cruel
Mouth watering
Addicted
Vibrant
Glazed
Reflective
Mocking
Shallow
Appalling
Fresh
Thin
Sautéed
Atheistic
Sticky
Aristocratic
Batty
Benevolent
Silky
Wobbly
Whispering
Crazy
Envious
Jumbo
Peppery
Spotless
Delicious
Insipid
Deafening
Condemnatory
Hollow
Cury
Joyous
Arched
Low
Peaceful
argumentative
Brave
Grotesque
Mixed
Hungry
Alternative
Puny
Seared
Altruistic
Perplexed
Aggressive
Frightened
Voiceless
Strange
Chilly
Simmered
Threatening
Booming
Abounding
Befuddled
Also Learn: Examples of Adverb
Elevated
Sugar free
Chocolate
Large
Achieved
Glamorous
Faint
Stinging
Despicable
Abhorrent
Boiling
Leathery
Barnlike
Rank
Defiant
Callous
Savorless
Honey
Arctic
Anatomical
Bazaar
Impassioned
Pulpy
Adroit
Dry
Agile
Grilled
Attentive
Tangy
Axiomatic
Crowded
Broken
Light
Pessimistic
Blank
Calorie
Passionate
Bowed
Brutal
Soft
Calm
Belgian
Golden
Unusual
Unsightly
Atomic
Enthusiastic
Pompous
Barbed
Clammy
Brainy
Nectarines
Bloody
Tired
Earnest
Topped
Soporific
Quarrelsome
Blooming
Blocky
Mashed
Scrumptious
Baffled
Bawling
Delectable
Classic
Fanciful
Steep
Blunting
Belligerent
Reverent
Melodic
Ambidextrous
Obese
Caustic
Bubbly
Abeam
Steamy
Acrimonious
Spicy
Short
Ziaback
Bantering
Asthmatic
Served with
Aquatic
Atrocious
Ugliest
Jubilant
Hurtful
Drab
Assorted
Crunchy
Bared
Acidic
Spiral cut
Free
Overpowering
Depressed
Bite sized
Accountable
Absorbing
Misty
Blended
Brutish
Homely
Unflavored
Acid
Terrific
Barred
Noisy
Old
Determined
Sour
Fuzzy
Disgusted
Weird
Autistic
Accurate
Early
Awful
Precious
Appreciative
Saccharine
Ambivalent
Aboriginal
Berserk
Whipped
Crisp
Average
Aching
Petty
Astute
Comfortable
Blurring
Quick
Agreeable
Bad
Boneheaded
Generous
Whimsical
Tossed
Bluish
List Of All Adjectives In The English Language
Soothing
Friendly
Wide
Blazed
Tiny
Jealous
Angry
Sugared
Exuberant
Fried
Evil
Juicy
Foolish
Candied
Ageless
Passive
Brilliant
Arduous
Center cut
Famous
Bright
Acceptable
Bellicose
Drizzle
Hilarious
Blonde
Buttered
Frustrating
Expensive
Dull
Bent
Breezy
Clean
Ablaze
Disdainful
Loving
Irate
Toasted
Dripping
Hateful
Acerbic
Shiny
Elegant
Animated
Surly
Fluffy
Bewildered
Ideal
Happy
Affable
Rich
Poached
Cheery
Poised
Excited
Creamed
Believable
Chubby
Breathtaking
Fancy
Proud
Gingery
Must Learn : Negative words
Open face
Whopping
Blue eyed
Joking
Absolute
Alluring
Tasty
Aware
Banging
Jittery
Real
Bony
British
Fetid
Gooey
Assiduous
Elated
Warm
Funny
Abnormal
Whole
Blushing
Bland
Freezing
Heady
Breeze
Inflammatory
Muddy
Boring
Ironic
Arrogant
Lean
Yucky
Delightful
Palatable indicates
Anticipatory
Erudite
Frozen
Upset
Reduced
Nonsensical
Sapid
Yummy
Lazy
Maniacal
Scornful
Prepared
Beautiful
Shrill
Crabby
Itchy
Irritable
Shaggy
Mild
Annual
Blessed
Rancid
Panicky
Quizzical
Abloom
Testy
Fluttering
Befitting
Awesome
Black
Acute
Smoked
Amazing
Blue
Mellow
Bragging
Flaky
Oblivious
Nationally famous
Ambulatory
Ridicule
Greasy
Amateur
Small
Modern
Accidental
Open
Anterior
Motionless
Abdominal
Special
Artless
Pungent
Animating
Beaming
Toothsome
Obedient
Adolescent
Mute
Tepid
Stale
Exhausted
Baking
Indignant
Beneficent
Balmy
Both
Massive
Blotchy
Assured
Dizzy
Judgmental
Fast
Intrigued
Affectionate
Zesty
Agnostic
Delight
Sugar coated
Sizzling
Terrible
Sprinkled
Super
Robust
Assertive
Slow
Haughty
Basic
Unseasoned
Bobbed
Sugarless
Zingy
Jovial
Ambiguous
Gigantic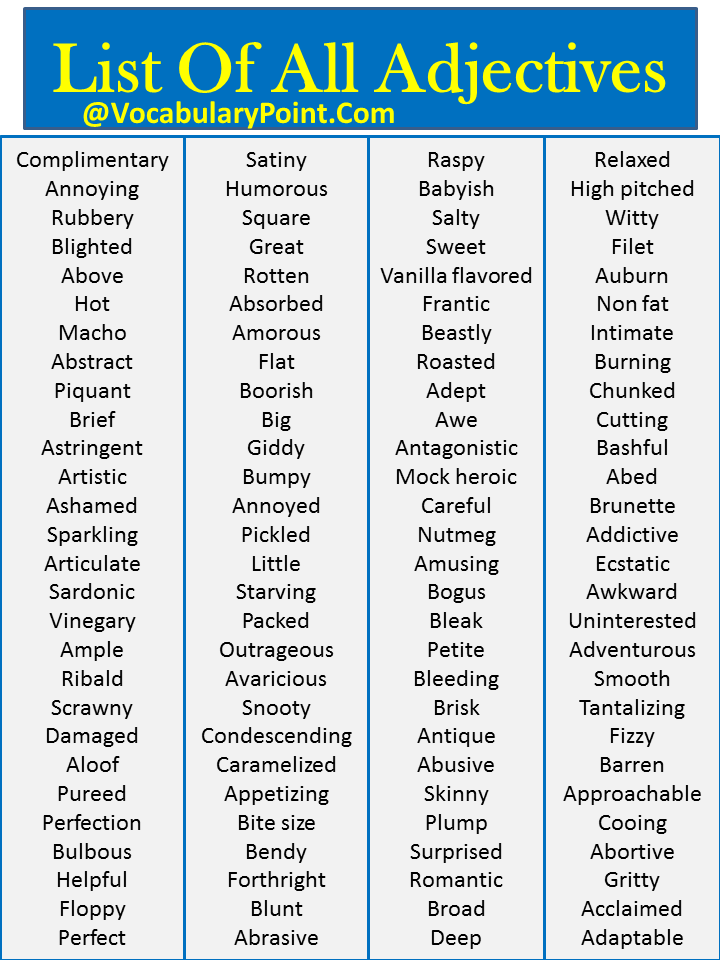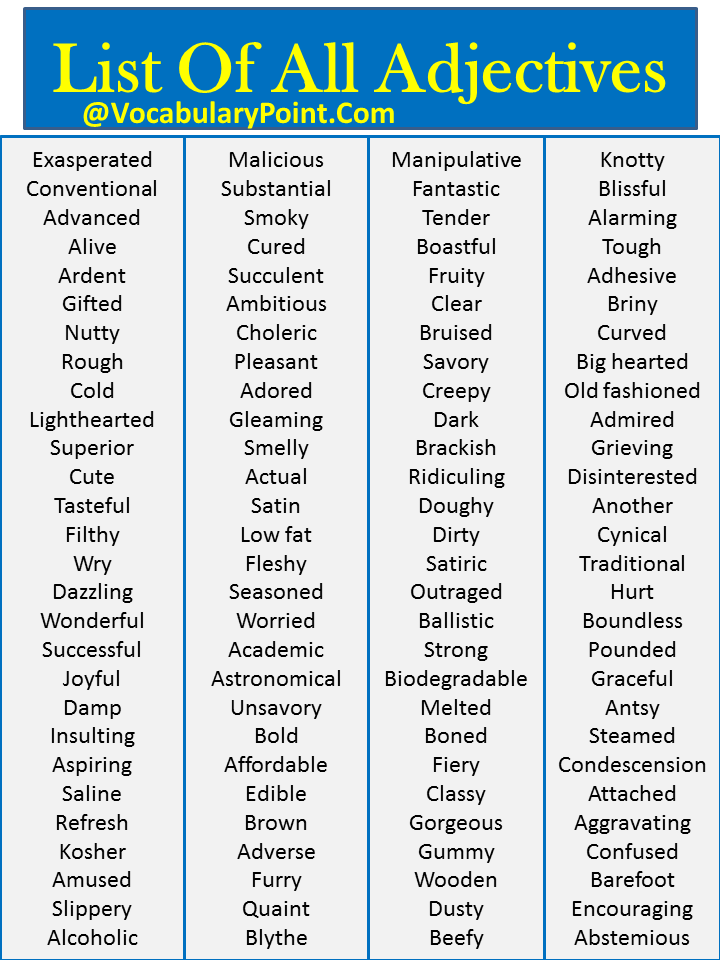 You Can Download List Of All Adjectives In English Pdf