LIST OF FARM ANIMALS. Most of the animals are called Farm animals they are very useful for Humans. Here is 30+ farm animals names with pictures pdf are listed here. If you wanna to know about these animals so must read this post because it is very informative for the beginners to learn about animal species.
How farm animals are useful for humans?
Answer: Most of the Farm animals gives us milk like cow, goat, camel etc,  that are very useful for humans . Milk is a complete diet for children and very useful for the strong bones.
Farm animals are also reared for supply, productions , Farmers also used as business tricks like buffalos, Donkey , horse  are used for carry weight of mud , soil, and other things. Most of the wild animals are very important for peoples.
Must Learn: Oviparous Animals
LIST OF FARM ANIMALS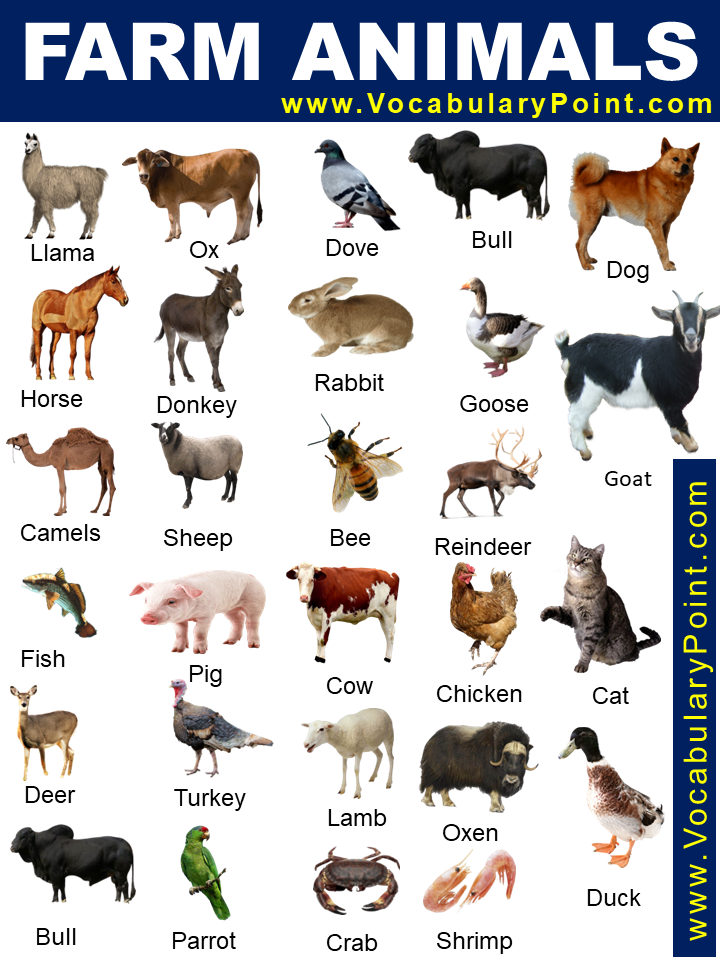 Llama
Horse
Camels
Fish
Deer
Ox
Donkey
Sheep
Pig
Turkey
Bull
Dove
Bee
Cow
Lamb
Goat
Crab
Parrot
Duck
Geese
Shrimp
Llamas
Cat
Dog
Ostriches
Rabbit
Goose
Reindeer
Chicken
Oxen