list of irregular verbs in English PDF! Below is the list of irregular verb in English, along with Inphographics pictures, definition. Learn these useful irregular verbs and to be careful to use them in your daily English conversation and writing.
What are irregular verbs in English grammar?
An irregular verb is one that does not form its simple past tense or its past participle by adding "-ed" or "-d" to the base form.
For example sing (past tense sang), feel (felt), and go (went).
It is a verb that does not follow the common conjugation pattern.
The English language has at least 200 irregular verbs.
As a reminder, to conjugate a verb in the past tense in English, you have to add "ed" at the end.
List of irregular verbs in English
| | | |
| --- | --- | --- |
| Present |  Past | Past Participle |
| Burst |  Burst |  Burst |
| Fall |  Fell |  Fallen |
| Bid |  Bid |  Bid |
| Spoil |  Spoilt /spoiled |  Spoilt /spoiled |
| Beset |  Beset |  Beset |
| Shrink |  Shrank |  Shrunk |
| Forsake |  Forsook |  Forsaken |
| Kneel |  Knelt |  Knelt |
| Write |  Wrote |  Written |
| Hold |  Held |  Held |
| Spend |  Spent |  Spent |
| Throw |  Threw |  Thrown |
| Uphold |  Upheld |  Upheld |
| Wed |  Wedded /wed |  Wedded /wed |
| Forget |  Forgot |  Forgotten |
| Show |  Showed |  Showed or shown |
| Upset |  Upset |  Upset |
| Sew |  Sewed |  Sewn/sewed |
| Grow |  Grew |  Grown |
List of irregular Verbs Inphographics: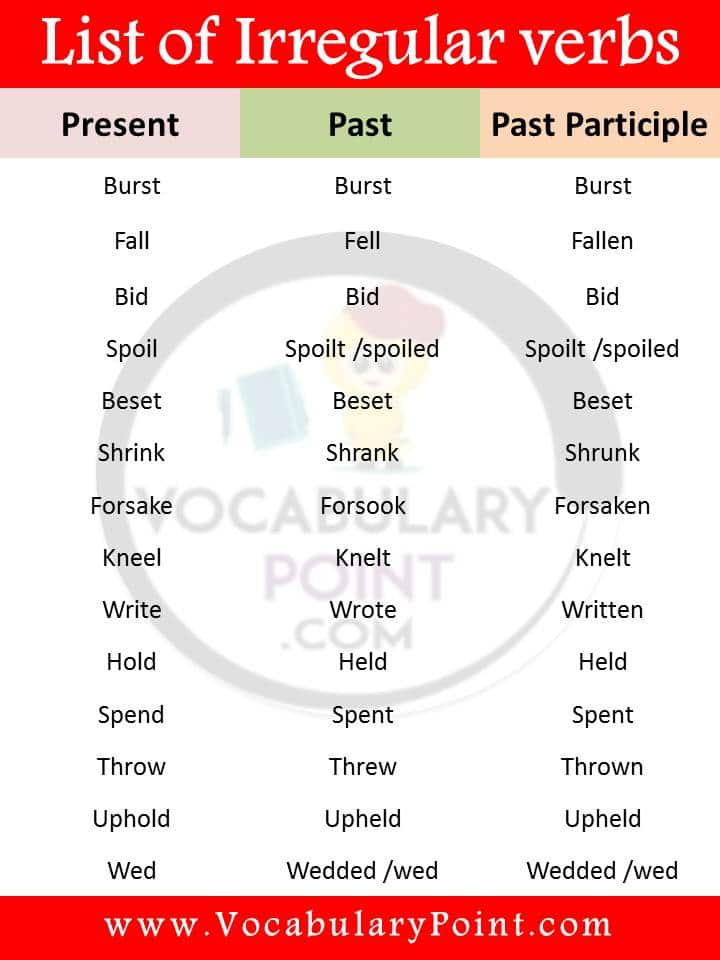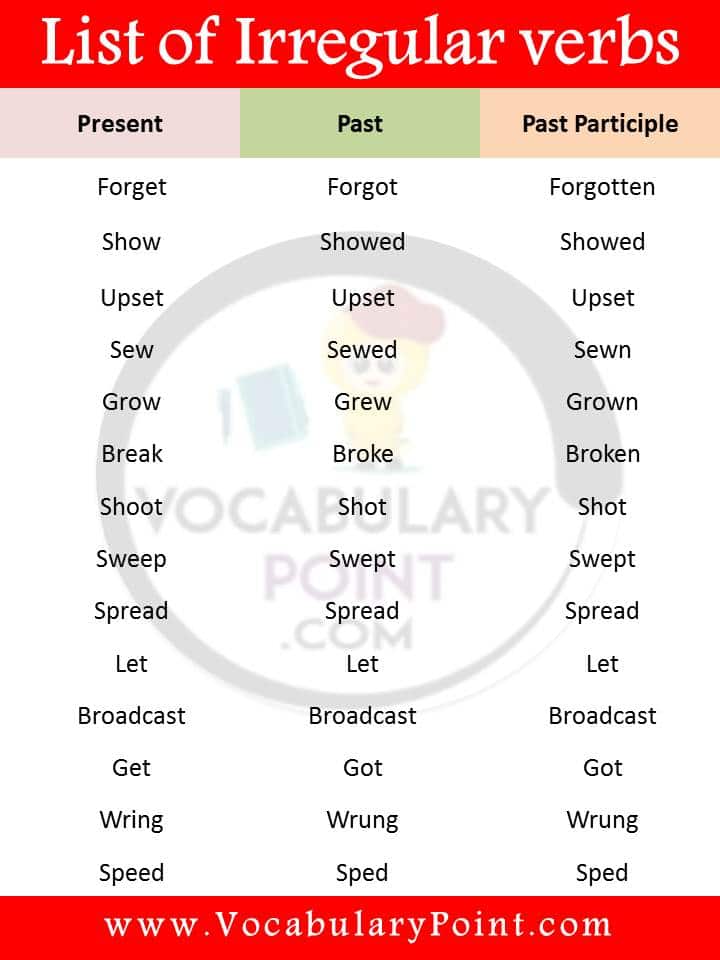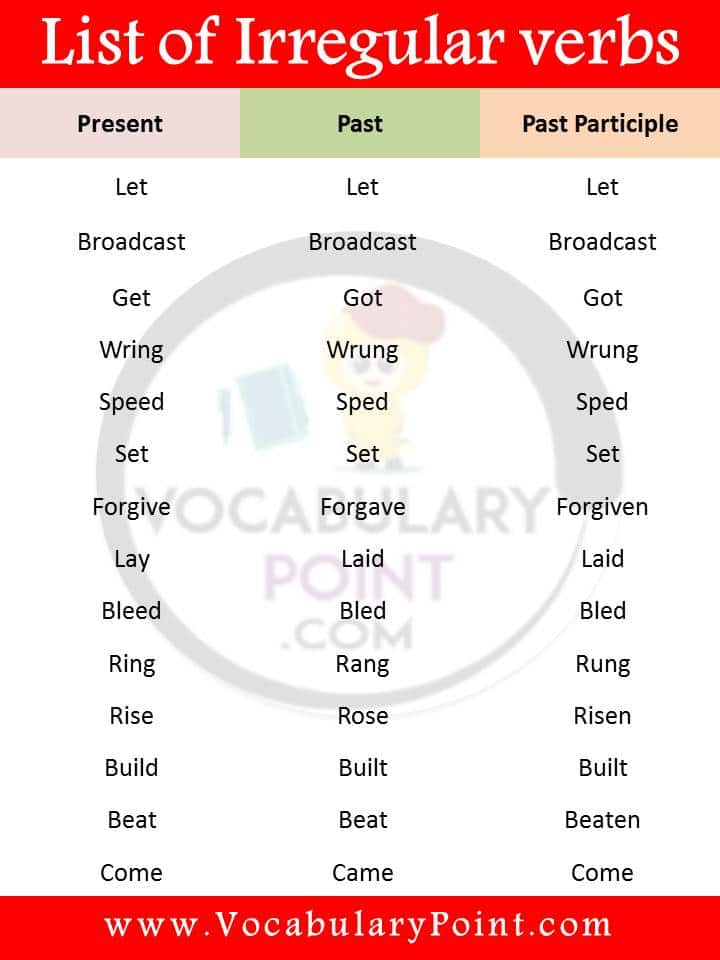 All irregular verbs list
| | | |
| --- | --- | --- |
| Break |  Broke |  Broken |
| Shoot |  Shot |  Shot |
| Sweep |  Swept |  Swept |
| Spread |  Spread |  Spread |
| Let |  Let |  Let |
| Broadcast |  Broadcast |  Broadcast |
| Get |  Got |  Got (sometimes gotten) |
| Wring |  Wrung |  Wrung |
| Speed |  Sped /speeded |  Sped /speeded |
| Set |  Set |  Set |
| Forgive |  Forgave |  Forgiven |
| Lay |  Laid |  Laid |
| Bleed |  Bled |  Bled |
| Ring |  Rang |  Rung |
| Rise |  Rose |  Risen |
| Build |  Built |  Built |
| Beat |  Beat |  Beaten |
| Come |  Came |  Come |
| Put |  Put |  Put |
| Fling |  Flung |  Flung |
| Arise |  Arose |  Arisen |
| Fight |  Fought |  Fought |
| Weep |  Wept |  Wept |
| Flee |  Fled |  Fled |
| Pay |  Paid |  Paid |
| Have |  Had |  Had |
| Dig |  Dug |  Dug |
| Bet |  Bet |  Bet |
| Wind |  Wound |  Wound |
| Cast |  Cast |  Cast |
| Begin |  Began |  Begun |
| Buy |  Bought |  Bought |
| Foretell |  Foretold |  Foretold |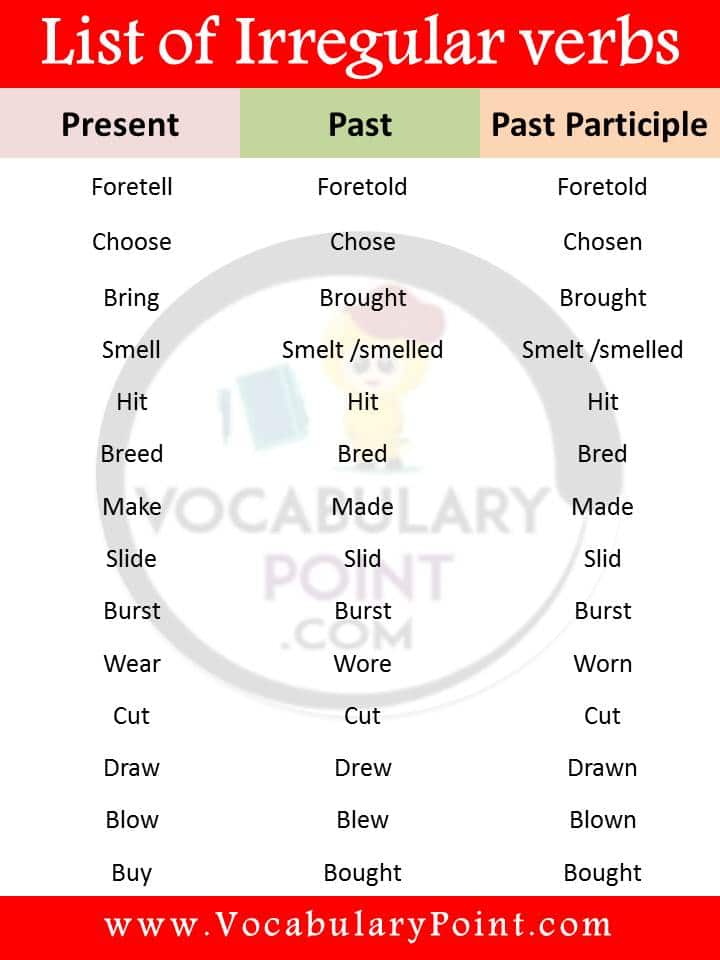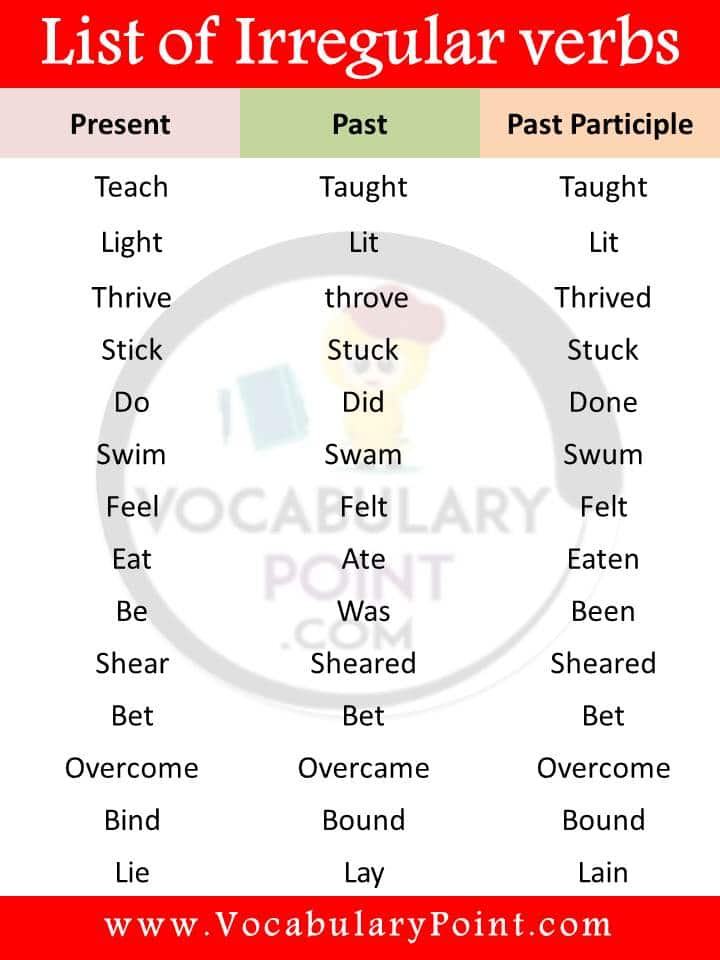 English irregular verbs list
| | | |
| --- | --- | --- |
| Choose |  Chose |  Chosen |
| Bring |  Brought |  Brought |
| Smell |  Smelt /smelled |  Smelt /smelled |
| Hit |  Hit |  Hit |
| Breed |  Bred |  Bred |
| Make |  Made |  Made |
| Slide |  Slid |  Slid |
| Burst |  Burst |  Burst |
| Wear |  Wore |  Worn |
| Cut |  Cut |  Cut |
| Draw |  Drew |  Drawn |
| Blow |  Blew |  Blown |
| Buy |  Bought |  Bought |
| Teach |  Taught |  Taught |
| Light |  Lit /lighted |  Lit /lighted |
| Thrive |  Thrived /throve |  Thrived |
| Stick |  Stuck |  Stuck |
| Do |  Did |  Done |
| Swim |  Swam |  Swum |
| Feel |  Felt |  Felt |
| Eat |  Ate |  Eaten |
| Be |  Was |  Been |
| Shear |  Sheared |  Sheared/shorn |
| Bet |  Bet |  Bet |
| Overcome |  Overcame |  Overcome |
| Bind |  Bound |  Bound |
| Lie |  Lay |  Lain |
| Go |  Went |  Gone |
| Hide |  Hid |  Hidden |
| Mistake |  Mistook |  Mistaken |
| Be |  Was,were |  Been |
| Sink |  Sank |  Sunk |
| Spell |  Spelt /spelled |  Spelt /spelled |
| Bind |  Bound |  Bound |
| Overdo |  Overdid |  Overdone |
| Overtake |  Overtook |  Overtaken |
| Thrust |  Thrust |  Thrust |
| Breed |  Bred |  Bred |
| See |   Saw |  Seen |
| Bring |  Brought |  Brought |
| Beset |  Beset |  Beset |
| Lead |  Led |  Led |
| Win |  Won |  Won |
| Quit |  Quit |  Quit |
| Bite |  Bit |  Bitten |
| Dive |  Dived/dove |  Dived |
| Deal |  Dealt |  Dealt |
| Tread |  Trod |  Trodden |
| Wear |  Wore |  Worn |
| Understand |  Understood |  Understood |
| Sleep |   Slept |  Slept |
| Creep |  Crept |  Crept |
| Read |  Read |  Read |
| Bend |  Bent |  Bent |
| Write |  Wrote |  Written |
| Hang |  Hung |  Hung |
| Withdraw |  Withdrew |  Withdrawn |
| Bleed |  Bled |  Bled |
| Think |  Thought |  Thought |
| Lend |  Lent |  Lent |
| Find |  Found |  Found |
| Mow |  Mowed |  Mowed/mown |
| Shed |  Shed |  Shed |
| Become |  Became |  Become |
| Swell |  Swelled |  Swelled /swollen |
| Freeze |  Froze |  Frozen |
| Meet |  Met |  Met |
| Wake |  Woke |  Woken |
| Weave |  Wove /weaved |  Woven /weaved |
| Swear |  Swore |  Sworn |
| Forgive |  Forgave |  Forgiven |
| Cast |  Cast |  Cast |
| Stand |  Stood |  Stood |
| Beat |  Beat |  Beaten |
| Wake |  Woke |  Woken |
| Plead |  Pleaded/plead |  Pleaded/plead |
| Withstand |  Withstood |  Withstood |
| Cling |  Clung |  Clung |
| Ride |  Rode |  Ridden |
| Wind |  Wound |  Wound |
| Take |  Took |  Taken |
| Spring |  Sprang |  Sprung |
| Dream |  Dreamed or dreamt |  Dreamed or dreamt |
| Hurt |  Hurt |  Hurt |
| Catch |  Caught |  Caught |
| Fly |  Flew |  Flown |
| Overthrow |  Overthrew |  Overthrown |
| Forbid |  Forbade |  Forbidden |
| Slay |  Slew |  Slayed /slain |
| Shake |  Shook |  Shaken |
| Fall |  Fell |  Fallen |
| Swing |  Swung |  Swung |
| Awake |  Awoke |  Awoken |
| Tread |  Trod |  Trodden |
| Know |  Knew |  Known |
| Run |  Ran |  Run |
| Throw |  Threw |  Thrown |
| Win |  Won |  Won |
| Bite |  Bit |  Bitten |
| Bear |  Bore |  Borne |
| Tell |  Told |  Told |
| Fit |  Fit |  Fit |
| Spit |  Spat |  Spat |
| Arise |  Arose |  Arisen |
| Hear |  Heard |  Heard |
| Awake |  Awoke |  Awoken |
| Steal |  Stole |  Stolen |
| Upset |  Upset |  Upset |
| Mean |  Meant |  Meant |
| Withhold |  Withheld |  Withheld |
| Come |  Came |  Come |
| Sow |  Sowed |  Sown /sowed |
| Shut |  Shut |  Shut |
| Spin |  Spun |  Spun |
| Build |  Built |  Built |
| Withstand |  Withstood |  Withstood |
| Sell |  Sold |  Sold |
| Cling |  Clung |  Clung |
| Spill |  Spilt /spilled |  Spilt /spilled |
| Cost |  Cost |  Cost |
| Break |  Broke |  Broken |
| Broadcast |  Broadcast |  Broadcast |
| Drive |  Drove |  Driven |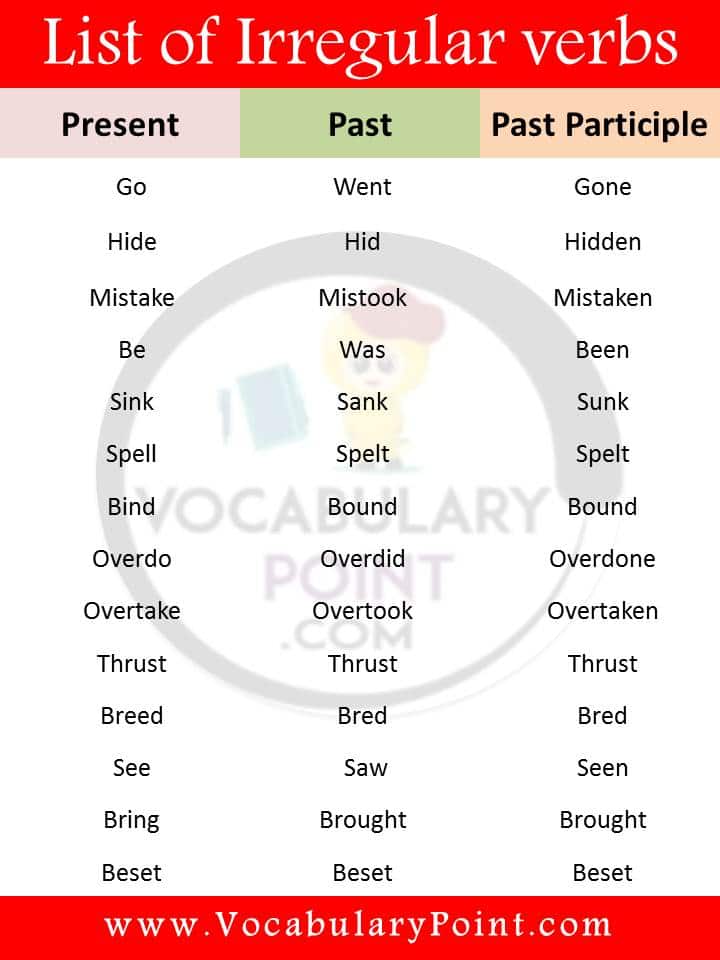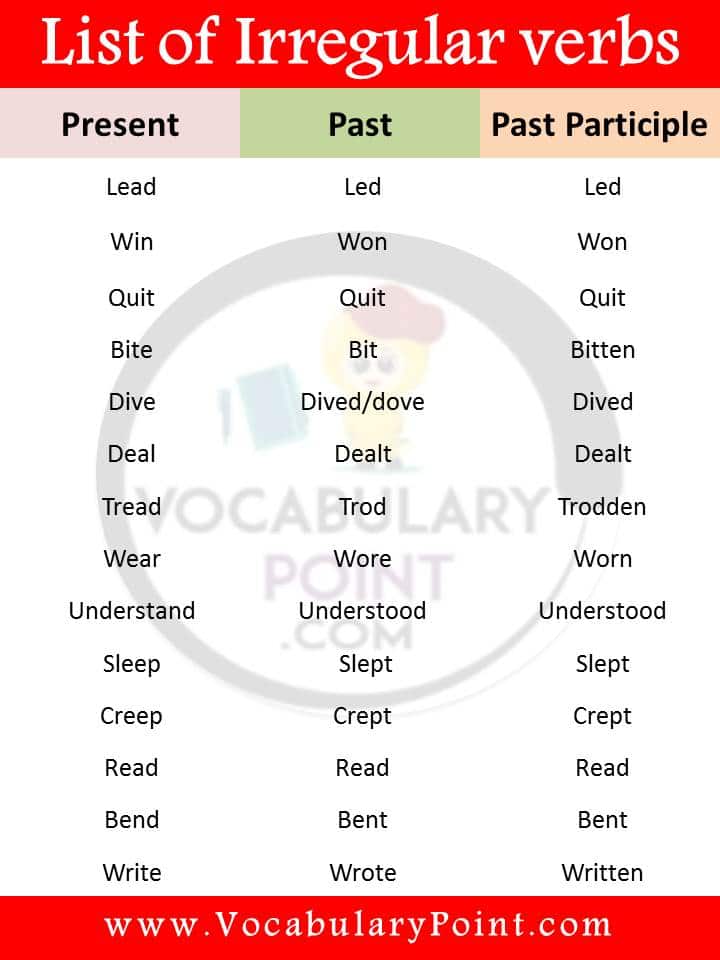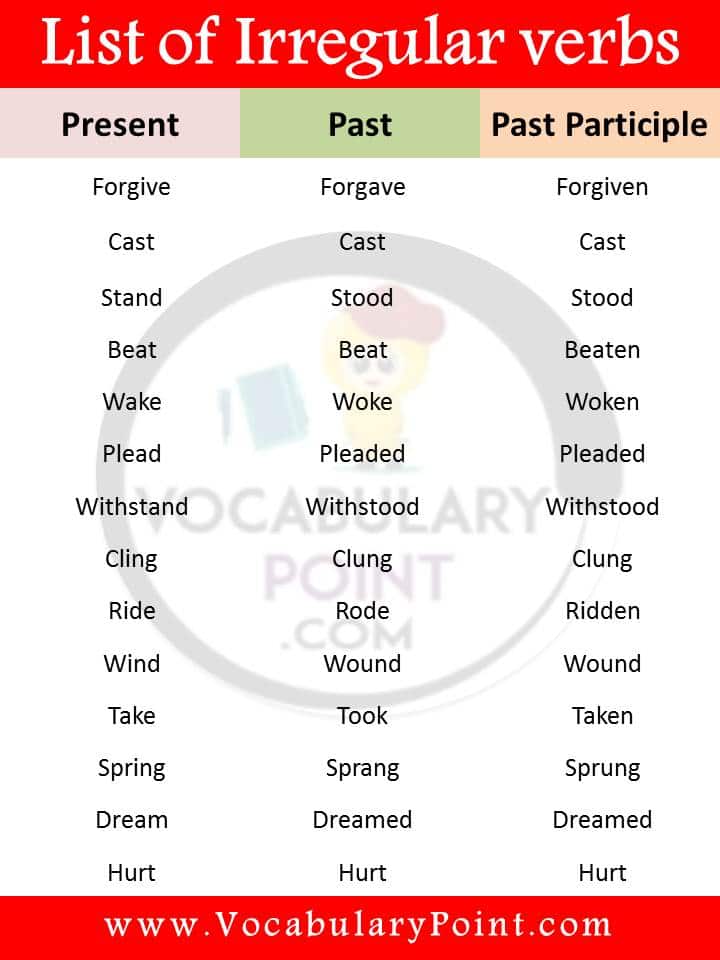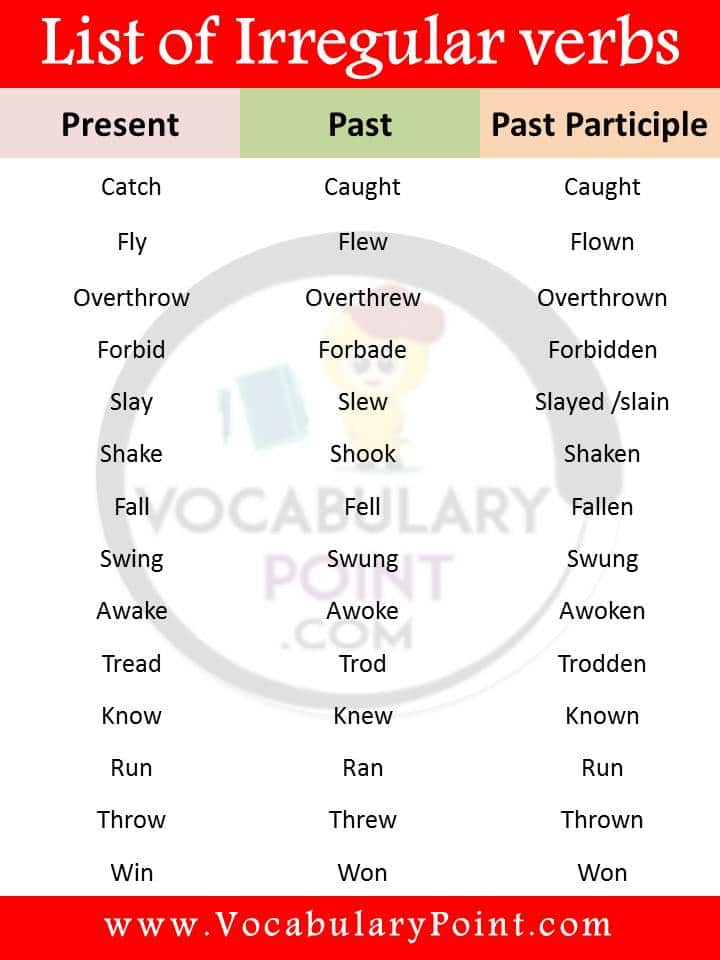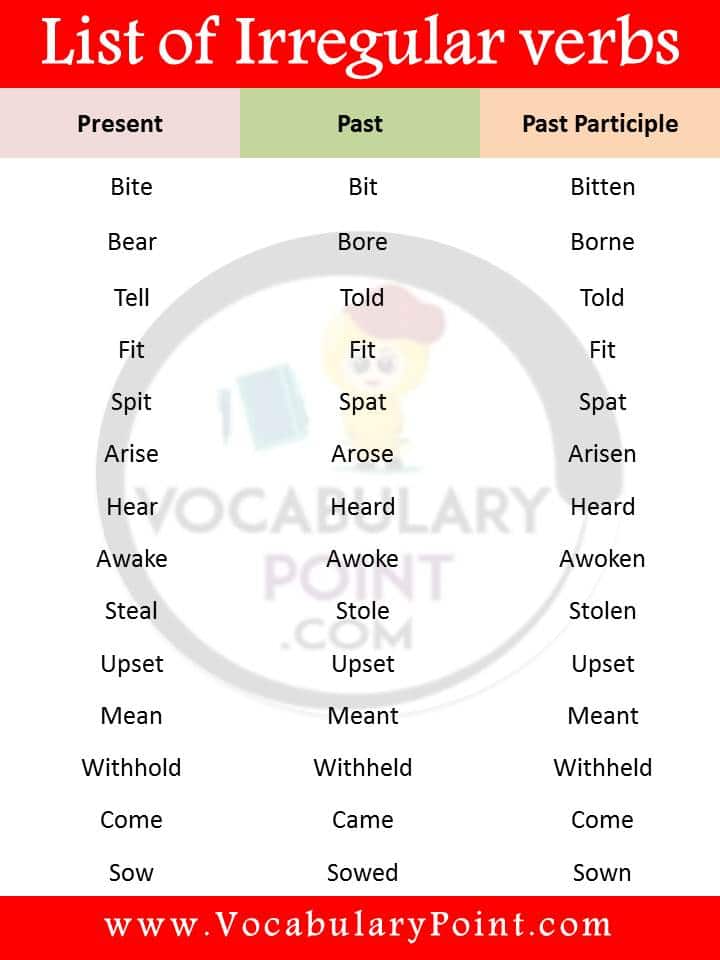 list of irregular verbs in English
| | | |
| --- | --- | --- |
| Sing |  Sang |  Sung |
| Sting |  Stung |  Stung |
| Rid |  Rid |  Rid |
| Burn |  Burned or burnt |  Burned or burnt |
| Speak |  Spoke |  Spoken |
| Slit |  Slit |  Slit |
| Withhold |  Withheld |  Withheld |
| Wring |  Wrung |  Wrung |
| Drink |  Drank |  Drunk |
| Smite |  Smote |  Smitten |
| Lose |  Lost |  Lost |
| Withdraw |  Withdrew |  Withdrawn |
| Thrive |  Thrived /throve |  Thrived |
| Give |  Gave |  Given |
| Stride |  Strode |  Stridden |
| Freeze |  Froze |  Frozen |
| Say |  Said |  Said |
| Blow |  Blew |  Blown |
| Catch |  Caught |  Caught |
| Burn |  Burned or burnt |  Burned or burnt |
| Learn |  Learned or learnt |  Learned or learnt |
| Weave |  Wove /weaved |  Woven /weaved |
| Uphold |  Upheld |  Upheld |
| Sling |  Slung |  Slung |
| Leave |  Left |  Left |
| Choose |  Chose |  Chosen |
| Sit |  Sat |  Sat |
| Leap |  Leapt /leaped |  Leapt /leaped |
| Keep |  Kept |  Kept |
| Become |  Became |  Become |
| Thrust |  Thrust |  Thrust |
| Bend |  Bent |  Bent |
| Saw |  Sawed |  Sawn /sawed |
| Bear |  Bore |  Borne |
| Weep |  Wept |  Wept |
| Seek |  Sought |  Sought |
| Wed |  Wedded /wed |  Wedded /wed |
| Send |  Sent |  Sent |
| Understand |  Understood |  Understood |
| Grind |  Ground |  Ground |
| Bid |  Bid |  Bid |
| Hang |  Hanged |  Hanged |
| Feed |  Fed |  Fed |
| Shine |  Shone |  Shone |
| Begin |  Began |  Begun |
| Prove |  Proved |  Proved/proven |
| | | |
list of irregular verbs in English PDF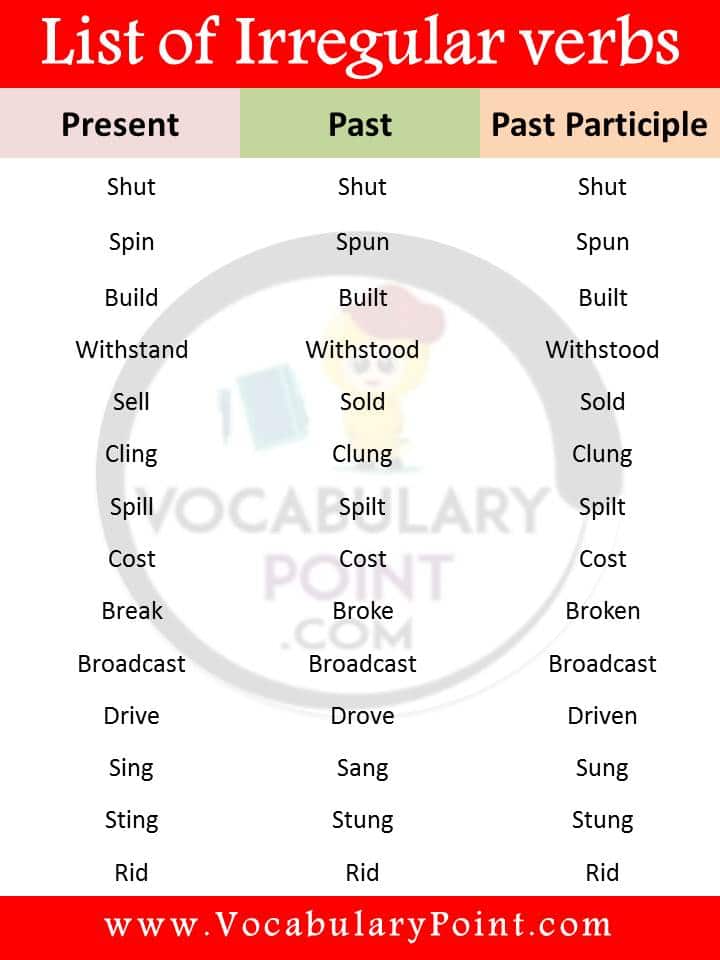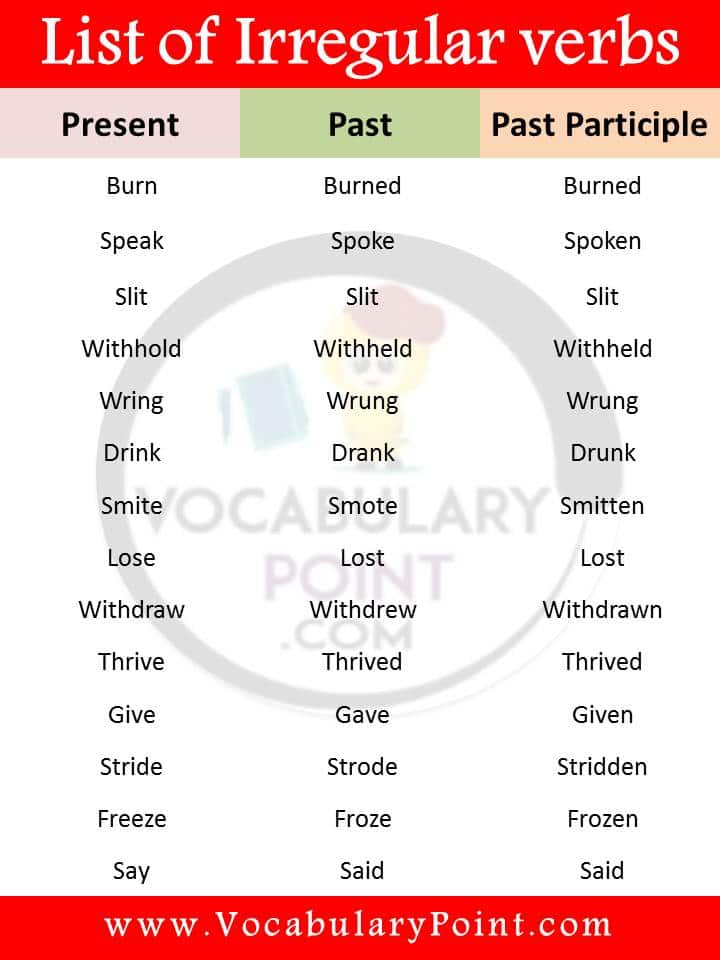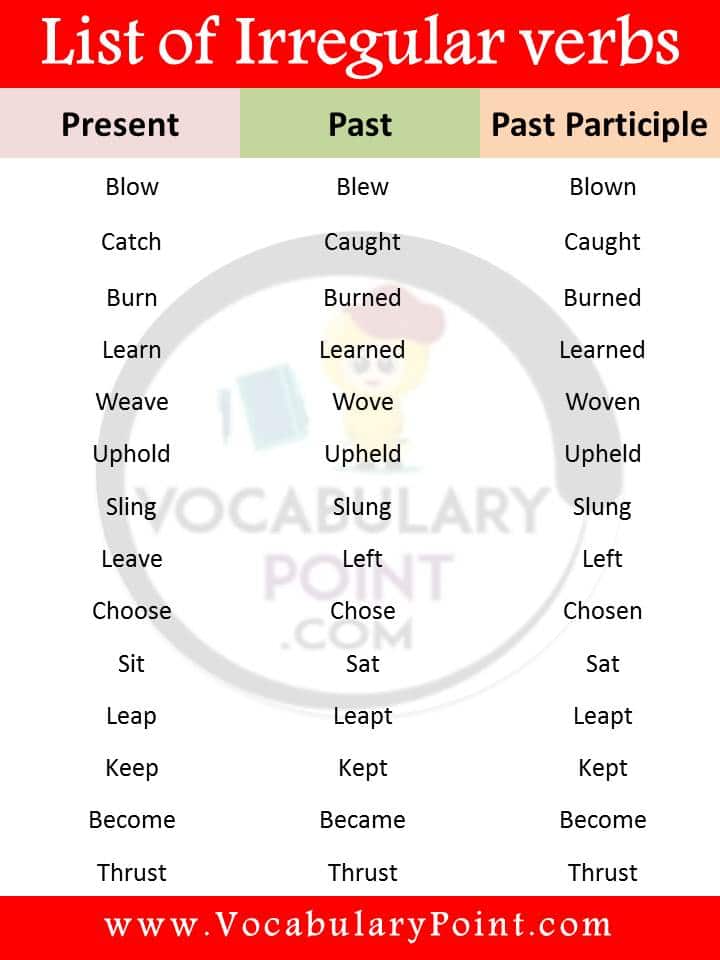 Download PDF of List of Irregular Verbs