2000+ Word list of adjectives PDF! All the important and impressive adjectives are listed here. You can DOWNLOAD the pdf of this lesson. Here all the types of adjectives used in daily conversational are listed from a to z. Different categories of adjectives are listed here. Most important, commonly used, impressive, Esl and college level Adjectives are Listed here. The list of most common adjectives for college level is listed.
Must Learn: Opposite Adjectives 
What Are Adjectives In English Grammar?
Definition of Adjectives: Adjectives are the naming words that describe nouns and pronouns. Adjectives modify nouns and pronouns. Adjectives are very useful because adjectives have the ability to restrict the meaning of a noun and pronoun. Adjectives are also called describing words.
Some Examples of Adjectives
She is a very clever girl.
Sham has a long hair.
Her clothes are dirty.
2000+ Word list of adjectives PDF
| | | |
| --- | --- | --- |
| ·         Demonic | ·         Good-looking | ·         Present |
| ·         Larcenous | ·         Overworked | ·         Latent |
| ·         Redeemable | ·         Pliable | ·         Bashful |
| ·         Growling | ·         Master | ·         Small-time |
| ·         Plucky | ·         Splashing | ·         Restrained |
| ·         Impossible | ·         Conversational | ·         Simplified |
| ·         Spinal | ·         Prissy | ·         Shiny |
| ·         Luminescent | ·         Muggy | ·         Scented |
| ·         Displaced | ·         Shimmering | ·         Futuristic |
| ·         Spherical | ·         Purring | ·         Tectonic |
| ·         Assertive | ·         Crowded | ·         Guaranteed |
| ·         Profitable | ·         Dehydrated | ·         Silver-tongued |
| ·         Illiterate | ·         Semiconscious | ·         Savvy |
| ·         Humdrum | ·         Instantaneous | ·         Pugnacious |
| ·         Snow-white | ·         Silly | ·         Baby |
| ·         Livable | ·         Paltry | ·         Insulted |
| ·         Rosy | ·         Professorial | ·         Inaudible |
| ·         Feebleminded | ·         Insufficient | ·         Respectful |
| ·         Cloistered | ·         Predicative | ·         Crooked |
| ·         Successive | ·         Refreshing | ·         Payable |
| ·         Potential | ·         Phenomenal | ·         Pleasant |
| ·         Compound | ·         Ornery | ·         Lazy |
Word list of adjectives | Infographics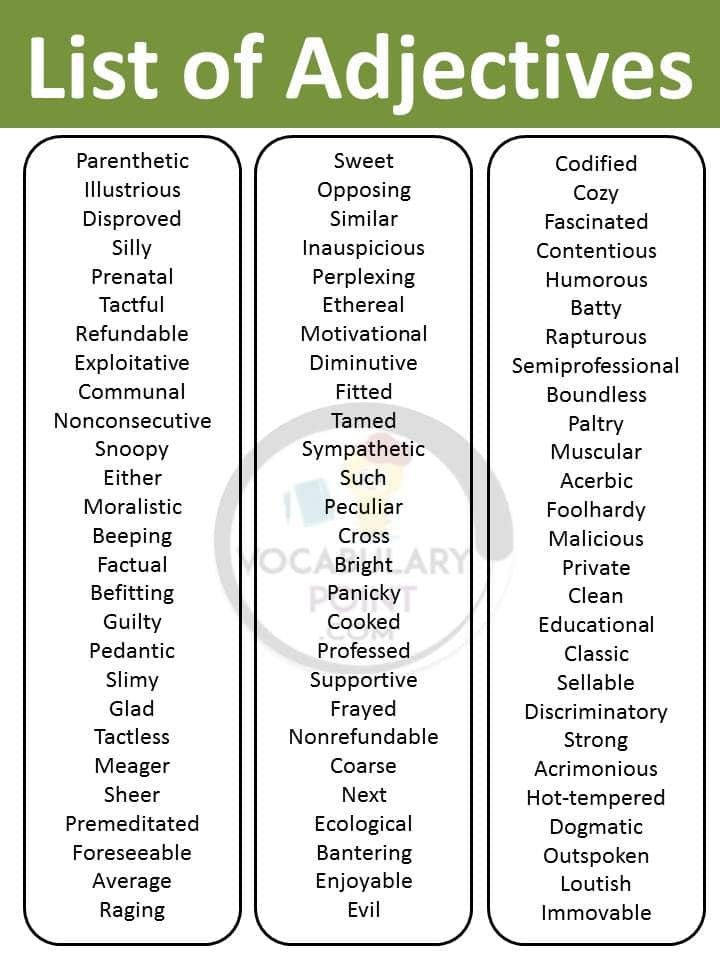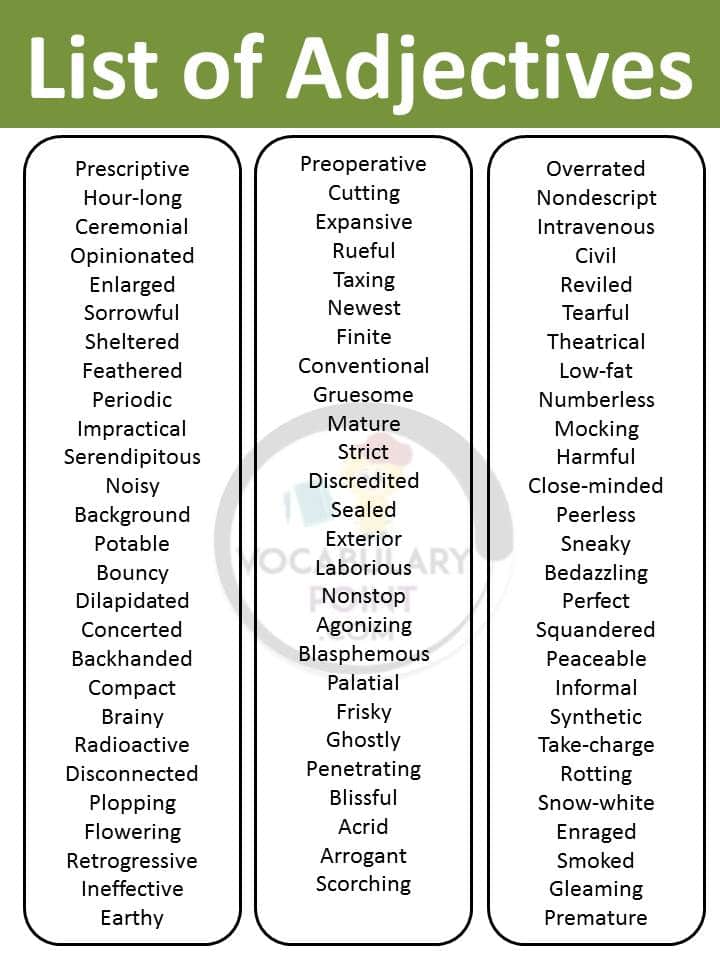 Word list of adjectives PDF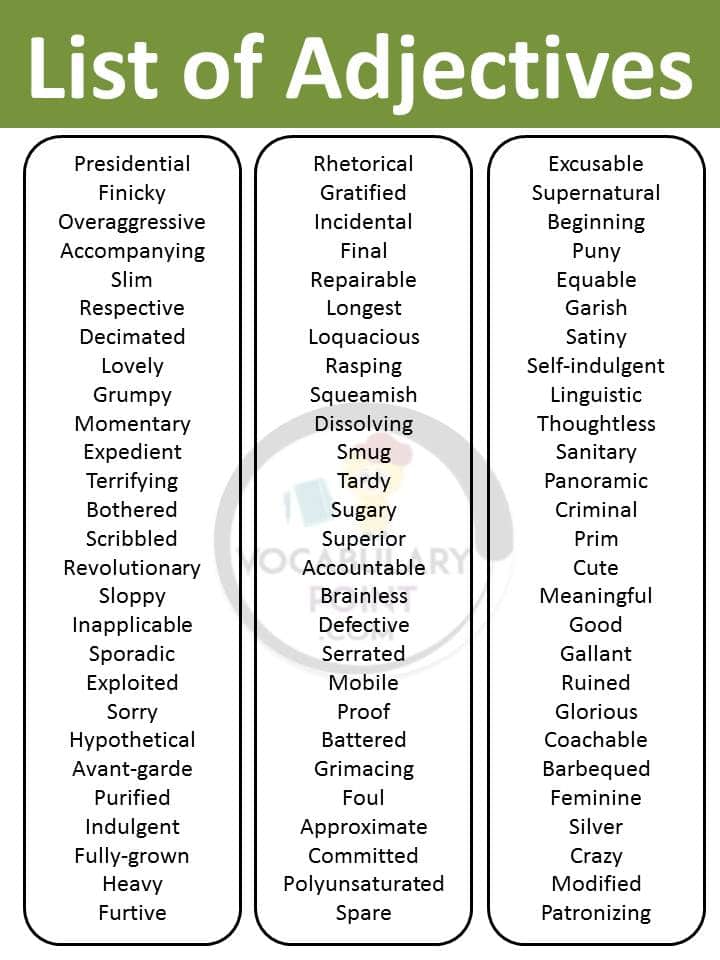 Adjectives list a to z
| | | |
| --- | --- | --- |
| ·         Super | ·         Limping | ·         Dandy |
| ·         Knightly | ·         Late | ·         Acceptable |
| ·         Ritzy | ·         Repugnant | ·         Older |
| ·         Perplexed | ·         Radioactive | ·         Specialist |
| ·         Smudged | ·         Neglectful | ·         Sore |
| ·         Locatable | ·         Scathing | ·         Digestive |
| ·         Quick-thinking | ·         The | ·         Forward |
| ·         Practical | ·         Prodigious | ·         Convenient |
| ·         Expeditious | ·         Blessed | ·         Expandable |
| ·         Marginal | ·         Loquacious | ·         Sordid |
| ·         Thankless | ·         Scant | ·         Hyperirritable |
| ·         Ghoulish | ·         Dissimilar | ·         Senseless |
| ·         Spineless | ·         High | ·         Credible |
| ·         Deaf | ·         Fanciful | ·         Compulsory |
| ·         Overemotional | ·         Contractual | ·         Direful |
| ·         Arduous | ·         Deranged | ·         Daunting |
| ·         Suave | ·         Imaginable | ·         Ingratiating |
| ·         Able-bodied | ·         Keen | ·         Fetching |
| ·         Globular | ·         Crispy | ·         Sumptuous |
| ·         Fortunate | ·         Applicative | ·         Spectral |
| ·         Euphoric | ·         Referential | ·         Penetrating |
| ·         Liquid | ·         Full | ·         Cheerless |
| ·         Optimal | ·         Partial | ·         Horrid |
| ·         Knavish | ·         Commanding | ·         Matronly |
| ·         Nightmarish | ·         Frustrated | ·         Stuck-up |
| ·         Accompanying | ·         Inapt | ·         Lukewarm |
| ·         Immodest | ·         Meager | ·         Condescending |
| ·         Shamefaced | ·         Caustic | ·         Intrinsic |
| ·         Fishy | ·         Smaller | ·         Hawkish |
| ·         Tenuous | ·         Pretend | ·         Imperialistic |
| ·         Punishable | ·         Preoccupied | ·         Powerless |
| ·         Mutative | ·         Lofty | ·         Theatrical |
| ·         Brick | ·         Entrepreneurial | ·         Mental |
| ·         Illustrious | ·         Alert | ·         Communicable |
| ·         Rippling | ·         Blazing | ·         Sloped |
| ·         Few, | ·         Revocable | ·         Inflatable |
| ·         Suffering | ·         Polite | ·         Cognitive |
| ·         Interdepartmental | ·         Annoying | ·         Delectable |
| ·         Stately | ·         Stylistic | ·         Longer |
| ·         Gallant | ·         Bronchial | ·         Horrifying |
| ·         Interesting | ·         Quick-minded | ·         Thin |
| ·         Amused | ·         Sparing | ·         Prolific |
| ·         Scaly | ·         Nonrenewable | ·         Hateful |
| ·         Small-scale | ·         Front | ·         Preoperative |
| ·         Expanded | ·         Seamless | ·         Bad |
| ·         Exacerbating | ·         Neighborly | ·         Lamentable |
| ·         Gooey | ·         Delightful | ·         Fumbling |
| ·         Meandering | ·         Progressive | ·         Inductive |
| ·         Formless | ·         Conventional | ·         Indomitable |
| ·         Synthetic | ·         Subversive | ·         Belligerent |
| ·         Intimate | ·         Impulsive | ·         Reigning |
| ·         Thankful | ·         Horizontal | ·         Contrary |
| ·         Resident | ·         Organic | ·         Perfect |
| ·         Balding | ·         Convinced | ·         Theological |
| ·         Desirous | ·         Fulfilled | ·         Numberless |
| ·         Inevitable | ·         Clingy | ·         Large |
| ·         Glassy | ·         Impartial | ·         Southeasterly |
| ·         Quick-acting | ·         Divided | ·         High-functioning |
| ·         Separate | ·         Abundant | ·         Later |
| ·         Pithy | ·         Hungry | ·         Desperate |
| ·         Cranky | ·         Imaginative | ·         North |
| ·         Shivering | ·         Hardy | ·         Lopsided |
| ·         Roasted | ·         Foolish | ·         Moderate |
| ·         Rechargeable | ·         Permissive | ·         Overoptimistic |
| ·         Ridiculing | ·         Notorious | ·         Nonaggressive |
| ·         Terrifying | ·         Dismissive | ·         Acknowledged |
| ·         Telepathic | ·         Mother | ·         Chubby |
| ·         Impatient | ·         Daft | ·         Overcrowded |
| ·         Circling | ·         Nonrefundable | ·         Beady |
| ·         Intriguing | ·         Null | ·         Revolutionary |
| ·         Interpersonal | ·         Believable | ·         Frisky |
| ·         Kinesthetic | ·         Enumerable | ·         Broad |
| ·         Drab | ·         Scary | ·         Instinctive |
| ·         Rambling | ·         Richest | ·         Lax |
| ·         Deprived | ·         Shining | ·         Exhausted |
| ·         Retrospective | ·         Condemned | ·         Small |
| ·         Bellicose | ·         Professed | ·         Assorted |
| ·         Serendipitous | ·         Purified | ·         Immeasurable |
| ·         Bloated | ·         Inflamed | ·         Removable |
| ·         Blasphemous | ·         Rigorous | ·         Lush |
| ·         Surly | ·         Selective | ·         Sane |
| ·         Ok | ·         Equitable | ·         Bearable |
| ·         Nonconsecutive | ·         Strongest | ·         Precarious |
| ·         East | ·         Dizzying | ·         Outrageous |
| ·         Sickly | ·         Born | ·         Disturbing |
| ·         Freckled | ·         Disheartening | ·         Fitted |
| ·         Interior | ·         Next-door | ·         Symbolic |
| ·         Both | ·         Latter | ·         Prepared |
| ·         Impenetrable | ·         Secluded | ·         Hilarious |
| ·         Ingenuous | ·         Comfortable | ·         Throbbing |
| ·         Expected | ·         Sudden | ·         Quivering |
| ·         Fearless | ·         Improbable | ·         Self-assured |
| ·         Third | ·         Marvelous | ·         Distracting |
| ·         Disgusted | ·         Clean | ·         Built-in |
| ·         Splintered | ·         Greedy | ·         Cunning |
| ·         Repairable | ·         Fictional | ·         Tickling |
| ·         Disputed | ·         Eerie | ·         Redundant |
| ·         Supposed | ·         Inarguable | ·         Compact |
| ·         Compliant | ·         Hotlink | ·         Prenatal |
| ·         Approachable | ·         Disingenuous | ·         Cut |
| ·         Overenthusiastic | ·         Brazen | ·         Sculptural |
| ·         Baffling | ·         Duplicitous | ·         Memorable |
| ·         Frozen | ·         Expensive | ·         Sedate |
| ·         Melancholy | ·         Polyunsaturated | ·         Blank |
| ·         Fastest | ·         Money-grubbing | ·         Serene |
| ·         Scriptural | ·         Exhilarating | ·         Overaggressive |
| ·         Continuing | ·         Accusing | ·         Sullen |
| ·         Modern | ·         Prehistoric | ·         Erasable |
| ·         Imperfect | ·         Pluralistic | ·         Fancy |
| ·         Achievable | ·         Conditional | ·         Thorough |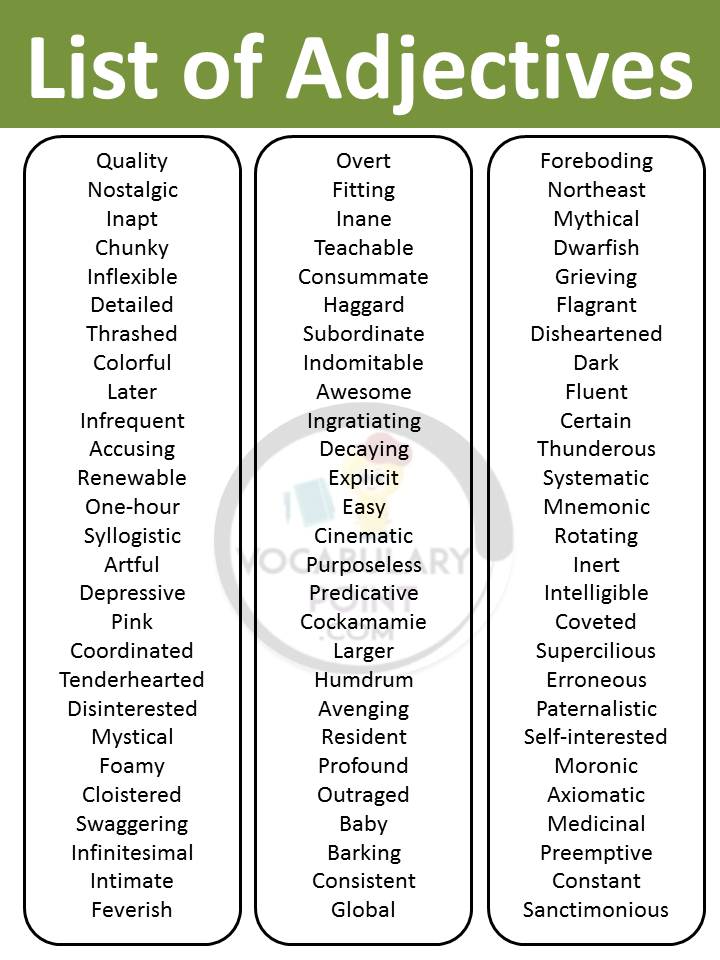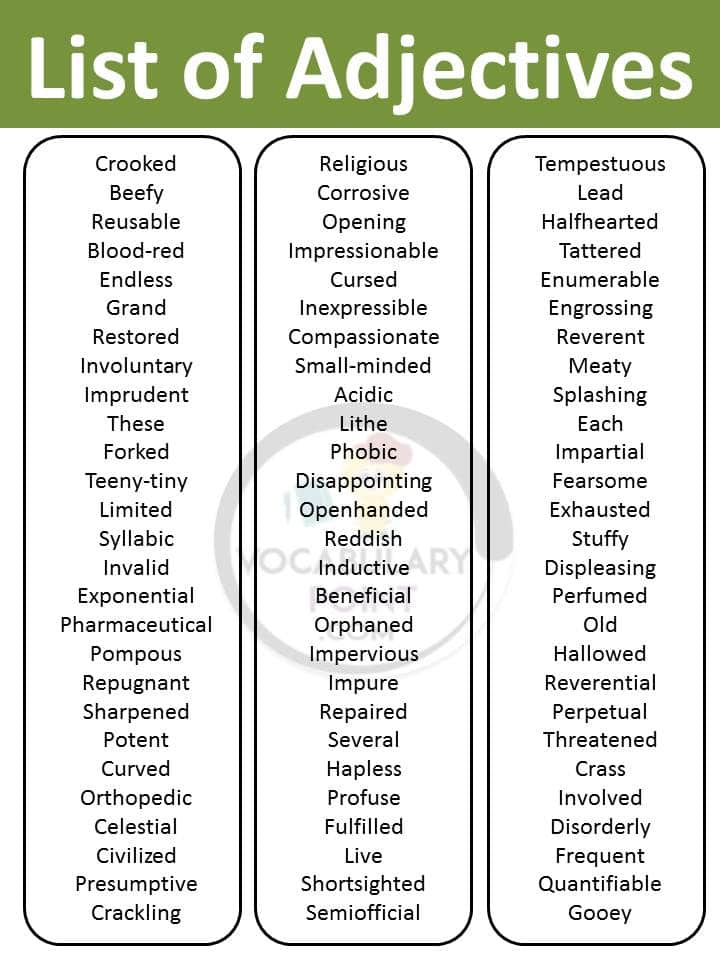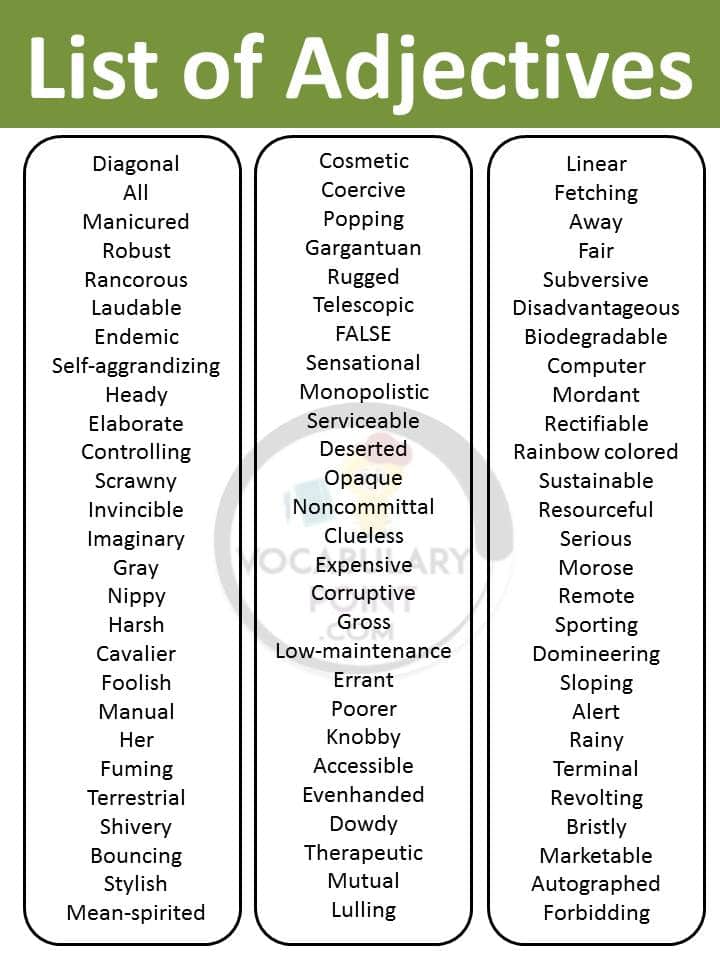 List of adjectives for students
| | | |
| --- | --- | --- |
| ·         Paranormal | ·         Seasonal | ·         Gratis |
| ·         Intense | ·         Tempted | ·         Disapproving |
| ·         Limber | ·         Disdainful | ·         Loud |
| ·         Beckoning | ·         Noble | ·         Theoretical |
| ·         Status | ·         Intermittent | ·         Overassertive |
| ·         Notable | ·         Betrayed | ·         Taut |
| ·         Celebrated | ·         Lonely | ·         Cooing |
| ·         Exponential | ·         Flippant | ·         Brash |
| ·         Alive | ·         Daughterly | ·         Inexpedient |
| ·         Reversible | ·         Squashed | ·         Contradictory |
| ·         Stupendous | ·         Mutual | ·         Complicated |
| ·         Cropped | ·         Envious | ·         Riveting |
| ·         Courteous | ·         Anonymous | ·         Crippling |
| ·         Gorgeous | ·         Down | ·         phic |
| ·         Restrictive | ·         Gleaming | ·         This |
| ·         Gratuitous | ·         Gushy | ·         Evocative |
| ·         Sorrowful | ·         Acoustic | ·         Motor |
| ·         Spongy | ·         Fourth | ·         Breathless |
| ·         Condensed | ·         Scholarly | ·         Male |
| ·         Nonexclusive | ·         Diagonal | ·         Mouthwatering |
| ·         Mystic | ·         Coveted | ·         Tender |
| ·         Industrial | ·         Corporate | ·         Bandaged |
| ·         Pompous | ·         Maladjusted | ·         Reverential |
| ·         Probable | ·         Moronic | ·         Spotty |
| ·         Dignified | ·         Gilded | ·         Silent |
| ·         Gritty | ·         Limitless | ·         Hefty |
| ·         Available | ·         Hot-tempered | ·         Gratifying |
| ·         Nonstop | ·         Hated | ·         Didactic |
| ·         Prohibitive | ·         Longing | ·         Flawed |
| ·         Terse | ·         Slothful | ·         Chewy |
| ·         Temperate | ·         Faded | ·         Concerned |
| ·         Foregoing | ·         Definitive | ·         Cool |
| ·         Cloudy | ·         Revisable | ·         Infernal |
| ·         Crumbly | ·         Dissonant | ·         Shadowed |
| ·         Inexhaustible | ·         Sparse | ·         Frothy |
| ·         Democratic | ·         Contributive | ·         Grubby |
| ·         Prefabricated | ·         Inarticulate | ·         Movable |
| ·         Teenage | ·         First | ·         Chewable |
| ·         Managerial | ·         Diverse | ·         Four |
| ·         Incomparable | ·         Childlike | ·         Lead |
| ·         Hardworking | ·         Potent | ·         Disposable |
| ·         Mortified | ·         Scientific | ·         Allusive |
| ·         Resilient | ·         Tested | ·         Rampant |
| ·         Spiral | ·         Icy | ·         Rotund |
| ·         Soaked | ·         Labored | ·         Inappropriate |
| ·         Sociable | ·         Phonemic | ·         Damp |
| ·         Self-reliant | ·         Goofy | ·         Echoing |
| ·         Alluring | ·         Soundless | ·         Supple |
| ·         Forgivable | ·         Tasteful | ·         Mutinous |
| ·         Falsified | ·         Tardy | ·         Frail |
| ·         Disgruntled | ·         Ancient | ·         Abounding |
| ·         Howling | ·         Starving | ·         Pressurized |
| ·         Intricate | ·         Bendable | ·         Flavorless |
| ·         Decorous | ·         Disorderly | ·         Educational |
| ·         Muddy | ·         Executable | ·         Furious |
| ·         Defiant | ·         Patterned | ·         Grouchy |
| ·         Freezing | ·         Rainbowcolored | ·         Discordant |
| ·         Accidental | ·         Tart | ·         Astounding |
| ·         Coarse | ·         High-pitched | ·         Ceaseless |
| ·         Palatial | ·         Flammable | ·         Abhorrent |
| ·         Distracted | ·         Disheartened | ·         Junior |
| ·         Pleased | ·         Gruff | ·         Groaning |
| ·         Successful | ·         Cautious | ·         Dissolving |
| ·         Knowable | ·         Shy | ·         Regretful |
| ·         Ossified | ·         Lucky | ·         Scummy |
| ·         Expressionless | ·         Comical | ·         Sensational |
| ·         Exhilarated | ·         Airsick | ·         Bossy |
| ·         Crammed | ·         Frantic | ·         Chunky |
| ·         Repulsive | ·         Choppy | ·         Frank |
| ·         Extension | ·         Grating | ·         Absent |
| ·         Scrappy | ·         Cursed | ·         Lined |
| ·         Purple | ·         Cluttered | ·         Scintillating |
| ·         Mushy | ·         Fast-moving | ·         Ashamed |
| ·         Chuckling | ·         Nippy | ·         Educated |
| ·         Reluctant | ·         Sure-footed | ·         Intelligent |
| ·         Appropriate | ·         Deficient | ·         Subterranean |
| ·         Detached | ·         Swaggering | ·         Reflective |
| ·         Fierce | ·         Energetic | ·         Patriotic |
| ·         Serial | ·         Tearful | ·         Crabby |
| ·         Seductive | ·         Spiffy | ·         Special |
| ·         Supercilious | ·         Clanging | ·         Deliverable |
| ·         Love able | ·         Grey | ·         Fascinating |
| ·         Chief | ·         Abrasive | ·         Ill-informed |
| ·         Annual | ·         Tense | ·         Imaginary |
| ·         Compulsive | ·         Sure | ·         Blaring |
| ·         Cantankerous | ·         Several | ·         Abusive |
| ·         Infrequent | ·         Identifiable | ·         Distinctive |
| ·         Sheer | ·         Graceful | ·         Hot-blooded |
| ·         Awful | ·         Architectural | ·         Right-handed |
| ·         Game | ·         Sick | ·         Streaked |
| ·         Rented | ·         Principled | ·         Enthused |
| ·         Municipal | ·         Sweet | ·         Slick |
| ·         Assuring | ·         Petulant | ·         Platonic |
| ·         Distinct | ·         Fortuitous | ·         Crippled |
| ·         Garish | ·         Flawless | ·         Delirious |
| ·         Fractious | ·         Loose | ·         Extra-large |
| ·         Invited | ·         Sustainable | ·         Cosmic |
| ·         Disinclined | ·         Single-minded | ·         Flattened |
| ·         Sociological | ·         Dispensable | ·         Preventive |
| ·         Esoteric | ·         Puffy | ·         Preliminary |
| ·         Sleeping | ·         Bald | ·         Delicate |
| ·         Kingly | ·         Infallible | ·         Rescued |
| ·         Smart | ·         Opened | ·         Inventive |
| ·         Mournful | ·         Reported | ·         Survivable |
| ·         Inspired | ·         Approximate | ·         Manual |
| ·         Scarred | ·         Fiendish | ·         Moralistic |
| ·         Faraway | ·         Comforting | ·         Repeatable |
| ·         Humorless | ·         Effective | ·         Difficult |
| ·         Inferable | ·         Inadvertent | ·         Enticing |
| ·         Terrestrial | ·         Masterful | ·         Long-winded |
| ·         Satiny | ·         Academic | ·         Tactless |
| ·         Opposed | ·         Creaking | ·         Defeated |
| ·         Constructive | ·         Balmy | ·         Endearing |
| ·         Riotous | ·         Omnivorous | ·         Crude |
| ·         Faint | ·         Complacent | ·         Surgical |
| ·         Gabby | ·         Richer | ·         Ideal |
| ·         Glib | ·         An | ·         Handsome |
| ·         Superlative | ·         Economy | ·         Medium-rare |
| ·         Roomy | ·         Tarnished | ·         Impressionable |
| ·         Beginning | ·         Despairing | ·         Raspy |
| ·         Fresh | ·         Dependent | ·         Infamous |
| ·         Evasive | ·         Decadent | ·         Surrealistic |
| ·         Gushing | ·         Tepid | ·         Disappointed |
| ·         Icy-cold | ·         Cross | ·         Conceivable |
| ·         Acerbic | ·         Structural | ·         Reckless |
| ·         Nifty | ·         Outraged | ·         Hard-to-find |
| ·         Curly | ·         Automatic | ·         Squalid |
| ·         Inadmissible | ·         Prestigious | ·         Civil |
| ·         Racial | ·         Invaluable | ·         Alarming |
| ·         Fuming | ·         Thirsty | ·         Predictable |
| ·         Doggish | ·         Briny | ·         Distasteful |
| ·         Low | ·         Maneuverable | ·         Flashy |
| ·         Graphic | ·         Dainty | ·         Floating |
| ·         Menial | ·         Improvable | ·         Incidental |
| ·         Environmental | ·         Ethical | ·         Gaseous |
| ·         Eastern | ·         Predominant | ·         Snappish |
| ·         Dazed | ·         Disappearing | ·         Early |
| ·         Remorseless | ·         Renegotiable | ·         Precious |
| ·         Mathematical | ·         Relaxed | ·         Seasick |
| ·         Seething | ·         Slippery | ·         Ruinous |
| ·         Hulking | ·         Green | ·         Next |
| ·         Coquettish | ·         Communist | ·         Sparkling |
| ·         Downtown | ·         Humanitarian | ·         Decaying |
| ·         Fearful | ·         Hour-long | ·         Pharmaceutical |
| ·         Perpendicular | ·         Kindly | ·         Fitting |
| ·         Inequitable | ·         Plump | ·         Approving |
| ·         Flattered | ·         Deserted | ·         Capable |
| ·         Right | ·         Artless | ·         Sleepy |
| ·         Formulaic | ·         Doleful | ·         Computer |
| ·         Guarded | ·         Brief | ·         Substantiated |
| ·         Lacking | ·         Heartrending | ·         Another |
| ·         Absorbed | ·         Agrarian | ·         Spiritless |
| ·         Technological | ·         Forgettable | ·         Otherwise |
| ·         Expert | ·         Diseased | ·         Glaring |
| ·         Derogative | ·         Thunderous | ·         Irreconcilable |
| ·         Communal | ·         Redolent | ·         Humanlike |
| ·         Eccentric | ·         Self-directed | ·         Rabid |
| ·         Peaceful | ·         Fluffy | ·         Disaffected |
| ·         Resourceful | ·         Overzealous | ·         Teeny-tiny |
| ·         Original | ·         Materialistic | ·         Outer |
| ·         Celestial | ·         Such | ·         Depressive |
| ·         Entertaining | ·         Self-absorbed | ·         Lascivious |
| ·         Cottony | ·         Impressive | ·         Predisposed |
| ·         Populous | ·         Broken | ·         Opulent |
| ·         Horned | ·         Inadequate | ·         Cooked |
| ·         Interdependent | ·         Perceptive | ·         Disabled |
| ·         Rascally | ·         Forgiving | ·         Sleek |
| ·         Pale | ·         Intelligible | ·         Other |
| ·         Giant | ·         Cowardly | ·         Instant |
| ·         Cancelled | ·         Annoyed | ·         Grateful |
| ·         Socialist | ·         Disputable | ·         Meditative |
| ·         Short-tempered | ·         Facial | ·         Fried |
| ·         Expansive | ·         Bacterial | ·         Scenic |
| ·         Estimated | ·         Crisp | ·         Mangy |
| ·         Ajar | ·         Befuddled | ·         Content |
| ·         Chronological | ·         Immensurable | ·         Elaborate |
| ·         Red | ·         Captivated | ·         Sublime |
| ·         Domestic | ·         Shrill | ·         Deepening |
| ·         Groovy | ·         Teensy | ·         Express |
| ·         Crotchety | ·         Shattering | ·         Astounded |
| ·         Substitute | ·         Infected | ·         Edgy |
| ·         Reputable | ·         Sympathetic | ·         Hormonal |
| ·         Reprehensible | ·         Recessive | ·         Corny |
| ·         Flirtatious | ·         Semiprecious | ·         Quickest |
| ·         Explosive | ·         Programmable | ·         Distinguished |
| ·         Spoiled | ·         Infuriated | ·         Fewer |
| ·         Haphazard | ·         Cowering | ·         Sneaky |
| ·         Inward | ·         Idiosyncratic | ·         Inescapable |
| ·         Excitable | ·         Bountiful | ·         Known |
| ·         Fundamental | ·         Friendly | ·         Supersonic |
| ·         Black | ·         Manageable | ·         Influential |
| ·         Temperamental | ·         Sturdy | ·         Pumped |
| ·         Motivated | ·         Glum | ·         Ten-minute |
| ·         Serrated | ·         Despondent | ·         Rotting |
| ·         Excruciating | ·         Revolting | ·         Raving |
| ·         Monetary | ·         Outermost | ·         Helpful |
| ·         Boundless | ·         One-sided | ·         Blindfolded |
| ·         Inflexible | ·         Peeved | ·         Racist |
| ·         Knotty | ·         Momentary | ·         Clammy |
| ·         Telescopic | ·         Contented | ·         Ethnic |
| ·         Rocketing | ·         Resounding | ·         Curt |
| ·         Moving | ·         Extra | ·         Soulful |
| ·         Self-satisfied | ·         Retroactive | ·         Awake |
| ·         Careless | ·         Nice | ·         Portable |
| ·         Nonverbal | ·         Fatal | ·         Nervous |
| ·         Curative | ·         Acrobatic | ·         Oral |
| ·         Beautiful | ·         Remarkable | ·         Resonant |
| ·         Muted | ·         Portly | ·         Self-centered |
| ·         Clever | ·         Compelling | ·         Astonishing |
| ·         Invisible | ·         Likeable | ·         Oxymoronic |
| ·         Budget | ·         Presumable | ·         Live |
| ·         Renewable | ·         Furry | ·         Squealing |
| ·         Outstanding | ·         Smooth | ·         Splendid |
| ·         Low-calorie | ·         Imperative | ·         Cosmetic |
| ·         Spastic | ·         Exposed | ·         Quick-tempered |
| ·         Dependable | ·         Disinterested | ·         Serviceable |
| ·         Brawny | ·         Panicky | ·         Abstracted |
| ·         Convincing | ·         Lame | ·         Glamorous |
| ·         Debatable | ·         Befitting | ·         Melodramatic |
| ·         Submissive | ·         Surprised | ·         Disruptive |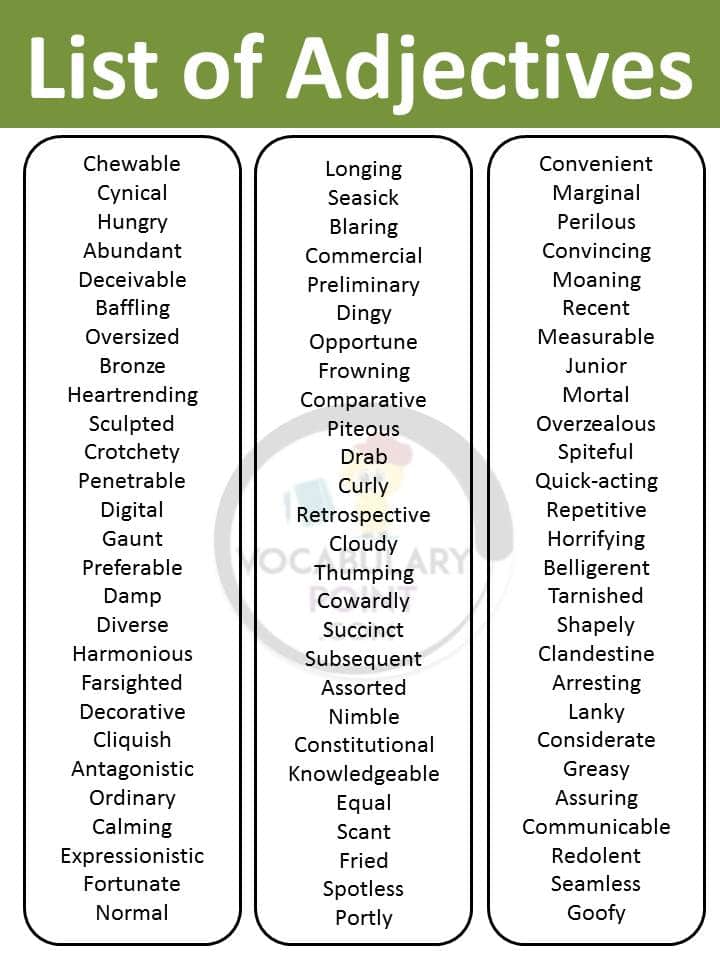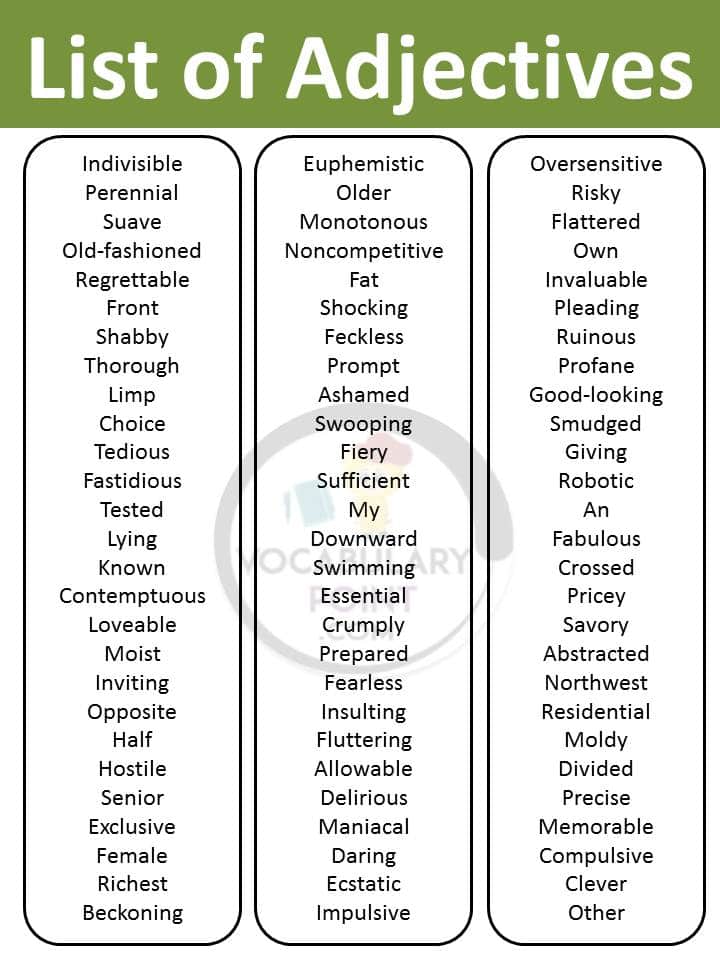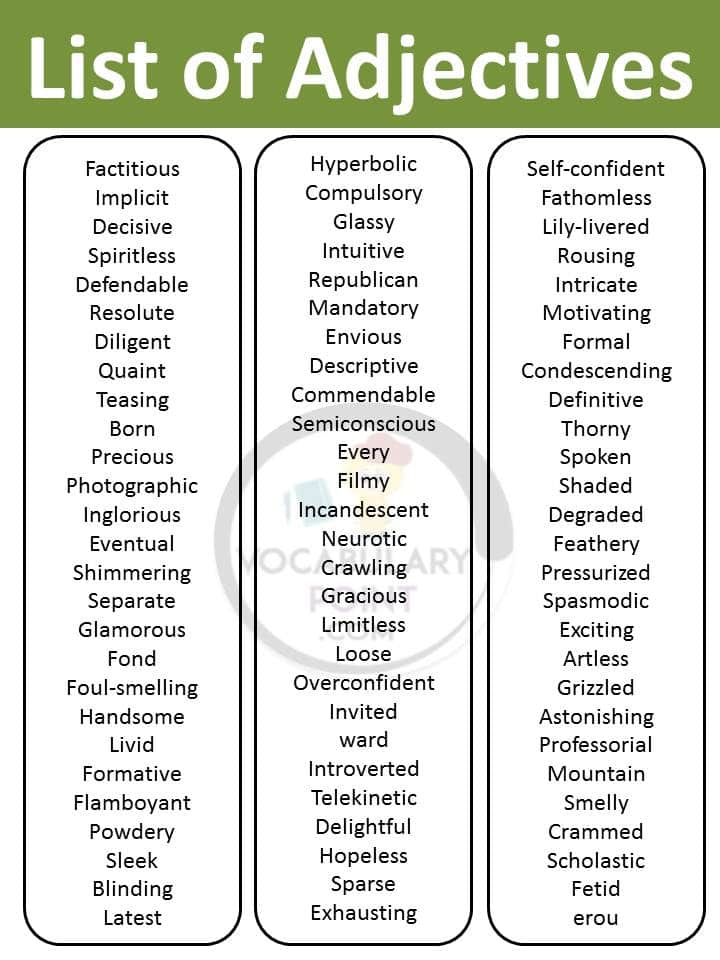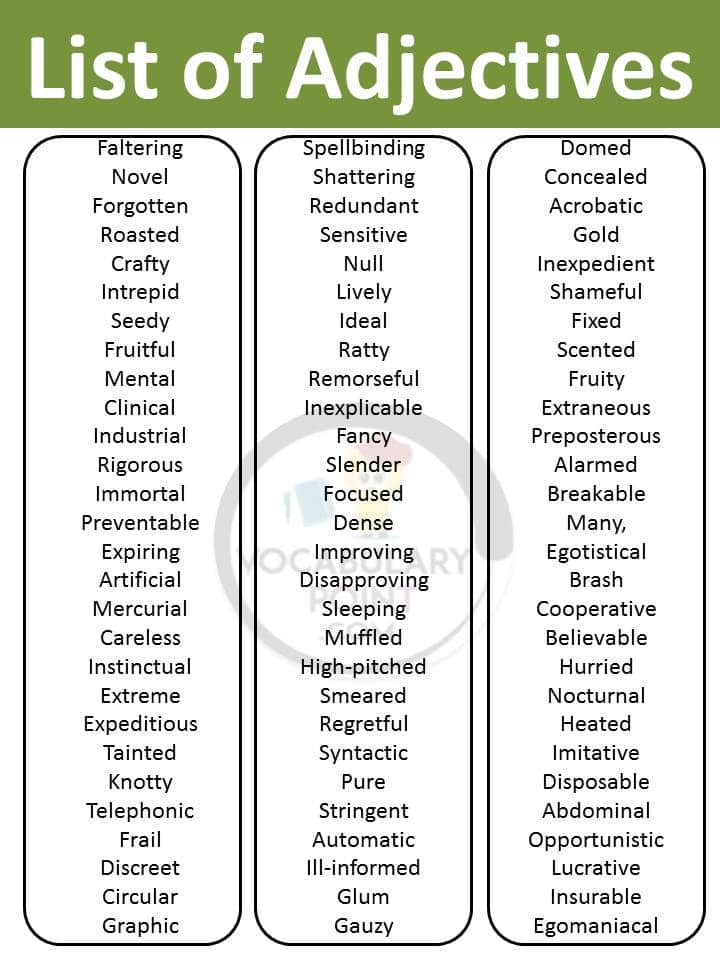 | | | |
| --- | --- | --- |
| ·         Quantitative | ·         Blinding | ·         Pitiless |
| ·         Medium | ·         Floppy | ·         Open |
| ·         Assured | ·         Frayed | ·         Discredited |
| ·         Angered | ·         Dense | ·         Constrictive |
| ·         Tenacious | ·         Brutal | ·         Thrifty |
| ·         Opening | ·         Manicured | ·         Overt |
| ·         Intellectual | ·         Barbarous | ·         Dissolvable |
| ·         Suitable | ·         Garrulous | ·         Self-disciplined |
| ·         Ingenious | ·         Rigid | ·         Fixable |
| ·         Temporary | ·         Malleable | ·         Heated |
| ·         Strenuous | ·         Scraggly | ·         Intrepid |
| ·         Effusive | ·         Husky | ·         Informative |
| ·         Subdued | ·         Flying | ·         Brooding |
| ·         Pleading | ·         Gripping | ·         Haughty |
| ·         Intrusive | ·         Displeasing | ·         Ironic |
| ·         Competitive | ·         Manic | ·         Fine |
| ·         Heartbroken | ·         Nonsensical | ·         Humorous |
| ·         Remorseful | ·         Ineffectual | ·         Designer |
| ·         Internal | ·         Infinite | ·         Monotone |
| ·         Fiery | ·         Impassioned | ·         Fun-loving |
| ·         Measly | ·         Candid | ·         Fruity |
| ·         Inattentive | ·         Startled | ·         Exotic |
| ·         Forked | ·         Involuntary | ·         Feigned |
| ·         Superb | ·         Grim | ·         Tactful |
| ·         Dizzy | ·         Parental | ·         Snapping |
| ·         Classical | ·         Introductory | ·         Political |
| ·         Planned | ·         Bloodied | ·         Smug |
| ·         Sanguine | ·         Procedural | ·         Covert |
| ·         Refractive | ·         Latest | ·         Glittering |
| ·         Endless | ·         Pleasurable | ·         Interactive |
| ·         Slow | ·         Negotiable | ·         Parking |
| ·         Desirable | ·         Cooperative | ·         Terrible |
| ·         Mammoth | ·         Cavalier | ·         Hydraulic |
| ·         Hallowed | ·         Sloppy | ·         Slushy |
| ·         Lively | ·         Repeated | ·         Enforceable |
| ·         Ninth | ·         Signed | ·         Savage |
| ·         Scarce | ·         Exploitative | ·         Fulfilling |
| ·         Cozy | ·         Glass | ·         Coincidental |
| ·         Phosphorescent | ·         Springy | ·         Benevolent |
| ·         Logarithmic | ·         Intended | ·         Splashy |
| ·         Refutable | ·         Relative | ·         Overwrought |
| ·         Piquant | ·         Thriftless | ·         Shocking |
| ·         Secure | ·         Padded | ·         Acidic |
| ·         Avian | ·         Clinging | ·         Biographical |
| ·         Concerning | ·         Singular | ·         Down-and-out |
| ·         Foreign | ·         Artful | ·         Alike |
| ·         Robotic | ·         Appreciative | ·         Quizzical |
| ·         Enigmatic | ·         Berserk | ·         Inane |
| ·         Agreeable | ·         Extreme | ·         Massive |
| ·         Deceivable | ·         Opposite | ·         Possessive |
| ·         Earnest | ·         Despised | ·         Impervious |
| ·         Revamped | ·         Depressing | ·         Computerized |
| ·         Heavenly | ·         Blatant | ·         Enjoyable |
| ·         Coherent | ·         Fussy | ·         Nimble |
| ·         Hysterical | ·         Justifiable | ·         FALSE |
| ·         Self-aggrandizing | ·         Southwestern | ·         Strict |
| ·         Saucy | ·         Casual | ·         Anemic |
| ·         Invigorating | ·         Talkative | ·         Deniable |
| ·         Demonstrative | ·         Away | ·         Easy |
| ·         Chilling | ·         Deafening | ·         Merciful |
| ·         Muscular | ·         Tacit | ·         Scrumptious |
| ·         Operative | ·         Periodic | ·         Irrational |
| ·         Inferior | ·         Shaggy | ·         Religious |
| ·         Permeable | ·         Funny | ·         Alarmed |
| ·         Limp | ·         Mobile | ·         Belching |
| ·         Sharpened | ·         Expendable | ·         Economic |
| ·         Textual | ·         Quick-drying | ·         Inalienable |
| ·         Knowing | ·         Spotted | ·         List of Adjectives No 5 |
| ·         Nostalgic | ·         Introverted | ·         Folded |
| ·         Snotty | ·         Disrespectful | ·         Symbiotic |
| ·         Sufficient | ·         Simplistic | ·         Intermediate |
| ·         Reviewable | ·         Ardent | ·         Central |
| ·         Feeble | ·         Foamy | ·         Euphemistic |
| ·         Finite | ·         Ominous | ·         Earthshaking |
| ·         Daring | ·         Controllable | ·         Backhanded |
| ·         Rash | ·         Respectable | ·         Reciprocal |
| ·         Perfumed | ·         Ferocious | ·         Swaying |
| ·         Irate | ·         Corpulent | ·         Reproachful |
| ·         Ecstatic | ·         Cylindrical | ·         Regrettable |
| ·         Fermented | ·         Dead | ·         Telephonic |
| ·         Grizzled | ·         Showy | ·         Locked |
| ·         Own | ·         Impetuous | ·         Spare |
| ·         Brilliant | ·         Concealable | ·         Enterprising |
| ·         Fireproof | ·         Bouncing | ·         Residential |
| ·         Kind | ·         Orthopedic | ·         Severe |
| ·         Hairless | ·         Fabulous | ·         Presumptive |
| ·         Inspirational | ·         Low-risk | ·         Impermeable |
| ·         Premium | ·         Bent | ·         Bloodthirsty |
| ·         Fathomless | ·         Shattered | ·         Continuous |
| ·         Meek | ·         Rich | ·         Proof |
| ·         Carnivorous | ·         Plentiful | ·         Simultaneous |
| ·         Repentant | ·         Intangible | ·         Irascible |
| ·         Ghastly | ·         Pious | ·         Lasting |
| ·         Broken-hearted | ·         Sweaty | ·         Classifiable |
| ·         Highest | ·         Competent | ·         Tasteless |
| ·         Rambunctious | ·         Sloping | ·         Reserved |
| ·         Disciplined | ·         Far-flung | ·         Fruitless |
| ·         Self-confident | ·         Flooded | ·         Repressive |
| ·         Dishonorable | ·         Subordinate | ·         Pessimistic |
| ·         Negligent | ·         Efficacious | ·         Endurable |
| ·         Grave | ·         Hopeless | ·         Filtered |
| ·         Flaming | ·         Shortsighted | ·         Distressing |
| ·         Southern | ·         Pricey | ·         Myopic |
| ·         Pristine | ·         Humble | ·         List of Adjectives |
| ·         Far | ·         Overwhelmed | ·         Tempestuous |
| ·         Northerly | ·         Endemic | ·         Larger |
| ·         Fascistic | ·         Reverse | ·         Cornered |
| ·         Biodegradable | ·         Masked | ·         Incoherent |
| ·         Fifth | ·         Shrieking | ·         Gargantuan |
| ·         Spurious | ·         Insubordinate | ·         Discriminating |
| ·         Cynical | ·         Murky | ·         Durable |
| ·         Immediate | ·         Distant | ·         Rough |
| ·         Intrigued | ·         Double | ·         Icky |
| ·         Damaged | ·         Sea | ·         Overpowering |
| ·         Man-made | ·         Restless | ·         Noiseless |
| ·         Preferable | ·         Gnarly | ·         Opaque |
| ·         Optional | ·         Peppery | ·         Huge |
| ·         Clinical | ·         Revised | ·         Scholastic |
| ·         Mystifying | ·         Deploring | ·         Livid |
| ·         Slanting | ·         Mean | ·         Dishonest |
| ·         Swimming | ·         Smallest | ·         Preposterous |
| ·         Implosive | ·         Disproved | ·         Thundering |
| ·         Calm | ·         Critical | ·         Sprite |
| ·         Camouflaged | ·         Conspicuous | ·         Gauzy |
| ·         Insufferable | ·         Instinctual | ·         Exuberant |
| ·         Self-respect | ·         Satisfying | ·         Knobbed |
| ·         Infuriating | ·         Formative | ·         Mountainous |
| ·         Nonreturnable | ·         Brainy | ·         Mystical |
| ·         Feudal | ·         Accessible | ·         Retired |
| ·         Famous | ·         Pragmatic | ·         Intimidating |
| ·         Poised | ·         Opportune | ·         Corrupt |
| ·         Taboo | ·         Dwarfish | ·         Distrustful |
| ·         Statistical | ·         Tempting | ·         Photographic |
| ·         Spry | ·         Resolute | ·         Likely |
| ·         Reverent | ·         Classic | ·         Brave |
| ·         Gross | ·         Multitalented | ·         Technical |
| ·         Interested | ·         Tactical | ·         Overcast |
| ·         Bruised | ·         Mean-spirited | ·         Bleary-eyed |
| ·         Similar | ·         Lily-livered | ·         Bite-sized |
| ·         Succinct | ·         Fidgeting | ·         Petite |
| ·         Scornful | ·         Satisfied | ·         Deformed |
| ·         Frightening | ·         Smashing | ·         Avenging |
| ·         Terminal | ·         Motherly | ·         Dirty |
| ·         Dangerous | ·         Inextricable | ·         Enlightened |
| ·         Banging | ·         Foggy | ·         Dusty |
| ·         Economical | ·         Diffuse | ·         Decrepit |
| ·         Overcautious | ·         Clownish | ·         Close-minded |
| ·         Discreet | ·         Handy | ·         Cold |
| ·         Puritanical | ·         Arrogant | ·         Supreme |
| ·         Colossal | ·         Heroic | ·         Swollen |
| ·         Chemical | ·         Studious | ·         Ornate |
| ·         Swanky | ·         Good-natured | ·         Perceptible |
| ·         Nonspecific | ·         Plausible | ·         Felonious |
| ·         Equal | ·         Diabolical | ·         Roguish |
| ·         Fair | ·         Catatonic | ·         Disobedient |
| ·         Screeching | ·         Pronounceable | ·         Inexpressive |
| ·         Fallacious | ·         Craven | ·         Subtitled |
| ·         Nonproductive | ·         Downward | ·         Heinous |
| ·         Clumsy | ·         Considerate | ·         Prize |
| ·         Monstrous | ·         Ponderous | ·         Preeminent |
| ·         Red-blooded | ·         Blind | ·         Blistering |
| ·         Grueling | ·         Pretty | ·         Sensual |
| ·         Reusable | ·         Clogged | ·         Resentful |
| ·         Helpless | ·         Fertile | ·         Allowable |
| ·         Gruesome | ·         Presentable | ·         Dutiful |
| ·         Concurrent | ·         Irksome | ·         Intuitive |
| ·         Dynamic | ·         Clear | ·         Mocking |
| ·         Married | ·         Informed | ·         Remote |
| ·         Integral | ·         Deceiving | ·         Fictitious |
| ·         Shaky | ·         Disloyal | ·         Schematic |
| ·         Horrified | ·         Flowering | ·         Rancorous |
| ·         Enough | ·         Considerable | ·         Quirky |
| ·         Spasmodic | ·         Sickening | ·         Definable |
| ·         Recent | ·         Openhanded | ·         Mere |
| ·         Calming | ·         Cheery | ·         Immature |
| ·         Aimless | ·         Oversized | ·         Smoky |
| ·         New | ·         Diverging | ·         Fervid |
| ·         Meat-eating | ·         Flowery | ·         Captivating |
| ·         Background | ·         Retrogressive | ·         ble |
| ·         Bellowing | ·         Serious | ·         Carsick |
| ·         Surmountable | ·         Improper | ·         Discourteous |
| ·         Queasy | ·         Final | ·         Rank |
| ·         Princely | ·         Experimental | ·         Doubtful |
| ·         Improving | ·         Aromatic | ·         His |
| ·         Fidgety | ·         Ostentatious | ·         Colorless |
| ·         Nonchalant | ·         Reminiscent | ·         Acid |
| ·         Hypothetical | ·         Curious | ·         Qualitative |
| ·         Hypertensive | ·         Curvy | ·         Despicable |
| ·         Immense | ·         Anecdotal | ·         Pathological |
| ·         Intolerable | ·         Intolerant | ·         Impure |
| ·         Operatic | ·         Compassionate | ·         Encouraged |
| ·         Inadvisable | ·         Contemplative | ·         Aristocratic |
| ·         Infectious | ·         Medicinal | ·         Lawless |
| ·         Quarrelsome | ·         Clearheaded | ·         Feeling |
| ·         Crumply | ·         Doubting | ·         Responsible |
| ·         Equivalent | ·         Knobby | ·         Bright-eyed |
| ·         Stressful | ·         Postoperative | ·         Even |
| ·         Dear | ·         Instructive | ·         Arid |
| ·         Discussable | ·         Territorial | ·         Matted |
| ·         Conceited | ·         Glorious | ·         Cancerous |
| ·         Instrumental | ·         Benign | ·         Actionable |
| ·         Disadvantaged | ·         Thoughtful | ·         Prescriptive |
| ·         Gloomy | ·         Suspicious | ·         Superabundant |
| ·         Spellbinding | ·         Receptive | ·         Simple |
| ·         Endangered | ·         Intentional | ·         Cold-hearted |
| ·         Modified | ·         Regional | ·         That |
| ·         Institutional | ·         Rampageous | ·         Nondescript |
| ·         Openhearted | ·         Freaky | ·         Ridiculous |
| ·         Dovish | ·         Feminine | ·         Foul |
| ·         Tamed | ·         Combined | ·         Deliberate |
| ·         Humiliating | ·         Detachable | ·         Implicit |
| ·         Giggling | ·         Stubborn | ·         Frilly |
| ·         Imminent | ·         Sheltered | ·         Most |
| ·         Lovely | ·         Lower | ·         Guiltless |
| ·         Complete | ·         Disjointed | ·         Sunny |
| ·         Philanthropic | ·         Loathsome | ·         Purposeless |
| ·         Craggy | ·         Snarling | ·         Battered |
| ·         Expanding | ·         Maximum | ·         Decisive |
| ·         Oval | ·         Spatial | ·         Squandered |
| ·         Mnemonic | ·         Sweeping | ·         Snippy |
| ·         Actual | ·         Barren | ·         Enlarged |
| ·         Forbidding | ·         Plastic | ·         Their |
| ·         Tanned | ·         Contrite | ·         All |
| ·         Moved | ·         Imprecise | ·         Particular |
| ·         Greatest | ·         Hypersensitive | ·         Equidistant |
| ·         Regular | ·         All-around | ·         Fixed |
| ·         Pampered | ·         Accommodating | ·         Ten |
| ·         Extraneous | ·         Prevalent | ·         Inviting |
| ·         Punitive | ·         Grumpy | ·         Former |
| ·         Intensive | ·         Hard | ·         Phonetic |
| ·         Taunting | ·         Involved | ·         Prejudiced |
| ·         Bantering | ·         Praiseworthy | ·         Rainy |
| ·         Domineering | ·         Imprudent | ·         Forgotten |
| ·         Plodding | ·         Simpleminded | ·         Parasitic |
| ·         Coordinated | ·         Incalculable | ·         Placid |
| ·         Carefree | ·         Snappy | ·         Ear-splitting |
| ·         Overjoyed | ·         Inexplicable | ·         Tan |
| ·         Loyal | ·         Picturesque | ·         Eye-popping |
| ·         Infatuated | ·         Deliberative | ·         Strident |
| ·         Impoverished | ·         Fat | ·         Prominent |
| ·         Mystified | ·         Algebraic | ·         Flattering |
| ·         Feverish | ·         Literary | ·         Hasty |
| ·         Axiomatic | ·         Reddish | ·         Curable |
| ·         Delicious | ·         Disparaging | ·         Crossed |
| ·         Foul-smelling | ·         Ornamental | ·         Much |
| ·         Lawful | ·         Palatable | ·         Diligent |
| ·         Contrarian | ·         Self-interested | ·         Smarter |
| ·         Neurotic | ·         Moist | ·         Established |
| ·         Eatable | ·         Recognizable | ·         Inartistic |
| ·         Humming | ·         Playful | ·         Beaming |
| ·         Pushy | ·         Systematic | ·         Just |
| ·         Problematic | ·         Dissatisfied | ·         Longest |
| ·         Flushed | ·         Searing | ·         Greasy |
| ·         Human | ·         Small-minded | ·         Lustrous |
| ·         Extensive | ·         Explainable | ·         Hot-shot |
| ·         Essential | ·         Snide | ·         Ineloquent |
| ·         Scattered | ·         Cohesive | ·         Blissful |
| ·         Morose | ·         Creaky | ·         Lucrative |
| ·         Frivolous | ·         Frightened | ·         Outspoken |
| ·         Editable | ·         Heady | ·         Indivisible |
| ·         Illusive | ·         Cultured | ·         Lucid |
| ·         Menacing | ·         Episodic | ·         Logical |
| ·         Perishable | ·         Scrawny | ·         Sinful |
| ·         Punctual | ·         Exemplary | ·         Clandestine |
| ·         Local | ·         Due | ·         Lovable |
| ·         Faithful | ·         Antagonistic | ·         Quacky |
| ·         Discernable | ·         Lowly | ·         Able |
| ·         Outward | ·         Rotten | ·         Pure |
| ·         Fateful | ·         Catchable | ·         Fully-grown |
| ·         Powerful | ·         Colorful | ·         Barking |
| ·         Medical | ·         Strategic | ·         Criminal |
| ·         Pedantic | ·         Comparative | ·         Relevant |
| ·         Halfhearted | ·         Ear-piercing | ·         Inalterable |
| ·         Rhythmic | ·         Constitutional | ·         Encrusted |
| ·         Frosty | ·         Erratic | ·         Semiofficial |
| ·         Harmonious | ·         Invalid | ·         Soaring |
| ·         Harsh | ·         Thumping | ·         Sappy |
| ·         Taxing | ·         Biting | ·         Insulting |
| ·         Low-fat | ·         Feckless | ·         Insurable |
| ·         Routine | ·         Thematic | ·         Posthumous |
| ·         Linear | ·         Many, | ·         Marked |
| ·         Deadpan | ·         Enraged | ·         Agonizing |
| ·         Crunching | ·         Secular | ·         Earthy |
| ·         Only | ·         Inelegant | ·         Avid |
| ·         Absentminded | ·         Irrefutable | ·         Inspiring |
| ·         Secured | ·         Nonnegotiable | ·         Impeccable |
| ·         Baffled | ·         Controlling | ·         Implausible |
| ·         Tedious | ·         Malicious | ·         Derogatory |
| ·         Disadvantageous | ·         List No 3 of Adjectives | ·         Bawling |
| ·         Effortless | ·         Female | ·         Fluent |
| ·         Pathetic | ·         Discriminatory | ·         Fond |
| ·         Huggable | ·         Chicken | ·         Digital |
| ·         Overambitious | ·         Smoked | ·         Horrible |
| ·         Breathable | ·         Inactive | ·         Acrimonious |
| ·         Potable | ·         Cocky | ·         Motivating |
| ·         Animated | ·         Squeamish | ·         Sandy |
| ·         Mercurial | ·         Smartest | ·         Breathtaking |
| ·         Deep | ·         Single | ·         Inflammable |
| ·         Dislikeable | ·         Guilty | ·         Coughing |
| ·         Shameful | ·         Ritualistic | ·         Everlasting |
| ·         Harried | ·         Posthoc | ·         Profane |
| ·         Shaded | ·         Rotating | ·         Fetid |
| ·         Shabby | ·         Incapable | ·         Satisfactory |
| ·         Demure | ·         Bedazzling | ·         Pardonable |
| ·         Supernatural | ·         Committed | ·         High-maintenance |
| ·         Forthright | ·         Hushed | ·         Newest |
| ·         Thrilling | ·         Disastrous | ·         Refillable |
| ·         Great | ·         Depressed | ·         Scrabbled |
| ·         Prior | ·         Derivative | ·         Proficient |
| ·         Reliable | ·         Nontransferable | ·         Amphibian |
| ·         Disputatious | ·         Bumpy | ·         Overconfident |
| ·         Heartless | ·         Seemly | ·         Equable |
| ·         Lacy | ·         Bizarre | ·         Divisive |
| ·         Orange | ·         Peremptory | ·         Overbearing |
| ·         Those | ·         Dark | ·         Soft |
| ·         Convulsive | ·         Restored | ·         Textural |
| ·         Direct | ·         Dim | ·         Humiliated |
| ·         Awakening | ·         Exterior | ·         Assumable |
| ·         Stringent | ·         Fearsome | ·         Frugal |
| ·         Luscious | ·         Lumpy | ·         Quick-witted |
| ·         Damaging | ·         Foxy | ·         Enhanced |
| ·         Monumental | ·         Perceptual | ·         Muttering |
| ·         Perverse | ·         Strange | ·         Decorative |
| ·         Introspective | ·         Contradicting | ·         Professional |
| ·         Classy | ·         Eroding | ·         Degenerative |
| ·         Slanted | ·         Groggy | ·         Dispassionate |
| ·         Prickly | ·         Ticking | ·         Efficient |
| ·         Preparative | ·         Period | ·         Bad-tempered |
| ·         Brassy | ·         Porous | ·         Lucent |
| ·         Dapper | ·         Existing | ·         Low-ranking |
| ·         Floral | ·         Fast | ·         Ragged |
| ·         Short-term | ·         Fit | ·         Tacky |
| ·         Crass | ·         Stuttering | ·         Sporting |
| ·         Selfish | ·         Piercing | ·         Repetitious |
| ·         Snuggly | ·         Failed | ·         Shapeless |
| ·         Childish | ·         erous | ·         Self-indulgent |
| ·         Dedicated | ·         Satirical | ·         Oily |
| ·         Head | ·         Demented | ·         Bronzed |
| ·         Infinitesimal | ·         Bedazzled | ·         Premature |
| ·         Spectacular | ·         Iridescent | ·         Radiant |
| ·         One | ·         Stylish | ·         Assignable |
| ·         Nerve-racking | ·         Sentimental | ·         Plane |
| ·         Multicultural | ·         Crunchable | ·         Noxious |
| ·         Mortal | ·         Correctable | ·         Susceptible |
| ·         Customary | ·         Moaning | ·         Sporadic |
| ·         Codified | ·         Petty | ·         Remaining |
| ·         Specific | ·         Energizing | ·         Concealed |
| ·         Capricious | ·         Testy | ·         Glowing |
| ·         Defensible | ·         Encouraging | ·         Spiteful |
| ·         Subconscious | ·         Declining | ·         Slimy |
| ·         Novel | ·         Corruptive | ·         Laborious |
| ·         Recyclable | ·         Immanent | ·         Farsighted |
| ·         Fiscal | ·         Concise | ·         Poisonous |
| ·         Nonrestrictive | ·         Perpetual | ·         Statuesque |
| ·         Climatic | ·         Defective | ·         Following |
| ·         Bungling | ·         Savory | ·         Inaccurate |
| ·         Incessant | ·         Poor | ·         Humongous |
| ·         Hypercritical | ·         Jumpy | ·         Five |
| ·         Subtle | ·         Thievish | ·         Languishing |
| ·         Morbid | ·         Fading | ·         Aquatic |
| ·         Copious | ·         Stuffed | ·         Ineffective |
| ·         Patronizing | ·         Select | ·         Effervescent |
| ·         Squatting | ·         Shallow | ·         Royal |
| ·         Popular | ·         Insurmountable | ·         Palpable |
| ·         Cloudless | ·         Lost | ·         Impish |
| ·         Erect | ·         Pallid | ·         Sanitary |
| ·         Detailed | ·         Cleared | ·         Melodious |
| ·         Pusillanimous | ·         Imitative | ·         Iron |
| ·         Illicit | ·         Sorry | ·         Furthest |
| ·         Stranded | ·         Half | ·         Plain |
| ·         Avoidable | ·         Scribbled | ·         Suspected |
| ·         Lavish | ·         Different | ·         Errant |
| ·         Lousy | ·         Forceful | ·         Syllabic |
| ·         Boyish | ·         Sickened | ·         Downloadable |
| ·         Feared | ·         Crestfallen | ·         Private |
| ·         Interracial | ·         Financial | ·         Side-splitting |
| ·         Arguable | ·         Eager | ·         Continual |
| ·         Take-charge | ·         Nominal | ·         Pivotal |
| ·         Tapered | ·         ward | ·         Paternalistic |
| ·         Eventful | ·         Powdery | ·         Global |
| ·         Degraded | ·         Threatened | ·         Apprehensive |
| ·         Disparate | ·         Pleasing | ·         Long |
| ·         Estranged | ·         Slim | ·         Meaty |
| ·         Consummate | ·         Darkened | ·         Dismal |
| ·         Geriatric | ·         Flickering | ·         Idealistic |
| ·         Best | ·         Mellow | ·         Egalitarian |
| ·         Fabled | ·         Snug | ·         Excited |
| ·         Scared | ·         Ripe | ·         Remedial |
| ·         Descriptive | ·         Gasping | ·         Controversial |
| ·         Absorbing | ·         Taller | ·         Giddy |
| ·         Dazzling | ·         Dowdy | ·         Overrated |
| ·         One-hour | ·         Musty | ·         Bland |
| ·         Social | ·         Climbable | ·         Gainful |
| ·         Snooty | ·         Moldy | ·         Ticklish |
| ·         Expired | ·         Eternal | ·         Numbing |
| ·         Dominant | ·         Disliked | ·         Telekinetic |
| ·         Hazy | ·         Ill-humored | ·         Relaxing |
| ·         Corrosive | ·         Snoopy | ·         Factitious |
| ·         Overpriced | ·         Motionless | ·         Giving |
| ·         Putrid | ·         Hurtful | ·         Terrific |
| ·         No | ·         Presidential | ·         Divergent |
| ·         Perennial | ·         Astonished | ·         Soulless |
| ·         Horrific | ·         Extraordinary | ·         Barbequed |
| ·         Eighth | ·         Imperceptible | ·         Either |
| ·         Inexact | ·         Aspiring | ·         High-risk |
| ·         Disreputable | ·         Rewarding | ·         Feathered |
| ·         Impassable | ·         Outside | ·         Outlandish |
| ·         Preconceived | ·         Tangled | ·         Eventual |
| ·         Marketable | ·         Coachable | ·         Defendable |
| ·         Noisy | ·         Proactive | ·         Groomed |
| ·         Tenderhearted | ·         Danceable | ·         Chic |
| ·         Slight | ·         Extravagant | ·         Relatable |
| ·         Distressed | ·         Shocked | ·         Clamoring |
| ·         Garbled | ·         Cleanable | ·         Scorching |
| ·         Tentative | ·         Evening | ·         Civilized |
| ·         External | ·         Disorganized | ·         Three |
| ·         Diminishing | ·         Glad | ·         Representative |
| ·         Telling | ·         Frumpy | ·         Frightful |
| ·         Dogged | ·         Open-minded | ·         Blonde |
| ·         Improved | ·         Lithographic | ·         Silky |
| ·         Iconoclastic | ·         Immaculate | ·         Fascinated |
| ·         Overprotective | ·         Promised | ·         Avant-garde |
| ·         Old | ·         Multifaceted | ·         Short |
| ·         Flamboyant | ·         Frustrating | ·         Erroneous |
| ·         Rousing | ·         Seditious | ·         g |
| ·         Searching | ·         Subservient | ·         Extendable |
| ·         Ceremonial | ·         Sour | ·         Seven |
| ·         Kitchen | ·         Quality | ·         Enormous |
| ·         Manipulative | ·         Striped | ·         Gaunt |
| ·         Primordial | ·         Perplexing | ·         Swooping |
| ·         Hectic | ·         Diversified | ·         Abysmal |
| ·         Regal | ·         Amusing | ·         Highfalutin |
| ·         Northwest | ·         Painful | ·         Malevolent |
| ·         Teeny | ·         Demanding | ·         Entranced |
| ·         Synergistic | ·         Moody | ·         Sly |
| ·         Qualified | ·         Foolhardy | ·         Fraudulent |
| ·         Synonymous | ·         Perceivable | ·         Commemorative |
| ·         These | ·         Centered | ·         Strong |
| ·         Dysfunctional | ·         Gullible | ·         Satin |
| ·         Polluted | ·         Modular | ·         Hideous |
| ·         Exciting | ·         Prim | ·         Shameless |
| ·         Flavored | ·         Escalating | ·         Hygienic |
| ·         Risky | ·         Plopping | ·         Heartbreaking |
| ·         Disarming | ·         Beeping | ·         Gluey |
| ·         Ludicrous | ·         Futile | ·         Paradoxical |
| ·         Lulling | ·         Spotless | ·         Delighted |
| ·         Disappointing | ·         Dozing | ·         Cultural |
| ·         Grand | ·         Expedient | ·         Inexpensive |
| ·         Brainless | ·         Numerous | ·         Linguistic |
| ·         Threatening | ·         Industrious | ·         Disenchanted |
| ·         Sulky | ·         Angular | ·         Ravenous |
| ·         Preventable | ·         Lithe | ·         Tallest |
| ·         Pernicious | ·         Bothered | ·         Fainthearted |
| ·         Grimy | ·         Opinionated | ·         Rowdy |
| ·         Bribable | ·         Applicable | ·         Certifiable |
| ·         Gracious | ·         Tangible | ·         Penetrable |
| ·         Symmetrical | ·         Surprising | ·         Speckled |
| ·         Bleak | ·         Disproportionate | ·         Suppressive |
| ·         Smiling | ·         Shapely | ·         Rapid |
| ·         Approaching | ·         Functional | ·         Diminutive |
| ·         Laudable | ·         Stumbling | ·         Enthusiastic |
| ·         Free | ·         Supersensitive | ·         Overcritical |
| ·         Disgusting | ·         Maniacal | ·         Telegraphic |
| ·         Smarmy | ·         Absolute | ·         Gluttonous |
| ·         Startling | ·         Subjective | ·         Expressionistic |
| ·         Hyperbolic | ·         Eruptive | ·         Small-town |
| ·         Relentless | ·         Formidable | ·         Square |
| ·         Galling | ·         Spooky | ·         Corrupting |
| ·         Absurd | ·         Sensitive | ·         Overwhelming |
| ·         Abiding | ·         Ruined | ·         Puzzled |
| ·         Numb | ·         Each | ·         Grieving |
| ·         Comparable | ·         Succulent | ·         Hydrothermal |
| ·         Ill-equipped | ·         Immoral | ·         Rudimentary |
| ·         Imported | ·         Entire | ·         Neutral |
| ·         Civilian | ·         Naive | ·         Bubbly |
| ·         Glossy | ·         Permissible | ·         Raging |
| ·         Cruel | ·         Speculative | ·         Gawky |
| ·         Deceitful | ·         Principal | ·         Fatherly |
| ·         Exclusive | ·         Loutish | ·         Crucial |
| ·         Panoramic | ·         Superstitious | ·         shift |
| ·         Commendable | ·         Braided | ·         Our |
| ·         Abnormal | ·         Contemptuous | ·         Blameless |
| ·         Disgraceful | ·         Superficial | ·         Noticeable |
| ·         Peculiar | ·         Fragrant | ·         Decayed |
| ·         Litigious | ·         Republican | ·         Key |
| ·         Discarded | ·         Priceless | ·         Batty |
| ·         Hypnotic | ·         Barbaric | ·         Romantic |
| ·         Philosophical | ·         Flagrant | ·         Gregarious |
| ·         Tantalizing | ·         Cute | ·         Excusable |
| ·         Mythical | ·         Organizational | ·         Rhetorical |
| ·         Her | ·         My | ·         Sanctimonious |
| ·         Previous | ·         Ratty | ·         Possible |
| ·         Low-maintenance | ·         Angry | ·         Frigid |
| ·         Thinkable | ·         Tangential | ·         Righteous |
| ·         Disturbed | ·         Smeared | ·         Mundane |
| ·         Preventative | ·         Inapplicable | ·         Symptomatic |
| ·         Brisk | ·         Rapturous | ·         Juvenile |
| ·         Pink | ·         Numerable | ·         Rightful |
| ·         Mysterious | ·         Commercial | ·         Rapid-fire |
| ·         Thoughtless | ·         Spoken | ·         Replaceable |
| ·         Peaceable | ·         Grimacing | ·         Dubious |
| ·         Spirited | ·         Complex | ·         Probabilistic |
| ·         Listless | ·         Resolvable | ·         Desolate |
| ·         Rectifiable | ·         Choking | ·         Fragmented |
| ·         Refundable | ·         Reproductive | ·         Ruddy |
| ·         Alienated | ·         Monotonous | ·         Parsimonious |
| ·         Superior | ·         Rakish | ·         Spiritual |
| ·         Sharp | ·         Immovable | ·         Huffy |
| ·         Sellable | ·         Hurried | ·         Lateral |
| ·         Fawning | ·         Exhausting | ·         Hurt |
| ·         Imposing | ·         Marbled | ·         Patient |
| ·         Filthy | ·         Active | ·         Aching |
| ·         Harebrained | ·         Living | ·         Funniest |
| ·         Proper | ·         Lying | ·         Self-effacing |
| ·         Favorite | ·         Coy | ·         Precipitous |
| ·         Scheduled | ·         Deluded | ·         Stronger |
| ·         Delinquent | ·         Chilly | ·         Bleached |
| ·         Permanent | ·         Digressive | ·         Contoured |
| ·         Questionable | ·         Mordant | ·         Responsive |
| ·         Neurological | ·         Conspiratorial | ·         Grinding |
| ·         All-too-common | ·         Horrendous | ·         Parenthetic |
| ·         Stuffy | ·         Swift | ·         Ensuing |
| ·         Inglorious | ·         Material | ·         Ill-fated |
| ·         Restful | ·         Tasty | ·         Primary |
| ·         Satiric | ·         Prized | ·         Hot |
| ·         Fragile | ·         Individualistic | ·         Pedestrian |
| ·         Banned | ·         Tall | ·         Supportive |
| ·         Hazardous | ·         Sparkly | ·         Bronze |
| ·         Round | ·         Omniscient | ·         Parched |
| ·         Fashionable | ·         Arresting | ·         Aware |
| ·         All-purpose | ·         Shut | ·         Numeric |
| ·         Inefficient | ·         Decent | ·         Rude |
| ·         Hesitant | ·         Evil | ·         Accused |
| ·         Tame | ·         Preemptive | ·         Opposing |
| ·         Flexible | ·         Spontaneous | ·         Pronounced |
| ·         Familiar | ·         Inflammatory | ·         Hairy |
| ·         Complimentary | ·         Sophisticated | ·         Luxurious |
| ·         Phobic | ·         Sassy | ·         Momentous |
| ·         Fantastic | ·         Thrashed | ·         Common |
| ·         Disillusioned | ·         Quick | ·         Chivalrous |
| ·         Breakable | ·         Cramped | ·         Creative |
| ·         Primitive | ·         Gigantic | ·         Pitch-perfect |
| ·         Fruitful | ·         Quintessential | ·         Filmy |
| ·         Fatigued | ·         Comforted | ·         Communicative |
| ·         Every | ·         Abandoned | ·         Rare |
| ·         Awkward | ·         Closed | ·         Profound |
| ·         Feathery | ·         Contextual | ·         Northeast |
| ·         Bitter | ·         Lurid | ·         Flat |
| ·         Relieved | ·         Pitch-dark | ·         Infantile |
| ·         Brown | ·         Coercive | ·         Quotable |
| ·         Bright | ·         Extra-small | ·         Gratified |
| ·         Defenseless | ·         Stunned | ·         Day |
| ·         Fathomable | ·         Smoggy | ·         Multipurpose |
| ·         Heavy | ·         Evenhanded | ·         Mumbled |
| ·         Flavorful | ·         Shoddy | ·         Classified |
| ·         Daily | ·         Constant | ·         Subject |
| ·         Documentary | ·         Beefy | ·         Repaired |
| ·         Fanatical | ·         Orphaned | ·         Syntactic |
| ·         Frequent | ·         Hearty | ·         Sculpted |
| ·         Cumulative | ·         Nondestructive | ·         Grumbling |
| ·         Curved | ·         International | ·         Dorsal |
| ·         Egotistical | ·         Accountable | ·         Sensuous |
| ·         Scrupulous | ·         Spiraled | ·         Talented |
| ·         Logistic | ·         Musky | ·         Certain |
| ·         Forged | ·         Dogmatic | ·         Sarcastic |
| ·         Black-and-blue | ·         Swishing | ·         Flimsy |
| ·         Gurgling | ·         Teasing | ·         Deplorable |
| ·         Revengeful | ·         Inhabitable | ·         Residual |
| ·         Respective | ·         Accurate | ·         Poorer |
| ·         Semiprofessional | ·         Rational | ·         Exploited |
| ·         Cliquish | ·         Happy | ·         Cracked |
| ·         Polished | ·         Angelic | ·         Dwindling |
| ·         Static | ·         Flabby | ·         Impersonal |
| ·         Indulgent | ·         Monopolistic | ·         Flaky |
| ·         Clueless | ·         Smothering | ·         Refurbished |
| ·         Cordial | ·         Scanty | ·         Subsequent |
| ·         Freakish | ·         Gold | ·         Matchless |
| ·         Monosyllabic | ·         Beneficial | ·         Abject |
| ·         Invincible | ·         Current | ·         Harmful |
| ·         Decipherable | ·         Terrified | ·         Fuzzy |
| ·         Circular | ·         Speechless | ·         Pitiful |
| ·         Expressive | ·         Bristly | ·         Seismic |
| ·         Illogical | ·         Scandalous | ·         Extended |
| ·         Thermal | ·         Nosy | ·         Slender |
| ·         Muddled | ·         Normal | ·         Last |
| ·         Informal | ·         Comprehensive | ·         Presumptuous |
| ·         Formal | ·         Sequential | ·         Painless |
| ·         Slow-moving | ·         Cerebral | ·         Fractional |
| ·         Quantifiable | ·         Immobile | ·         Operable |
| ·         Snoring | ·         Speedy | ·         Alleged |
| ·         Scratched | ·         Overactive | ·         Operational |
| ·         Mature | ·         Dilapidated | ·         Fluttering |
| ·         Gifted | ·         Divine | ·         Quaint |
| ·         Hypnotizable | ·         Caring | ·         Contemporary |
| ·         Favorable | ·         Corner | ·         Gaping |
| ·         Close | ·         Identical | ·         Repetitive |
| ·         Imperceptive | ·         Discouraging | ·         Forensic |
| ·         Factual | ·         Outgoing | ·         Engaging |
| ·         Alone | ·         Short-lived | ·         Sober |
| ·         List no 6 | ·         Hotheaded | ·         Blood-red |
| ·         Lanky | ·         Circumstantial | ·         Defensive |
| ·         Consumable | ·         Rancid | ·         Cinematic |
| ·         Egomaniacal | ·         Acrid | ·         Queenly |
| ·         Dingy | ·         Pettish | ·         Sweltering |
| ·         Dollish | ·         Future | ·         Swinish |
| ·         Teachable | ·         Plaid | ·         Exploding |
| ·         Prejudicial | ·         Productive | ·         Babbling |
| ·         Hanging | ·         Ravishing | ·         Crawling |
| ·         Clapping | ·         Selfless | ·         Faltering |
| ·         Dissuasive | ·         Scruffy | ·         Convoluted |
| ·         Fleeting | ·         Barefooted | ·         Destructive |
| ·         Autographed | ·         Good | ·         Seeming |
| ·         Airline | ·         Merciless | ·         Hostile |
| ·         Crackling | ·         Sugary | ·         Dejected |
| ·         Reviled | ·         Artistic | ·         Screaming |
| ·         Ecological | ·         Lackadaisical | ·         Old-fashioned |
| ·         Premeditated | ·         Shifty | ·         Enthralled |
| ·         Promising | ·         Crazy | ·         Bouncy |
| ·         Doable | ·         Disconnected | ·         Languid |
| ·         Haunting | ·         Melted | ·         Stunning |
| ·         Nocturnal | ·         Brunette | ·         Modest |
| ·         Muffled | ·         Squashy | ·         Tattered |
| ·         Sensible | ·         Engrossing | ·         Costly |
| ·         Cutting | ·         Targeted | ·         Squawking |
| ·         Lingering | ·         Explicit | ·         Prophetic |
| ·         Syllogistic | ·         Faithless | ·         Inauspicious |
| ·         Inclusive | ·         Peevish | ·         Moral |
| ·         Consoling | ·         Striking | ·         Expectant |
| ·         Decentralized | ·         Discouraged | ·         Tangy |
| ·         Creepy | ·         Little | ·         Cavernous |
| ·         Knowledgeable | ·         Intestinal | ·         Acclaimed |
| ·         Resealable | ·         Seasonable | ·         Fraternal |
| ·         Recurrent | ·         Hopeful | ·         Tenth |
| ·         Gangly | ·         Coolest | ·         Spacious |
| ·         Extemporaneous | ·         Motivational | ·         Crafty |
| ·         Discontented | ·         Diplomatic | ·         Physical |
| ·         Musical | ·         Faulty | ·         Quiet |
| ·         Tearing | ·         Dashing | ·         Choice |
| ·         Foreseeable | ·         Mechanical | ·         Sluggish |
| ·         Intravenous | ·         Loving | ·         Concerted |
| ·         Accepting | ·         Animal | ·         Painstaking |
| ·         Ordinary | ·         Oversensitive | ·         Largest |
| ·         Seventh | ·         Radical | ·         Complaining |
| ·         Luminous | ·         Completed | ·         Contemptible |
| ·         Long-term | ·         Spendthrift | ·         Sealed |
| ·         Exhaustive | ·         Gaudy | ·         Breezy |
| ·         Shady | ·         Humid | ·         Inanimate |
| ·         Alien | ·         Sleepless | ·         Peripheral |
| ·         Precise | ·         Exquisite | ·         Reputed |
| ·         Significant | ·         Inexpressible | ·         Incandescent |
| ·         Noncommittal | ·         Senior | ·         Golden |
| ·         Daffy | ·         Random | ·         Healthy |
| ·         Contagious | ·         Haggard | ·         Impractical |
| ·         Inexcusable | ·         Pungent | ·         Gray |
| ·         Studied | ·         Literate | ·         Peerless |
| ·         Harmonic | ·         Soaking | ·         Street |
| ·         Finicky | ·         Mandatory | ·         Firm |
| ·         Guilt-ridden | ·         Thrilled | ·         Nine |
| ·         Contentious | ·         Deceptive | ·         Enduring |
| ·         Dulcet | ·         Perky | ·         Consistent |
| ·         Combative | ·         Carpeted | ·         Quackish |
| ·         Lordly | ·         Sincere | ·         Mountain |
| ·         Maternal | ·         Halting | ·         Festive |
| ·         Selected | ·         Immortal | ·         Harmless |
| ·         Gradual | ·         Thorny | ·         Containable |
| ·         Quick-paced | ·         Thick | ·         Spicy |
| ·         Purposeful | ·         Profuse | ·         House |
| ·         Depraved | ·         Correct | ·         Rasping |
| ·         Hospitable | ·         Expiring | ·         Decimated |
| ·         Ringing | ·         Grotesque | ·         Silver |
| ·         More | ·         Blamable | ·         Measurable |
| ·         Deadly | ·         Suggestive | ·         Crumbling |
| ·         Nonabrasive | ·         General | ·         Interchangeable |
| ·         Frowning | ·         Enviable | ·         Parallel |
| ·         Ethereal | ·         Meaningful | ·         Low-carb |
| ·         Shivery | ·         Pressing | ·         Stretchy |
| ·         Doting | ·         Sheepish | ·         Therapeutic |
| ·         Snobbish | ·         Neither | ·         Prompt |
| ·         Domed | ·         Inert | ·         Smelly |
| ·         Subliminal | ·         Laughable | ·         Recognized |
| ·         Idiotic | ·         Dawdling | ·         Receding |
| ·         Hapless | ·         Pensive | ·         Positive |
| ·         Destroyed | ·         Eight | ·         Autonomous |
| ·         Corrective | ·         Corresponding | ·         Kindhearted |
| ·         Rugged | ·         Roaring | ·         Brutish |
| ·         Ghostly | ·         Distraught | ·         Foreboding |
| ·         Cumbersome | ·         Displeased | ·         Fun |
| ·         Mute | ·         Scalding | ·         Robust |
| ·         Limited | ·         Replicable | ·         Inflated |
| ·         Decreasing | ·         Disagreeable | ·         Rested |
| ·         Awesome | ·         Tainted | ·         Pregnant |
| ·         Clashing | ·         Meaningless | ·         Optimistic |
| ·         Poorest | ·         Opposable | ·         Egocentric |
| ·         Splattered | ·         Grinning | ·         Querulous |
| ·         Like-minded | ·         Oldest | ·         Seedy |
| ·         Glistening | ·         Tenable | ·         Hyper-active |
| ·         Scratchy | ·         Roundtable | ·         Partisan |
| ·         Okay | ·         Onerous | ·         Impertinent |
| ·         Grainy | ·         Accusative | ·         Purported |
| ·         Illuminating | ·         Polka-dotted | ·         Simian |
| ·         Kaput | ·         Catastrophic | ·         Honorable |
| ·         Overqualified | ·         Nonresponsive | ·         Oppressive |
| ·         Fretful | ·         Laughing | ·         Rectangular |
| ·         Puzzling | ·         Reclusive | ·         Grown-up |
| ·         Dire | ·         Popping | ·         d |
| ·         Abrupt | ·         Revealing | ·         Downhearted |
| ·         Fervent | ·         Nonviolent | ·         South |
| ·         Closeable | ·         Malignant | ·         Perilous |
| ·         Bulky | ·         Farcical | ·         Average |
| ·         Soothing | ·         Precocious | ·         Focused |
| ·         Specialized | ·         Superhuman | ·         Melodic |
| ·         Entertained | ·         Dull | ·         Federal |
| ·         Basic | ·         Pyrotechnic | ·         Debonair |
| ·         Courageous | ·         Argumentative | ·         Grandiose |
| ·         Negligible | ·         Fastidious | ·         Substantial |
| ·         Cockamamie | ·         Bleary | ·         Crashing |
| ·         Imperial | ·         Furtive | ·         Creamy |
| ·         Invasive | ·         Noncompetitive | ·         Tetchy |
| ·         Careful | ·         Likable | ·         Rueful |
| ·         Pigheaded | ·         Puny | ·         Shrewd |
| ·         Famished | ·         Preferential | ·         Shadowy |
| ·         Bright-red | ·         Bankable | ·         Overall |
| ·         Sardonic | ·         Stubby | ·         Spiky |
| ·         Abdominal | ·         Captive | ·         Piteous |
| ·         Literal | ·         Pretentious | ·         Inaccessible |
| ·         Artificial | ·         Forgetful | ·         Iron-fisted |
| ·         Facetious | ·         Opportunistic | ·         Shabbiest |
| ·         Spattered | ·         Creeping | · |
You can Download Words List of adjectives PDF