Noun that start with J. There are many common nouns that start with the letter J. Some of these include: jail, job, joker, judge, and jump.
Nouns that start with J can be tricky to spell. For example, the word "jewelry" is often misspelled as "juelry." Other words that start with J and are commonly misspelled include: junior, journeying, and justify.
If you're looking for a challenge, try to come up with a sentence using only nouns that start with J. Here's one to get you started: The Judge delivered a jail sentence to the jewel thief.
Jailer
Juror
Jar
Jumper
Joblot
Jubilation
Jib
Jumpstart
Junkie
Jamaica
Jazzmen
Read more: Nouns That Start with K
Juggernaut
Journalism
Jacob
Jig
Joseph
Jelly
Jacchus
Jewelry
Jolly
Joust
Jabot
Joyousness
Judgement
Jogger
Jackwood
Jape
Joiner
Jilt
Jay
Jute
Jin
Jammer
Jingoism
Juniper
Jill
Jug
Juggler
Jacinth
Jibber
Jacobin
Joy
Justiciary
Jamboree
Judiciary
Jog
Justification
Jobber
Jumpsuit
Jellyfish
Jacconet
Justice
Junker
Judgeship
Jockey
Jabberwock
Jerkiness
Jolt
Jurisdiction
Jingal
Jail
Jackeen
Jackstay
Jackdaw
Jacobinism
Joyfulness
Journalese
Jounce
Journeyman
Jazzmen
Jailor
Judge
Jaw
John
Jink
Jacket
Jag
Juncture
Jeweler
Jungle
Jackslave
Jaunt
Jaborine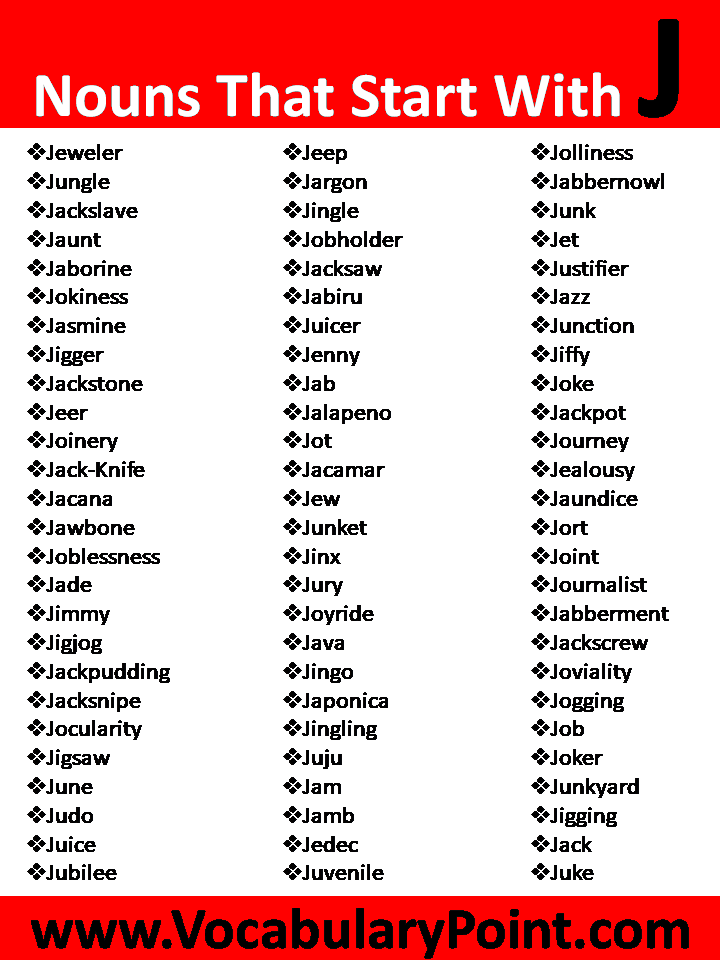 Jokiness
Jasmine
Jigger
Jackstone
Nouns That Starting With J
Jeer
Joinery
Jack-Knife
Jacana
Jawbone
Joblessness
Jade
Jimmy
Jigjog
Jackpudding
Jacksnipe
Jocularity
Jigsaw
June
Judo
Juice
Jubilee
Jeep
Jargon
Jingle
Jobholder
Jacksaw
Jabiru
Juicer
Jenny
Jab
Jalapeno
Jot
Jacamar
Jew
Junket
Jinx
Jury
Joyride
Java
Jingo
Japonica
Jingling
Juju
Jam
Jamb
Jedec
Juvenile
Jolliness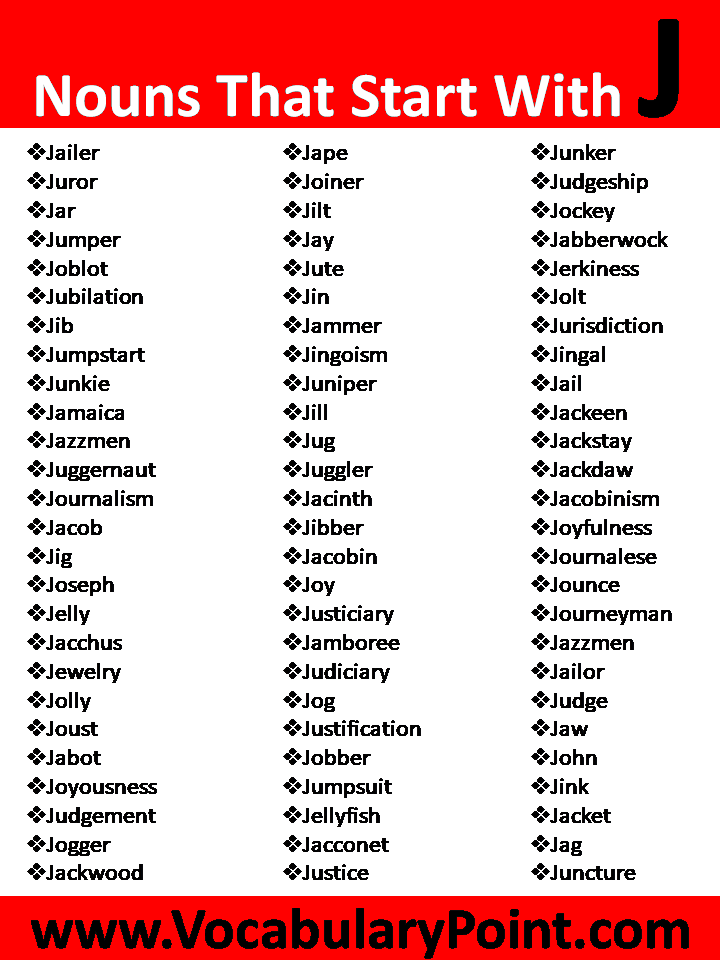 Jabbernowl
Junk
Jet
Justifier
Jazz
Junction
Jiffy
Joke
Jackpot
Journey
Jealousy
Jaundice
Jort
Joint
Journalist
Jabberment
Jackscrew
Joviality
Jogging
Job
Joker
Junkyard
Jigging
Jack
Juke
Jacksmith
Jacobine
Jingler
Jumbo
Jive
Jewel
Joe
Judgment
Junta
Jasper
Jinnee
Jacare
Jump
Joyrider
Jitterbug
Jurisprudence
Japan
Jacquard
Judicature
Jackass
Jerk
Junior
Jukebox
Jackman
Jane
Jacketing
Jujube
Juxtaposition
Jimcrack
Julep
Jalopy
Jordan
Jaywalker
Jackanapes
Joystick
Jackson
Jackstraw
Jinn
Jacaranda
Josh
Journal
Jumble
Joanna
Jester
Jetsetter
Join
Jaggery
Jitter
Janitor
Jurist
Jowl
Nouns That Begin With J
Jaborandi
Jest
Jejunum
Jim-Dandy
Jackal
Jabber
Jeans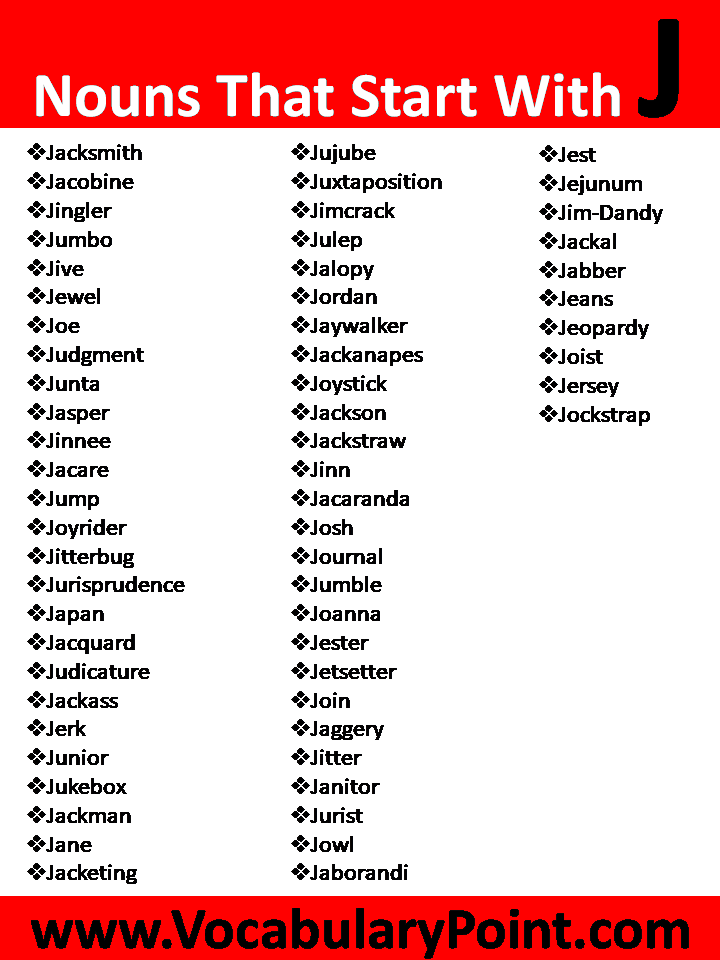 Jeopardy
Joist
Jersey
Jockstrap