Nouns that start with L. There are many common nouns that start with the letter l. Some of these include: love, life, light, and luck.Nouns that start with the letter l can be some of the most important words in our lives. They can represent the things we care about most and the things we hope for.
For example, the word love is often used to describe deep affection or strong passion. It can also be used more broadly to describe any intense feeling or simply a preference.
The word life represents everything that makes up our existence including our thoughts, feelings, and experiences.
It is the sum of who we are and everything we do. Light is both a physical thing that allows us to see and a metaphor for knowledge or understanding. Luck is often thought of as a chance happening beyond our control but it can also be seen as taking advantage of opportunities as they come.
Lavender
Laminate
Lug
Luminescence
Lobster
Linkage
Lieu
Legislator
Linen
Letter
Read more: Nouns That Start with M
Louse
Lettermen
Launch
Lyricist
Llama
Lefthander
Libertine
Lifetime
Loader
Leprosy
Linoleum
Lovie
Ladle
Lead
Lit
Legator
Leafhopper
Liability
Lasso
Lacquer
Love
Lighter
Lulu
Lawsuit
Legato
Laymen
Literati
Lobby
Lubrication
Levitation
Longrun
Lament
Libertie
Livestock
Layer
Lanthanum
Lint
Labor
Leanness
Library
Liquor
Lake
Loop
Lad
Leaguer
Line
Leftfield
Languor
Longtime
Lesson
Lapidary
Leisure
Luxuriance
Loincloth
Landslide
Locale
Leafet
Logic
Lobo
Lineback
Nouns That Starting With L
Lecture
Labyrinth
Landau
List
Localization
Laureate
Liar
Lotion
Levity
Legibility
Latitude
Laudanum
Legislation
Lifeblood
Limp
Loc
Lab
Lucidity
Legation
Longing
Leamer
Leakage
Lover
Log
Legislature
Larkspur
Lineage
Limber
Liner
Leap
Lawn
Ledge
Latch
Lipstick
Legatee
Loyalist
Link
Legacy
Leadhillite
Litigant
Longevity
Loyalty
Lady
Learning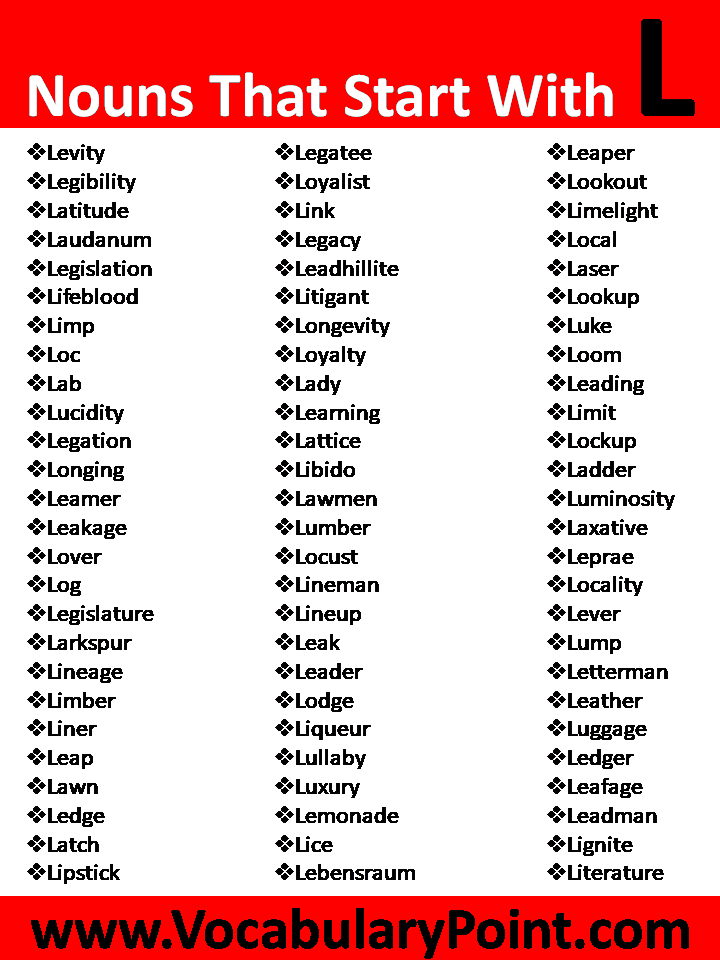 Lattice
Libido
Lawmen
Lumber
Locust
Lineman
Lineup
Leak
Leader
Lodge
Liqueur
Lullaby
Luxury
Lemonade
Lice
Lebensraum
Leaper
Lookout
Limelight
Local
Laser
Lookup
Luke
Loom
Leading
Nouns That Begin With L
Limit
Lockup
Ladder
Luminosity
Laxative
Leprae
Locality
Lever
Lump
Letterman
Leather
Luggage
Ledger
Leafage
Leadman
Lignite
Literature
Lore
Lull
Labour
Laggard
Leverage
Lamplight
Leash
Listener
Loser
Liver
Lard
Liquid
Libya
Lumen
Lubricant
League
Lope
Ligand
Loss
Loot
Lunch
Leniency
Levy
Leaseholder
Loophole
Laundry
Layette
Lawyer
Laborer
Lean
Length
Landlord
Leukemia
Lung
Lunation
Lack
Liberal
Lurch
Legion
Level
Lane
Lifestyle
Lucy
Lincoln
Logger
Lightweight
Lodgment
Loin
Larder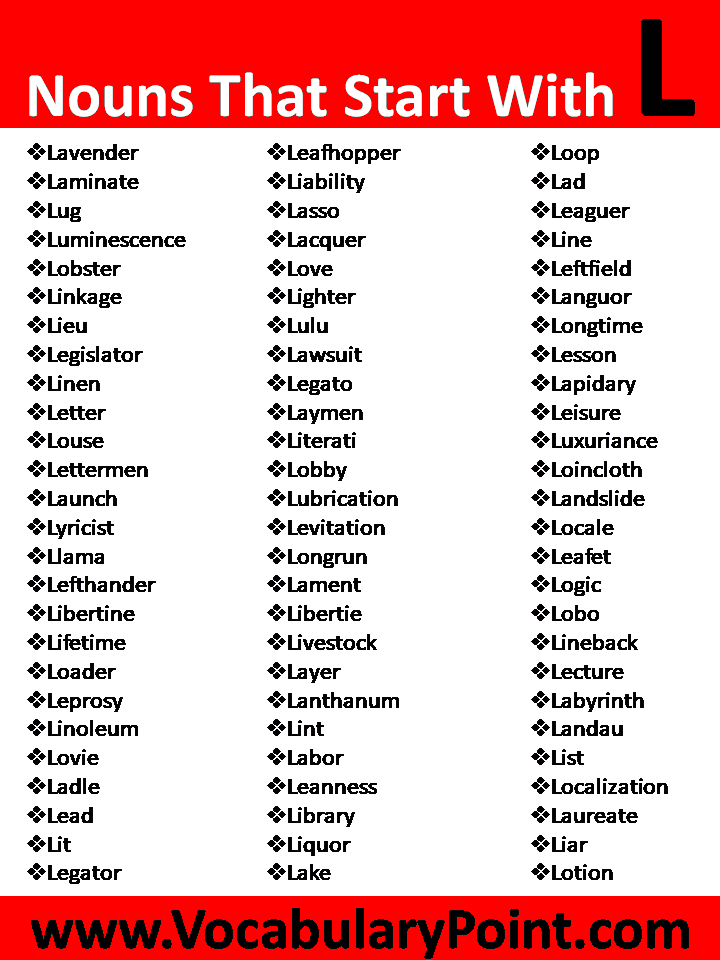 Lustre
Lionheart
Laughter
Lid
Litterbug
Lash
Libretto
Lounge
Largesse
Let
Light
Large
Livelihood
London
Leadsman
Nouns That Begining With L
Leakiness
Life
Laurel
Lear
Lien
Lesion
Leasure
Llano
Liaison
Logarithm
Lunchroom
Liking
Lute
Lunchtime
Learner
Leach
Litter
Lyricism
Luncheon
Lace
Limousine
Lapse
Lock
Loon
Look
Licensee
Load
Linden
Levee
Laity
Leadership
Lance
Loose
Liquidation
Lebanon
Lathe
Leaflet
Leam
Leg
Lava
Larceny
Limb
Lantern
Lilt
Litorigin
Like
Lexicon
Lip
Lobe
Llanero
Limbo
Loudspeaker
Lightning
Lean-To
Lie
Leapfrog
Launcher
Lather
Land
Linguist
Legume
Lots
Lethality
Laboratory
Legend
Legitimacy
Livery
Ligament
Lingerie
Landmark
Lordship
Lark
License
Lag
Lummox
Longshot
Locomotive
Libertarian
Lineament
Lymph
Loquacity
Leaguerer
Liquidity
Leapful
Lion
Loan
Literate
Label
Locker
Liberalism
Lot
Liberation
Libel
Lavatory
Low
Lecturer
Liberty
Los Angeles
Likelihood
Lifeboat
Last
Loblolly
Latitudinarian
Leasehold
Lust
Lyriist
Leaser
Larvae
Loft
Law
Leaping
Linchpin
Literalism
Lactate
Leaning
Lift
Lens
Loaf
Leaf
Longhorn
Longhand
Lagoon
Limitation
Left
Librarian
Leafstalk
Location
Leftist
Lyric
Lassitude
Lord
Livability
Leafmold
Landscape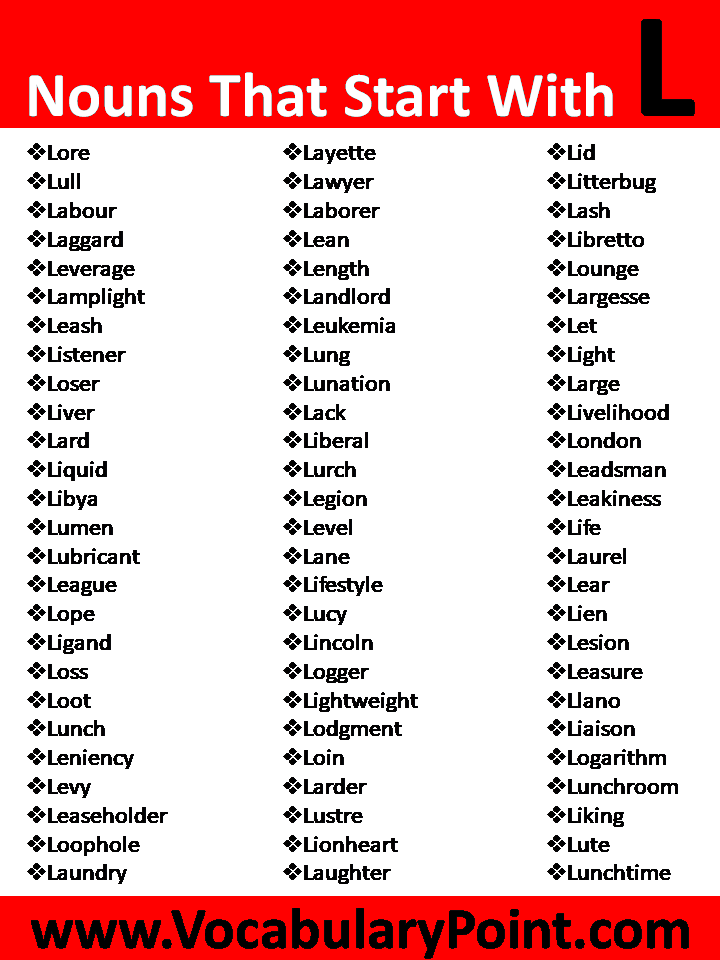 Lime
Lymphoma
Lahore
Liter
Logo
Lethargy
Lieutenant
Lise
Leave
Las Vegas
Leadwort
Lap
Luck
Lobscouse
Longshoremen
Lobularity
Lamp
Leo
Leeway
Layout
Lemon
Letterhead
Latex
Lecher
Litigation
Lifer
Legality
Layman
Liberality
Leafcup
Lath
Least
Lease
Lobule
Lawman
Lieder
Lingo
Liniment
Luminary
Longitude
Lure
Leafiness
Laugh
Luster
Lithograph
Language