Positive Words That Start With A. Words have the power to make us feel a certain way. Positive words can be especially uplifting and encouraging. A great way to find these positive words is by looking for ones that start with the letter "A". This article will discuss some of the most meaningful and powerful positive words that begin with the letter "A", and how they can be used in everyday life.
Read more : Positive Words with B
Positive Words That Start With A
• Ambitious: She is an ambitious young woman who dreams of becoming a successful entrepreneur.
• Authentic: The authentic flavors of the local cuisine were a delight to the food connoisseur.
• Affectionate: The affectionate couple held hands and walked along the beach at sunset.
• Adventurous: The adventurous hiker explored the mountain trails and discovered breathtaking views.
• Amiable: The amiable salesman greeted every customer with a warm smile and friendly attitude.
• Appreciative: The appreciative audience gave a standing ovation to the talented musician.
• Assertive: The assertive leader confidently made decisions and led the team to success.
• Attentive: The attentive student listened carefully and took notes during the lecture.
• Authentic: The authentic artwork displayed in the museum showcased the cultural heritage of the region.
• Avid: The avid reader devoured books and expanded their knowledge on various topics.
• Affable: The affable neighbor always greeted others with a cheerful hello and kind words.
• Artistic: The artistic dancer moved gracefully and mesmerized the audience with their performance.
• Accomplished: The accomplished athlete broke the world record and achieved their lifelong dream.
• Admiring: The admiring fans cheered and applauded as the actor received their award.
• Adorable: The adorable puppy wagged its tail and cuddled with its owner.
Assured
Awake
Affection
Advocate
Adonis
Astute
Amusing
Animated
Attain
Adeptly
Academic
Affable
Amity
Amaze
Assistive
Assure
Appreciable
Announce
Adequate
Adorn
Affirming
Advantage
Artist
Amusement
Ambition
Active
Attuned
Appreciation
Accolade
Accumulate
Agleam
Adapting
Anticipating
Acute
Assuaging
A-Plus
Accountable
Adorable
Artful
Attractive
Adaptable
Aware
Adopt
Adorably
Authoritative
Agile
Altruistic
Alert
Accrue
Anticipated
Accepted
Aristocratic
Absolute
Amuse
Appoint
Avid
Attune
Agility
Astonishing
Authority
Augment
Authentic
Abundance
All
Allure
Aspiration
Abundant
Apt
Admiration
Absolutely
Positive Words That Starting With A
Adoring
Agree
Amelioration
Aglow
Awe
Accomplishment
Align
Affably
Affectionate
Angelic
Applied
Ardent
Adapt
Assertiveness
Ascertain
Abound
Able-Minded
Assurance
Accommodate
Achievements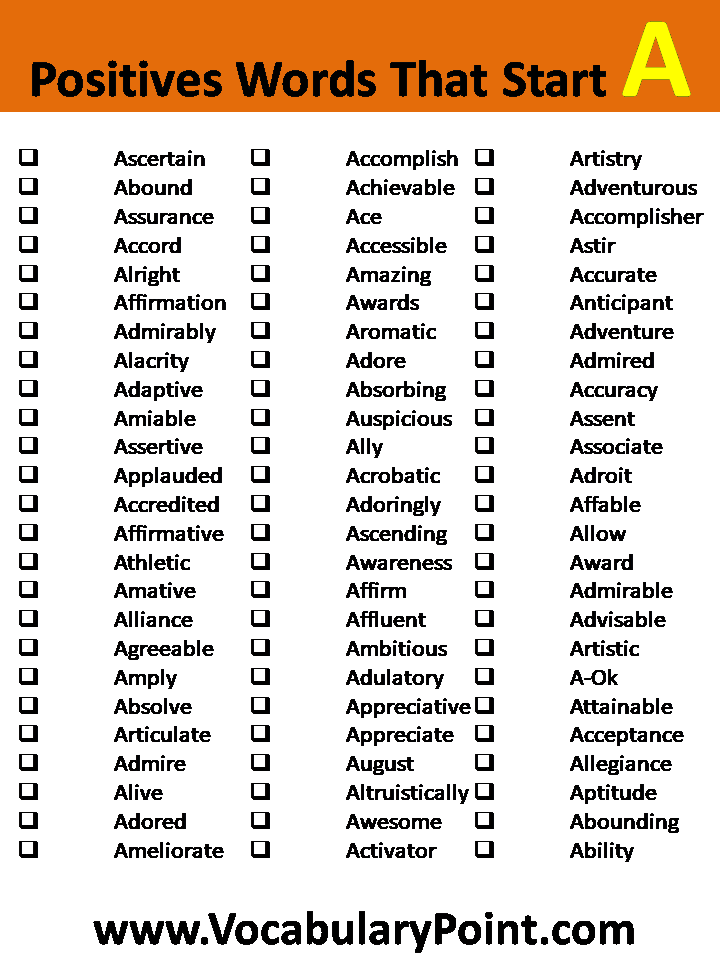 Accord
Alright
Affirmation
Admirably
Alacrity
Adaptive
Amiable
Assertive
Applauded
Accredited
Affirmative
Athletic
Amative
Alliance
Agreeable
Amply
Absolve
Articulate
Admire
Alive
Adored
Ameliorate
Accomplish
Act Of Kindness
Achievable
Approachable
Ace
Accessible
Amazing
Awards
Aromatic
Adore
Absorbing
Auspicious
Ally
Positive Words Beginning With A
Acrobatic
Awe-Inspiring
Adoringly
Ascending
Awareness
Affirm
Affluent
Ambitious
Adulatory
Adherent
Action-Oriented
Appreciative
Appreciate
August
Altruistically
Awesome
Autonomous
Activator
Artistry
Astronomical
Adventurous
Accomplisher
Astir
Accurate
Anticipant
Adventure
Admired
Accuracy
Assent
Accomplished
Associate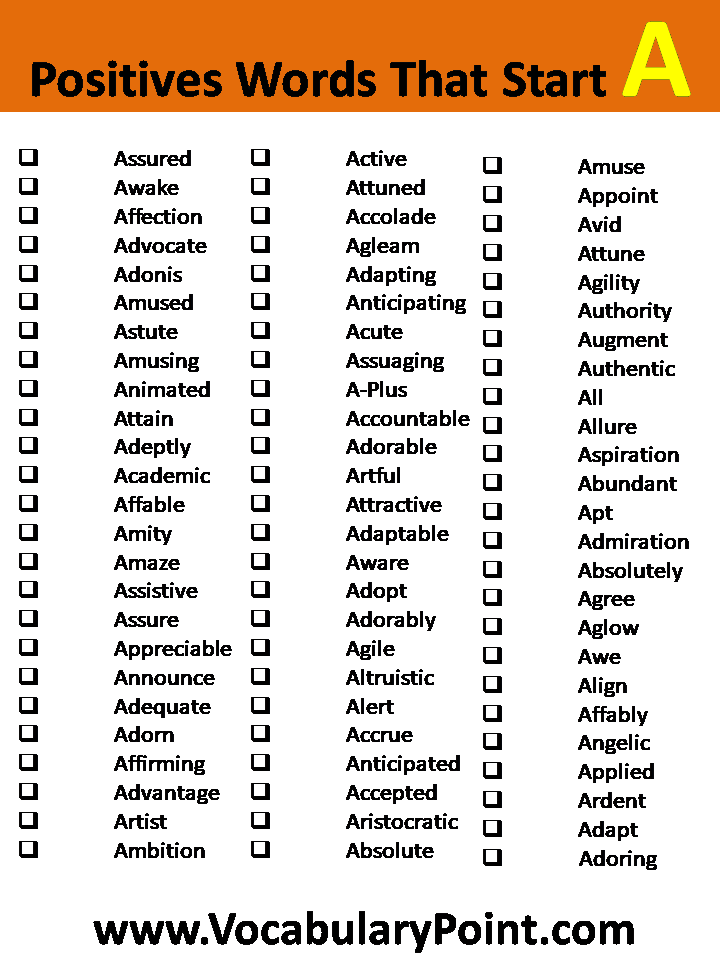 Adroit
Acknowledge
Affable
Allow
Accommodating
Award
Admirable
Advisable
Artistic
A-Ok
Attainable
Acceptance
Allegiance
Aptitude
Abounding
Ability
Always
Achieve
Anticipation
Appetite
Attentively
Adjust
Abubble
Amazement
Aspiring
Activate
Aspire
Accommodative
Adept
Abide
Approved
Ablaze
Abled
Accelerated
Able
Analytical
Attentive
Positive Words Begin With A
Afford
Amplify
Abidingly
Ample
Appealing
Anew
Augmented
Accurately
Assuasive
Absorbant
Aggrandize
Approval
Affinity
Accepting
Assuring
Accolades
Actualize
Alter
Arousing
Ambidextrous
Alluring
Ably
Add
Acclaim
Abiding
Adroitly
Admiring
Amazed
Authenticity
Applaud
Artsy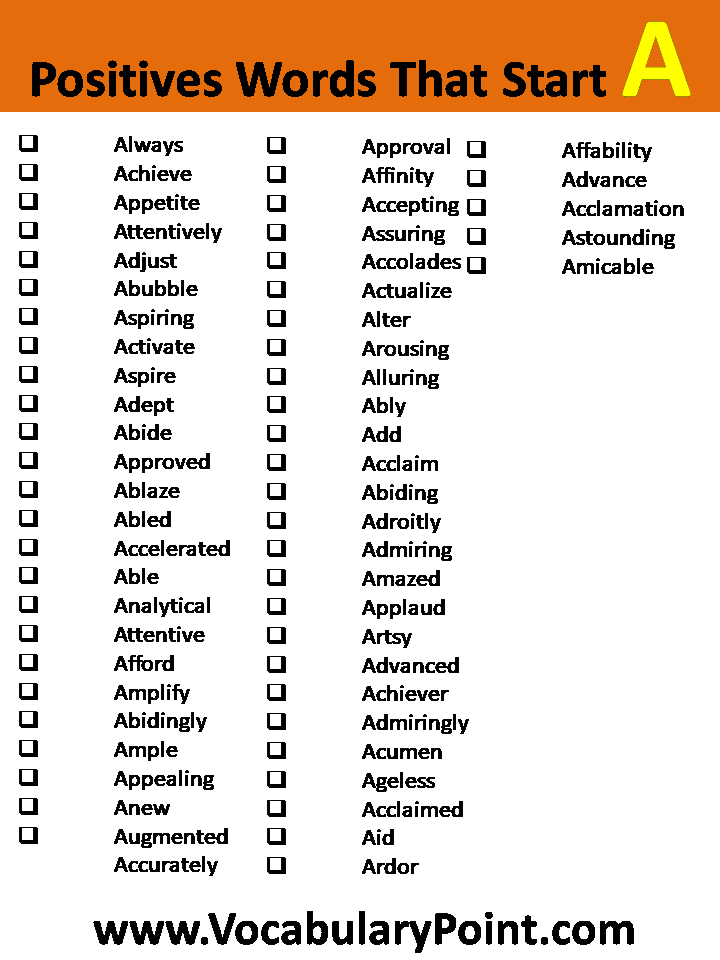 Advanced
Achiever
Advantageous
Admiringly
Appropriate
Acumen
Ageless
Aboveboard
Acclaimed
Aid
Ardor
Affability
Advance
Acclamation
Astounding
Amicable