Positive Words That Start With E. It is often said that words have power. That power can be used to encourage and inspire, to bring people up when they are feeling down. One of the most effective ways to bring positivity into our lives is to use positive words, especially those starting with the letter E. These words can be used in everyday conversations, or even as affirmations and mantras to help stay focused on what is important.
Positive Words That Start With E
Energetic: She woke up feeling energetic and ready to tackle the day.
Enthusiastic: The students were enthusiastic about the upcoming field trip.
Empathetic: She was empathetic towards her friend who was going through a tough time.
Exquisite: The meal at the fancy restaurant was exquisite, with each dish beautifully presented.
Efficient: The new software program made the work process more efficient and streamlined.
Ecstatic: He was ecstatic when he received the job offer he had been hoping for.
Elegant: The ballroom was decorated in an elegant and sophisticated manner.
Easygoing: His easygoing nature made him well-liked by everyone he met.
Enlightening: The book she read was enlightening, providing her with new insights and knowledge.
Encouraging: Her words of encouragement gave her friend the motivation to keep going.
Extraordinary: The performance by the acrobats was extraordinary, with amazing feats of strength and agility.
Enlivening: The live music at the concert was enlivening, creating an exciting atmosphere.
Expressive: The artist's paintings were expressive, conveying deep emotions and meaning.
Empowered: She felt empowered after completing a challenging task on her own.
Enjoyable: The day spent at the beach was enjoyable, with fun activities and relaxation.
Read more: Positive Words with F
Economic
Educated
Exciting
Enthusiastic
Excellent
Employable
Ebullience
Eldritch
Extraordinaire
Endemic
Equip
Enthrone
Entire
Endlessly
Ear
Entropy
Extravagant
Ergonomic
Exonerate
Energetic
Encore
Effendi
Entertainer
Explicit
Empathetic
Examination
Enhance
Eye-Catching
Emphatic
Entirely
Enfete
Endear
Enamoured
Element
Expeditive
Elevates
Exaltation
Effusively
Enlightenment
Equal
Excitement
Epitomize
Endorsed
Emphasis
Eudaemonic
Effectively
Elegancy
Epiphany
Extend
Exalting
Enhanced
Excite
Electric
Exhilarated
Equation
Eye-Opener
Euphoric
Epideictic
Elegiac
Endure
Enraptured
Enthusiastically
Exclusive
Enjoyed
Eclipse
Enrich
Electrify
Emergence
Easy
Expressiveness
Enthusiast
Energy-Saving
Expression
Emerita
Endocrine
Emulate
Elation
Effusing
Emergency
Especial
Effervescent
Everlasting
Earnestly
Ecstatic
Positive Words That Starting With E
Engrossed
Envious
Enough
Electricity
Enamouring
Expectant
Elated
Example
Eventually
Emancipate
Effectual
Eminent
Excited
Erosion
Encouraged
Endearing
Eyeful
Endeared
Expertise
Enormous
Empathize
Evermore
Euphonious
Efficacious
Encouraging
Expensive
Enterprise
Explosive
Extraneous
Enviably
Evolve
Effusiveness
Elusive
Exhaustive
Efficient
Edgy
Even
Endless
Equable
Expeditiously
Eleemosynary
Elixir
Eponymous
Edible
Emancipatory
Endurance
Enrapture
Endow
Exactly
Explicitly
Encouragement
Exotic
Ease
Epicure
Empyreal
Entry
Energized
Evenly
Everyone
Equally
Espirit
Exchange
Ethereal
Eloquence
Exact
Equality
Equanimity
Equalized
Enobble
Electricity
Exceed
Endorse
Embellish
Even-Tempered
Experience
Excel
Evident
Elephantine
Enjoyer
Errant
Economically
Empathize
Encouragingly
Evil
Enamor
Elegantly
Enchanted
Errorless
Exult
Enthrall
Expandable
Eclectic
Exhilaration
Elope
Positive Words Beginning With E
Exit
Emotion
Evocative
Elevate
Expedite
Enchanting
Enormously
Ecstasy
Excessive
Extensive
Entrust
Euphony
Engross
Effective
Erotism
Expectation
Empowered
Emotions
Evaporation
Enthuse
Elemental
Eunoia
Eagerness
Enjoy
Earth
Endeavourer
Excitedly
Enviable
Endowed
Evolving
Expediency
Expansive
Embrace
Elder
Ethic
Emittent
Exceeding
Evaluation
Eager
Equilibrium
Exceedingly
Effect
Enamour
Efficacy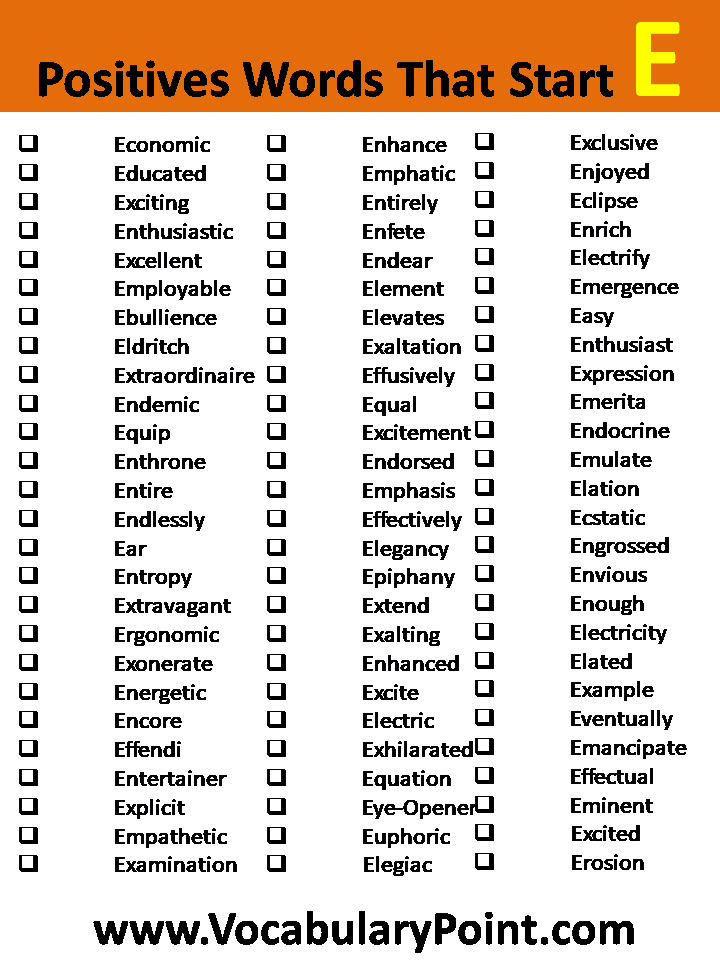 Egregious
Energy-Efficient
Explorative
Eagerly
Erudition
Established
Egalitarian
Elation
Eirenic
Elasticity
Effectiveness
Effulgent
Enlivening
Energize
Endeavor
Eco-Warrior
Embellishment
Eventful
Extra
Elegance
Eloquent
Epidermis
Eminence
Exemplary
Effortless
Exponential
Evangelist
Electromagnet
Eat
Positive Words Begin With E
Exuberantly
Enhancement
Equivalent
Extraordinary
Expansion
Ennobled
Eco-Friendly
Evacuate
Empower
Encourage
Esthetical
Einstein
Enunciate
Eternally
Earn
Enriching
Epitome
Ecology
Eloquently
Elite
Enamored
Easy-Going
Edified
Express
Embodiment
Enthralled
Empathic
Evaluative
Elucidate
Enlivened
Emeritus
Enthralling
Eminently
Extol
Enjoyable
Equity
Engaged
Endometrial
Endorsement
Expeditious
Effort
Education
Enchantress
Echt
Emotional
Epigrammatic
Event
Extravaganza
Egotistical
Evidently
Expert
Euphorically
Exuberant
Enliven
Effortlessly
Essential
Educate
Even-Steven
Enlist
Euphoria
Evoke
Elating
Entrepreneurial
Excellence
Engrossing
Entomology
Embolden
Everyday
Emancipation
Enshrine
Elegant
Entertainment
Erogenous
Ebulliently
Equipment
Eagle
Exalt
Enchant
End
Economize
Elatedly
Exhilaratingly
Erudite
Eleven
Emission
Éclat
Enter
Enticed
Entertain
Eye-Popping
Excellency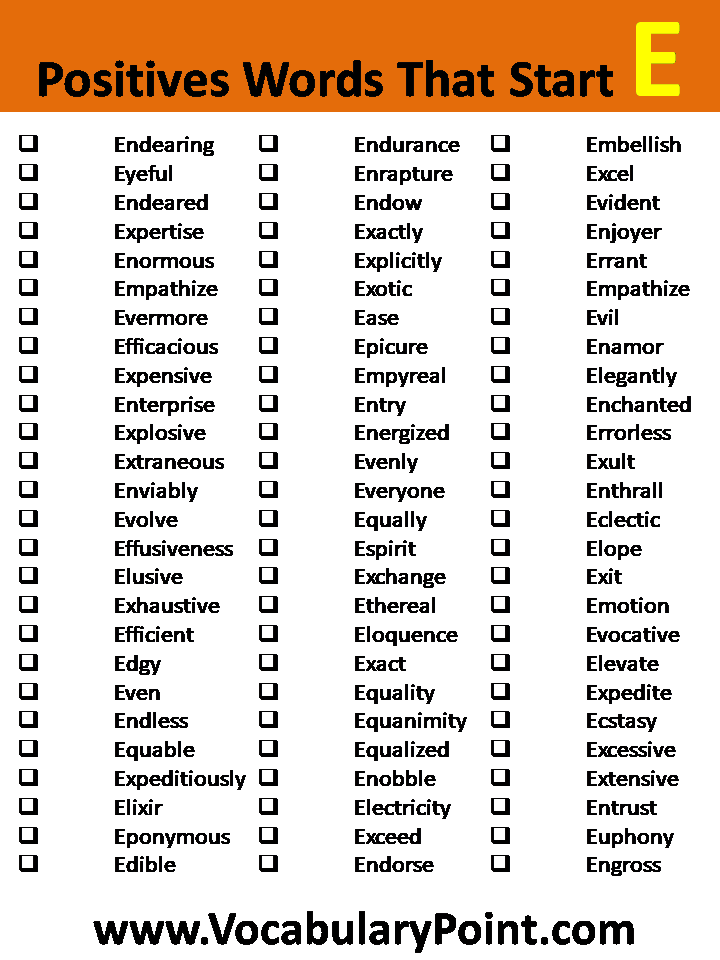 Ecumenical
Emerging
Enrapturing
Entrance
Effervescence
Embody
Environment
Ecstacy
Enormity
Enjoyment
Elate
Evergreen
Esteem
Ethics
Enticing
Enlighten
Eternity
Establish
Estimate
Empathy
Even-Handed
Effuse
Embourgeoisement
Exhilarate
Evident
Electrifying
Eudaimonism
Emollient
Expertly
Eulogize
Earnest
Expedition
Electrochemist
Educational
Expedient
Exceptionally
Embittered
Eccentric
Edify
Empathetic
Expressive
Emotive
Enrapt
Enchantingly
Eureka
Endearment
Exultant
Engineer
Efficiency
Exultingly
Entranced
Emancipate
Elaborately
Empathy
Esteemed
Exhilarating
Effusion
Exquisite
Electron
Exquisitely
Endowment
Exuberance
Enlightening
Enduring
Epic
Energizing
Entice
Emerge
Enrichment
Economical
Equanimous
Estranged
Euphoriant
Elohim
Exalted
Easily
Ebullient
Empowerment
Endeavour
Ecosystem
Ensorcell
Enterprising
Ethical
Entrepreneur
Emblazon
Erotic
Excitingly
Empowering
Enthusiasm
Ecstatically
Elevation
Emerald
Essence
Exultation
Ennoble
Experimental
Enigmatic
Equipped
Enzyme
Entrusted
Exploration
Euphonic
Earthy
Encomiast
Election
Evolution
Equable
Enable
Elaborate
Educe
Easement
Enterprise
Efficiently
Epicurean
Evening
Eternal
Experienced
Effusive
Equiponderant
Exemplar
Executive
Explorer
Enricher
Exceptional
Embryo
Eligible
Enlightened
Emebelish
Experimenter
Ensure
Elected
Engage
Enriched
Excellently
Entrancing
Extravagance
Easy-To-Use
Engagement
Energy
Eden
Enjoyably
Equitable
Elevated
Esthetic
Empirical
Emphasize
Extensively
Earnestness
Engaging
Exude
Ekaggata
Entertaining
Escapade
Elan
Edifying
Elocution
Elective
Early