Positive Words That Start With W. Words have the power to lift us up and give us strength. Positive words that start with W are especially powerful as they can bring clarity, joy and motivation into our lives. Whether you're needing a pick-me-up or looking for inspiration, this article will explore some of the most inspiring words starting with W.
Warmhearted – She has a warmhearted personality that makes others feel at ease.
Wealth – His wealth of knowledge on the subject impressed the audience.
Wonder – The natural wonder of the Grand Canyon left us in awe.
Wellness – She prioritizes wellness by exercising and eating healthy.
Wise – His wise advice helped me make an important decision.
Worthy – Her actions have proven her to be a worthy candidate for the award.
Wonderful – It was a wonderful experience to watch the sunset on the beach.
Welcome – The warm welcome from the host made us feel at home.
Willing – He is always willing to lend a helping hand to those in need.
Workable – The plan seemed workable and achievable.
Winning – The team's winning attitude helped them secure the victory.
Warm – The cozy fire made the room feel warm and inviting.
Wonderous – The wonderous view from the mountaintop was breathtaking.
Witty – Her witty sense of humor always brings a smile to my face.
Well-done – The meal was well-done and delicious.
Willpower – His strong willpower enabled him to achieve his goals.
Wholesome – The wholesome meal was made from fresh and healthy ingredients.
Worthwhile – The long journey was worthwhile to see the beautiful scenery.
Wow – The stunning artwork made us say wow in amazement.
Winningly – Her winningly positive attitude is infectious and inspiring.
Read more: Positive Words with X
Positive Words That Start With W
Wunderkind
Worthy
Worthwhile
Worth It
Worshipper
Worship
Workhorse
Workaround
Workable
Work Ethic
Work
Wordly
Woo
Wondrous
Wonderment
Wonderful
Wonder
Womanhood
Woman
Witty
Withstand
Wit
Positive Words That Starting With W
Wishlist
Wish
Wise
Wisdom
Wire
Winsome
Winner
Winnable
Windfall
Win
Willpower
Willowy
Willingness
Willing
Will
Wife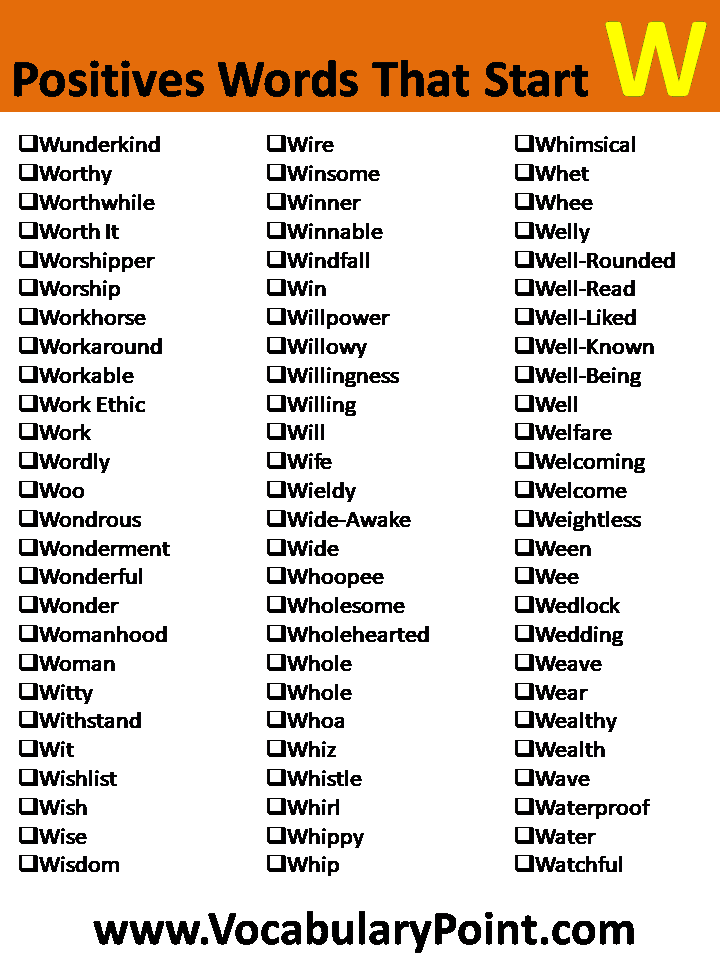 Wieldy
Wide-Awake
Wide
Whoopee
Wholesome
Wholehearted
Whole
Whole
Whoa
Whiz
Whistle
Whirl
Whippy
Whip
Whimsical
Whet
Positive Words Beginning With W
Whee
Welly
Well-Rounded
Well-Read
Well-Liked
Well-Known
Well-Being
Well
Welfare
Welcoming
Welcome
Weightless
Ween
Wee
Wedlock
Wedding
Weave
Wear
Wealthy
Wealth
Wave
Waterproof
Water
Watchful
Watch
Wash
Warrior
Warmhearted
Warm
Warble
Want
Wanderer
Wake
Waggish
Wage
Wag
Waft
Wacky