List of contractions in English! Contractions are shortened words that use an apostrophe to combine two words into one. It is a big lesson for the learners of English.Sometimes, a contraction is just the same word with fewer additions of comma's and other punctuation marks.
What Are Contractions In English Grammar?
A contraction is a shortened form of a word (or group of words) that omits certain letters or sounds..
How Do You Use Contractions In English?
We use contractions (I'm, we're) in everyday speech and informal writing. People use contractions in both speaking and writing.
Here, How to use Contractions in sentence:
It's – it is. It's freezing outside!
I'm – I am. I'm going for a walk.
I'll – I will. I'll see you next week.
List of contractions in English
Were not …. Weren't
Where would …. Where'd
He is …. He's
She has …. She's
They are …. They're
Used to …. useta
There are …. There're
Got to …. gotta
Have to …. hafta
Out of …. outta
A lot of …. a lotta
There would …. There'd
These are …. These're
Come on  …. c'mon
That had …. That'd
We are …. We 're
Complete list of contractions in English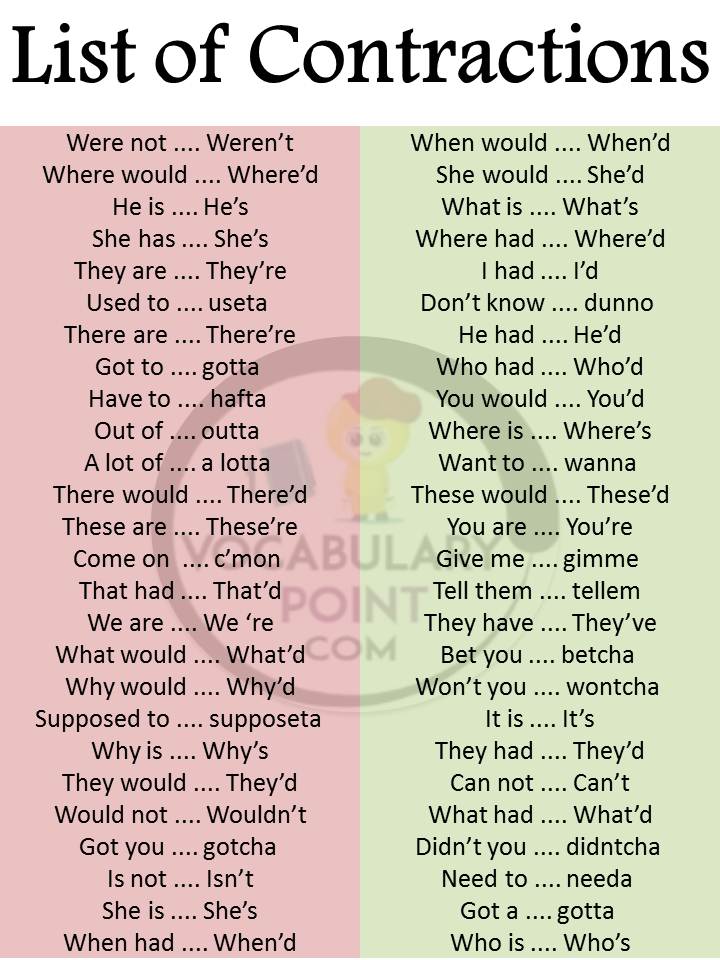 Examples of contractions in English
What would …. What'd
Why would …. Why'd
Supposed to …. supposeta
Why is …. Why's
They would …. They'd
Would not …. Wouldn't
Got you …. gotcha
Is not …. Isn't
She is …. She's
When had …. When'd
When would …. When'd
She would …. She'd
What is …. What's
Where had …. Where'd
I had …. I'd
Don't know …. dunno
He had …. He'd
Who had …. Who'd
You would …. You'd
Contractions in 
English
Where is …. Where's
Want to …. wanna
These would …. These'd
You are …. You're
Give me …. gimme
Tell them …. tellem
They have …. They've
Bet you …. betcha
Won't you …. wontcha
It is …. It's
They had …. They'd
Can not …. Can't
What had …. What'd
Didn't you …. didntcha
Need to …. needa
Got a …. gotta
Who is …. Who's
I am …. I'm
It has …. It's
Who would …. Who'd
We had …. We 'd
She had …. She'd
He would …. He'd
It would …. It'd
That would …. That'd
Ought to …. oughta
Does not …. Doesn't
Let me …. lemme
We have …. We've
We would …. We'd
That is …. That's
There had …. There'd
Did not …. Didn't
what is contractions in english grammar
Will not …. Won't
Are not …. Aren't
Sort of …. sorta
Has to …. hasta
What are you …. whatcha or watcha
You had …. You'd
Was not …. Wasn't
Cup of …. cuppa
He has …. He's
How would …. How'd
You have …. You've
Must not …. Mustn't
Do not …. Don't
These had …. These'd
I have …. I've
I would …. I'd
When is …. When's
Also Learn about list of verbs followed by preposition
It had …. It'd
Why had …. Why'd
Should not …. Shouldn't
How had …. How'd
Kind of …. kinda
Going to …. gonna
How are …. How're
Don't you  …. dontcha
Shall not …. Shan't
Could not …. Couldn't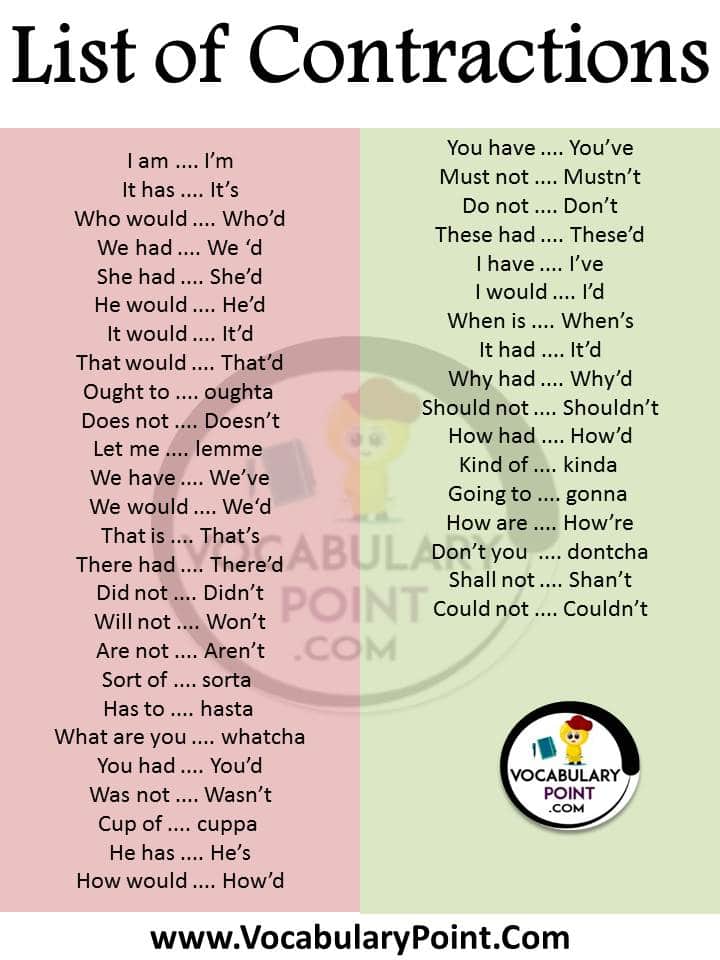 You can download list of contraction in English grammar pdf