Verbs followed by prepositions are an important part of the English language. Knowing which verbs should be used with prepositions and which should not is key to mastering the English language. This article will discuss the various verbs that are commonly followed by prepositions, and how they are used in a variety of different sentences.
What are Prepositions in English?
Prepositions are words in the English language that show the relationship between a noun or pronoun and other words in a sentence. They often indicate location, direction, time, or the adverb of manner in which an action is performed.
Here are 10 Most Common Prepositions:
"in," "on," "at," "by," "with," "to," "for," "from," "of," and "about."
For example:
The cat is on the table.
I will meet you at the restaurant.
She went to the store with her friend.
He learned about the history of the city.
The book is for children.
What are Verbs in English?
Verbs can be used in different tenses to indicate when an action occurred or will occur. There are also various forms of verbs, such as the base form, the past tense, the present participle, and the past participle.
Verb Followed By Prepositions
Prepare for
Discuss with
Care for
Respond to
Invite to
Infer from
Concern with
Ask for
Peer at
Laugh about
Deal with
Count on
Aware of
Point at
Share with
Feel about
Protect from
Common verbs followed by prepositions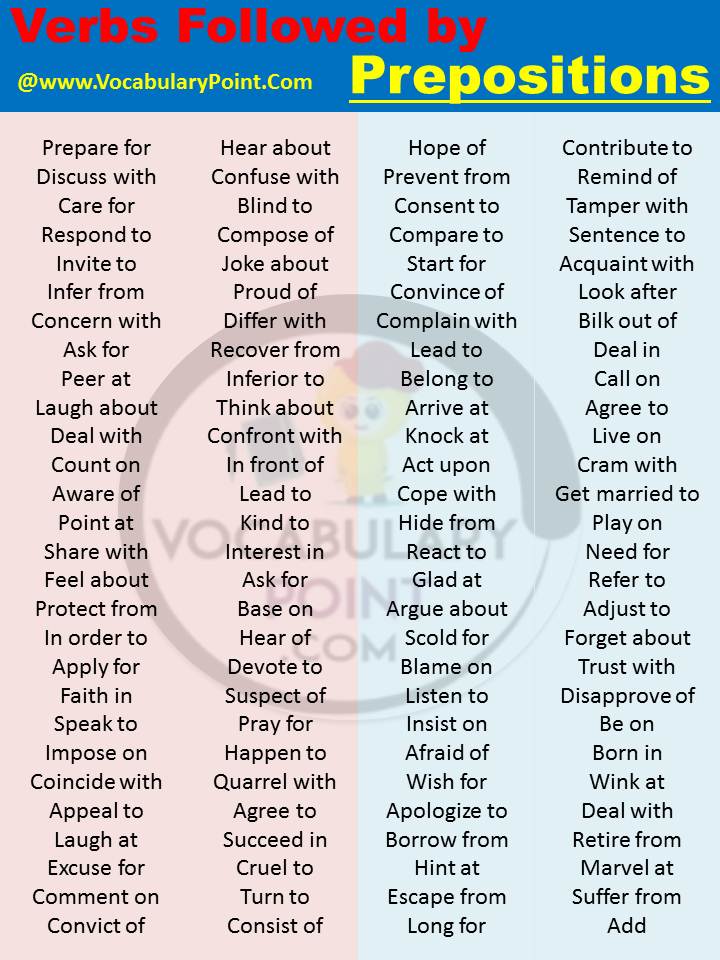 In order to
Apply for
Faith in
Speak to
Impose on
Coincide with
Appeal to
Laugh at
Excuse for
Comment on
Convict of
Hear about
Confuse with
Blind to
Compose of
Joke about
Proud of
Differ with
Recover from
Inferior to
Think about
Confront with
In front of
Lead to
Kind to
Interest in
Ask for
Base on
Hear of
Devote to
Suspect of
Pray for
Happen to
Quarrel with
Agree to
Succeed in
Cruel to
Turn to
Consist of
Hope of
Prevent from
Consent to
Compare to
Start for
Convince of
Complain with
Lead to
Belong to
Arrive at
Knock at
Act upon
Cope with
Hide from
React to
Glad at
Argue about
Scold for
Blame on
Listen to
Insist on
Afraid of
Wish for
Apologize to
Borrow from
Hint at
Escape from
Long for
Contribute to
Remind of
Tamper with
Sentence to
Acquaint with
Look after
Bilk out of
Deal in
Call on
Agree to
Live on
Cram with
Get married to
Play on
Need for
Refer to
Adjust to
Forget about
Trust with
Disapprove of
Be on
Born in
Wink at
Deal with
Retire from
Marvel at
Suffer from
Add to
Sick of
Charge with
Search for
Act upon
Fail in
Get tired of
verbs followed by prepositions list
Feel for
Look at
Pray to
Laugh at
Explain to
Vote for
Clutter with
Aim at
Prohibit from
Help with
Made of
Stem from
Graduate from
Concern about
Prevent from
Care about
Run after
Rescue from
Stay with
Elaborate on
Face with
Ask about
Begin with
Adapt to
Pride on
Concentrate on
Comply with
Cure of
Associate with
Conceive of
Glance at
Rob of
Provide with
Spanish verbs followed by prepositions
Hablar de – to talk about
Pensar en – to think about
Soñar con – to dream about
Depender de – to depend on
Acostumbrarse a – to get used to
Esperar por – to wait for
Llamar a – to call
Escuchar a – to listen to
Creer en – to believe in
Empezar a – to start to
Terminar de – to finish doing
Gustar de – to like
Asistir a – to attend
Tratar con – to deal with
Olvidar de – to forget to
Hablo de mi familia – I talk about my family.
Pienso en ti – I think about you.
Sueño con mi futuro – I dream about my future.
Dependo de mi trabajo – I depend on my job.
Me acostumbro a la vida aquí – I'm getting used to life here.
Espero por mi amigo – I'm waiting for my friend.
Llamo a mi madre – I call my mother.
Escucho música – I listen to music.
Creo en Dios – I believe in God.
Empiezo a estudiar – I start to study.
Terminé de leer el libro – I finished reading the book.
Gusto de la comida italiana – I like Italian food.
Asisto a la universidad – I attend university.
Trato con clientes – I deal with clients.
Olvidé de hacer mi tarea – I forgot to do my homework.
Talk about
Join in
Accuse of
Free from
Stare at
Blind of
Meet with
Write about
Compare with
Get rid of
In honor of
Work on
Work for
Famous for
Approve of
Think of
Apologize for
Dream of
Die of
Call at
Rely on
Subscribe to
Head for
For the sake of
Wait for
Write to
Quarrel about
Fond of
Apply to
Fit for
Guess at
Know about
In course of
Recover from
Blame for
Hope of
Argue with
Also learn lesson about Verb
Despair of
Protest about
Complain about
Born to
Talk to
Fight with
Object to
Reply to
Look at
Because of
Disagree with
On the point of
Agree with
Agree on
Smile at
Pay for
Honest in
On account of
Interfere with
Lame of
Abstain from
Believe in
Save from
On behalf of
Depend on
Collide with
In spite of
Warn about
Congratulate on
Desire for
Full of
Hope for
Close to
Decide about
Resign from
Pray for
Fire at
Cure of
Cover with
Arrive at
Separate from
Agree with
Confess to
Be about
Listen to
Belong to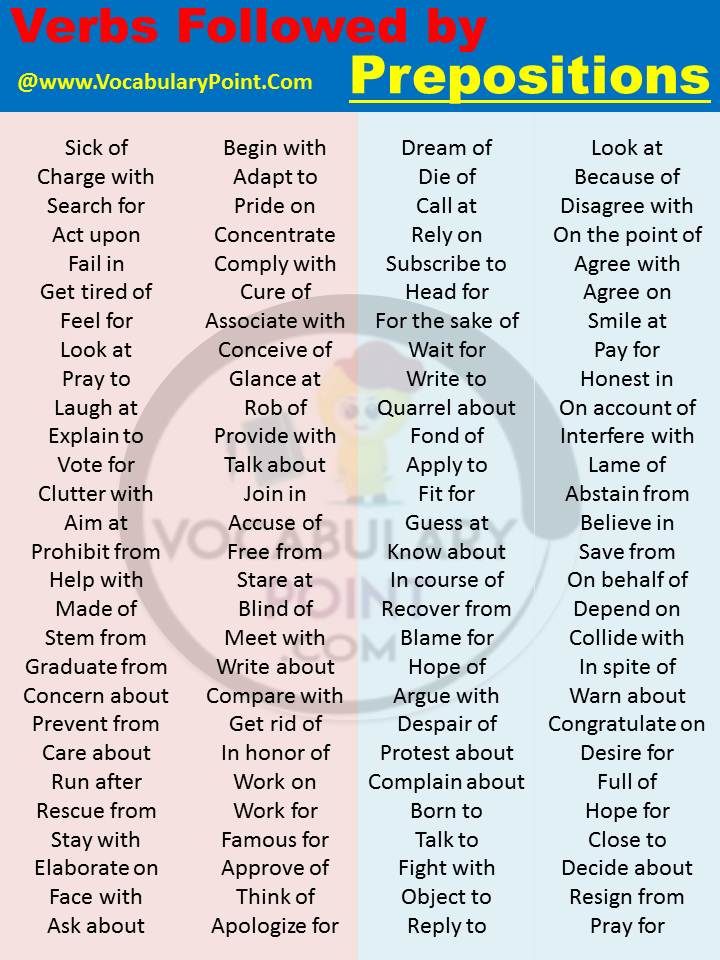 You can Download List of Verbs followed by Prepositions