Have you ever been in a conversation and suddenly felt the need to interject with a powerful Wow! or an exasperated Oh no? Interjections are often overlooked in the study of language, but they play a crucial role in adding emotion and emphasis to our communication. In this article, we will explore the fascinating world of interjections, delving into their various types and how they enrich our everyday conversations.
What is Interjection?
Definition: An interjection is a unique part of speech used to express strong emotions, reactions, or responses. It is a word or phrase that often stands alone and is grammatically independent of the sentences around it. Interjections can convey a range of emotions from excitement and surprise to disgust and sorrow. They are frequently used in casual and expressive speech.
Interjection and Its Types
Interjections vary based on the emotions or responses they convey. They add a layer of emotional depth and immediacy to language and are essential in concisely conveying feelings.
Types of interjections
Joy: Yay, Woohoo, Hurray
Surprise: Wow, Oh my, Whoa
Disappointment: Alas, Oh no, Uh-oh
Agreement: Yeah, Absolutely, Definitely
Confusion: Huh, What, Eh
Disgust: Ew, Yuck, Gross
Fear: Eek, Yikes, Oh dear
Greeting: Hi, Hello, Hey
Farewell: Bye, So long, Farewell
Pain or Distress: Ouch, Ow, Oh
Relief: Phew, Ahh, Thank goodness
Hesitation: Um, Uh, Er
Interjection for Joy
Interjections for joy are used to express happiness or great pleasure.
Examples in Sentences:

Yay! I can't believe I won.
Woo-hoo! We're going to Disneyland!
Hooray! It's your birthday!
Yippee! School's out for summer.
Yoo-hoo! Over here, guys!
Interjection for Excitement
These express enthusiasm or extreme happiness about an event or situation.
Examples in Sentences:

Wow! Look at that fireworks display.
Whoa! This rollercoaster is fast!
Aha! I finally solved the puzzle.
Eureka! I have found the solution.
Bingo! That's exactly right.
Interjection for Surprise
Used to express astonishment or shock.
Examples in Sentences:

Oh! I didn't see that coming.
Gosh! That's a big surprise.
Whoops! I didn't mean to do that.
Gee whiz! That's incredible.
Holy moly! That's a huge cake.
Interjection for Agreement
Used to show agreement or acceptance.
Examples in Sentences:

Alright! Let's do it.
Sure! I can help with that.
Absolutely! I agree.
Indeed! You're absolutely right.
Precisely! You've hit the nail on the head.
Interjection for Greeting
Express greetings or acknowledgment of someone's presence.
Examples in Sentences:

Hello! Welcome to our home.
Hey! Good to see you.
Hi! How have you been?
Welcome! Come on in.
Yo! Over here!
Interjection for Farewell
Used to say goodbye or send off someone.
Examples in Sentences:

Goodbye! Take care.
Farewell! Safe travels.
See ya! Catch you later.
Adios! Until next time.
Ciao! Have a great day.
Interjection for Disappointment
Express feelings of dissatisfaction or displeasure.
Examples in Sentences:

Oh no! That's not good.
Alas! I was hoping for more.
Darn! I missed the bus.
Drat! It slipped away.
Ugh! Not this again.
Interjection for Relief
Used to express a feeling of reassurance or relaxation after a stressful situation.
Examples in Sentences:

Phew! That was close.
Ahh! That feels better.
Thank goodness! We made it.
Finally! The wait is over.
At last! I've finished the project.
Must Learn About:
Nouns, Pronouns, Verbs, Adjectives, Adverbs, Interjections, Prepositions, Conjunctions
Interjection for Confusion
Express uncertainty or lack of understanding.
Examples in Sentences:

Huh? I don't get it.
What? Can you repeat that?
Eh? What did you say?
Hmm? Is that right?
Pardon? I didn't hear you.
Interjection for Pain or Discomfort
Used to express physical or emotional pain.
Examples in Sentences:

Ouch! That hurt.
Ow! I stubbed my toe.
Aargh! I can't take this anymore.
Eek! That's scary.
Yikes! I didn't expect that.
30 Examples of Interjection in Sentences
Wow! You look amazing.
Oops! I dropped my phone.
Hey! Watch where you're going.
Yay! We won the match.
No way! Is that true?
Shh! Be quiet.
Hooray! Vacation starts tomorrow.
Geez! That's harsh.
Ugh! I hate traffic.
Yikes! That was a close call.
Eureka! I solved the problem.
Bravo! Well done!
Alas! We lost the game.
Cheers! To your health.
Oof! That was heavy.
Zing! Good comeback.
Duh! I knew that.
Aww! That's so cute.
Gulp! This is nerve-wracking.
Haha! That's funny.
Brrr! It's cold outside.
Whoa! Look at that!
Sigh! I'm so tired.
Hmph! I'm not impressed.
Boo! That was scary.
Yuck! I don't like this food.
Wow! What a view!
Bingo! You guessed it.
Aha! Now I understand.
Hush! The baby is sleeping.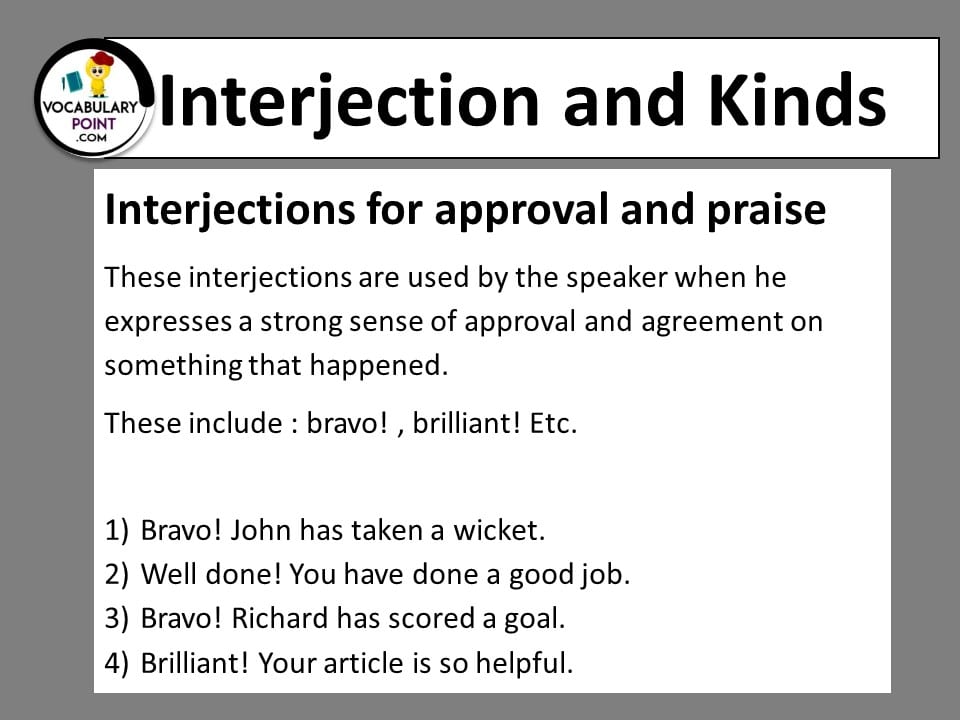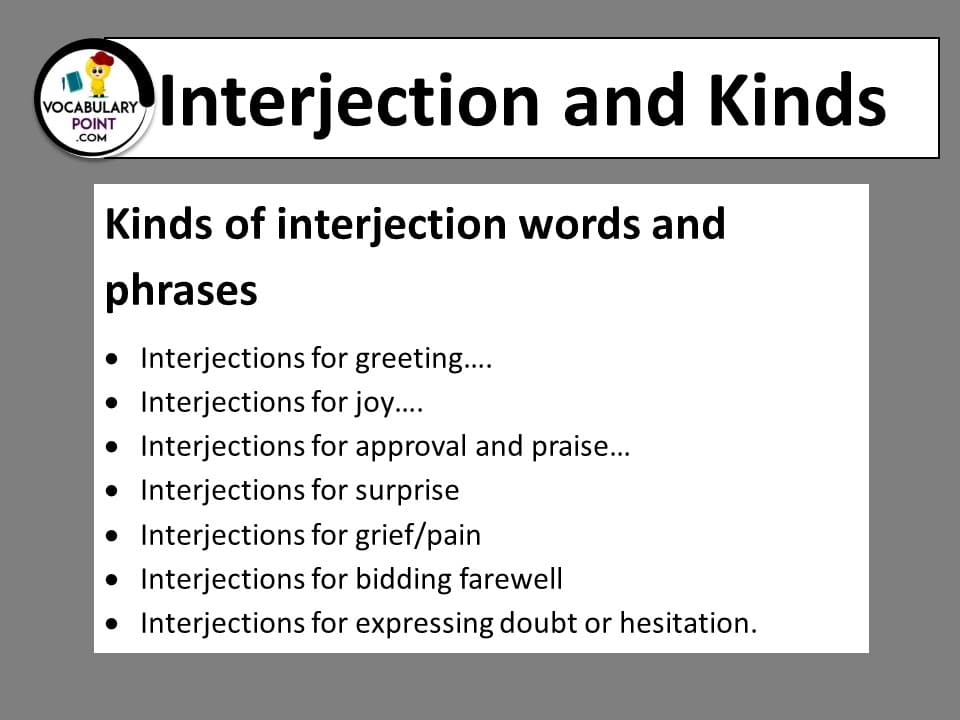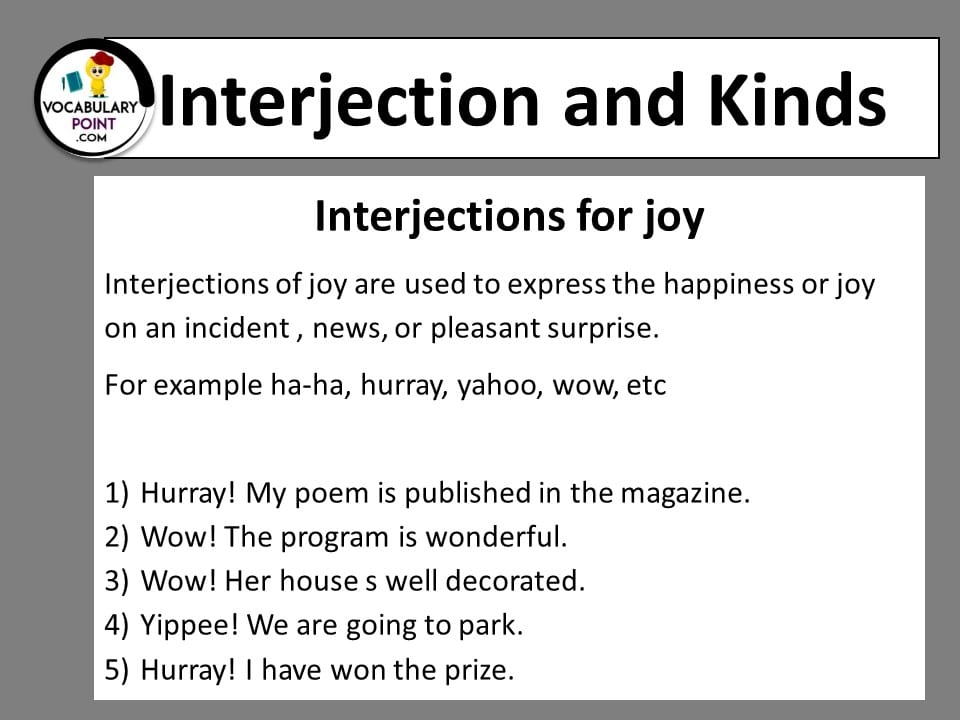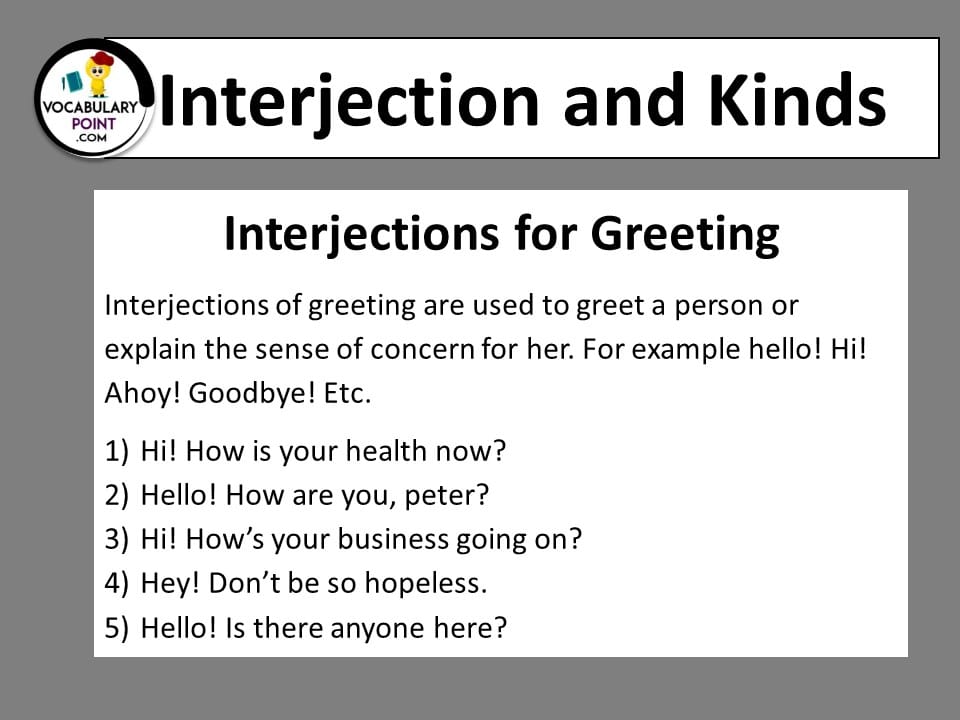 List Of Interjection
| | | |
| --- | --- | --- |
| ·         Wow! | ·         Oops! | ·         Hurray! |
| ·         Yikes! | ·         Eureka! | ·         Bingo! |
| ·         Alas! | ·         Ahem! | ·         Gosh! |
| ·         Yuck! | ·         Phew! | ·         Aha! |
| ·         Ouch! | ·         Yippee! | ·         Huh! |
| ·         Whoa! | ·         Uh-oh! | ·         Hush! |
| ·         Bravo! | ·         Hey! | ·         Geez! |
| ·         Yay! | ·         Eek! | ·         Darn! |
| ·         Hmm! | ·         Bah! | ·         Brrr! |
| ·         Shh! | ·         Blah! | ·         Boo! |
| ·         Psst! | ·         Ugh! | ·         Ack! |
| ·         Wowza! | ·         Meh! | ·         Zing! |
| ·         Aargh! | ·         Oopsie! | ·         Sheesh! |
| ·         Crikey! | ·         Ew! | ·         Hooray! |
| ·         Sigh! | ·         Fie! | ·         Yowza! |
| ·         Zoinks! | ·         Gee! | ·         Snap! |
| ·         Drat! | ·         Yawn! | ·         Gulp! |
| ·         Aww! | ·         Pshaw! | ·         Oof! |
| ·         Woof! | ·         Heavens! | ·         Bazinga! |
| ·         Hmmm! | ·         Kapow! | ·         Tsk! |
| ·         Whew! | ·         Mmm! | ·         Ha! |
| ·         Yeehaw! | ·         Boo-hoo! | ·         Pff! |
| ·         Voilà! | ·         Ta-da! | ·         Yoo-hoo! |
| ·         Oomph! | ·         Egad! | ·         Ick! |
| ·         Brr! | ·         Grr! | ·         Jeez! |
| ·         Duh! | ·         Ahoy! | ·         Fore! |
| ·         Whoops! | ·         Whee! | ·         Quack! |
| ·         Mwah! | ·         Achoo! | ·         Huzzah! |
| ·         Zowie! | ·         Oopsy! | ·         Tut-tut! |
| ·         Buzz! | ·         Clap! | ·         Giddyup! |
| ·         Wham! | ·         Bleep! | ·         Oomph! |
| ·         Ho-ho! | ·         Boffo! | ·         Shoo! |
| ·         Zonk! | ·         Pow! | ·         Boom! |
| ·         Clunk! | ·         Fizz! | ·         Grunt! |
| ·         Plop! | ·         Rip! | ·         Smack! |
| ·         Snip! | ·         Splish! | ·         Splat! |
| ·         Squish! | ·         Thud! | ·         Thump! |
| ·         Twang! | ·         Whack! | ·         Whoosh! |
| ·         Zap! | ·         Ding! | ·         Floop! |
| ·         Gobble! | ·         Honk! | ·         Hoot! |
| ·         Howl! | ·         Meow! | ·         Moo! |
| ·         Neigh! | ·         Peep! | ·         Purr! |
| ·         Ribbit! | ·         Roar! | ·         Squawk! |
| ·         Squeak! | ·         Toot! | ·         Tweet! |
| ·         Warble! | ·         Yap! | ·         Zoom! |
| ·         Bang! | ·         Bling! | ·         Bop! |
| ·         Bump! | ·         Clink! | ·         Creak! |
| ·         Crunch! | ·         Jangle! | ·         Jing! |
| ·         Knock! | ·           | ·           |